I am here to introduce you to what may be your new favorite fandom and the reasons why you should join. Tahereh Mafi's Shatter Me series and its fandom is what released my inner fangirl. It is why I am now so open about being part of a fandom.
Prior to Shatter Me, I kept all fangirl related feelings to myself, but this series unleashed that part of me. I remember feeling lost when I thought it finished with the third book, but Mafi has thankfully continued the series. There is no better time to share my obsession with the Shatter Me series than now, especially with the sixth book set for release next year.
Shatter Me follows Juliette, whose touch is lethal. Any level of contact she has with another being can cause their death. The government placed her in isolation and she longs to see beyond what her small cell has to offer. She is chosen to be a subject for an experiment and from there, she starts to discover herself and the true intentions of those around her.
Here are the reasons why you should start this series ASAP:
Superpowers In Shatter Me

This series will certainly be reminiscent of X-Men to many readers who are familiar with that storyline. Juliette's powers resemble Rogue's but the way Mafi developed the story is just as compelling on its own and not the same at all. When asked about the similarities, Mafi admits not knowing who Rogue was before writing the first book. With that aside, the different powers each character discovers is part of the fun of the series. The stories of how each character discovers their supernatural gifts are truly special in their own way. The way each character utilizes their power is very interesting and fun to read about. It's the kind of story that makes readers think about what kind of power you would want to have and how you would use it.
Tahereh Mafi
Mafi is enough of a reason to fangirl. She's an incredible writer and she's got great style, both in writing and fashion. Great combination! Her Instagram feed is worth scrolling through and fangirling over. Mafi's Twitter account and blog are also fun to read to discover what's new with the series and other endeavors she's pursuing. Her husband is the author Ransom Riggs, and they have such a cute family. I recall being immensely happy for them when they had their daughter! Two established authors, married — it's like a story from a bookworm's fairytale.
Mafi writes books that are relevant to our political climate without even making her work transparently political, which is admirable. Although her words are poetic and lyrical, the story always sends a bigger message. This isn't just about the Shatter Me series, but also her other works, which are all worth checking out.
Mafi's Writing Style For Shatter Me
Mafi's writing is definitely one of the aspects to fall in love within this series. Her prose is lyrical and poetic, it's almost magical. The first three books are from Juliette's point of view, and Juliette's journal entries are a work of art. Her construction of words resembles poetry. Re-reading those parts is such a treat. Because Juliette is in isolation at the beginning of the series, many may understand the feelings she is having. There are lines crossed out, words that constantly repeat, and there are sentences just written over and over. Mafi's writing has a certain effect on the way readers absorb the story. Though it may not please everybody's taste, it makes for an elevated experience.
Warner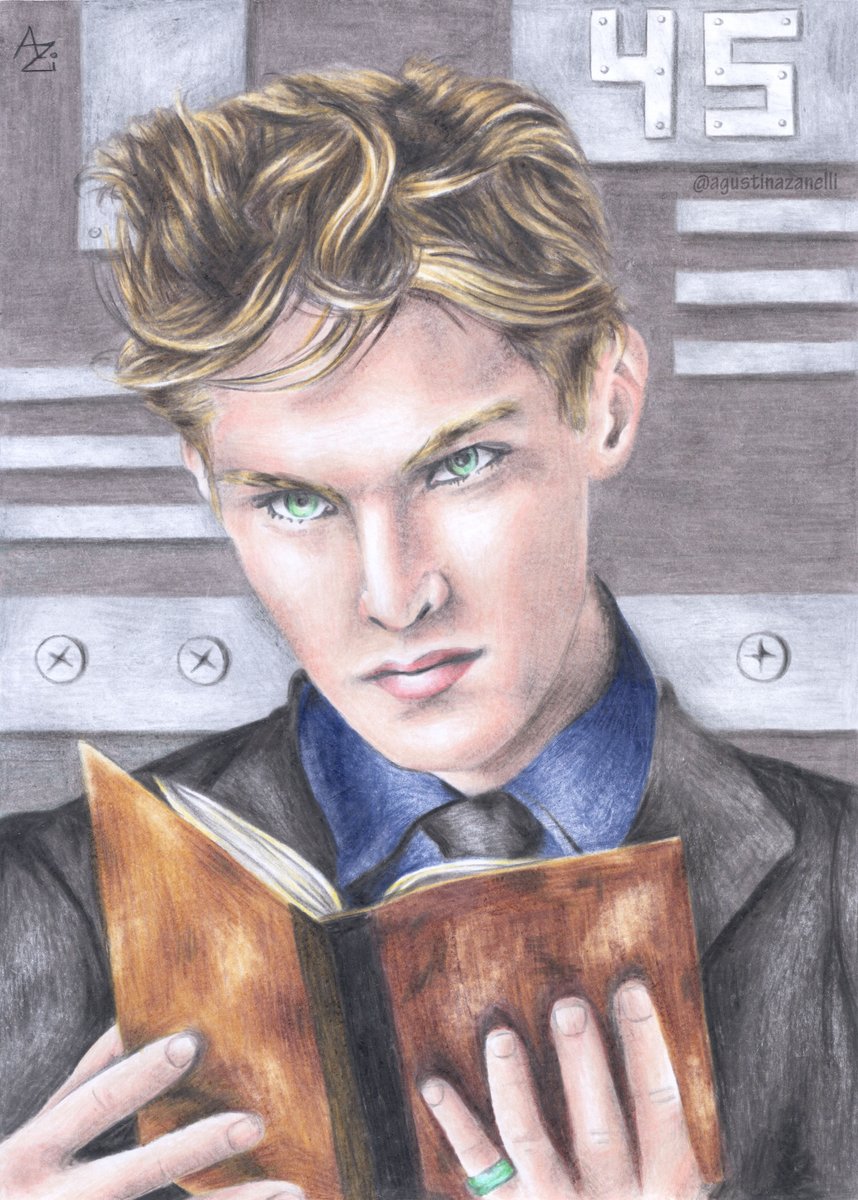 The characters. I cannot write a list of reasons to read this series without Warner being one of them. Has a fictional character ever made you blush? No? Well, this was the first time it has ever happened to me too. Do you ever hate a character first and then completely fall in love with them a book later? No? Warner is here to do that. Do you ever look up how other fans have cast fictional characters? Warner will certainly make sure you do that. Warner, along with the other characters and the storyline, used to have me browsing through a lot of wonderful fan art on Tumblr. I also absolutely adore fan-made videos about the series and reading through comments to see what other fans think about the series. I've literally once ran around the house fangirling after reading what happened to Warner in one of the books.
Character Diversity
The characters in the first three books are diverse not only in power but also in looks. The series' diversity further expands in the fourth book, which I very much appreciate. When a series contains characters representing various cultural backgrounds, it becomes easier for a wide array of audiences to relate to the story because they see themselves in the characters.
It's not just cultural backgrounds either, but also societal backgrounds. Some characters come from privileged families, while some have experienced personal trauma, and others' situations stem from consequences rooted in this world's government. It may seem like a lot goes on with the characters, but it flows with the storyline development.
The TV Show
Many readers are highly critical of adaptations, and this series is going to be adapted into a TV series, which I'm sure has many fans excited, but also anxious. It is unknown when the show will go into production, but I constantly think back to the time Mafi tweeted a picture of her holding a script, as seen above. My excitement has not diminished since and although I'm sure the show will not be closely similar to the books, it will be fun to finally see what readers have only imagined in their heads on screen. Hopefully, fans get an update regarding the TV show, but for now, the wait for the sixth book is what's keeping the fandom on the edge of their seats.
Hopefully, this post at least convinced you to check out this series. There are brief novellas in between them as well that are worth reading. They go through the perspective of other loved characters in the series. As of this post, this series contains five books and three novellas. Now is the perfect time to start and join the fandom in anticipation of the final book. A new novella is on its way for release later this year and the sixth book will be published in Spring 2020.