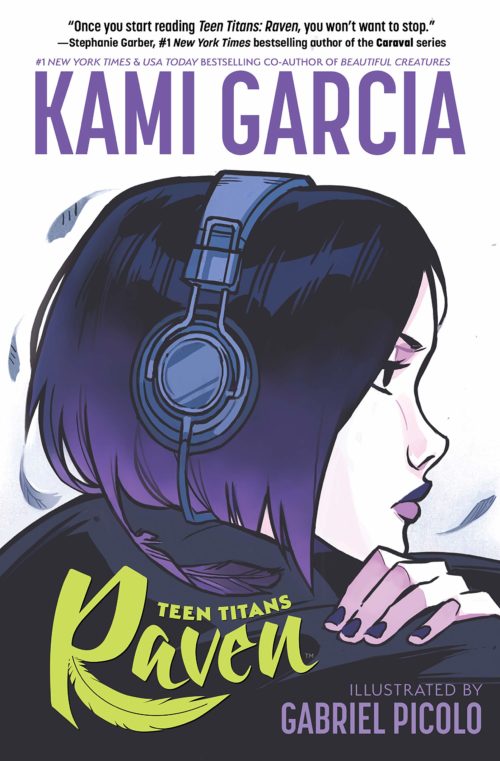 Going into Teen Titans: Raven, we presumed it was going to be similar to Mera, Under The Moon: A Catwoman Tale, and the upcoming Harley Quinn and Black Canary releases. It tells the tale of these young superheroes (which is debatable, some are anti-heroes) and how they came to be for young readers. We, for one, love this idea. We think introducing the not so intense story of how they came to be for young readers is fantastic. Coming from Catwoman, which was a satisfactory read, Teen Titans: Raven has a great narrative behind it. But there are some quirks.
A Forewarning For Teen Titans: Raven
This is a TPB (graphic novel) by Kami Garcia and Gabriel Picolo. Kami Garcia: I haven't heard of before this; Gabriel Picolo I have. His artwork is all over mainstream social media, so I was aware of his illustrations before going into this. With that being said, this is not similar to the content he posts on social media, the coloring is quite watercolor-esque. It is not as defined. Certain panels are, but it still has that wastercolor-esque forefront.
If you are anticipating colors similar to the posts he makes of Teen Titans, this is not what you will get. Similarly to Catwoman, the coloring is focused on one aspect (Raven) and slightly other surrounding aspects when the time comes. This is on purpose since it is meant to be a young reader TPB, the focus is on the main character of the story and her emotions. That is what is prominent throughout Teen Titans: Raven.
Pros & Cons Of Teen Titans: Raven
As someone who is aware of the lore of Teen Titans, especially Raven, this did justice to her character. Her narrative and coming-of-age is crucial for young readers growing into the character and learning what she is about. What I loved about Garcia's writing style is that it is so comfortable to understand. You are finished with the book by the time you realize it. Garcia truly has a grasp of the characters and the important characters of Raven's story.
One character we could have done without was Tommy. I would have liked to see the story go more towards Raven and her narrative of being a strong character alongside her foster family, gaining that insight into who she is (without that male/young love romance trope).
That aspect was such a huge part of the story that we couldn't get away from it. The moment Tommy came into the story, it seemed nonsensical. The timing of it was too perfect. He seemed to drop into Raven's life at a perfect time, and then started to like her abruptly; it all seemed too in line with a perfect ending. Again, this is for young readers, so we understand that this narrative is meant to be for young readers getting into the character.
But — with that — it further becomes a dilemma — we don't want young readers to then assume a guy will always be your saving grace. It should very well have been just a Raven story with no love interest included. It is a small quirk, but something that is noticeable about the overall plot. Tommy drives the plot at the end, resulting in Raven figuring out what her powers are because she was betrayed. It was a bit too in-line with the perfect plot points and events.
Illustrations Are Spectacular, Thanks To Picolo
As stated before, the illustrations are not like what we have seen from Picolo. His art on social media is a lot more vibrant and in your face. This is subtle. With the previous books, Mera and Catwoman, they are similar in style. While I was slightly disappointed in the fact that it wasn't the usual Picolo artwork, it worked for what this narrative wanted to do. Based on the cover, I assumed it was going to be that style of vibrancy, but the colors were toned down in most aspects but certain pages and panels that needed the color.
We do have harsh purples, blacks, and browns, however, throughout the story. The sketching of the characters are fantastic, there are no weird facial expressions, and you get the gist of each emotion throughout the time you are reading. If anything, Picolo does an outstanding job with the sketching and emotions in this graphic novel. That is something that needs to be seen and heard, and we get both. We get the written aspect and we get the illustrated aspect. Both intertwine perfectly.
Teen Titans: Raven Is Meant For Young Readers, But Works For All-Ages
While we have our peculiarities about the book, it does work for all ages. Similarly to Catwoman, there is a story there for readers of all ages. Someone above the age of say, twenty, might not enjoy it as much as someone at the age of sixteen/seventeen. The narrative and illustrations are a huge part of why this graphic novel works. We would go as far as to say that it is what kept us reading. The story aspect was a bit on the young reader's side, but the way Garcia explains Raven's emotions and how she is feeling is what is outstanding.