STONE by Convict Games was just released on Xbox One. It's a mystery, point-and-click video game that takes players through a small party city. Filled with anthropomorphic characters, you play as a Koala, and private investigator, Roy Stone. Stone woke up to a phone call where he learned that his boyfriend, Alex, had gone missing. Scouring the city for information, we find out about the hazy night before to find out where Alex has gone. Previously released on iOS, Stone just hit the Xbox One digital store.
They Can't All Be Hits
Towards the end of 2019, the trailer for Stone was released, and it was definitely something to talk about. A partied out Koala that's in search of his lover, Alex. Going nightclubbing and across the city to find him, it looked like this was hip-hop, stoner, an anthropomorphic version of The Hangover. But trailers can be deceiving. To start, this game is definitely not for anyone. The story is basically about an alcoholic Koala that's trying to find his missing boyfriend. Stone traces back to his typical hangout spots to find any information he can on the night before.
There are only four places to go: a bar, a rave, a bowling alley, and your apartment. Other locations include a record store where you can hear the soundtrack, a sauna, and a theater. The theater has public domain films like Night Of The Living Dead. Overall, the tiny contained world makes the game extremely repetitive as you talk to the same characters every visit.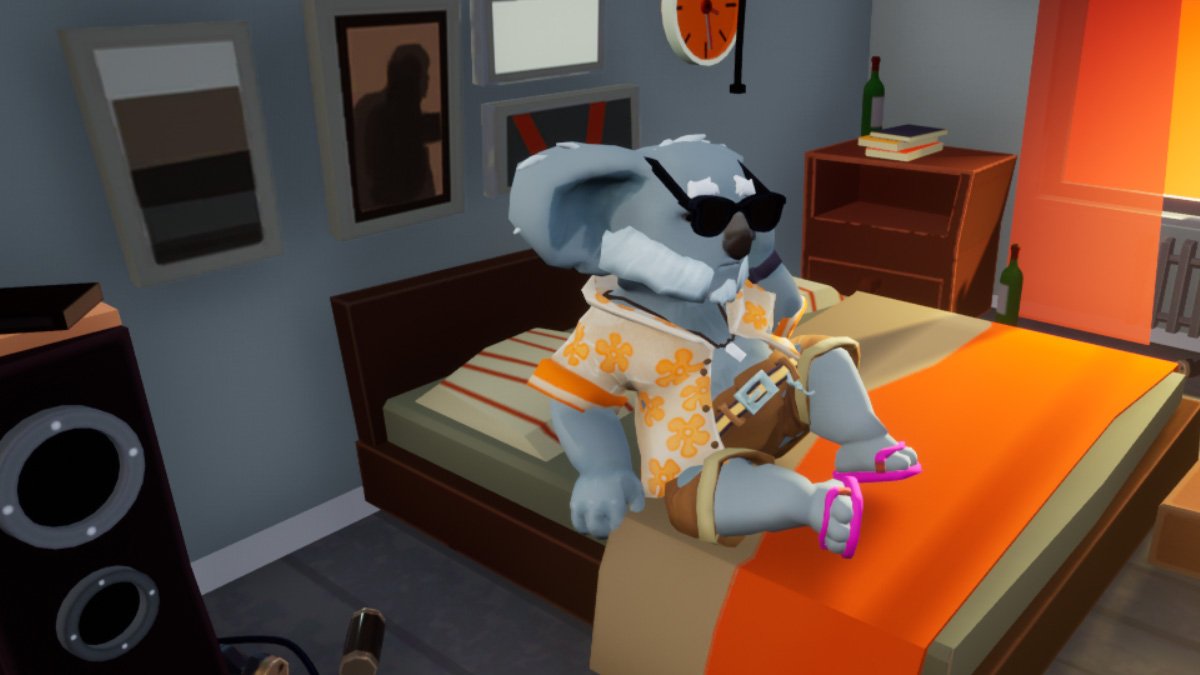 The anthropomorphic characters are all visually appealing, but only the five or so that you talk to are actually distinct from the rest of the duplicates. Aside from wandering back and forth to the same four buildings, there are some interesting dream sequences that break the player away from the repetitive rotation of obtaining information through conversation.
Boring As A Bag Of Rocks
Advertised as a "stoner, noir, adventure" it seems to jump the gun a bit. In short, the game seems anything but that. The idea that it's somehow an adventure game when it's clearly a point-and-click as you use the A button to continue conversations that end abruptly. Other than that, you use the right and left bumpers to occasionally choose dialogue options. The dialogue acting was pretty bad overall. Stone seems to have no urgency in his small quest, and the other characters clunk along as they read the script. Also, there's not a feeling at all of it being a "stoner noir" since the story only focuses on drinking alcohol and the night before was drunken binge blackout.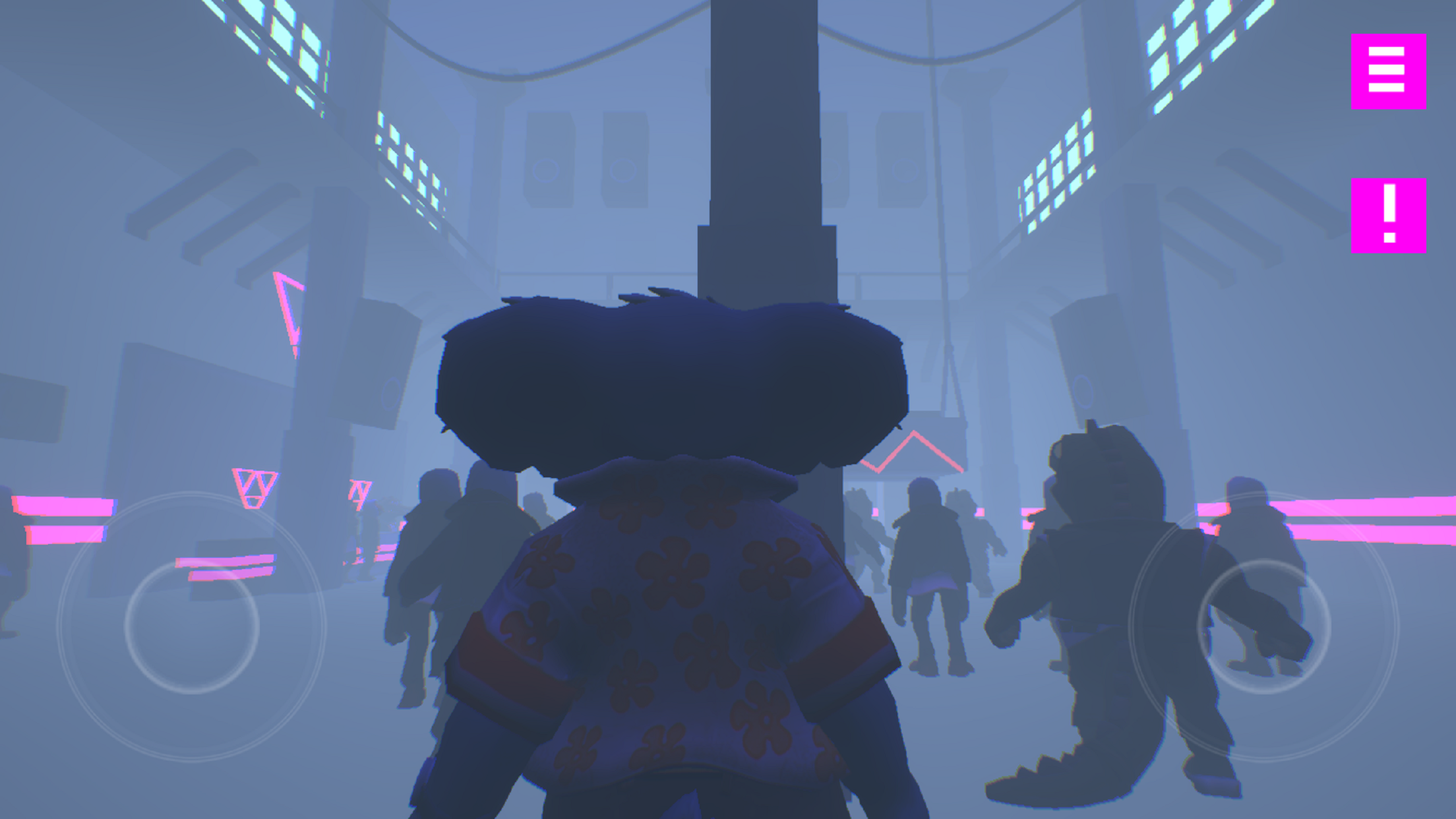 Overall, the entire completion time lands at about two hours. I wouldn't say that it's worth the $15 price point. With how repetitive the movements are and the lack of story, it should be closer to a $5 price point. Convict Games labels some of their influences as Kubrick, Murikami, and Tarantino, but their story elements and pacing say everything but that. The CGI graphics in Stone are visually appealing, and every environment has a great distinction from the next.
However, Stone's head takes up about a third of the screen, making it difficult at times to enjoy the surroundings. The gameplay also doesn't give you anything to do but press the A button in hopes that something will happen. You interact with more objects in your first ten minutes than the rest of the two-hour story. The soundtrack definitely makes the game more enjoyable. Bringing in tracks from real artists had me looking up a couple of songs to add to my own playlist. Seeing some of the bizarre and art-house short films kept some curiosity.
Not Stoned Enough
Overall, this game had a lot of potential, but just dropped the ball. It was less of a noir and more of a depressing substance abuse relationship tale. Unfortunately, Stone fails to have an exciting and captivating story and has overwhelmingly dull gameplay. As an iOS game, it serves as a decent amount of fun, but it probably should have stayed that way. If there's ever a sale on the Xbox marketplace store, it's worth picking up for a couple of bucks and a free afternoon.
---
You can find the game on Steam, iOS, and their playlist on Soundcloud. Visit the official Convict Games accounts on Facebook, Twitter, and YouTube.

Overall, STONE misses the mark as anything fun and exciting. It's a substance abuse tragedy that clunks along.
PROS
Awesome Soundtrack
Movie Theater
Interesting Concept
CONS
Poor Voice Acting
Laggy Gameplay
Story goes nowhere
2 hours long
Price Point