We are back again with Chilling Adventures Of Sabrina — if you remember, we did an entire review of the first season: (see: here). We are back to review the first five episodes of the newest season, Chilling Adventures Of Sabrina Part 2. If you thought Sabrina Spellman was just going to sign her name in a black book and never come back, you were wrong.
She's back and witch-ey more than ever. The series stars Kiernan Shipka, Miranda Otto, Lucy Davis, Ross Lynch, Michelle Gomez, Chance Perdomo, Jaz Sinclair, Richard Coyle, Tati Gabrielle, Adeline Rudolph, Abigail Cowen, Lachlan Watson, Bronson Pinchot, and Gavin Leatherwood. Written by the creator behind Riverdale, Roberto Aguirre-Sacasa.
Don't Be Such A Catty Witch…
Chilling Adventures Of Sabrina Part 2 continues from Part 1 to A Midwinter's Tale. If you have yet to see at least Part 1, go watch it before you watch Part 2. It is a continuation of the first season of the show. Throughout the season, Sabrina Spellman has been battling with good versus evil; what it means to be a mortal versus what it means to be a witch. Two things that counteract in every aspect possible.
Essentially, Sabrina leads two lives – one with mortals and one with witches. In the previous part/season, she sold her soul to the devil in order to help banish the evil sisters out for revenge (basically what they were attempting to do). Sabrina needed to be stronger and Madam Satan (Mary Wardwell) convinced her to do so. Along the way, we have smaller plots throughout the series – Suz (Susie), Jaz, Harvey, and the students at Baxter High.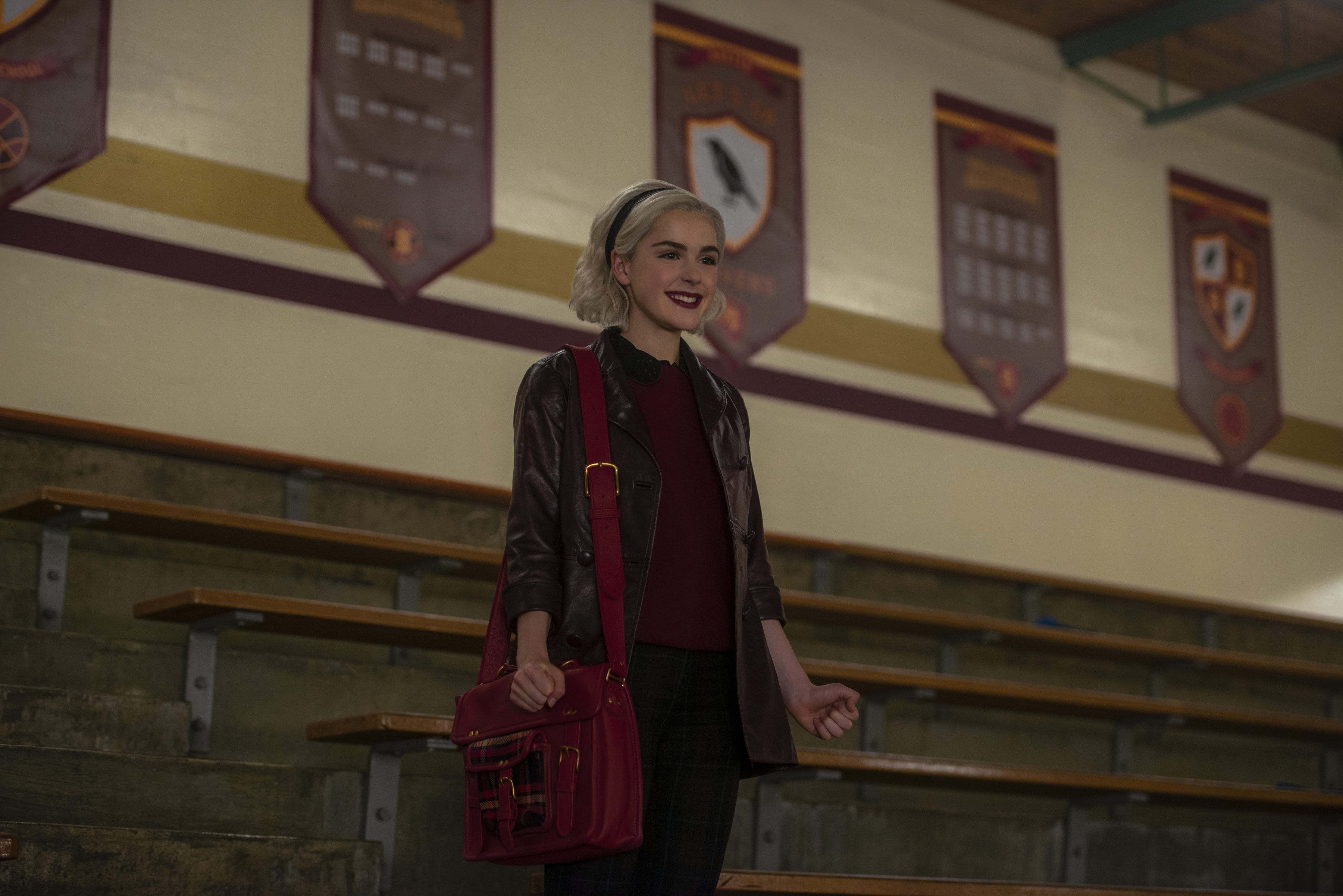 Jaz is going blind, or supposed to be going blind, Harvey's brother died from The Weird Sister (well, two part of The Weird Sisters), and Susie is going through bullying because she is Gender Fluid/Queer (which, let me just say… I love this plot). That is what you missed on Part 1. The most important parts.
My Name Is Sabrina Spellman &… I Will Sign My Name In The Dark Lord's Book?
Sabrina, signing her name in the Dark Lord's (Satan's) book, was a page-turner. Throughout the entirety of the first season, we didn't see Sabrina ever wanting to sign her name. When she did, it was something that no one saw coming and still didn't quite believe. Although we all know it's real, we don't believe she is not going to cause some sort of turmoil. Her mission: To become Father Blackwood and be the high priest. What I adore about Sabrina Spellman is that she is a powerful female character. She doesn't conform to any norms, she doesn't believe in standards, she makes her own of both.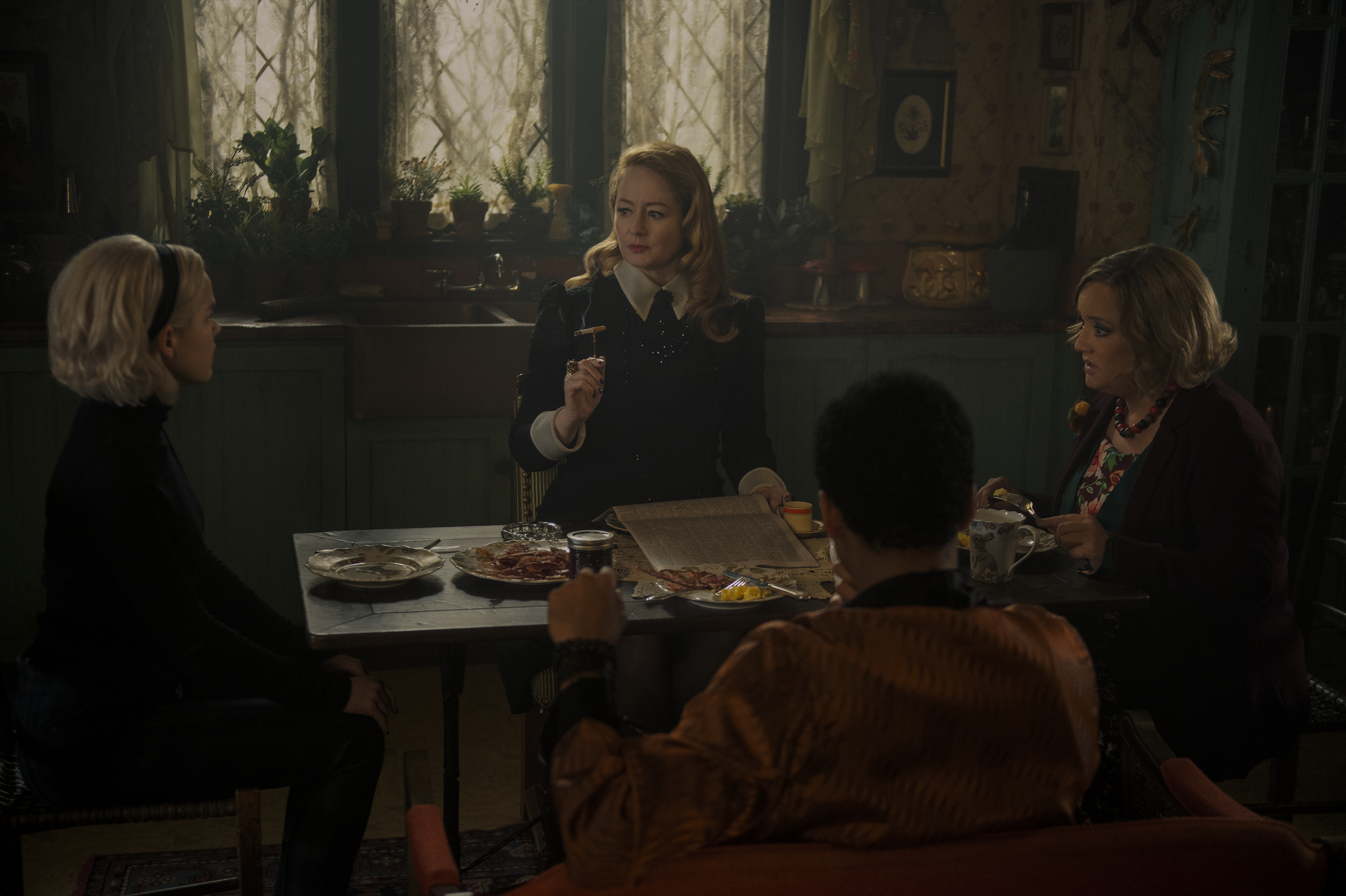 In the first five episodes, we see Sabria battling with what it means to be a slave to the Devil. She doesn't want to be, but that is what she signed up for. Sabrina is also stuck in between two men; Nicholas Scratch and Harvey Kinkle. There's another triangle happening as well; Jaz and Harvey are feeling each other? Which is slightly weird and I don't particularly like it. Satan is doing his bidding and wants Sabrina to be at his feet when he does it. The endgame for Satan is to have Sabrina Spellman be his Queen.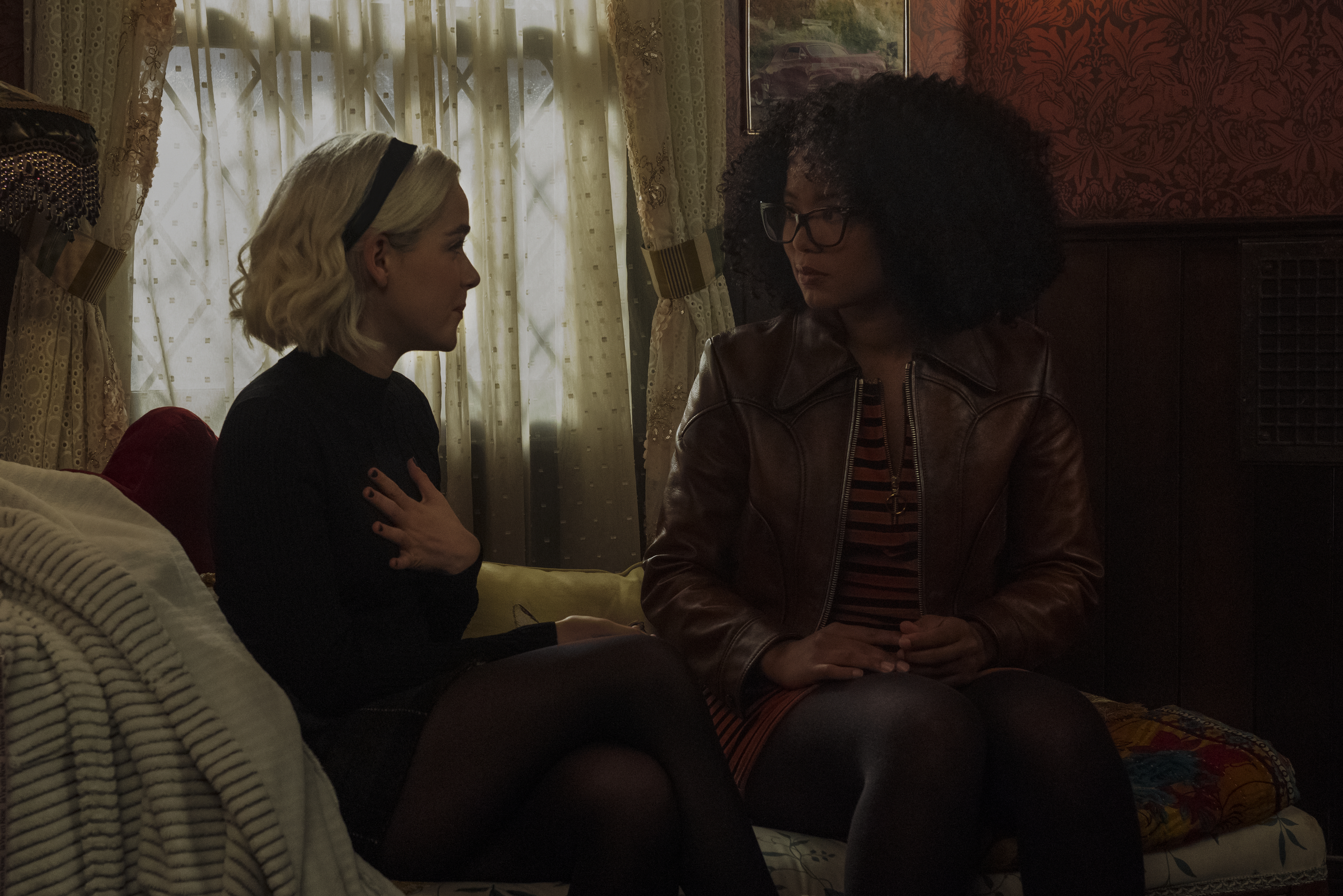 However, Sabrina is always caught in between the mortal world and the witch world. She finds herself going back and forth quite often, so Satan has to convince her that she is evil and there's dark in her soul just as much as everyone else who has signed their soul over. They all had a price to pay, hers is just a little bit bigger.
The Spellman's Are Taking Over Witch-ery In Chilling Adventures Of Sabrina Part 2
Throughout the first five episodes, we see a lot transpire in front of us. While we will not spoil any plot information from the first five episodes. It gets even crazier than the previous season; between Sabrina and her aunts, Ambrose, and even Satan, himself. The cliffhanger that even The Daily Fandom was left on after Episode/Part 5 is frightening. Each episode of Chilling Adventures Of Sabrina is a cliffhanger. We are excited to finish off the season and find out just what happens to all of our favorite characters.
CHILLING ADVENTURES OF SABRINA PART 2 BY Roberto Aguirre-Sacasa & ORIGINAL ADAPTATION BY Archie Comics
WHAT DO WE MAKE OF SABRINA SPELLMAN?
While the first five episodes are great, we hope Sabrina breaks the mold of the first part. Drifting from the series battles into a cohesive storyline that follows until the end of the series. We love the smaller storylines throughout, but they don't add much to the overall series. Nonetheless, the series is still as much fun as the first was.