Many don't know what the dark, sinister events that go on inside the Blossom mansion are (Blossoms 666 #3 does). To Riverdale, it is home to wild parties, but many don't know it is also home to dark Satanic rituals. Through these halls, there is a darker secret this household holds. The twins Cheryl and Jason Blossom who live there are not just party animals, they are also the Antichrist, but there can only be one.
As these two teens fight for the throne, a new contender has appeared. In the last issue, a long lost brother has emerged and he wants a chance for the throne. With the Blossoms mansion now a battleground, which child will have the dark honor of being crowned the Antichrist? Let's find out in Blossoms 666 #3, the newest chapter in this chilling series.
The Story Thickens In Blossoms 666 #3
Blossoms 666 #3 begins with the Blossoms telling their children about the night all three of them were born. Penelope Blossom explains that Julian was taken right after she gave birth. Cheryl becomes angry at the news that she has a new brother. Things begin to get complicated when Penelope mentions that their dark destiny still stands. All three children must fight to become the one and only Antichrist. Julian Blossom is delighted at the chance to be apart of the fight. The next day at Riverdale High, Archie and the gang were worried about Betty.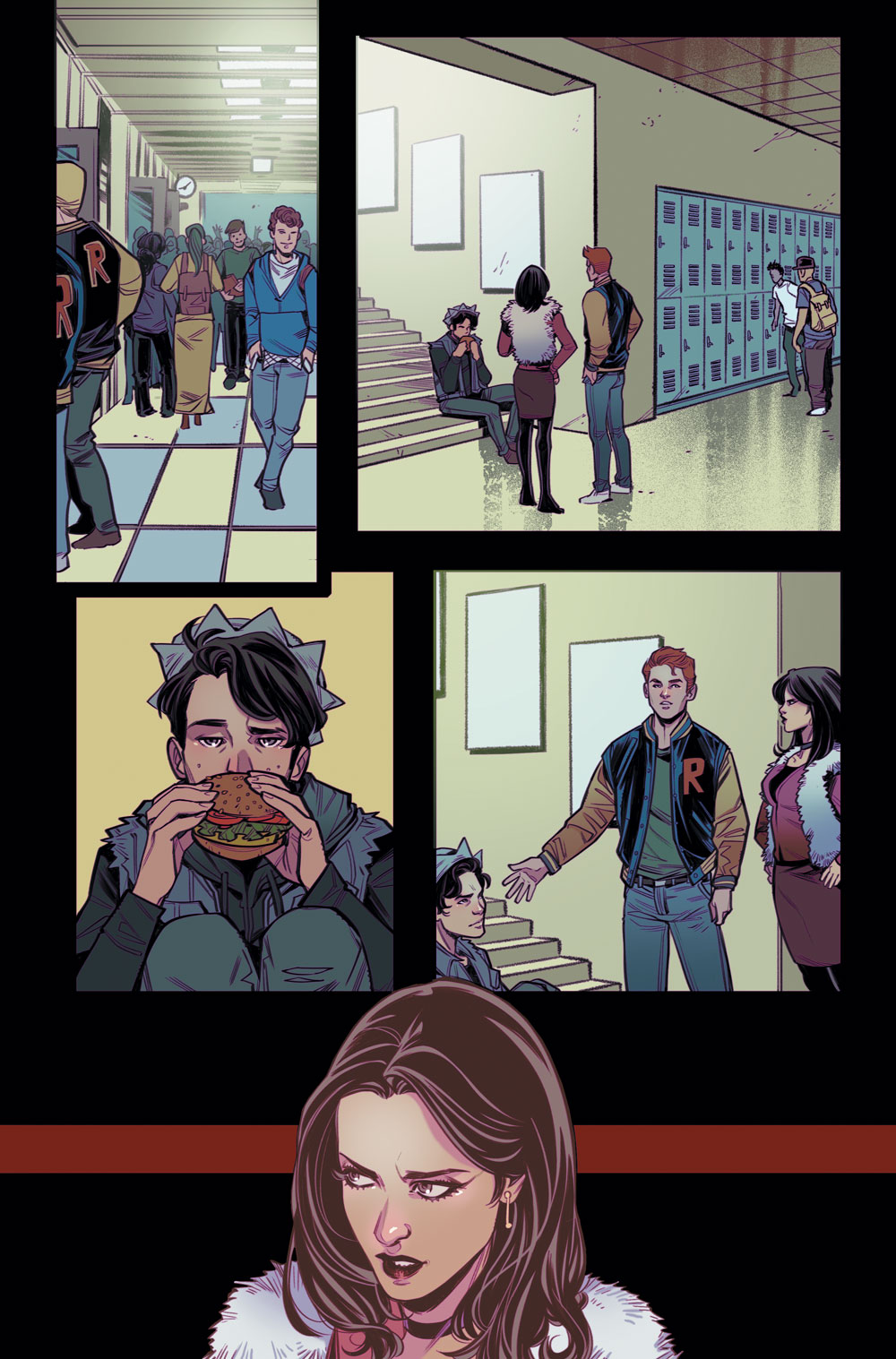 Suddenly, Cheryl appears to want to talk to Veronica alone. They begin to talk about Betty, and Cheryl begins to deceive Veronica to turn on Betty. At this moment Betty is on the way to visit Ethel but is caught off guard when passing a crime scene. Feeling terrible at what she saw she finally met up with Ethel. She begins to ask if she has any information on what happened recently. Ethel can't say but mentions a book and wants Betty to get answers.
As Betty leaves, an individual appears to applaud Ethel for what she did. Betty goes to the library and finds out some shocking information. As she looks for more information, someone grabs her book. After looking through the book this individual asks if she would like to take down the Blossoms.
Where Is Everyone?
As the Blossoms slowly take over Riverdale and use everyone for their own needs, it makes sense that people would begin to disappear. There is a bit of confusion about what's going on in a certain scene in Blossoms 666 #13. The book takes readers to Ms. Grundy's class at Riverdale High, and it is almost completely empty. At this moment, the timeline of this series has been maybe about a few days to a week since the party at Blossom Manor.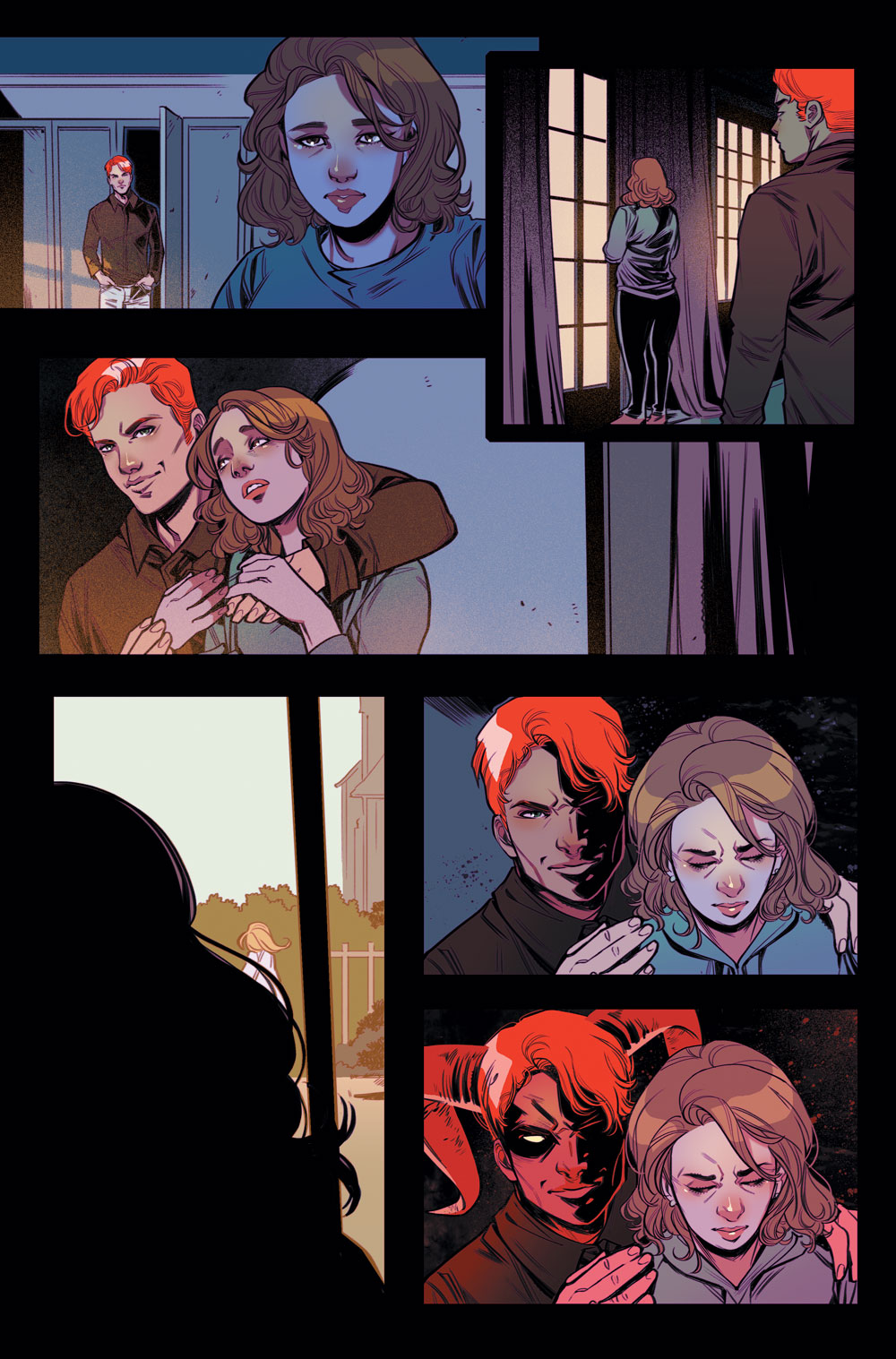 Taking that into consideration, what happened to everyone? Could Cheryl and Jason be killing people that readers aren't seeing or is everyone ditching? It is plausible that the twins would kill a ton of students. Furthermore, Riverdale residents could be just pawns in their chess game to rule the underworld. Still, it would be nice to know if that's what they are doing. The scene just looks odd for readers. The class was shown in the first issue and it looked pretty full. It's just weird that the class could be that empty and Ms. Grundy is only asking for five students. There are more students she should be worried about, right?
Blossom-ly Bloody Good Art
There are so many moments where the art shines in Blossoms 666 #3. Like always, the art conveys so much emotion that makes the book pop. The scene with Veronica and Cheryl talking shows a crow eating worms. As it is such a mundane action, the artist is able to make the act look really sinister just with positions of the creatures and the colors used.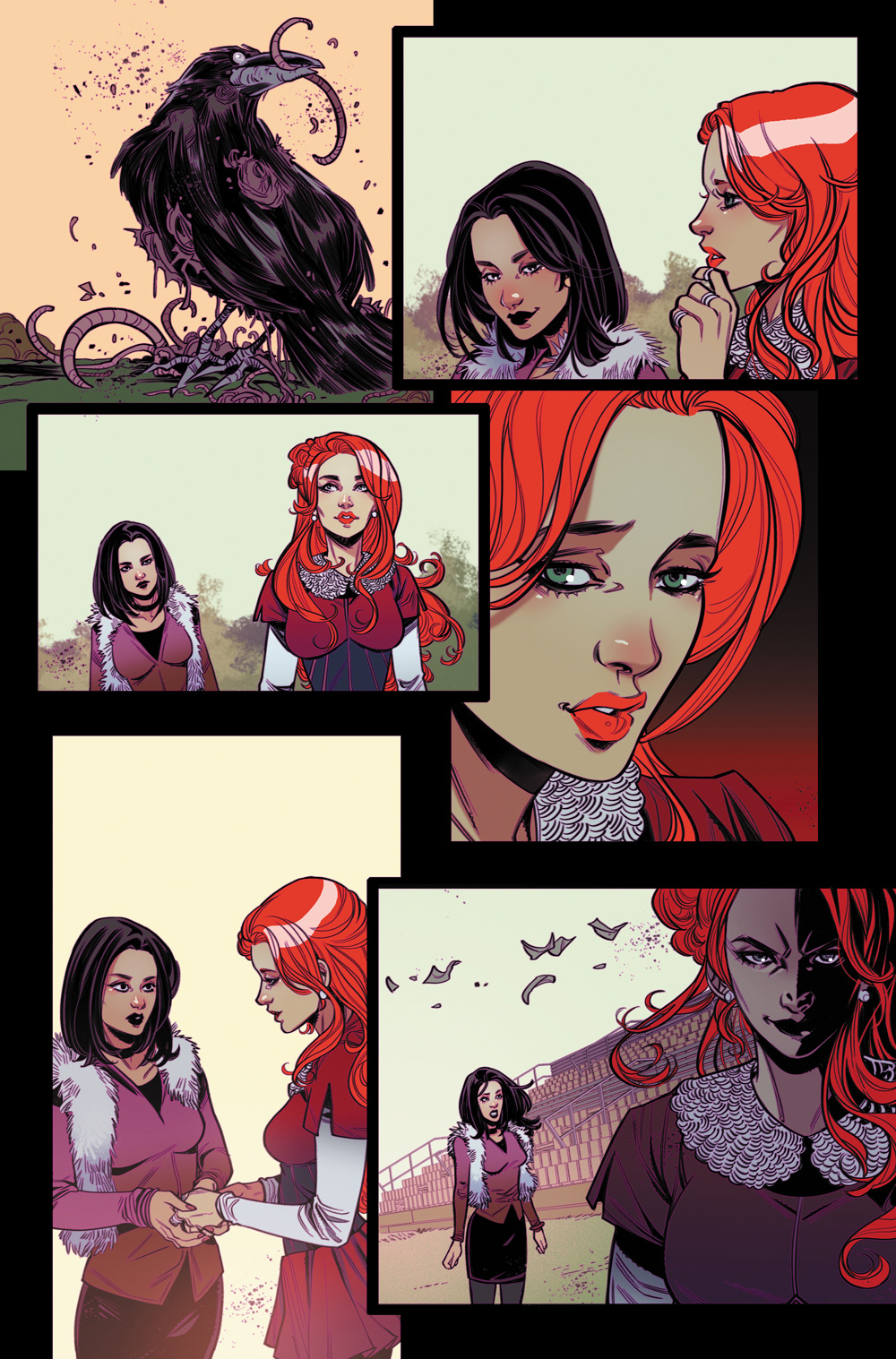 Also, at the end of that scene where Cheryl is planting the seeds of distrust, her colors go from luminous to dark and cold. It's even better that the artist applied shadow over one half of her face to really push her recent actions of being two-faced. Another example of phenomenal art is a wonderful panel that shows Jason turning into the devil. The colors in the panel just changed to red and the two horns were added to Jason and he looked terrifying. The artist Laura Braga is doing a wonderful job in this book.
This Is One Terrifying Nightmare
Goodness, if readers are looking for something to give them nightmares, look no further than Blossoms 666 #3. Ethel's nightmare comes out of nowhere and is as scary as meeting the Blossoms in person. Readers are sucked in by the art which is dark and ominous, with sinister imagery. Ethel is in a very bad place, readers don't know exactly what happened to her. All they know is that she saw something so terrifying that she hasn't been the same.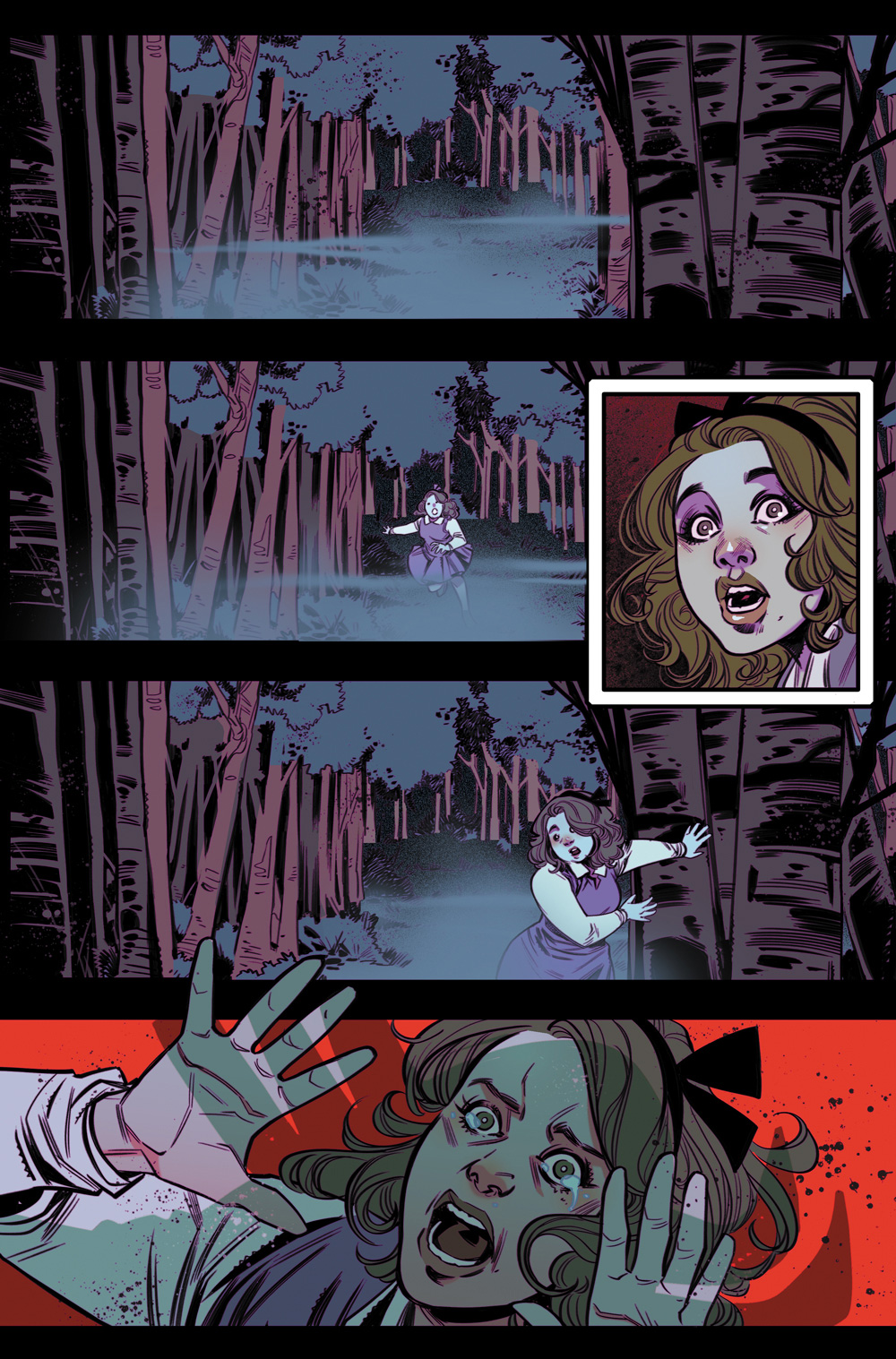 This dream may be the closest idea of what happened to this teen. Being lost in the forest and coming across a giant demon would haunt anyone, but having him grab you is traumatizing. It leads to the question if this is a real underworld creature or if one of the blossoms has the power of sorcery to mess with Ethel. The ending of the dream is so gruesome and it stays with readers even when the comic is over, which is amazing.
The Saga Continues In Blossoms 666 #3
Lastly, with comics like this coming out of the Archie Horror line, it seems like they can do no wrong. I am hooked to see how this series ends. One thing I am very happy about in this series is the introduction of Julian Blossom. As it is weird that the Blossoms are triplets the writer makes these characters work. I know it is usually a bad idea to add a long lost sibling and those ideas rarely work, but Blossoms 666 #3 uses the trope very well. As the book focuses on Jason and Cheryl, they make Julian a side character which is a great move. Many TV shows do this long lost brother trope and make the sibling a new main character or try to make them a big focus of the series overarching story.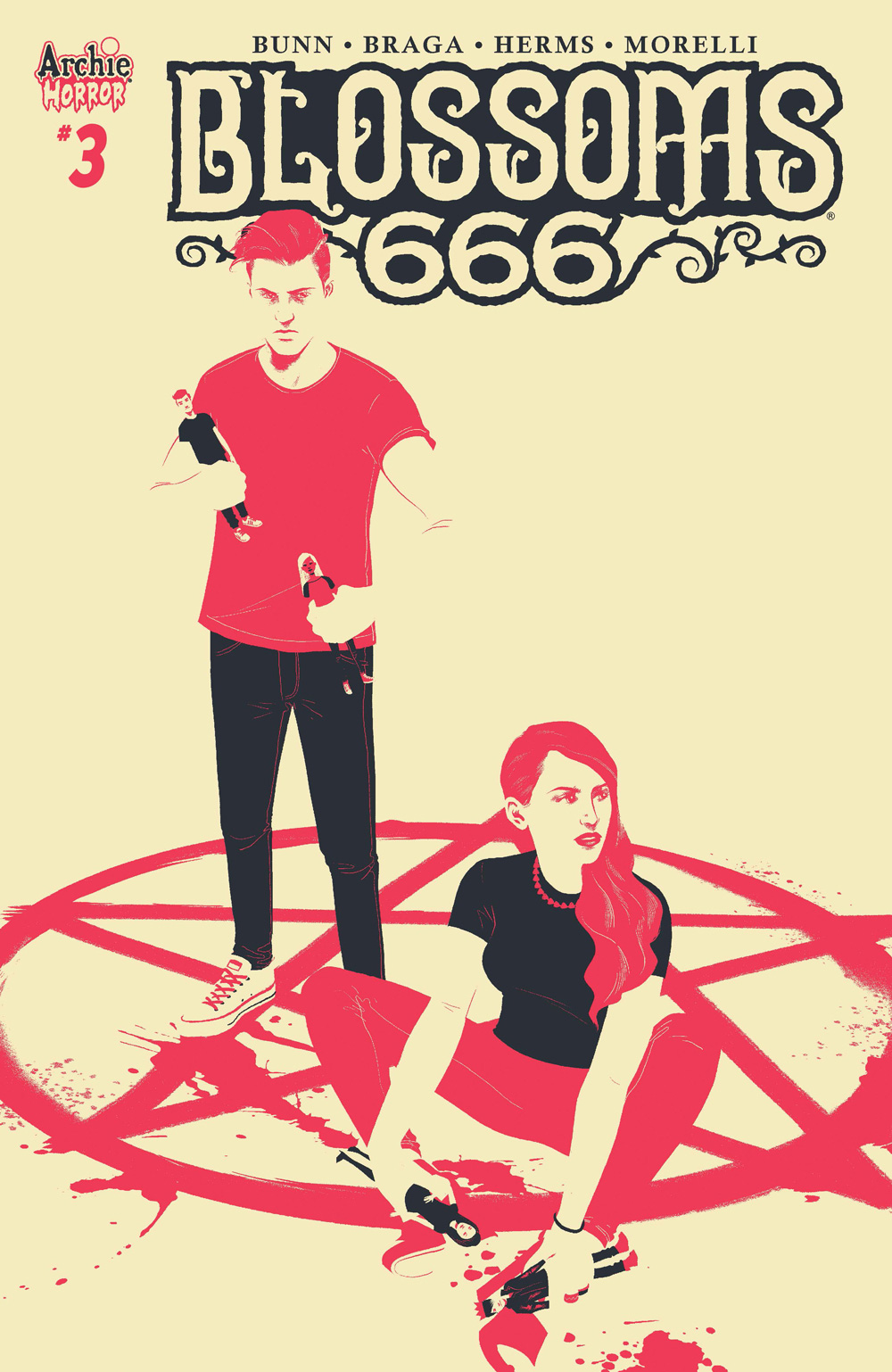 This, however, feels different because as he is now apart of the game Cheryl and Jason are playing the twin are still going on with their lives. It's almost like he isn't really competitive, which is great because we know nothing will get in their way, not even a new sibling. This comic is always a great surprise and leaves me wanting more. Furthermore, I mainly want to know how a battle for an underworld throne will end. All I know is that there will be a lot of blood and we will all get a front row seat for that with this series. As we close the doors of the Blossoms Manor again, let's hope the next issue is as exciting as this one is.