Tuca and Bertie is the latest brainchild of Lisa Hanawalt. Dropping on Netflix on May 3, Tuca and Bertie follow the titular duo of anthropomorphic millennial bird ladies through the trials and tribulations of their birdy thirties. Following the success of Bojack Horseman, Hanawalt is stepping up to prove 'toucan' never really went wrong with one of her shows.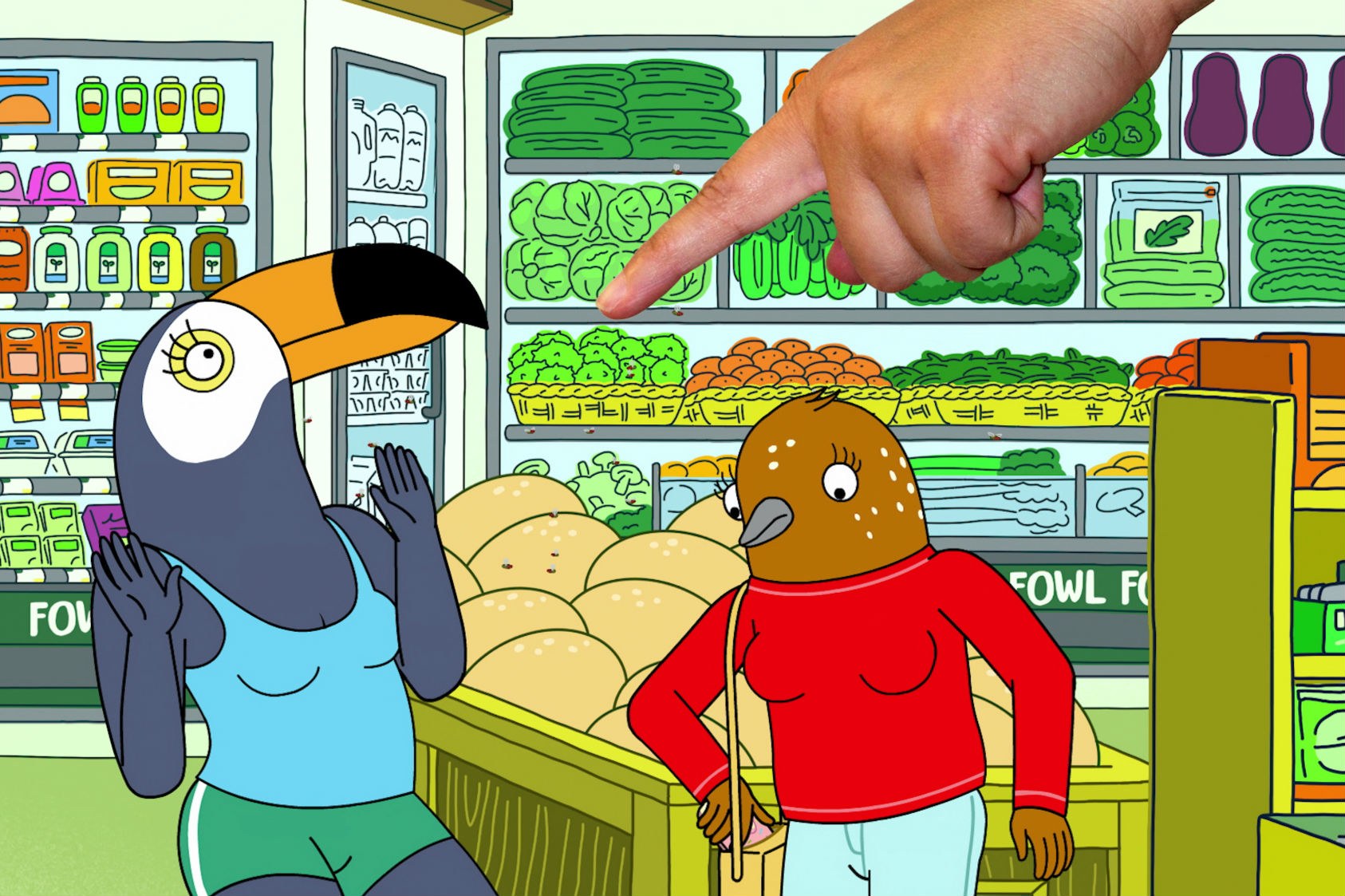 Tuca And Bertie's Mother Hen
Lisa Hanawalt hatched the egg that would become Tuca around 2013 with her Tuca the Toucan strips. You can't really discuss her work without acknowledging her past as an alternative cartoonist. She has two Ignatz awards, three publications with Drawn and Quarterly, and a whole lot of bizarre clientele.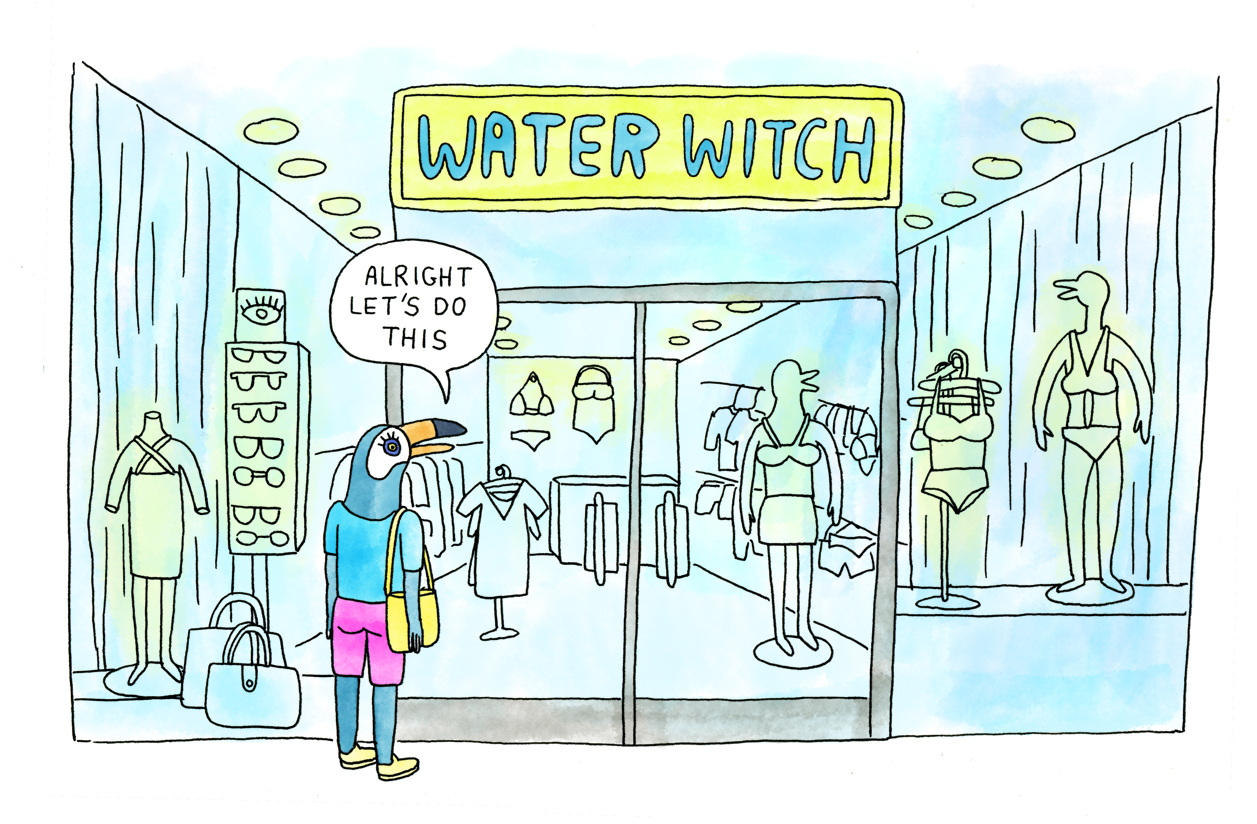 You can't really talk about Tuca without bringing up Hanawalt's success with Bojack, but to fully compare the two would do a disservice to Hanawalt as a solo creative. Her hand in Bojack doesn't extend far past the aesthetic of the world. As a solo show-runner on Tuca and Bertie, her particular sense of storytelling and humor shine through.
Birds Of A Feather
The leading ladies of Tuca and Bertie are, well, Bertie and Tuca. Two 30-something bird ladies are trying to make their way through life. At the start of the series, Tuca has just moved to her own apartment a floor above Bertie's to make room for long-term boyfriend Speckle. Tuca, played by Tiffany Haddish, is a brash party-girl-type toucan. She coasts through life on odd jobs, charisma, and the goodwill of her wealthy aunt. Bertie, meanwhile, is a soft-spoken song thrush voiced by Ali Wong. She's a good-natured daydreamer without the will to leave her stable office job to pursue her passion for baking.
The two gel together perfectly, with Haddish and Wong's chemistry echoing through every line they deliver. From a late-night heart-to-heart after an awkward first date to a tumultuous falling out, every moment between the two is crafted to perfection. The writer's best skill is their ability to communicate how much history there is between these characters you've just met. When you find out new information about the characters' pasts together, it all feels as natural as if you've lived it yourself.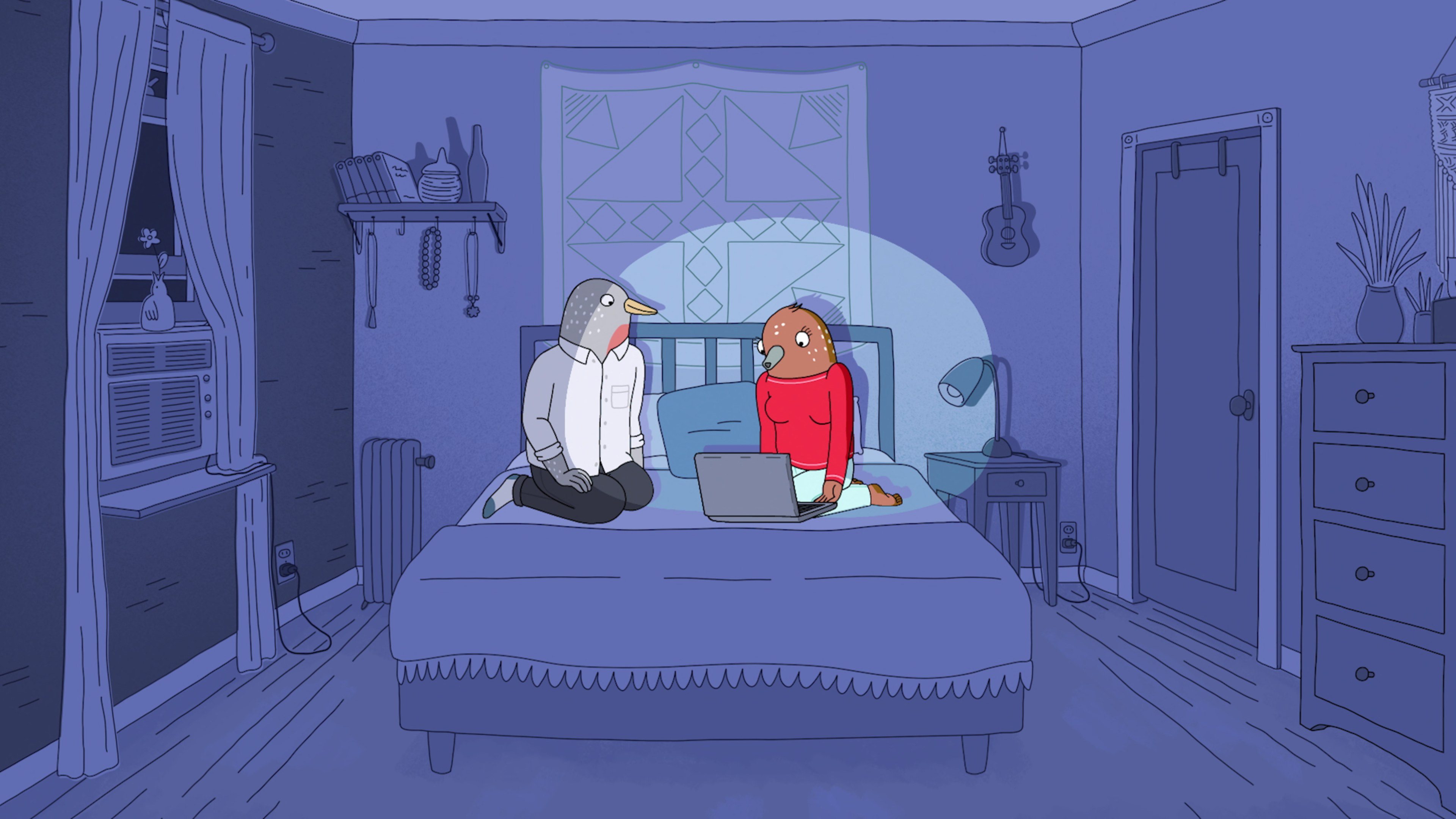 Special credit goes to Steven Yeun and his portrayal of Bertie's boyfriend, Speckle. Speckle isn't there to get in the way of Tuca and Bertie's strong female friendship but instead makes himself a part of the group dynamic. It's evident from the start that Speckle isn't just Bertie's boyfriend, but one of her best friends. This is a dynamic we don't see nearly enough in modern programming and it is what makes Speckle one of the best parts of the show.
The Ladies Of Tuca And Bertie Are More Relatable Than Any Characters On TV Right Now, Fight Me
You've probably never been a little bird in a big world, but Hanawalt knows that you've definitely felt that way. The writers of Tuca and Bertie understand the millennial female condition better than anybody else working on TV today. This is what happens when you have women in the writing room: they write good female characters.
As much as Tuca and Bertie love one another, they're still people. Bird people, but people nonetheless. To get back to a moment from Bojack, the scariest thing in the world is being known and knowing others. You allow others into your inner circle, let them know everything about you, and give them the fuel to tear you down in the most intimate ways. That's the nature of friendship.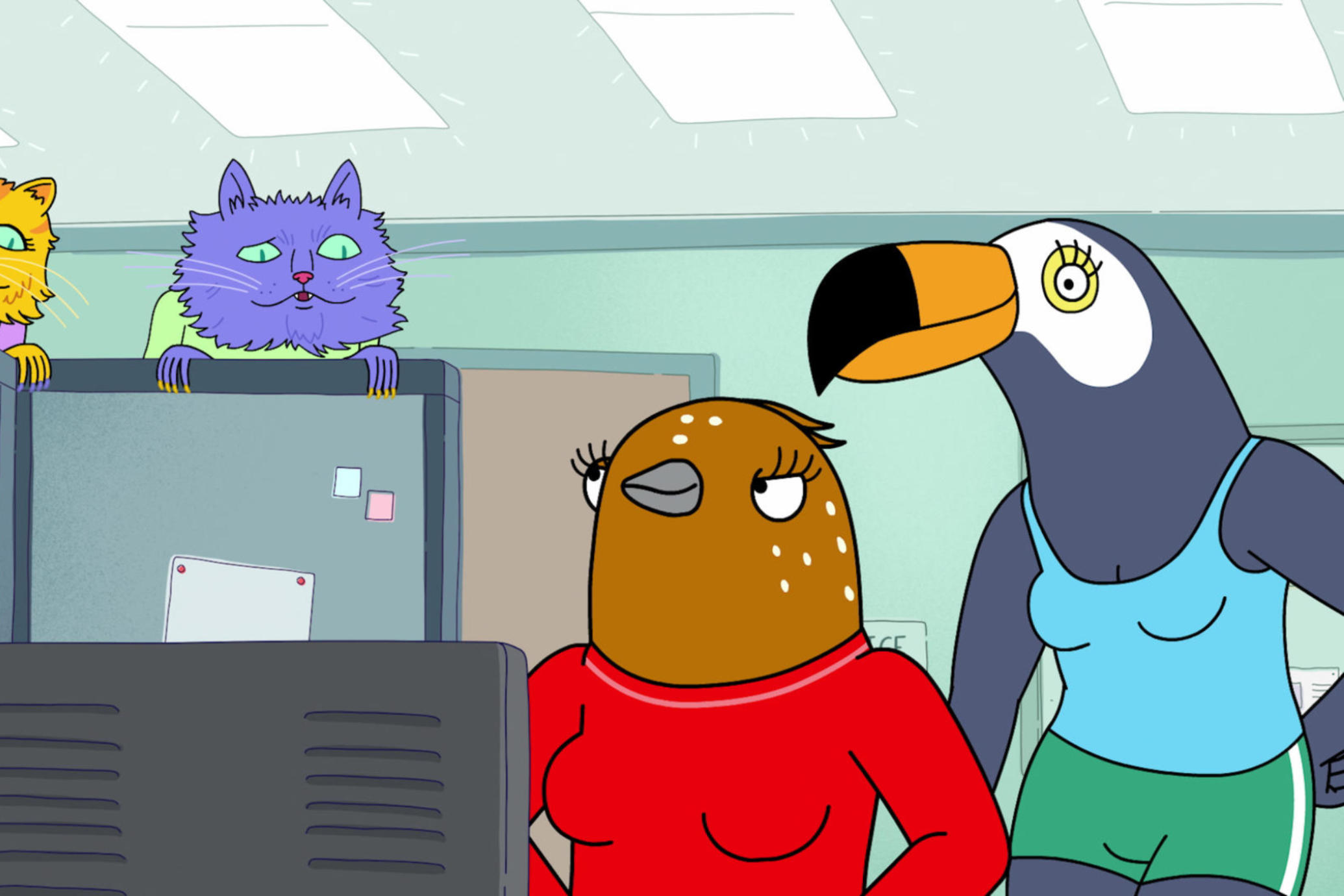 In the post #MeToo age, it's nearly impossible for a female creator not to acknowledge her own experience with sexual harassment. An ongoing conflict throughout the series is Bertie's struggle to reconcile her appreciation and respect for her baker boss with his downright creepy behavior. While she's grateful for his mentorship and attention, he treats her roughly. Pastry Pete exerts his power over Bertie in uncomfortably sexual ways. This becomes even more nefarious when we get more insight into Bertie's childhood later in the series.
Following the theme of strong female bonds, Tuca has a powerful arc about her relationships with her aunt and mother. Her aunt, who Tuca relies on for financial support, is kind of a bitch — to put it mildly. Tuca put up with the abuse until Auntie Tallulah made a snide comment about her mother. Tallulah's abuse and the way the two women view Tuca's late mother reveal everything you need to know about Tuca's character. Suddenly, her entire personality makes sense.
Why Tuca And Bertie Should Be Your 'Nest' Obsession
Tuca and Bertie is carrying on a fantastic trend in Netflix animation. Within a medium where adult work typically means Sausage Party or similar raunchy titles, Tuca understands that the most mature thing a series can be is honest. Every beat, character, and plot line is treated with care and nuance.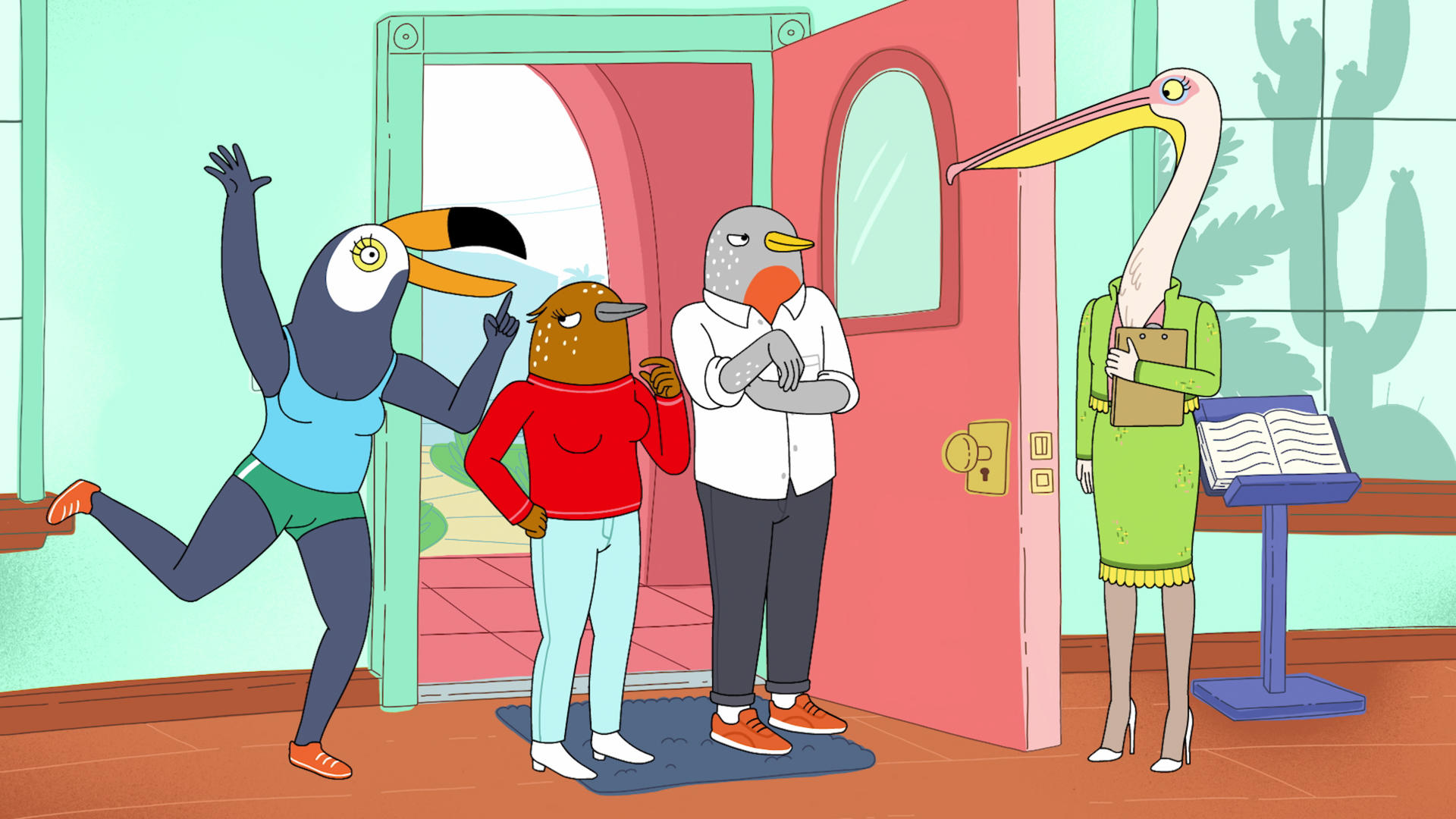 Its mature perception of adulthood is what puts Tuca and Bertie a feather above the rest. Hanawalt has a clear story to tell, and Netflix is happy to hand her a megaphone. Every moment of the show oozes with care — from heartfelt talks to bizarre jokes. Tuca and Bertie show the best and worst aspects of female friendship and do it all with a wink and a nudge.