Recently, the Television Academy had announced their juried award winners for the 71st Emmy Awards for the following categories: Animation, Choreography, Interactive Programming, and Motion Design. Among the list of winners was Kathryn Burns, who did the choreography for the CW television show Crazy Ex-Girlfriend.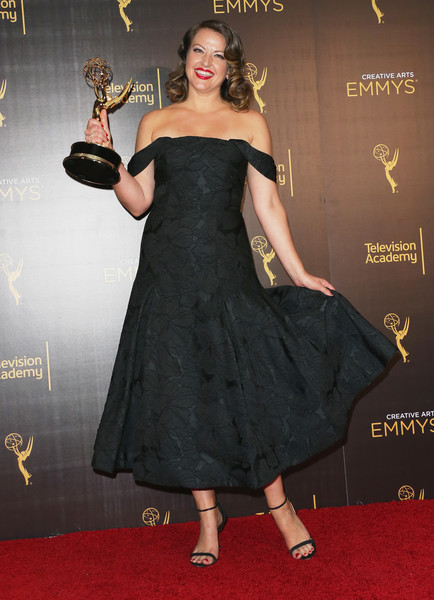 Crazy Ex-Girlfriend has done 157 songs as a musical-based show. Which means that Burns has choreographed 157 musical numbers. So it's no surprise that she has become the first person to win an Emmy under the new juried category: Outstanding Choreography for Scripted Programming. With news of her recent win, I could not think of a better way to honor Burns than to give you all my top ten musical numbers from Crazy Ex-Girlfriend (which just to let you all know was extremely difficult for me to pick).
10. "The Moment Is Me"
I'm not going to lie, I almost wasn't going to put this song on the list. (I was going to put "Fit Hot Guys Have Problems Too," which deserves an honorable mention).
Though, after re-watching it, I was reminded of how much I love watching Heather (Vella Lovell) in this song. I absolutely love seeing Heather give such a reluctant performance while she has enthusiastic dancers beside her. The amount of energy and perkiness that the dancers had mixed with Heather's grudging performance is comedic perfection.
9. "The Group Mind Has Decided You're In Love"
This is honestly the perfect parody of Oklahoma! "Out of My Dreams." For those who aren't familiar with the musical, it's pretty much a country-based musical. "Out of My Dreams" is a fifteen-minute long piece in which we see the main character, Laurey, struggling with her feelings with her two suitors, Curly and Jud. The 1955 number was choreographed by the esteemed legend, Agnes de Millie.
At the beginning of the number, de Millie gives us mainly a country-like dance that has a hint of ballet. As the piece progresses, we see that de Millie has choreographed a full out ballet number, which honestly really doesn't make that much sense. Now, don't get me wrong, the choreography that de Millie did for Oklahoma! is beautiful; I just personally don't understand the need to randomly go to ballet.
The randomness of de Millie's choreography in Oklahoma! is mostly like what Burns was going for in the Crazy Ex-Girlfriend piece. In "The Group Mind Has Decided You're In Love," we get that strong country vibe with the random ballet tossed in. Burns's piece is very reminiscent of de Millie's.
Burns gives us all in this performance. We have country, ballet, and hip-hop, all of which were so enjoyable to watch the cast perform. Seeing Rebecca (Rachel Bloom), Tim (Michael McMillian), and AJ (Clark Moore), dab at the end of the hip-hop portion is so funny to me. To be completely honest, I've probably watched the dabbing part of this number maybe a thousand times. This is truly one of my favorites and one of the most memorable numbers from season four of the show.
8."Love's Not A Game"
We love a Guys and Dolls parody! For those who have never seen the musical, it stars a talented cast that includes: Frank Sinatra, Vivian Blaine, Marlon Brando, and Jean Simmons. To put it simply, the musical is pretty much about two gamblers and their love lives. Crazy Ex-Girlfriend's "Love's Not A Game" perfectly encapsulates the vibe of Guys and Dolls, with the rest of the cast betting on Rebecca's love life.
Two numbers from Guys and Dolls that I think of when watching "Love's Not A Game," are: "Oldest Established (Permanent Floating Crap Game)" and "Luck Be a Lady." In both of these numbers, there is a use of money as a prop in their choreography, mainly in the middle and end sections. It's clear that Burns found inspiration from Guys and Dolls for this number. As evidenced by all the characters interacting with money throughout the piece.
I love the group numbers and this one definitely does not disappoint. It was such a joy to see pretty much all of the main cast and the minor characters in this number. Also, seeing Paula (Broadway legend Donna Lynne Champlin, who I also think should star in a Disney musical) tap dance for a hot second in this number? That was everything to me.
7. "Strip Away My Conscience"
Now, this number seems to be a parody of Bob Fosse's style with their incorporation of jazz. To be more specific, it seems as if this number could be a parody of the musical Chicago. For example, the outfits, snapping, and jazz hands that Rebecca and the rest of the background do within this number are all key movements of that Fosse style. (Although, "What's Your Story?" from the show it is a perfect "Cell Block Tango" parody, and that deserves a mention).
This jazz song swings from sexy to hilarious and back to sexy in a matter of a few lines. One of my favorite moments in this number is at the end when Rebecca starts to strip and mention that the thong that she tossed at Nathaniel (Scott Michael Foster) was, "just up her butt."
Songs and lyrics aside, the dancing itself? It's hot. Despite the fact that we only see a few glimpses of the background dancers, you can tell that they give their all. However, I do wish that we could see the whole number because I would love to see more jazz choreography from Burns.
6. "Settle For Me"
Would anyone care for a tap dance? If not, I suggest you skip ahead since this number is all tap, baby! This lovely little number seems to be parodying that classic Hollywood style of Fred Astaire and Ginger Rogers—this clip from Swing Time being their most well known—, which is highlighted by having this number be in black and white.
In an extra on The CW's website, Burns reveals that Santino Fontana (who played Greg in the first two seasons) is not a good dancer, but he is a good tapper. This number is evident in that. In addition, this song and dance are cute too and that's always a bonus.
And a fun fact: this number is one of the three numbers that landed Burns her first Emmy in 2016!
5. "Anti-Depressants Are So Not A Big Deal"
I would like to apologize to anyone who skipped ahead because this number also features a tap dance. However, if you like La La Land, then I suggest you stick around because this is basically a parody of that, and it includes some dancers from the opening scene!
I love this number since not only does it break down the stigma of taking medication, but the tap part always blows me away. My brain always seems to explode at how fast the tapping is and just how the dancers and Rebecca make it look so easy. Fast tapping is the true highlight of this number. Does anyone else wish they knew how to tap dance so they could learn this dance? Or is that just me?
4. "Let's Generalize About Men"
Ah, yes. It's the most feminist and anti-feminist song I've ever heard and watched.
I'm going to be honest, the only reason this number beat out "Settle for Me" and "Anti-Depressants Are So Not A Big Deal," is because of the sheer 80s vibe it gives off. The bright outfits and makeup just screamed the 80s to me. The hairstyles in this number remind me of the hairstyles in Cyndi Lauper's "Girls Just Want To Have Fun" music video.
The dance that Burns choreographed looks simple enough that you could probably do it when you're wine drunk if you're bold enough. I mean, wouldn't it be fun to do a bunch of one-steps and then immediately go the, "watch porn, eat wings, fart, and snore" choreography? "Let's Generalize About Men" is such a fun song and dance that I wish that I had three friends who were into musicals as much as I am, so we could recreate this number.
3. "Horny Angry Tango"
I love a good tango and this number is just that. To be completely honest though, I don't know much about tango dancing other than it's really hard. So, this number earns the number three spot on the list solely for the fact that Rebecca and Nathaniel danced it so well.
In a video with Mashable, Burns mentions that one of the challenges that they faced when doing this number is the height difference between Bloom and Foster — since tangos are usually face to face. To combat that height difference, Burns suggested they have an eight-inch tall platform for Bloom, as she wore three-inch heels to stand on for one portion of the dance.
Another moment that I think deserves mentioning is the 'horizontal tango.' In the number, we see Rebecca and Nathaniel laying on the floor in a horizontal tango (which is a euphemism for sex) position. However, ten seconds later we were shown that they weren't on the floor, but rather they were up against a wall designed to look like the floor. This is one of my favorite parts of the whole tango because it's unexpected and hilarious.
2. "I'm So Good At Yoga"
Sometimes this number makes me miss season one Valencia (Gabrielle Ruiz), but then I remember how much she's grown since then and then I don't.
That aside, this number is truly one of Crazy Ex-Girlfriend's best. Whenever I watch this, I'm always left in awe at how good of a dancer Gabrielle is. In this piece, Gabrielle is pretty much out dancing the dancers alongside her, and she doesn't even look out of breath either! I adore this number since it resembles the Bollywood style as evidenced by the costumes, music style, and choreography. Another side-note: this number is also one of the three numbers that landed Burns her Emmy in 2016.
1. "Don't Be A Lawyer"
And finally, clocking in at number one is my all-time favorite number, "Don't Be A Lawyer." Jim (Burl Moseley) gave such a captivating performance that I wish we had more songs and performance of him in the show.
This specific number seems to be mimicking the early 90s boybands like New Kids on the Block and Boyz II Men. "Don't Be A Lawyer" reminds me so much of "Motownphilly" by Boyz II Men, with the colorful suits, dancing, and the music itself. In addition, one of my favorite bits is when AJ tries to argue with Jim about the different types of lawyers, but Jim just shoots AJ down as he and the background dancers continue on with their number.
Also, one of the biggest reasons that "Don't Be A Lawyer" claimed the number one spot is because it reminds me of one of my favorite English professors, who used to be a lawyer (shout to Tishna). So, whenever I listen or watch this piece, I always think of her and the paper I wrote about Crazy Ex-Girlfriend for her class.
It should come as no surprise that this number, along with "Anti-Depressants Are So Not A Big Deal," are what helped Burns win her second Emmy.
What Is Kathryn Burns Up To Now?
Since Crazy Ex-Girlfriend ended back in early April, some of you might be wondering what Kathryn has been up to now. According to her Instagram, she just choreographed it for Why Women Kill. (So, make sure you all check out that episode!) Rest assured, she's still out there, choreographing wonderful pieces to showcase to the world.
The Impact of Kathryn Burns & Crazy Ex-Girlfriend
Overall, these ten musical numbers are just a taste of the talent that Kathryn Burns possesses. The numbers I have picked out really differ in genre, and it is proof at just how versatile Burns is and why she deserves her two Emmy wins.
One of the most important things I want to point out is that Burns and Crazy Ex-Girlfriend have provided a new medium for choreography. With the addition of the new Emmy category, it shows that there is a new place for choreographers to showcase their talents. While it's only a small addition, it can hopefully pave the way for more dance or musical-based television shows, just like Crazy Ex-Girlfriend.