All of the photos included will be courtesy of BOOM! Box and CLUELESS: ONE LAST SUMMER. The softcover (SC) will be out on December 5th, 2018.
---
If you were reading The Daily Fandom this summer, we reviewed CLUELESS: SENIOR YEAR. We gave it a whopping full score, so we were beyond excited to see the team come back with the final installment (as of right now) titled, CLUELESS: ONE LAST SUMMER.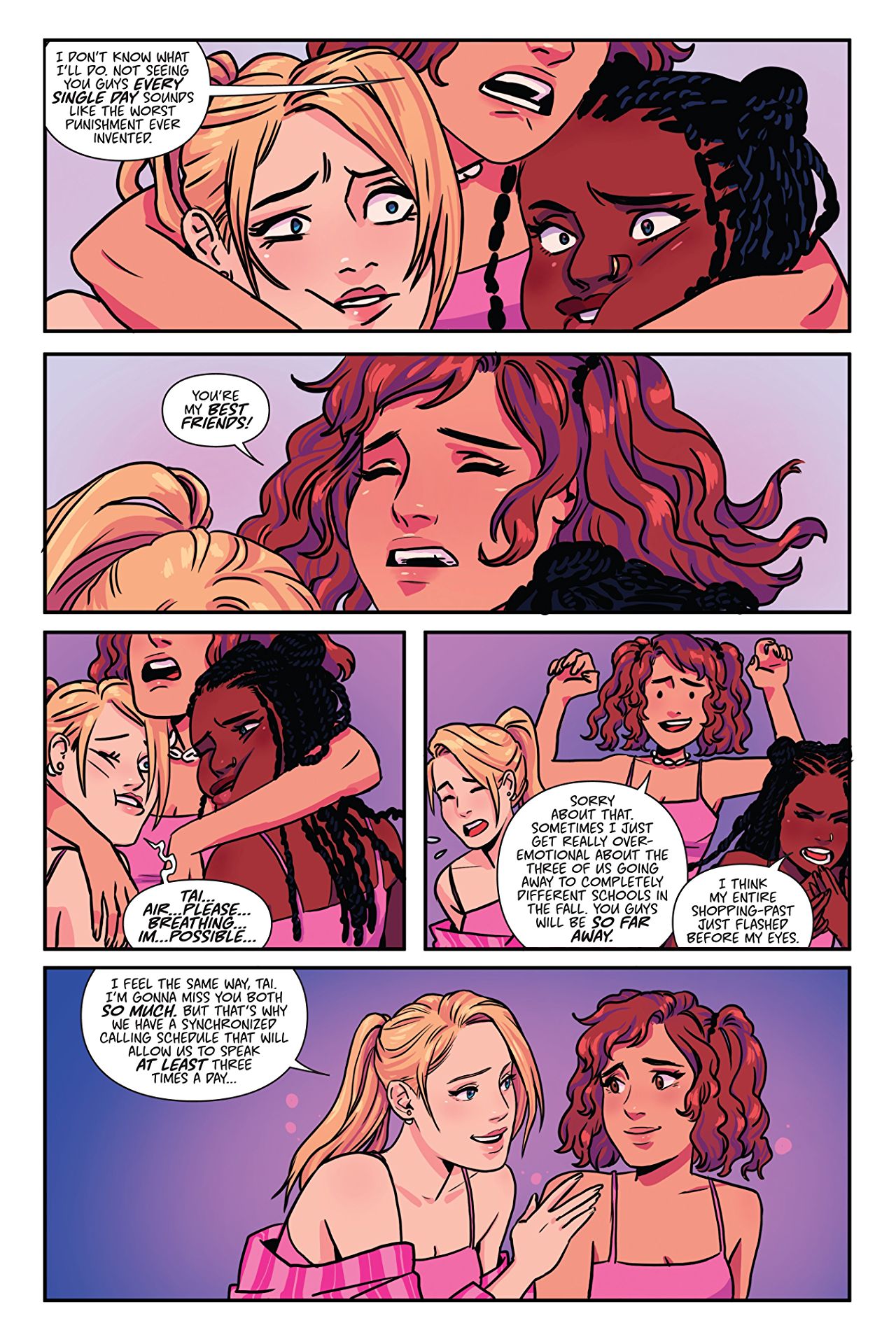 This SC is written by Amber Benson and Sarah Kuhn. The characters were created by Amy Heckerling. CLUELESS: ONE LAST SUMMER is illustrated by Siobhan Keenan, colored by Cathy Lee, and lettered by Jim Campbell. The cover was by Natacha Bustos. We also did an exclusive preview of the SC before it was out that you can check out here. 
What Happened During SENIOR YEAR For Our Favorite Gal-Pals?
Last time we saw our favorite girls they all were in their last year of high school. Taking relationships, friendships, and love by storm. Throughout the graphic novel, we got a glimpse into what Cher, Dionne, and Tai were doing their last year of high school. This graphic novel was fun, nostalgic, and brought us back to the 90s in spite of it being over a decade since we last saw the crew of Clueless.
Heading Off To College With Cher, Dionne, & Tai In CLUELESS: ONE LAST SUMMER
Right off the bat, we are dropped into CLUELESS: ONE LAST SUMMER at the end of the previous graphic novel. We are dropped into a graduation party, which was right where the previous arc ended, that was a nice surprise. We don't have to wonder what happened between the first and second novels, which is a great addition to the two-part series we have with the CLUELESS gang. As readers, we were shocked that everything remained consistent.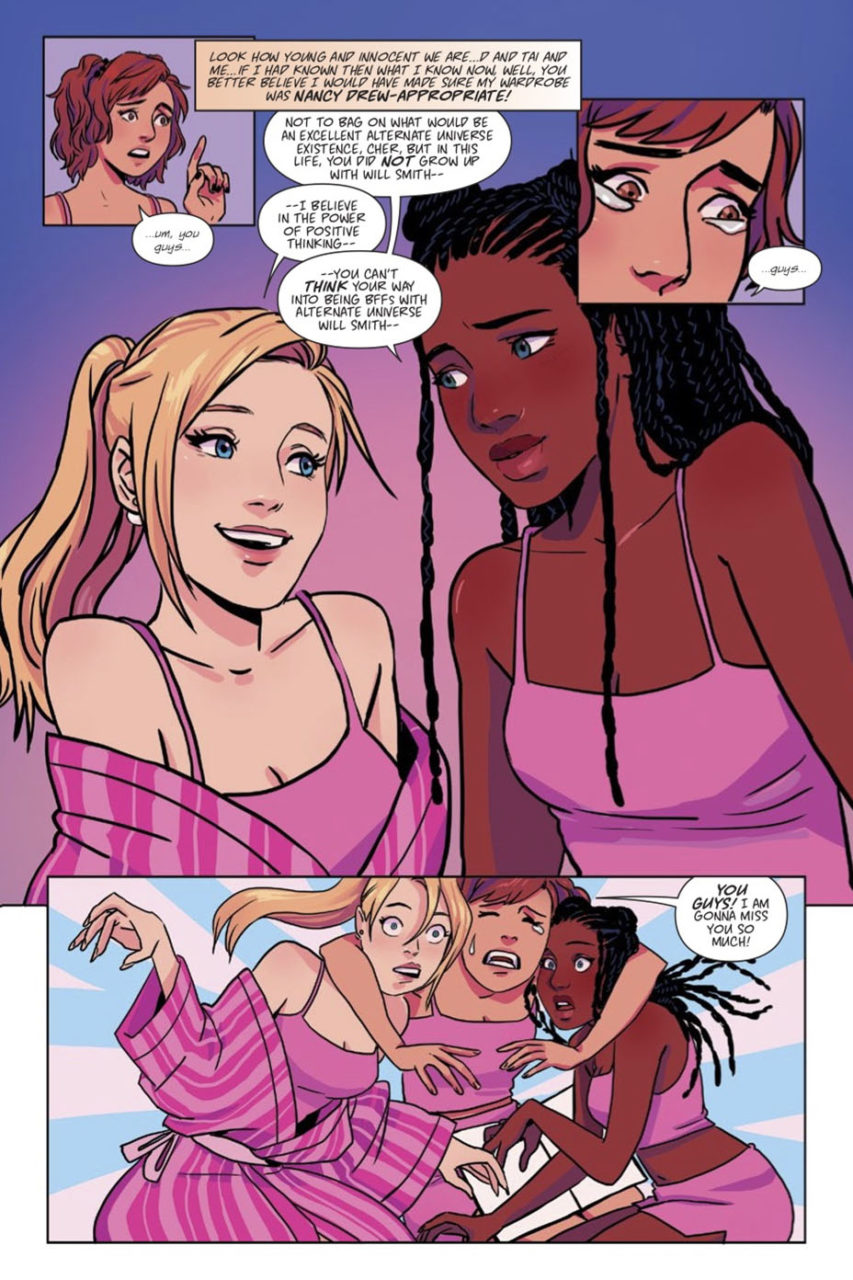 In terms of art and writing, this issue is consistent with the style of SENIOR YEAR. Since we loved SENIOR YEAR (we gave it 5/5) this was such a great delight to have the same great voice and tone of the characters. If you are looking for SENIOR YEAR and ONE LAST SUMMER to add to the lore of Clueless, it doesn't do that. It sticks with the consistency of the characters from the 90s film and builds upon that. It doesn't add new developments, but it is a truly enjoyable read if you loved the characters from the film as much as we did.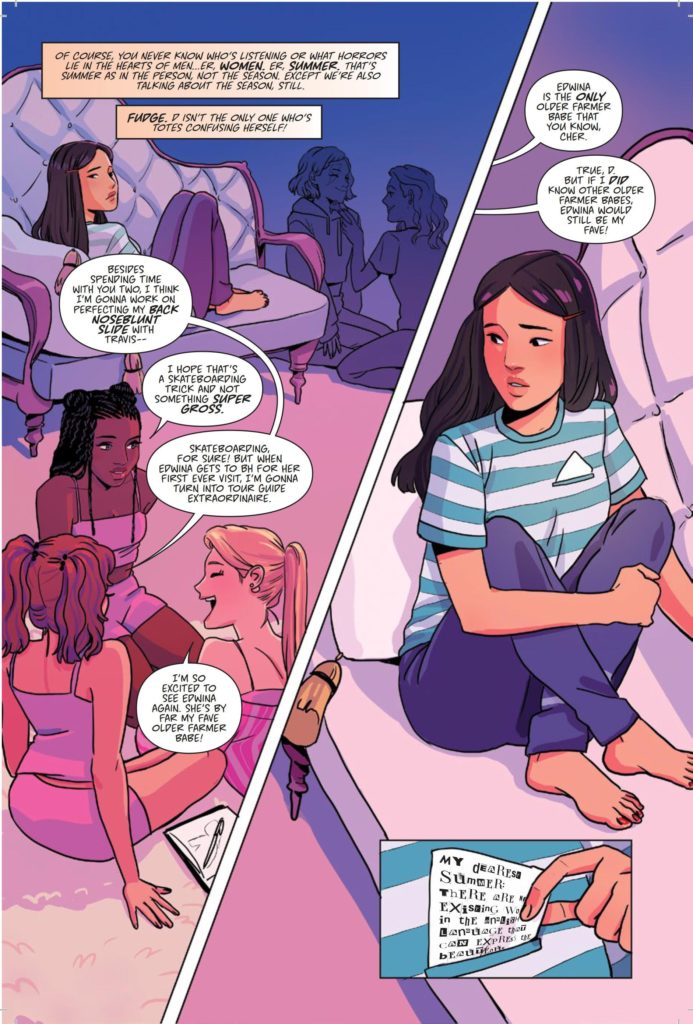 They are buyable and excellent to have in your collection. As for a quick synopsis of ONE LAST SUMMER, we are joined into the last summer before college that Cher, Dionne, and Tai will have together. Even though they will all still be in Los Angeles… this was the official last summer they had with no worries and no stress. After this, college, long-distance relationships, and a different friend group will take over. What are they to do? Let's end the summer with one last hurrah!
This Graphic Novel Is 'Hella' Cool
This story is perfect for the characters of Clueless. We have a very timid story, similar to the last graphic novel, with Cher being Cher again. However, without it being repetitive or boring, they make it extremely fun. We get a fun playlist to listen to while reading (if you want), we get each character getting a section again, and we get massive hella good vibes.
If this awesome team-up only happens once a year for a spin-off version of Clueless, we will 100% back it and support it. The art is wonderful to stare at and study along with the writing. Amber Benson and Sarah Kuhn did an amazing job of writing the characters as their own. They are exactly like the first SENIOR YEAR arc; which is transcendent. After taking a long pause between the two, it's as if no time has passed. 
That is to be said for the art as well. It is the same as SENIOR YEAR in the best way. What we loved about SENIOR YEAR was the high-class art — to see that it is the same and even better here is what we wanted. It is hella not toe-up? (I am hip n' cool, mom!) Nonetheless, the writing and art are high-class and we wouldn't have it any other way for our favorite bougie gal-pals.
Should You Go Out & Buy CLUELESS: ONE LAST SUMMER?
Since the plot of CLUELESS is standard, any indication of anything that happens will be a spoiler. There is only so much that happens and any indication of talking about it will ruin it for the reader. In that regard, we decided to stray away from so much of a plot synopsis.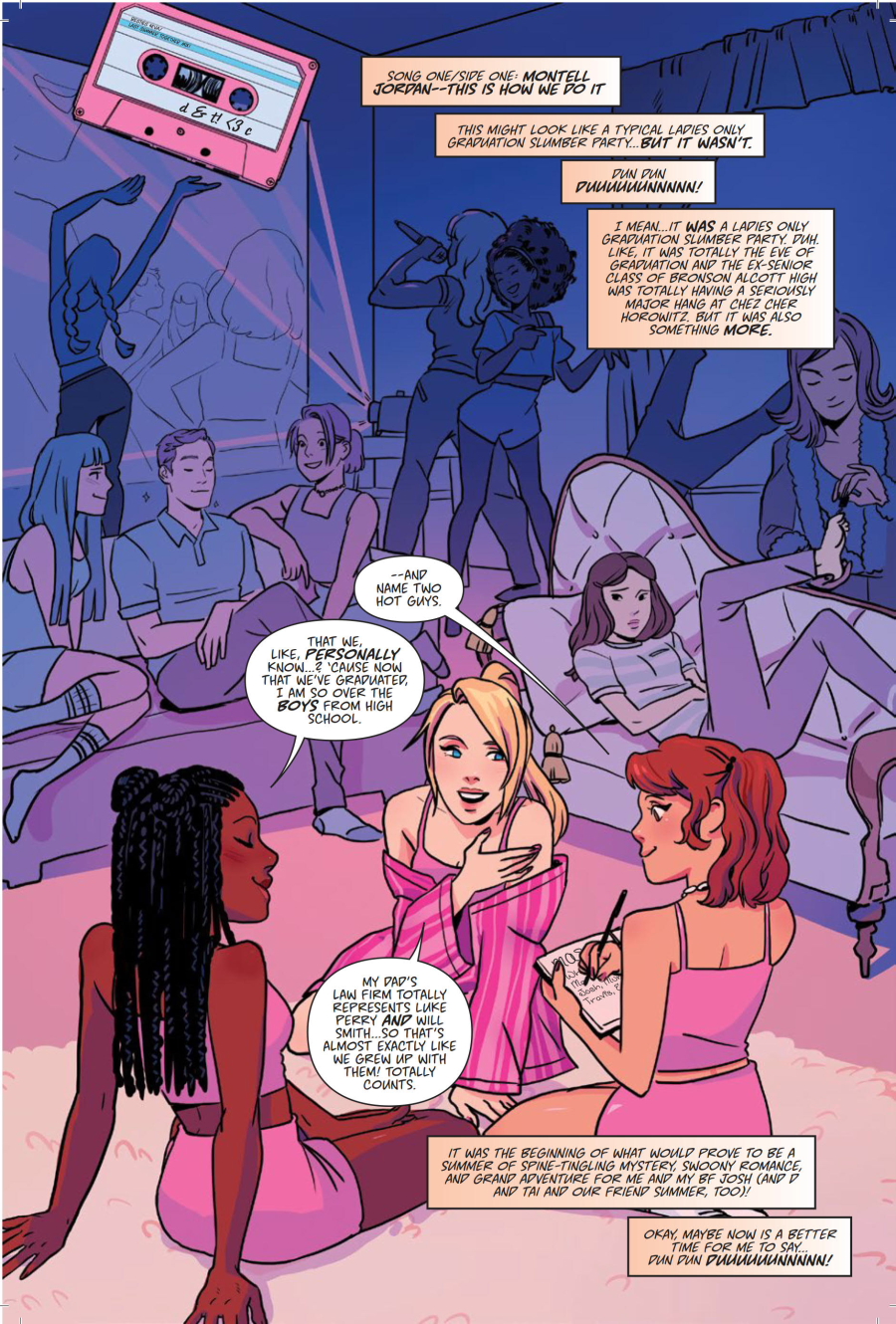 We truly did love the way the gal-pals turned out, and we enjoyed the plot of this ONE LAST SUMMER with the gang. Unfortunately, as of right now, there's no word on any future installments, so this will be the last time we see our gals in a while. In light of that, we had a blast with Amber Benson and Sarah Kuhn's version of Clueless. Added with the gorgeous art and illustrations of Siobhan Keenan, Cathy Lee, and Jim Campbell.  
CLUELESS: ONE LAST SUMMER by Amber Benson, Sarah Kuhn, Siobhan Keenan, Cathy Lee, & Jim Campbell.
THE LAST INSTALLMENT OF HELLA NOT TOE-UP GOODNESS
CLUELESS: ONE LAST SUMMER by @amber_benson, @sarahkuhn, @siobhanchiffon, #CathyLee, & @CampbellLetters is back for the last installment of Cher, Dionne, and Tai. What trouble can these girls get into now?