In the ultimate example of striking while the iron is hot, coming off of the releases of the Rise of Skywalker and The Mandalorian, Marvel is launching their newest Star Wars series, to cover the gap between Empire Strikes Back and Return Of The Jedi. To helm Star Wars #1, no stranger to the Star Wars universe himself is Charles Soule.
Soule is joined by artist Jesús Saiz, a former collaborator from their time on Swamp Thing. Colorist extraordinaire Arif Prianto and seemingly omnipresent letterer VC's Clayton Cowles are on board as well. Recent Powers Of X artist, R. B. Silva, joins the series to provide covers, along with Guru-eFX.
But Why Is There A New Star Wars #1?
It's been five years since the last Star Wars #1 came out. However, that book focused on the timeframe between A New Hope and Empire Strikes Back. We can safely assume that once this book has reached its end, another will be replacing it to cover the next time gap.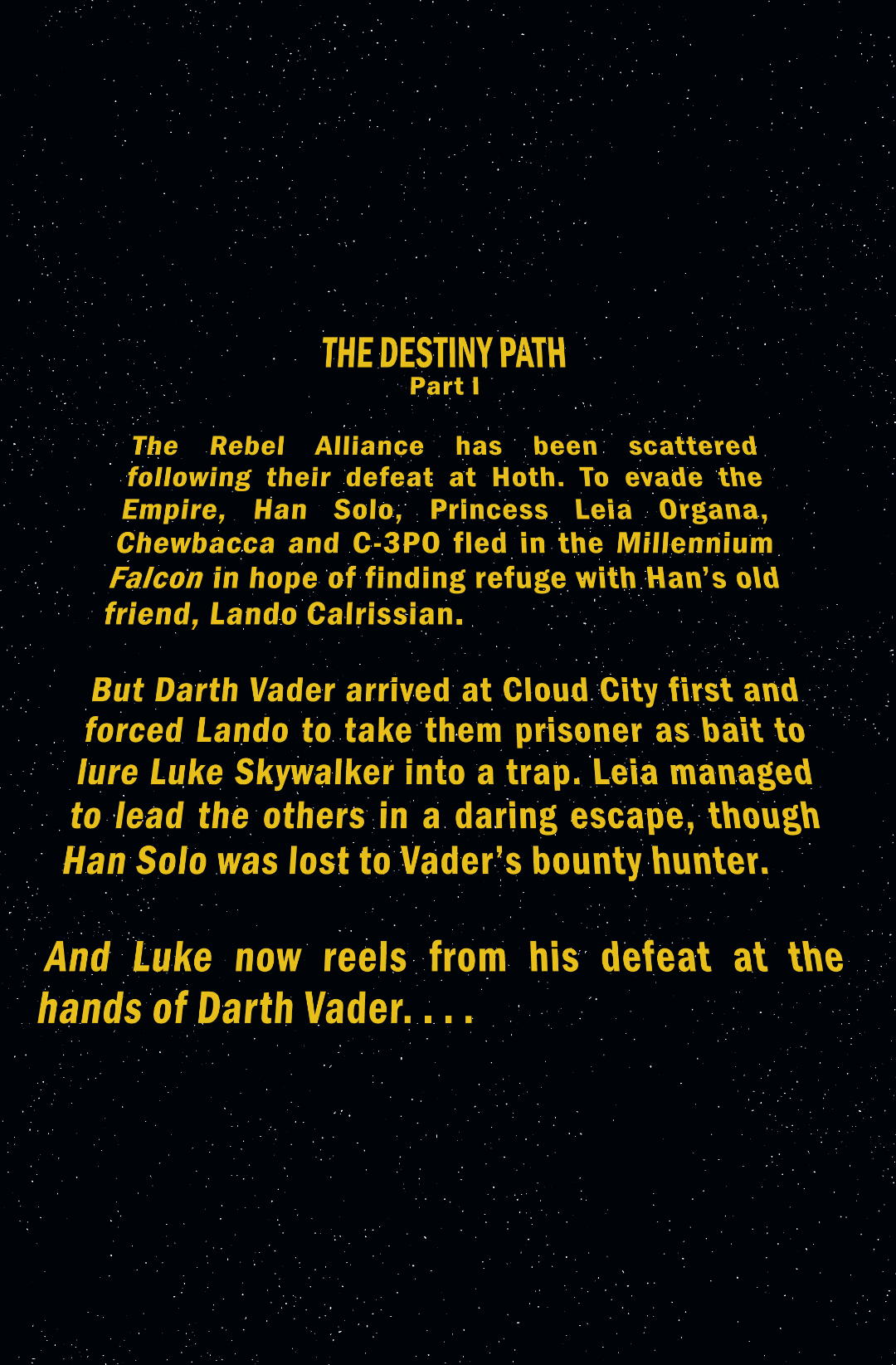 There's roughly a year of continuity between the end of Empire Strikes Back and Return Of The Jedi. There's not a whole lot that we know happens, outside of a few key events, so this series has a lot of ground to cover. Luke will make a new lightsaber; Leia will become Boushh; Lando has to get implanted at Jabba's Palace; A year is more than enough to carry some surprises with it.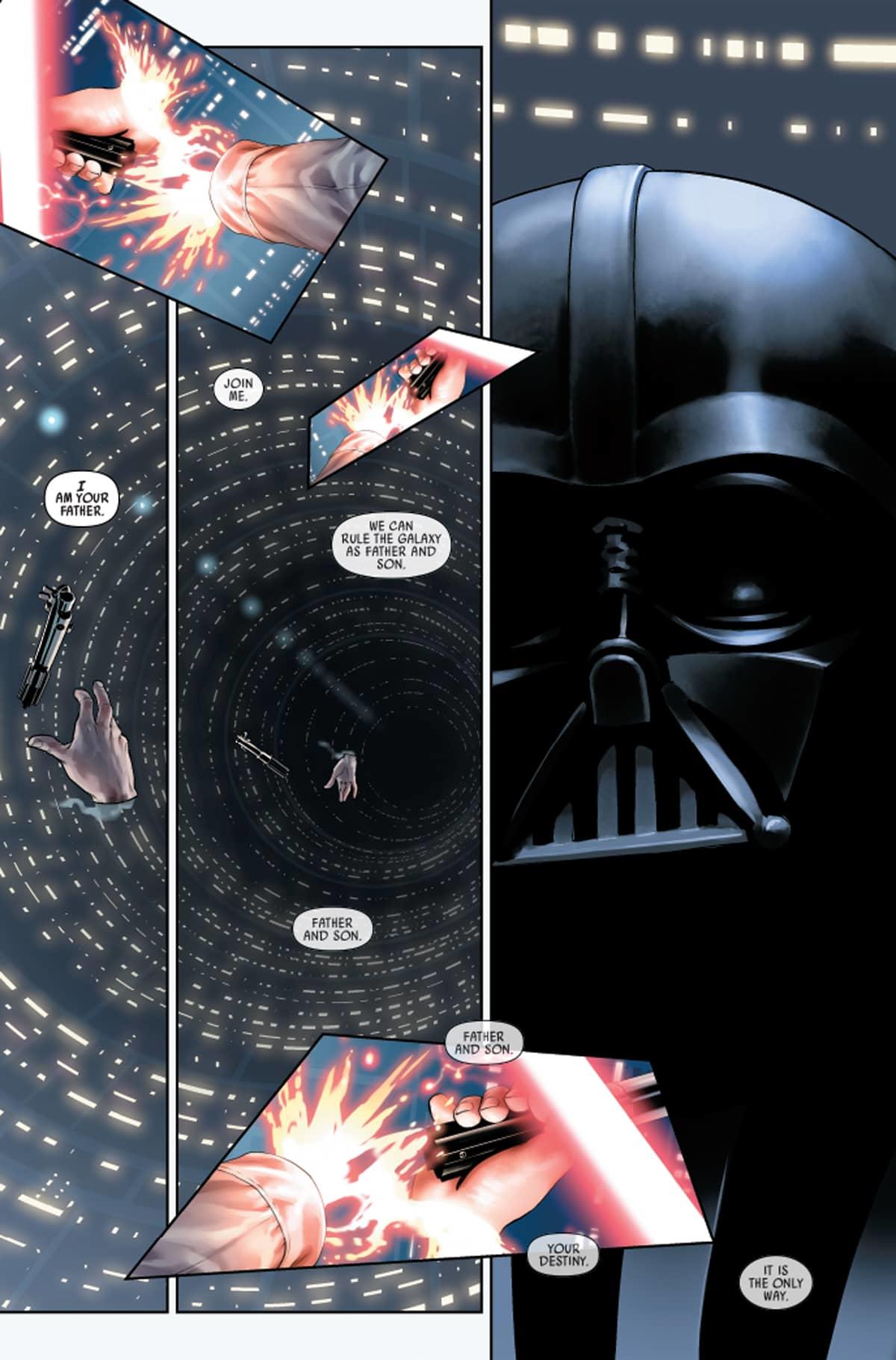 I'll be very interested to see the places we go to. We waste no time getting right to the connective tissue, as it starts with Luke reliving the final moments of his confrontation with his newly-discovered father. Things don't exactly get any happier from there.
The Grasp Of The Empire Continues To Be Felt
In Star Wars #1, Soule is doing a brilliant job maintaining the tone of Empire Strikes Back. It's as daunting a task as any because it's the easy favorite Star Wars movie for so many people. Luke is in a pretty bad place right now, confused and distraught, while Leia and Lando are at odds already.
Chewbacca and C3-PO chime in for the few comedic beats that are capable of being salvaged, while the mood on the Falcon darkens. This is to be expected since the last time we saw this crew, things really couldn't be going much worse. Soule has the difficult task of bringing this downtrodden group to the confident heroes we see at Jabba's Palace.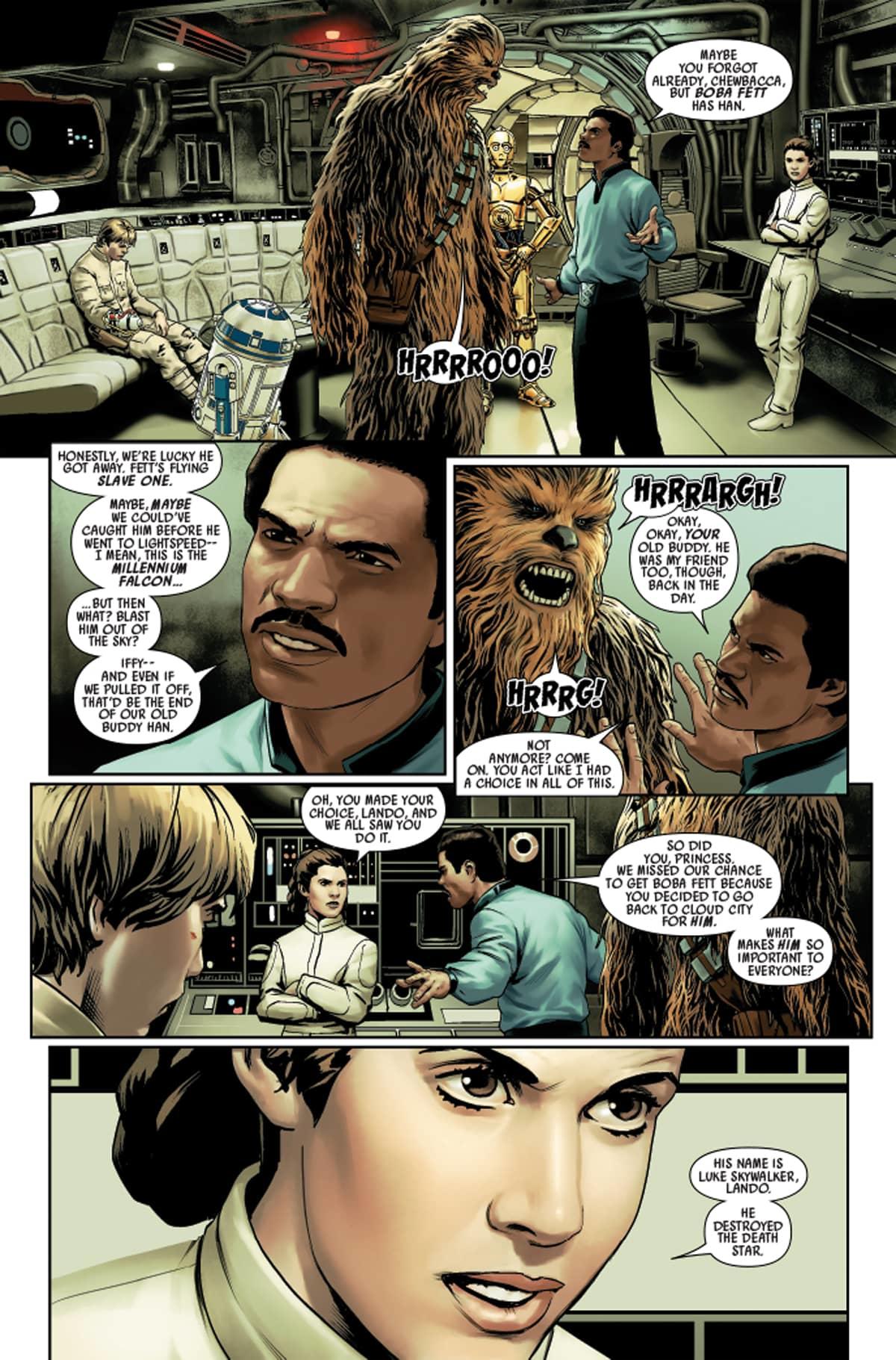 And if that weren't bad enough, a new antagonist is introduced in Star Wars #1, in the form of Commander Zahra. She leads the mission of destroying the rebel fleet and is doing a pretty good job at it. A space battle ensues on a massive scale that is truly a sight to behold, much bolder than I thought we would see in only the first issue. There's a double-page spread I wouldn't dare spoil for you here, but it's epic, I assure you.
Immersed In The Universe
Saiz's pencils render the characters incredibly close to their on-screen counterparts. Can you imagine the Herculean task of bringing Billy Dee Williams to life on-page? Incredible. His work with expressions is excellent, and the space battle of the issue looks fantastic. Prianto's colors breathe life into this book and he works great with Saiz. Cowles is one of the most prolific letterers around and brings his usual level of excellence. Many legendary artists have stepped into the Star Wars universe before but the art team behind Star Wars #1 is going to do their best to prove they're worthy. I can only hope this art team will get to stay on this book consistently with work like this.
Should You Read Star Wars #1?
Working within a fixed timeline is hard. And because it's one of the most cherished properties in the world, it becomes only that much more complex. The daring creative team of Star Wars #1 is more than up to the task. I went into this with some pretty high expectations, because I'm a huge Star Wars fan myself, and it still managed to exceed them. Hopefully, the quality of Star Wars #1 is indicative of what the rest of this run is going to be like. This is only the beginning of the 40th celebration of Empire Strikes Back, and a very promising beginning it is. If you've been feeling burnt out with Star Wars lately, give this a shot and it will excite you again for the franchise.