We knew this day would come, ever since House Of X #1 last July, but the mutants have finally come to collect on Franklin Richards. In X-Men/Fantastic Four #1 written by Chip Zdarsky (Daredevil), penciled by Terry Dodson (Wonder Woman), inked by Rachel Dodson (Wonder Woman), with ink assists from Dexter Vines (Nova) and Karl Story, colored by Laura Martin (Black Panther), and lettered by Joe Caramagna. Covers are also provided by the Dodsons. Franklin is going to have to make a choice by the time this is over. Should he be with his people? Or should he stay with his family?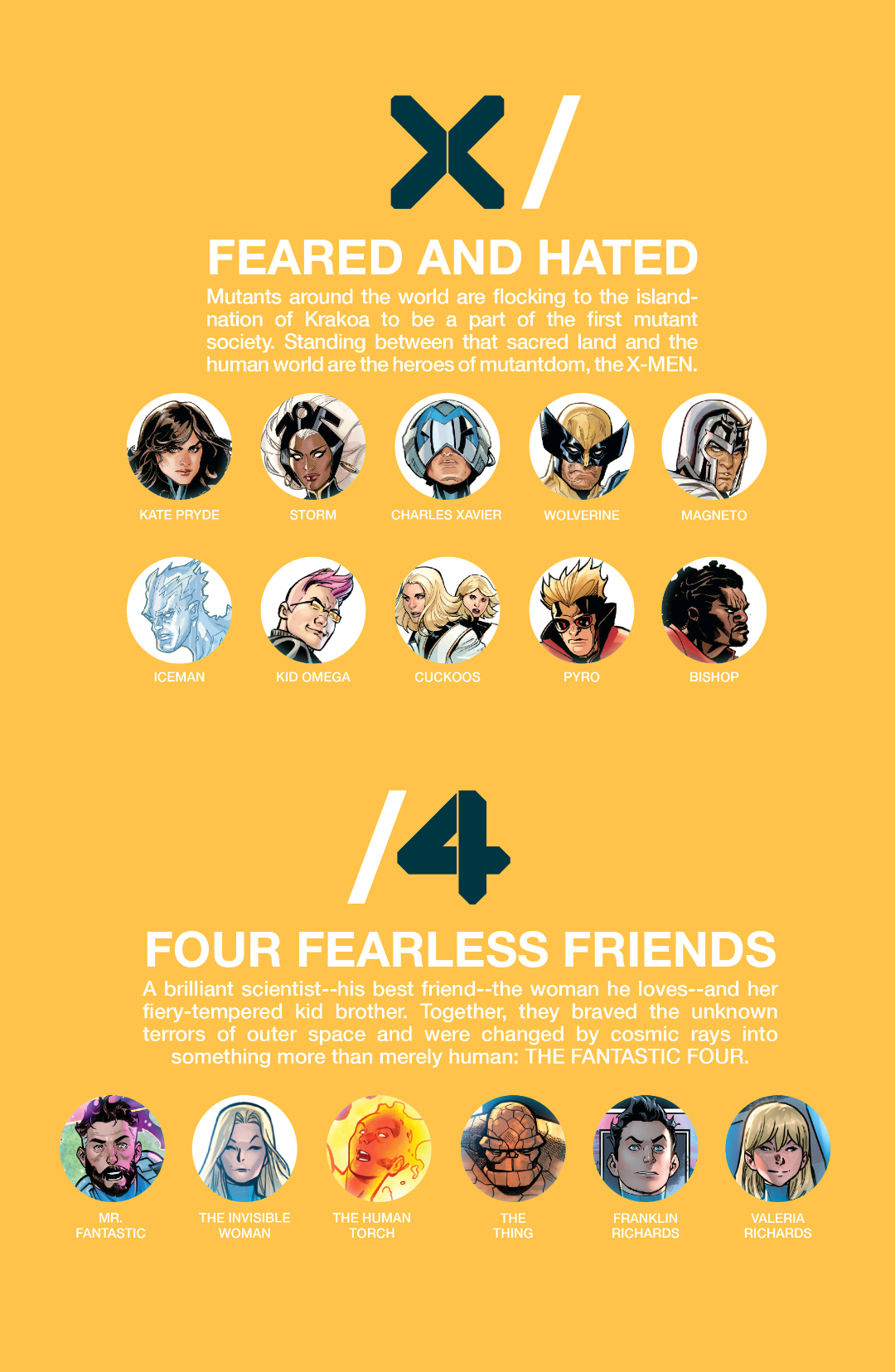 Do You Need To Be Caught Up On F4 And X-men To Read X-Men/Fantastic Four #1?
The simple answer is no. I myself haven't read Fantastic Four in quite some time and feel like it didn't hamper my reading experience. The only thing you should know there is that Franklin's powers wane with use nowadays, and has been looking for a way to prevent that. As far as X-Men goes, it would be great if you've at least read House/Powers Of X, but anything past that really isn't necessary. X-Men/Fantastic Four #1 does utilize mostly members of Marauders, but there's no real connection there where one book feeds into the other. It's a book that's largely good for anyone who's a fan of either team.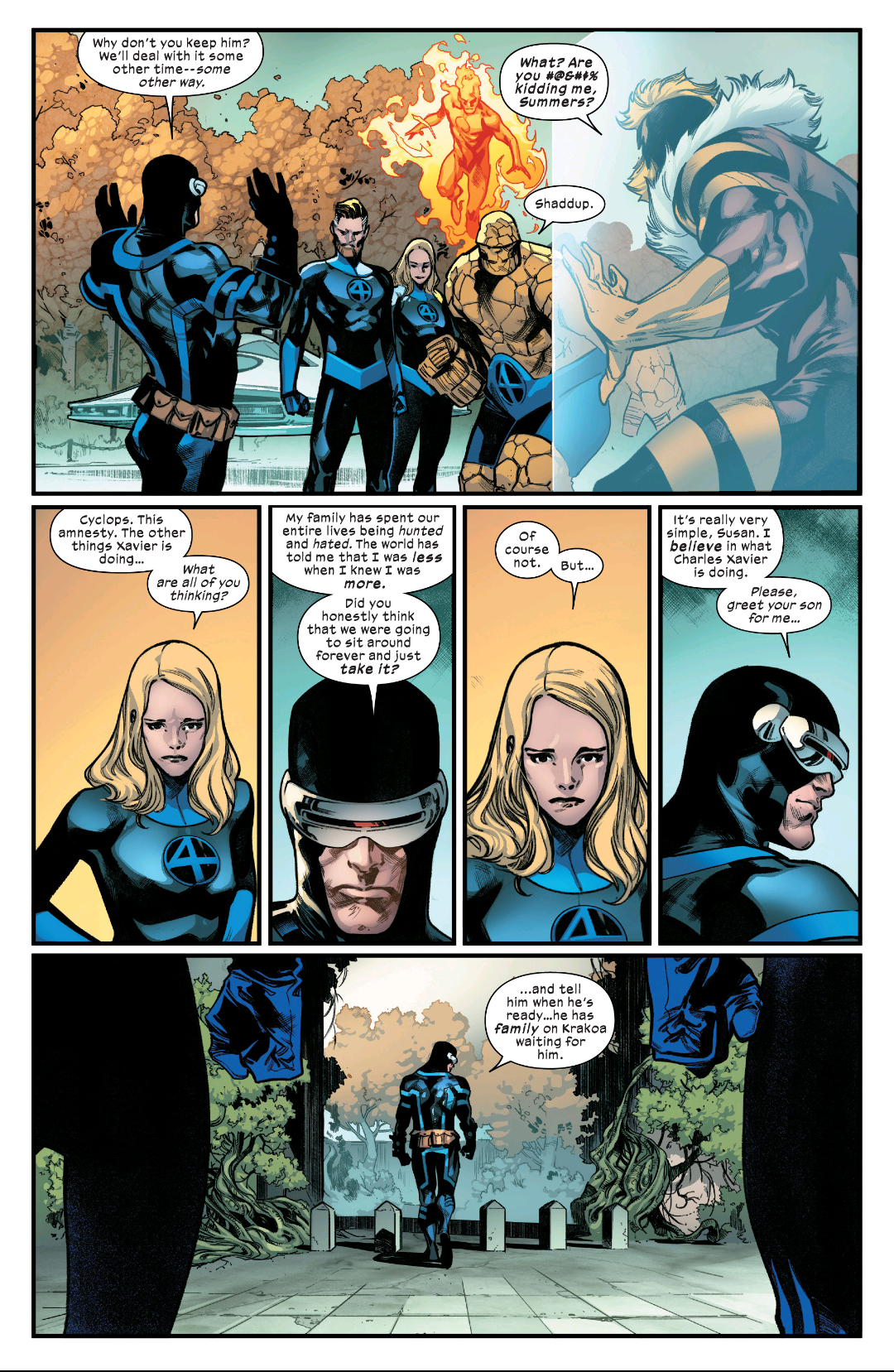 This page from House Of X #1 justifies this whole miniseries. It highlights the new tension between the Fantastic Four and the X-men, in the wake of Krakoa rising, and also that the mutants have designs for him. Omega-level mutants, of which there are precious few, are considered Krakoa's most valuable resource. Almost all of them currently reside there as well.
Why Is This Happening Now?
Xavier is kind of a shady dude these days, which was made especially clear after his admission in X-Force #6. This feels to me like an attempt at consolidating power. It makes sense for a country that's still new and trying to establish itself on the world stage. Xavier claims that it's all about getting Franklin now in an attempt to fix his powers, and that might be true, but how trusting can you be of this man at this point?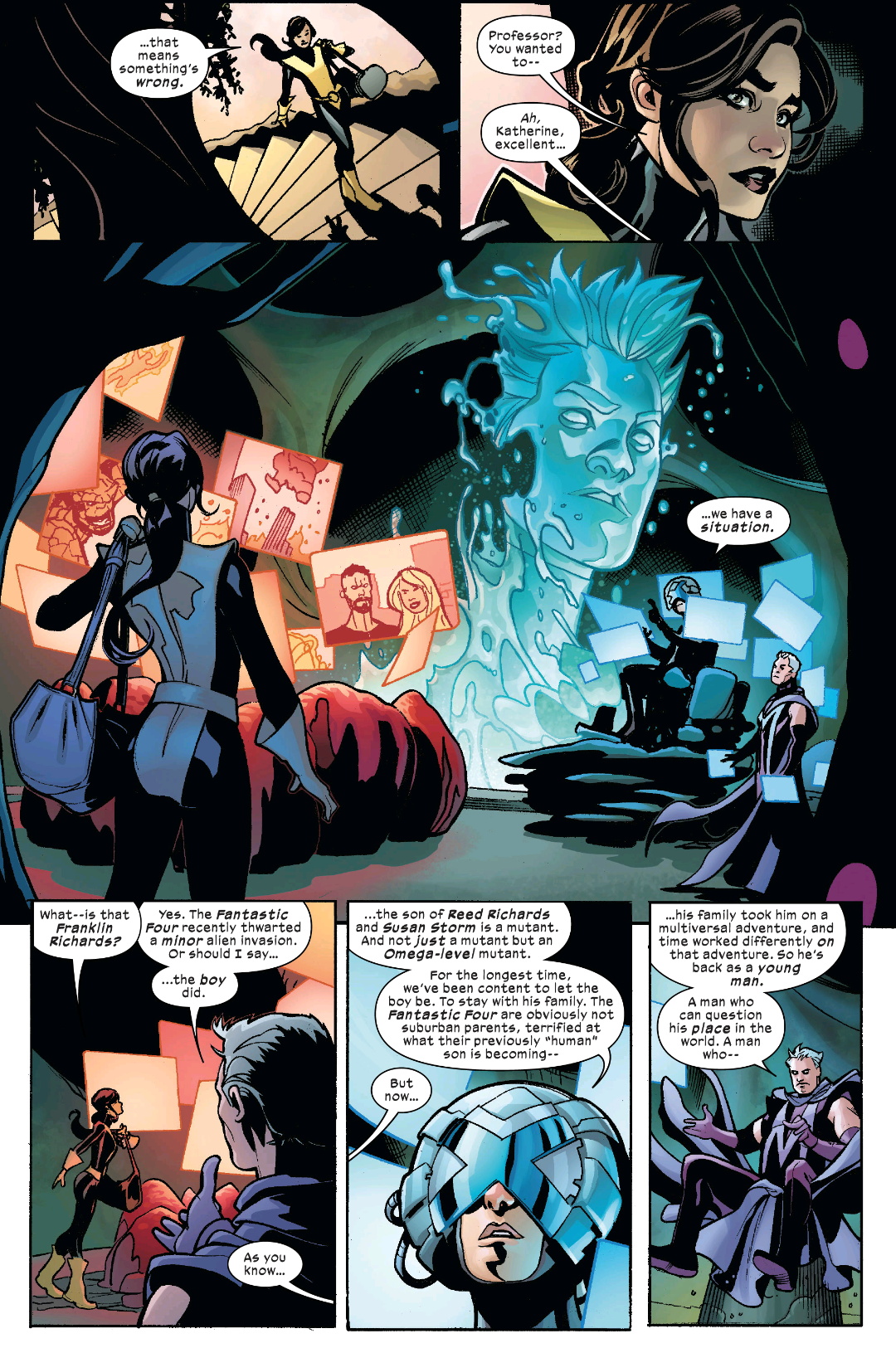 Giving themselves some emotional legitimacy, Xavier and Magneto choose Kate Pryde to join them as an ambassador of sorts. She has a history with Franklin, largely from the original X-Men Vs. Fantastic Four, so this also functions as a sort-of sequel. While Kate is a good choice, I don't think bringing Magneto looks great. The rest of the marvel universe might not be so quick to forgive and forget, as the X-men have.
A Difficult Conversation
How do you ask a parent to let their child come with you, away from them? Xavier is something of an old pro at this. Reed and Sue love their son though and aren't ashamed that he's a mutant. They've long expected this day to come and are prepared to meet it with denial. Something that makes X-Men/Fantastic Four #1 a great comic, is it contextualizes Krakoa in a new perspective, viewing it as something that's not entirely a good thing, the contrasting viewpoint to what the other X-books pitch us, that Krakoa is paradise.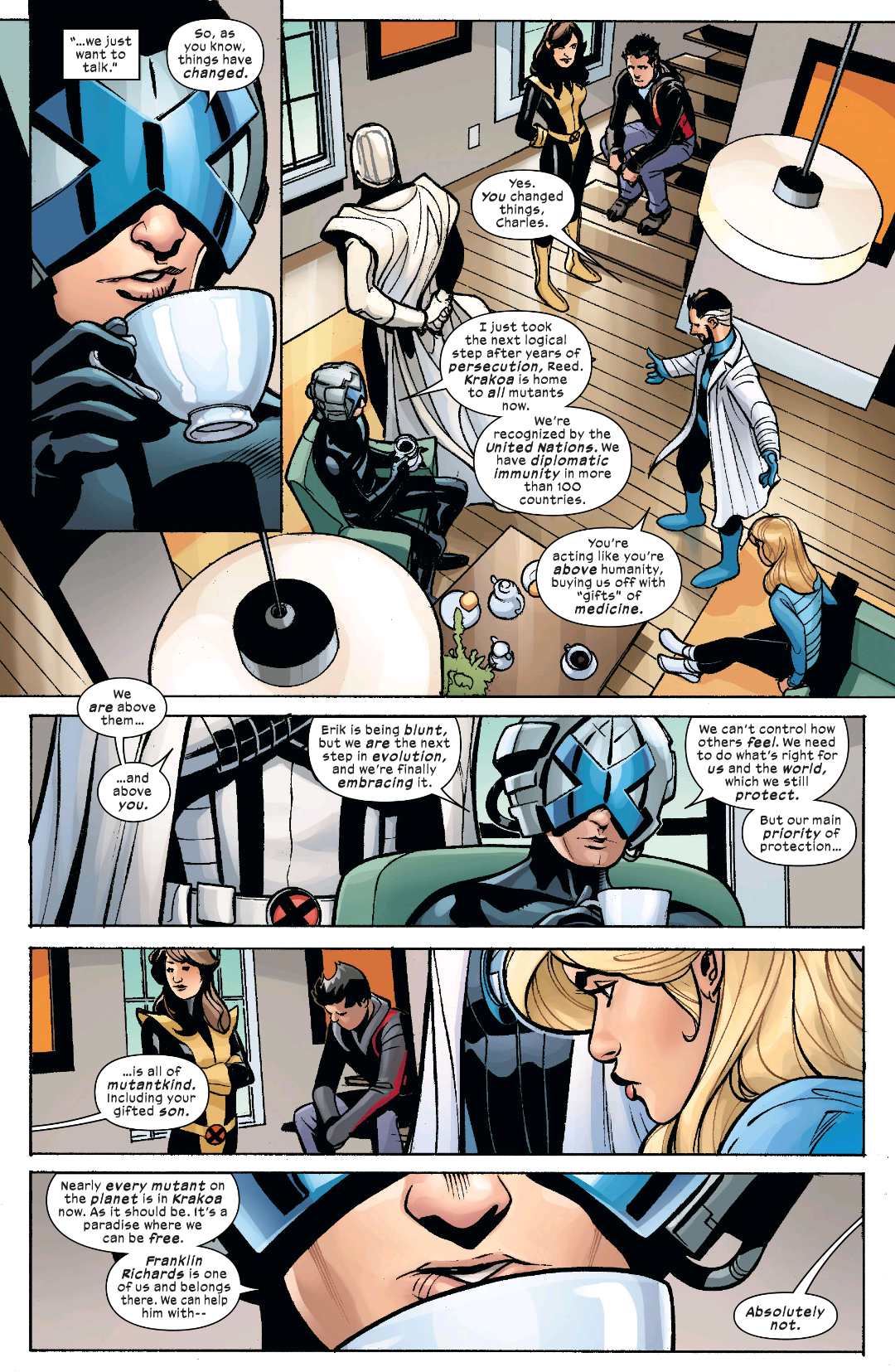 Zdarsky lives in these characters' heads. I don't think anybody is being mischaracterized here, despite being a constant in superhero books where there are contentious relationships exploited for an event. After his Two-In-One book, Zdarsky was an inspired choice for this miniseries and quickly proves he's up to the task. While this isn't a full-scale event book, this is the first time the X-men really have to answer to any of the superheroes in the Marvel universe about what they've been up to.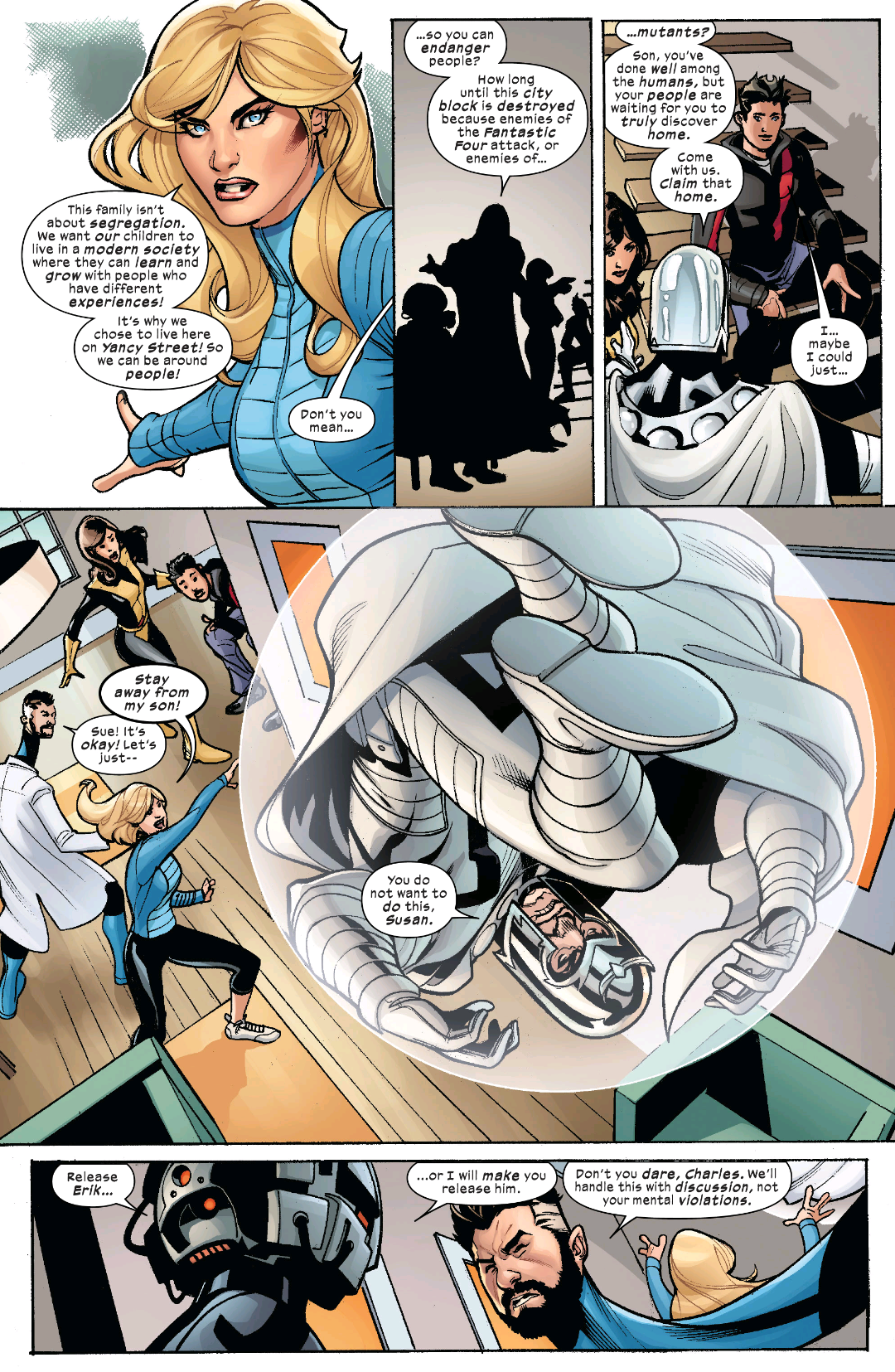 There's nowhere for this to go but south even before the end of X-Men/Fantastic Four #1. It's pretty straightforward conceptually, but there's no easy answer. It may not have started as an argument but it's too late now. The Fantastic Four won't budge, nor do I think they necessarily should, and the same goes for the mutants. This is exactly the kind of charged, emotional storytelling I want to see in this new status quo for the X-books. Because more than anything, this book feels like an X-book that just features the Fantastic Four.
Is It Worth Reading X-Men/Fantastic Four #1?
I would be insulted if you didn't. Chip Zdarsky would be insulted if you didn't, probably. I'm not even going to spoil the big twist of the issue here for you because you should really just read the comic. The Dodsons on art is always worth the price of admission for me, and they're in fine form here. Some of my first X-Men floppies were Fraction's run where they did art as well, so this has a nostalgic tinge to it as well. The costume choices they make for some characters (*cough Magneto cough*) are unexpected at best, but delightful nonetheless. I'm only disappointed that this creative team only has four issues to flex on, just how well they work together and are clearly on the verge of something fantastic here already.