Many horror films contain a group of teens trying to stay silent in the dark while a monster chases them. Now, what if you put these teens stuck in a spaceship floating in deep space? It's a terrifying idea that no one would want to be in. Horrifyingly, this is resembling the plot of Josie and the Pussycats in Space #1. This iconic group has been on many adventures, but now they are going to come across something horrific. The ending of this issue is so frightening it will make readers' head spin. Let's not get ahead of ourselves, though; get out of your cryosleep pods and get ready for a chilling trip through outer space. The series is written by Alex de Campi with art by Devaki Neogi, Lee Loughridge and Jack Morelli.
Josie And The Pussycats Before The Trip To Space
Back in 1963, a new series was created by Archie Comics called Josie and the Pussycats. A band of three young women from Riverdale: Josie McCoy, Valerie Smith, and Melody Valentine. Josie is the red-haired lead singer and guitarist; Valerie is the sharp bassist and songwriter; Melody is the bubbly drummer. Together with their manager Alexander Cabot III, they are one of the top bands on the rise in Riverdale. Since their debut in Archie's Pals 'n' Gals #23, they have been through many ventures.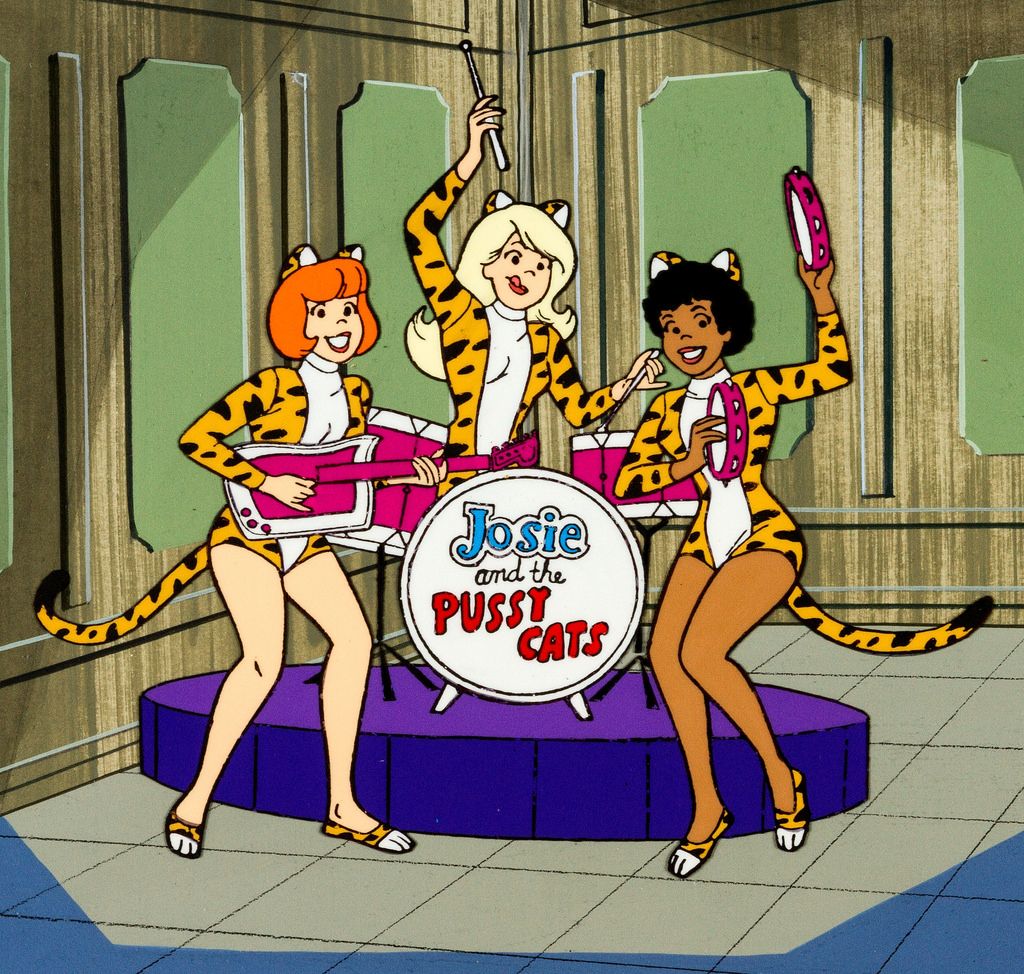 Popular as they became in Riverdale, they also hit iconic status in real life when they won their own cartoon series in 1970. It not only gave kids a chance to see these characters every Saturday morning but they were able to listen to new music every week. Many don't know but Archie Comics helped out with the Bubblegum Pop musical genre in the late 1960s. Back then, fans would be able to hear music from both The Archies and Josie and the Pussycats on radio and TV. The music is very old school but still delightful and readers can listen to The Archies on Spotify.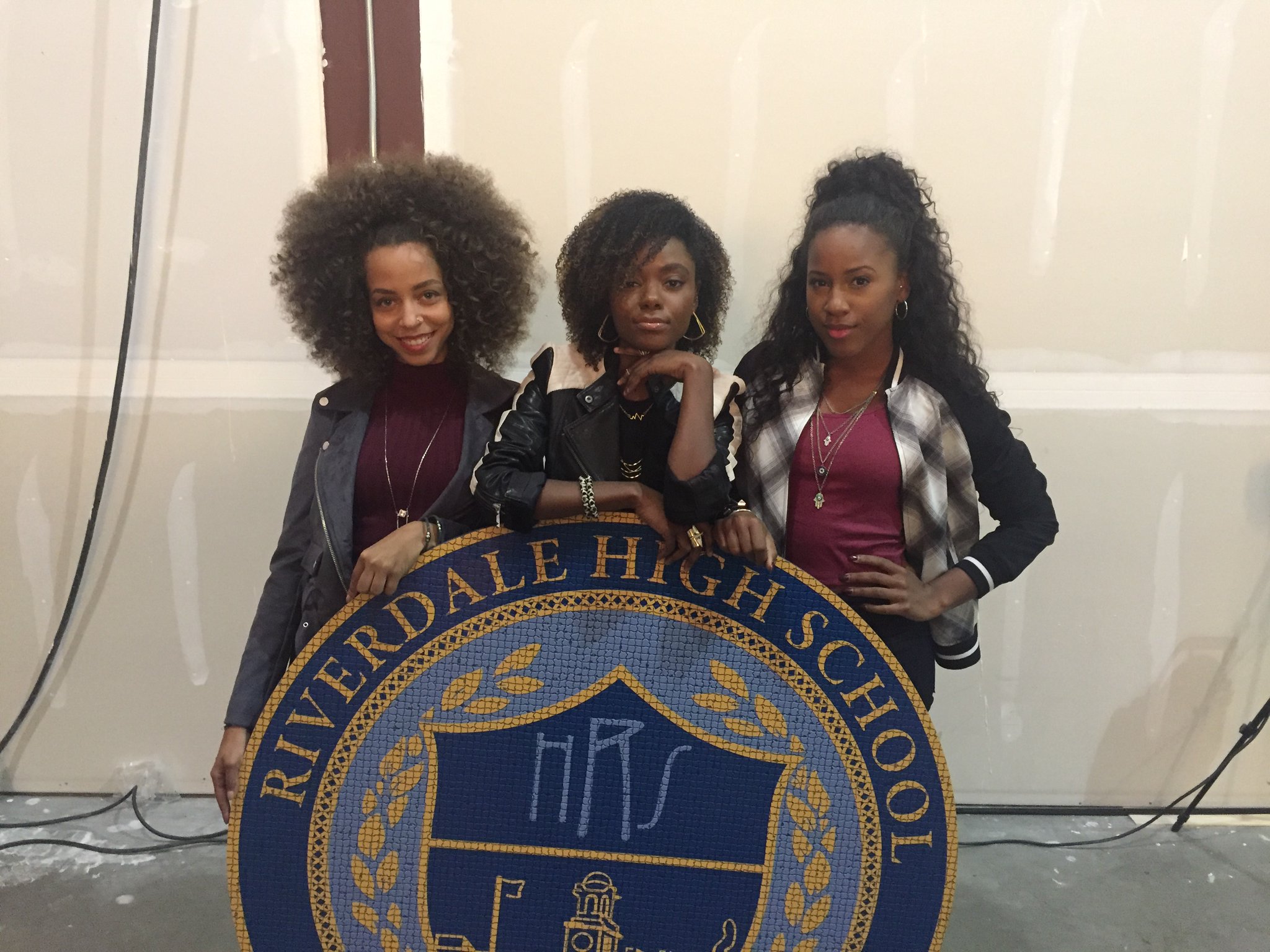 Years after their success they made a comeback in their own live-action movie Josie and the Pussycats in 2001. It further spawned a new musical album based on the movie. Since then, they have been a staple at Archie Comics and were even part of the Archie reboot in 2016 getting their own title series. And a year later they were featured again in live-action on the hit TV show Riverdale. Now, here they are again, this iconic group is back and now they are in space ready for their next adventure.
A Deep Space Plot
Josie and the Pussycats in Space #1 begins with Josie and the Pussycats finishing a concert in space. As they pack their instruments up they meet their new escort Captain Mayberry, a public affairs officer. He takes them to the transport launchpad where tons of fans are waiting for them. After the meet and greet, the band finally gets on their Spaceship. During the trip, Valerie and Melody mention that after a five-year tour they are getting drained of traveling the universe. They are then told to get ready for cryosleep for the trip to the next location.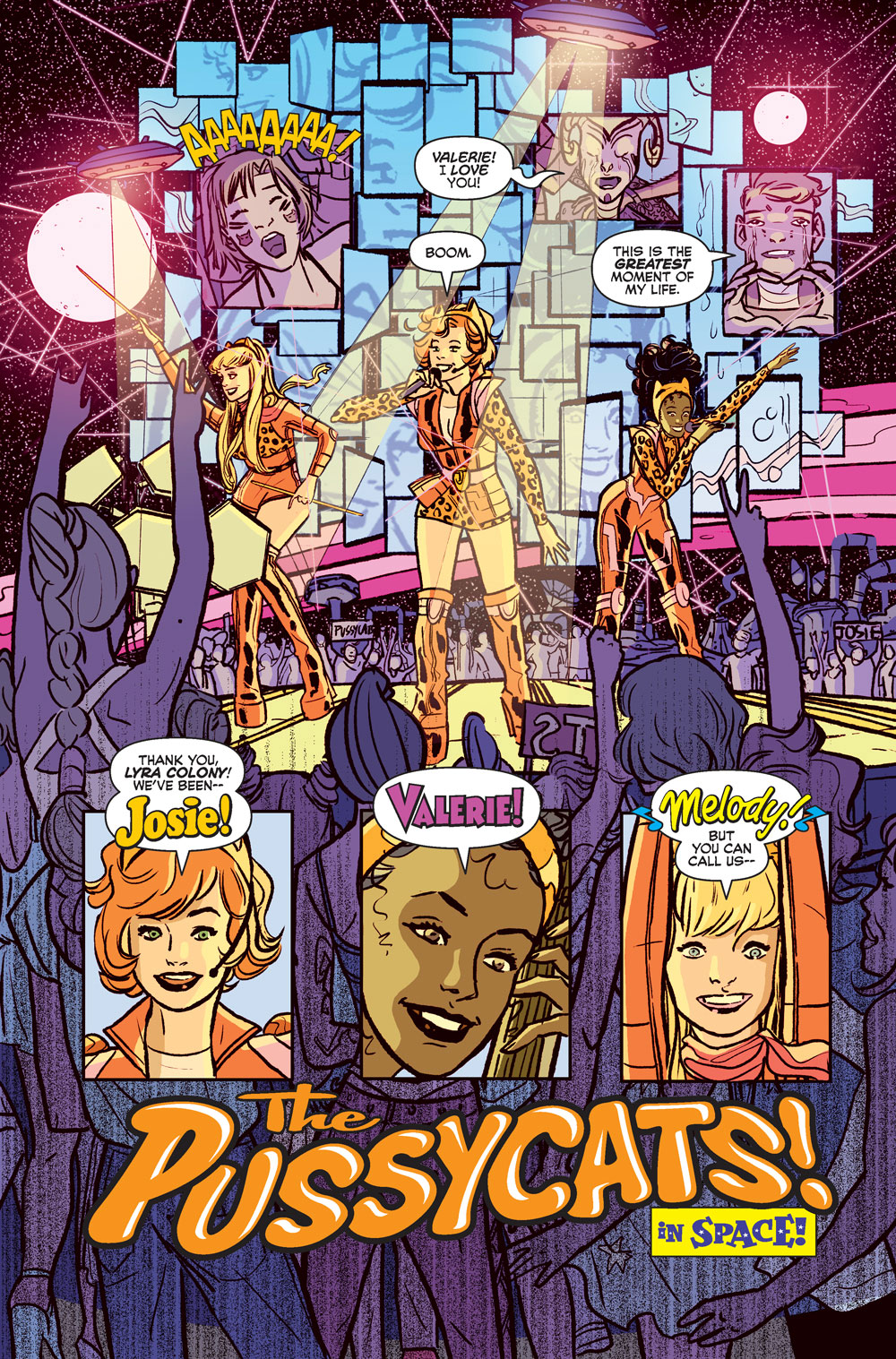 As they got ready, Josie was depressed about what Valerie was talking about. Valerie then reassures Josie that they are still best friends and she's not leaving the band because she is exhausted. Melody then offers a group hug right before they head into cryosleep. Now that the group is in their pods, the ship begins its one month journey. As the crew does final checks, one of Melody's souvenirs that she gets at the meet and greet morphs into goo. The goo then travels through the ship and starts to drip into the cockpit.
As some of the goo drops on his hand he thinks nothing of it and begins the process to get through the space hub. After a few moments, the hub technicians find out that the ship never fully passed through. The hub then sends out a search party to find out what happened. At this moment the band suddenly wakes up to find out that they are trapped in the cryosleep room. They have no idea that they are floating in deep dark space.
You Shouldn't Judge By Title
From the title of this series, it seemed like this story will be a wholesome adventure through space with the Pussycats. Many can assume that they would be on tour and have crazy hijinks along the way, with planets, aliens, music, and comedy it sounds like a grand time. This series is nothing of the sort. The series is set to be the next horror sci-fi epic. Oddly, this series is under the Archie comics logo, but it should be under their horror series: Archie Horror.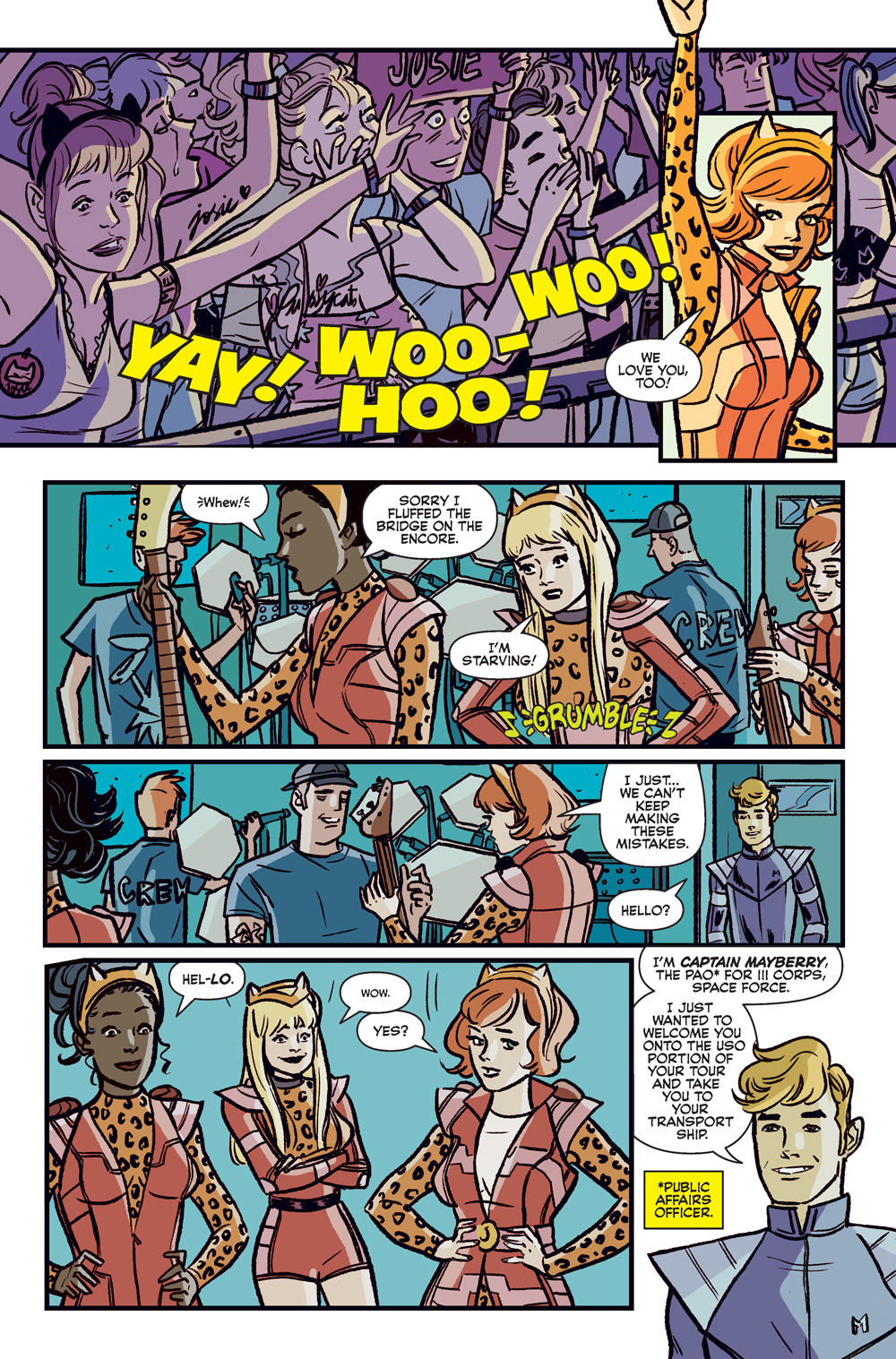 Josie and the Pussycats in Space #1 starts off very wholesome with the pussycats dealing with real-life problems in space. The whole nature of the book shifts at the end. It becomes so intense that the reader won't be able to put the book down. Usually, Archie's horror is known for terror and intensity. It makes readers wonder what is going to happen next, will the chills and thrills continue or will the tone change in the next issue? Will it become a good story for all readers or will it stick to the terror that has begun? Hopefully, it sticks with terror because there is a splash page in this issue that is nightmare fuel.
Sci-fi Similarities In Josie And The Pussycats In Space #1
Reading through Josie and the Pussycats in Space #1 readers may notice there are similarities to one of the best sci-fi movies ever: Alien. In that chilling film, a crew begins fighting an alien creature in their spaceship as it travels through space. These are all trained astronauts fighting a creature; but, in this issue, it looks like the Pussycats have Captain Mayberry as their trained fighter. Hopefully, the band has some self-defense training from Earth because they may be in big trouble if they go against the goo monster.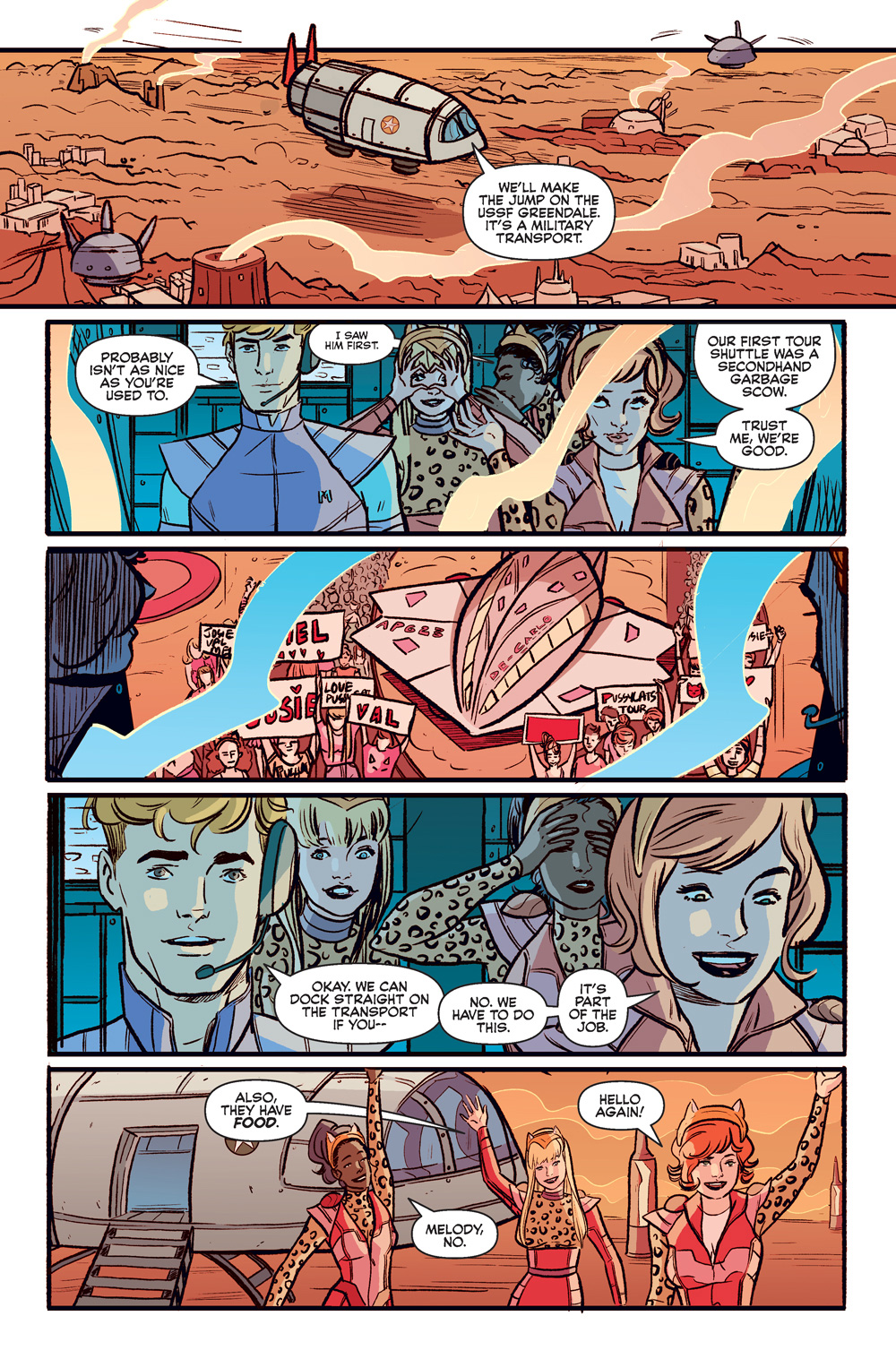 As this book should stick with the horror elements, it would be fascinating if this became a parody of Alien. Readers would love if one of the characters becomes some strong heroic character just like Ripley in the Alien films. Still, as the series feels original with light nods to Alien, hopefully, the writers take the series in a completely different direction than the following flicks that came before it.
What Can We Make Of Archie Comics' Josie And The Pussycats In Space #1?
One piece of guidance I will give to all readers is don't pass on Josie and the Pussycats in Space. This is unquestionably one of those books you should not judge based on the title or the cover. This comic is filled with delight and fright and who could ask for more? The writing is excellent and the art is incredible and I don't want to wait to continue reading the series.
As this comic is nostalgic for the movie Alien, I hope they do more nods to that series, but also do their own spin on things throughout the series. Josie and the Pussycats have been through a lot of adventures since 1963 and this feels like completely new territory. Funny enough, this isn't even the first time in space if you count their squeal cartoon TV series in 1972.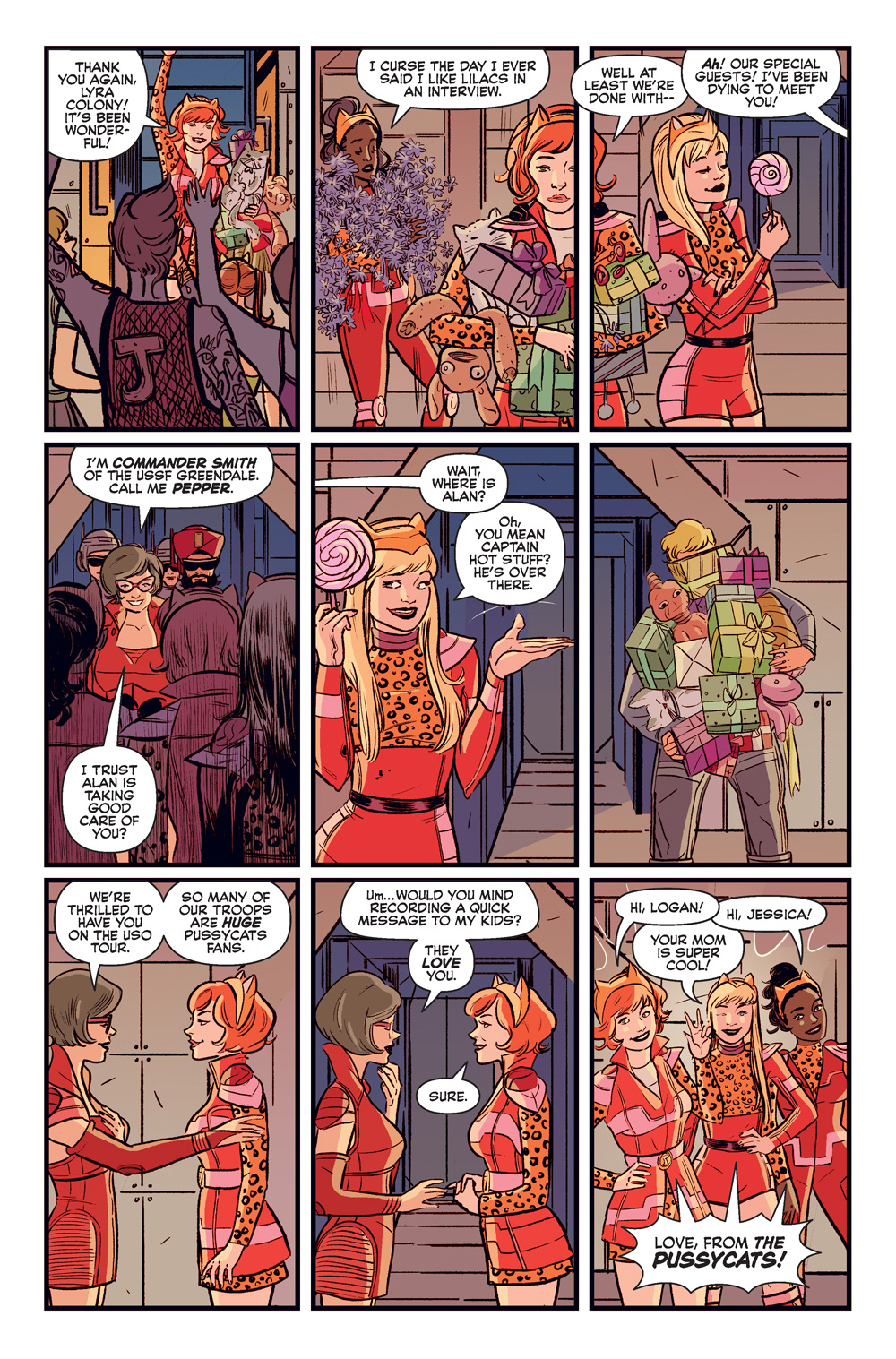 Furthermore, Josie and the Pussycats in Space #1 is something to marvel at and should be a part of your comic collection. I guess I should say online comic collection because the glorious thing about this series is that it's a Comixology Original. This means you can find this series digitally where they will not run out of issues and you can likewise read it on all your devices which is always a plus. Again, I can't stress this enough, don't go into your cryosleep pod and pass on this issue. If you do, you may be lost in space like the Pussycats when this series becomes a huge hit.