The holidays are around the corner and so are the endless holiday parties. As we bid 2019 goodbye with endless parties and possibly absurd amounts of alcohol (Please Drink Responsibly), why not recreate a few drinks from your favorite television shows to start off the new decade? With that in mind, here are the ten best drinks from television shows to recreate for the New Year.
1. "A New Year" Riot Juice – It's Always Sunny In Philadelphia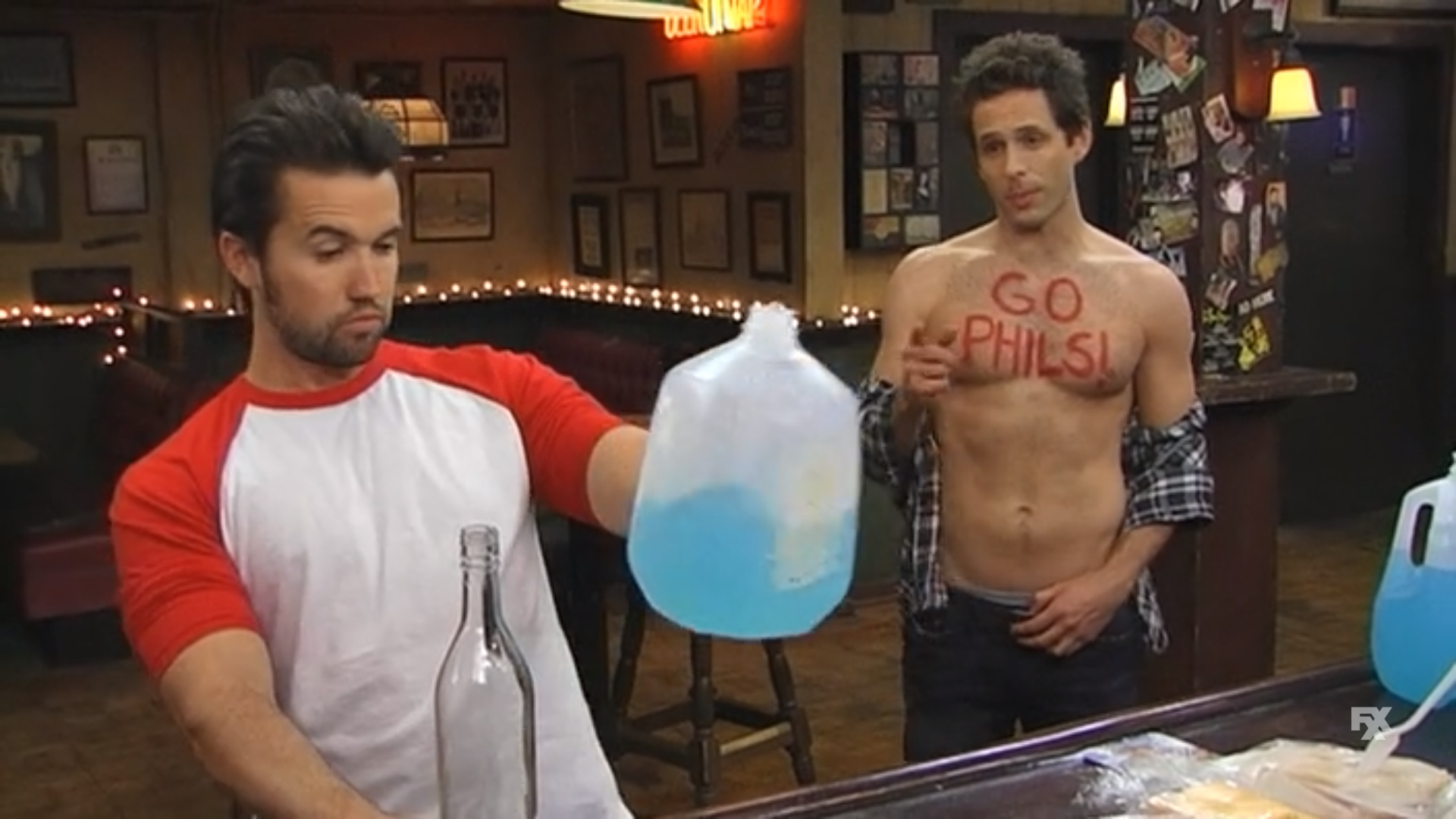 Created by the notorious Gang from Its Always Sunny in Philadelphia, the drink made its debut in season five episode "The World Series Defense." The drink itself is a combination of grain alcohol and a blue sports drink like Gatorade or Powerade. If you are feeling gutsy enough to try the original recipe for this drink, just a warning, it will get you intoxicated. But if you want more taste in this drink, Binging with Babish, a cooking channel on YouTube, has created an improved version of the drink. Safe to say, it is incredibly more delectable than the original concoction.
The Recipe
Two ounces of grain alcohol
Two shots of blue curacao
A half-cup of pineapple juice
Combine all three into a cocktail shaker with ice and shake well.
Pour into a new glass and enjoy any local New Year's street riot.
2. Screaming Viking – Cheers
Cheers is a show that focuses on the daily lives of an ex-Red Socks player who owns a bar called 'Cheers' and a cast of regular bar-goers who make the bar a home-away-from-home. Throughout the course of the show, which aired 275 episodes and starred many celebrity cameos, and out of everything, the Screaming Viking is one of the most memorable drinks that came from the show.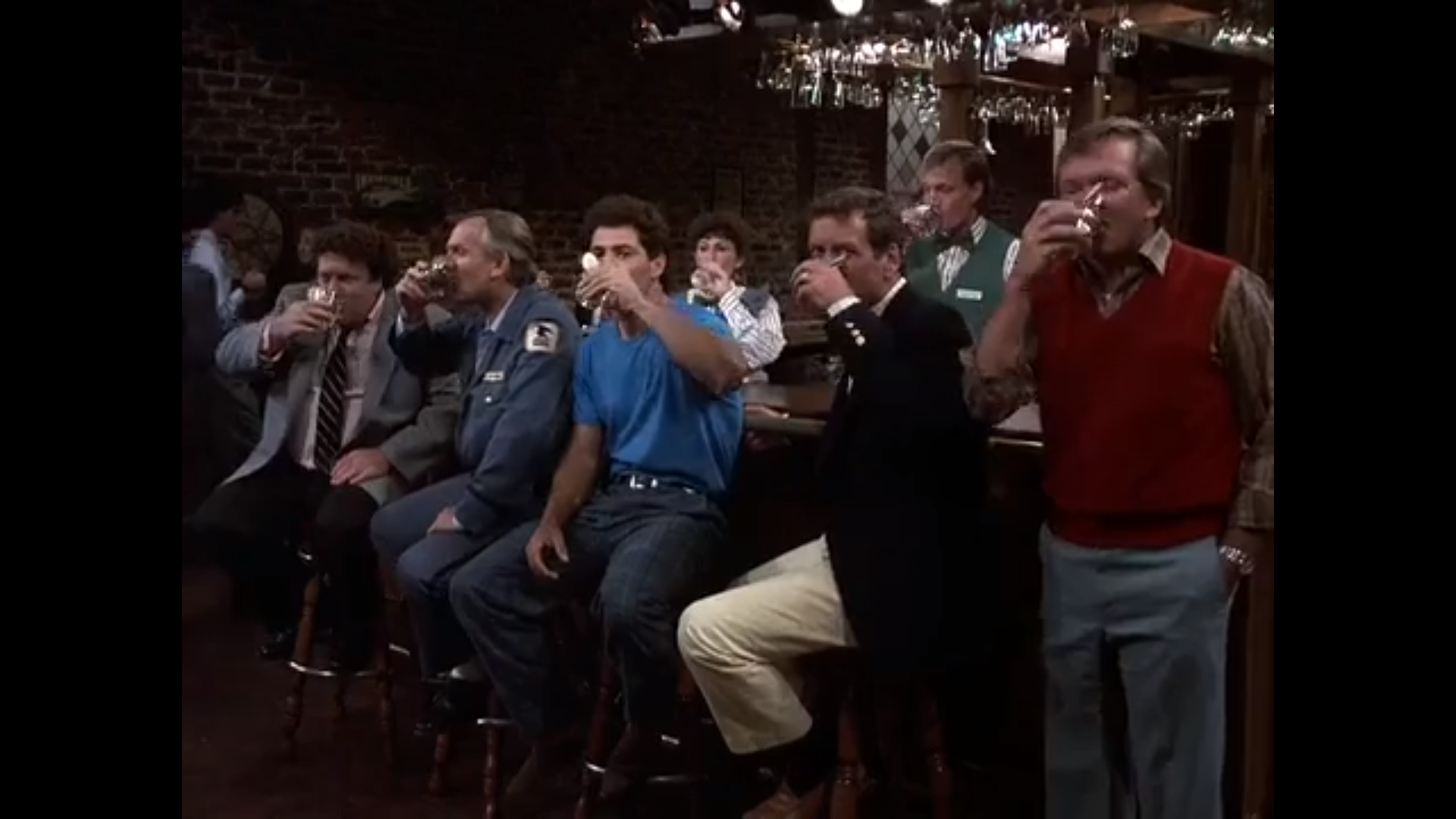 This is a drink that was purposefully made to end a bartender's career. It made its appearance in the season six episode, "Home Is the Sailor." The contents of the drink are unknown, other than a bruised cucumber. How To Drink, a YouTube channel that specializes in creating creative cocktails, recreated the Screaming Viking and showcases their take on it.   
The Recipe:
Five or six slices of cucumber
Half an ounce of simple syrup
Ten-to-fifteen mint leaves
Half an ounce of Aperol
Two ounces of akvavit
Put all the ingredients inside a cocktail shaker and shake well.
Pour the drink over a strainer and into a cup with a large ice cube.
Top with seltzer for any shortage.
Garnish with mint and cucumber slices and enjoy a refreshing drink to end the New Year.
3. Green Russian – Archer
Every character in Archer knows how to handle their alcohol and from time to time someone creates a deadly mix of liquids for a fun night out. The Green Russian was created by Pam in the season two premiere, "Swiss Miss" and again in the season three episode "Crossing Over."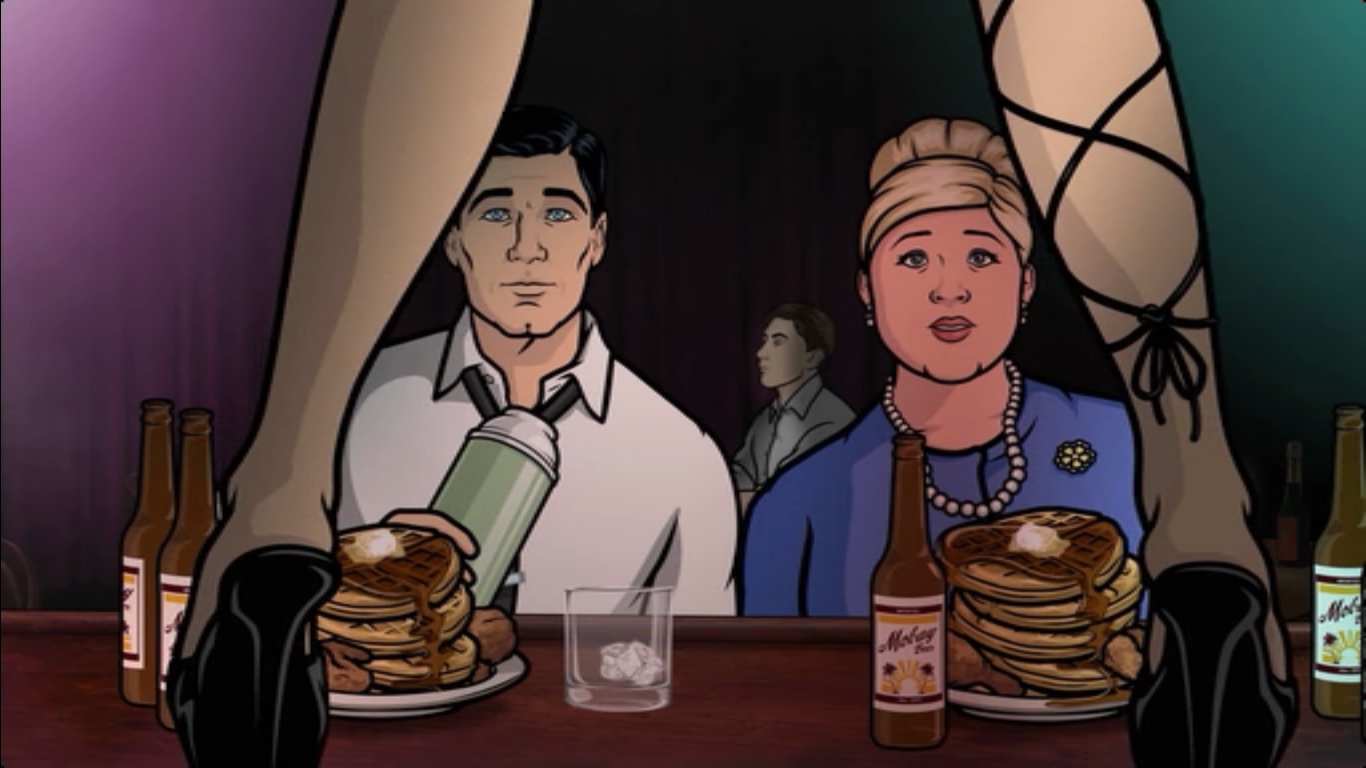 In terms of what is inside a Green Russian, Pam simply explains it as milk, vodka, and absinthe. This is another drink that should be drunk with caution if you follow the original recipe. However, for those who wish to remember the night, Cocktail Chemistry, a YouTube channel that focuses on recreating fictional cocktails, has made an improved version of this drink.
The Recipe
One cup of whole milk
Two cups of brewed green tea
Two-thirds cup of green chartreuse
Two-thirds cup of vodka
One-third cup of sugar
One-third cup of lime juice
Add the milk to a large glass bowl and set aside.
Mix remaining ingredients into a pitcher.
Slowly pour the tea mixture into the milk and gently stir until it curdles.
Strain through a nut milk bag or cheesecloth to collect the curds.
Repeat the straining process again through a coffee filter.
Strain again through a coffee filter a second time, then store in a sealed bottle in the fridge.
Serve in chilled rocks in a glass over ice and enjoy the New Year in the Danger Zone!
4. Peppermint Patty – Archer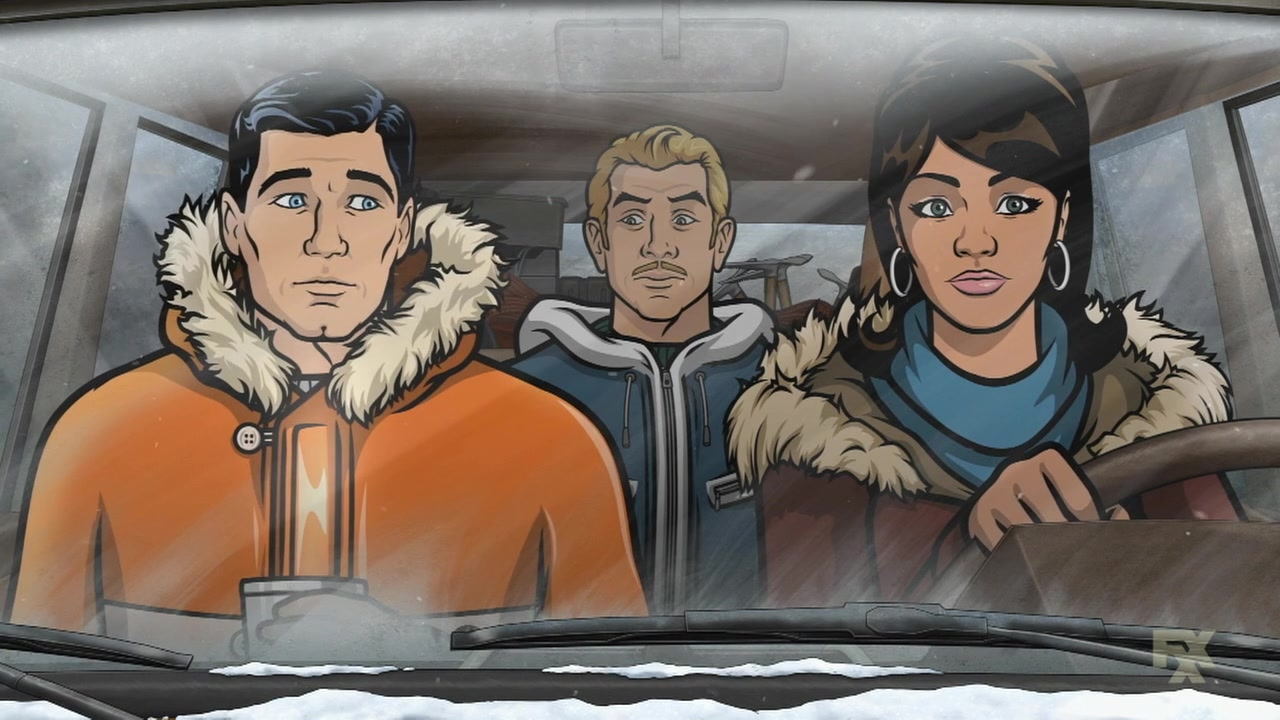 Another drink created by Archer, this concoction was first introduced in the season six episode "Archer Sanction." During a car ride to a mountain climbing resort in the Alps, Archer concocted this drink out of hot cocoa, creme de cacao, creme de menthe, and peppermint schnapps.
Cocktail Chemistry also recreated this drink and from the original recipe, he states that it is originally weak on the alcohol portion. To make it more authentic to the show, he added some Brandy into the mix so it gets closer to the 'Danger Zone.' The drink is especially perfect for the cold weather with the hot cocoa, the minty flavor of the peppermint schnapps, and the brandy to warm you and your friends up as you all count down towards the New Years.  
The Recipe:
Six ounces of whole milk
Two tablespoons of dark hot cocoa
One ounce of peppermint schnapps
A half-ounce of creme de cacao
Half a tablespoon of creme de menthe
One and a half-ounce of brandy
Combine milk and cocoa mix into a pot, stir, and bring it to a boil.
Immediately remove from heat and pour the hot cocoa into a mug.
Add in the rest of the ingredients, stir, and serve to all of your friends, except for the one who forgot the gum. 
5. The Flaming Moe – The Simpsons
Possibly the hardest drink to make on this list, but also the most rewarding. First mentioned in season three episode "Flaming Moe's," many fans and mixologists tried to accurately recreate this flaming cocktail. However, due to its chaotic recipe of eight different types of liquor mixed in with Krusty brand cough syrup, it made it difficult to recreate. Considering how the original recipe tasted like a punch to the face, fans of the series had to get creative.
How To Drink recreates his take on the infamous drink and is possibly one of the closest and most accurate renditions out there. This drink would be perfect for the New Year, as you end and start off the year with some fire, and it also makes a really cool party trick for your friends. Before we mention the recipe and the process of making it, honorable mentions to Cocktail Chemistry and Matthew Bellanger from Punchdrink.com for making their own versions of the drink and you should definitely check out their renditions.
The Recipe
One dash of absinthe
Two Dashes of angostura bitters
Half-ounce of grenadine
A half an ounce of punt e mes
A quarter ounce of chambord
A quarter ounce of drambuie
One ounce of rye
One ounce of rhum barbancourt white
Pour everything into a cocktail shaker with cracked ice and shake.
Pour into your favorite cup with ice.
To add the fire element to your drink: cut off a piece of lime, place a sugar cube or two on top, and pour lemon extract on it and light it once inside the drink. For those who wish a bigger 'Flame,' quickly drop a handful of cinnamon on top and please have a fire extinguisher ready for any accidents. Blow out the fire and enjoy your hard work.
Quick & Easy Drinks For New Years: 1. The Smorgasvein – South Park
South Park has always pushed the boundaries with its satirical comedy and gags, and the Smorgasvein does just that. Poking fun at Randy's denial of his alcoholism and lampooning the popularity of freemium mobile apps. From the season eight-teenth episode "Freemium Isn't Free," Randy created this flight of French wines and German lagers as a sign of appreciation of European culture. This is quick and easy to produce since you need at least four wines and beers. Perfect for any group who wants to enjoy some European elegance during a New Year's party.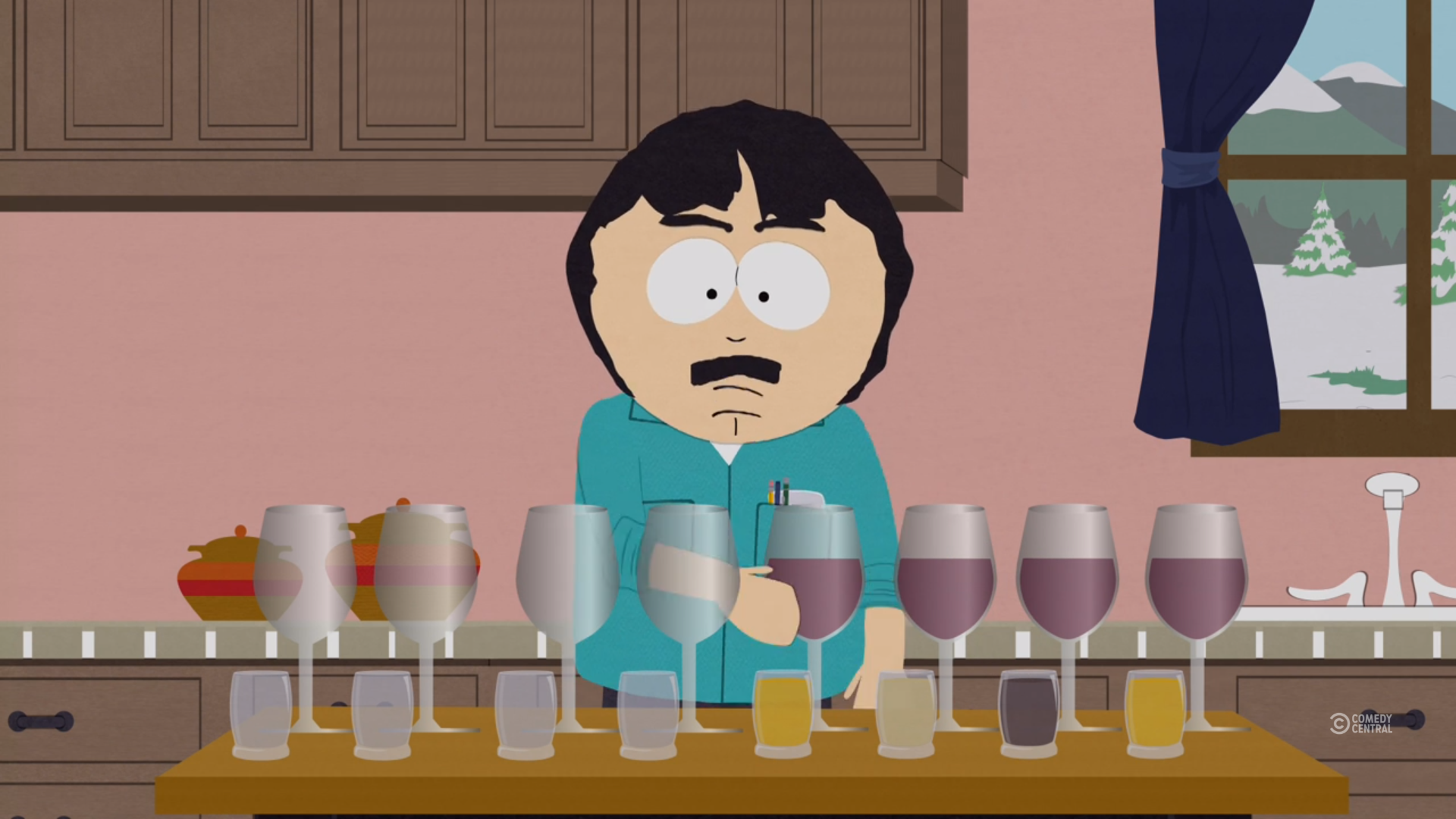 The Recipe
Acquire at least four to eight different kinds of wines and beers
Pour the wine into traditional wine glasses
Pour the beer into the shots glasses
Drop a shot of beer inside the wine and enjoy the cultural elegance.
*Optional – After drinking the pairing, blow a whistle, shake your head while covering your ears to get drunk quicker.
2. Wine In A Soda Can – It's Always Sunny In Philadelphia
Another concoction from Its Always Sunny In Philadelphia, but instead of mixing dangerous amounts of alcohol into one, they scaled it back and made something more inconspicuous. The drink was shown in the season five episode "The Gang Gives Frank an Intervention." It is an incredibly easy drink to recreate and a great way to cheer up your friends at the start of any New Years party.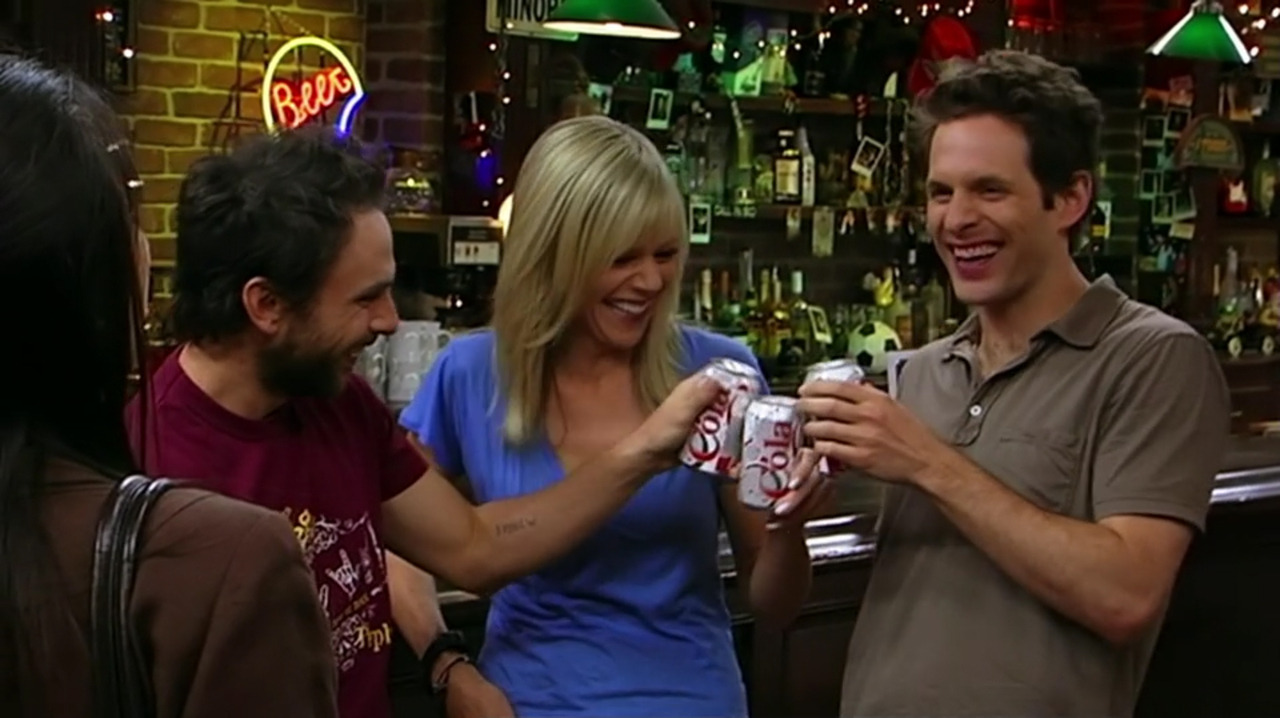 The Recipe
A box of red wine
An empty soda can of one's preference
Carefully pour the wine into the can and enjoy drinking wine without worrying about any spillage.
3. Bundy Mimosa – Married With Children
For those who don't know this show, Married with Children is a show from the late 80's that lasted eleven seasons and was known for being the first anti-sitcom on cable. The show was applauded for its usage of dark humor and realistic scenarios of low-income families.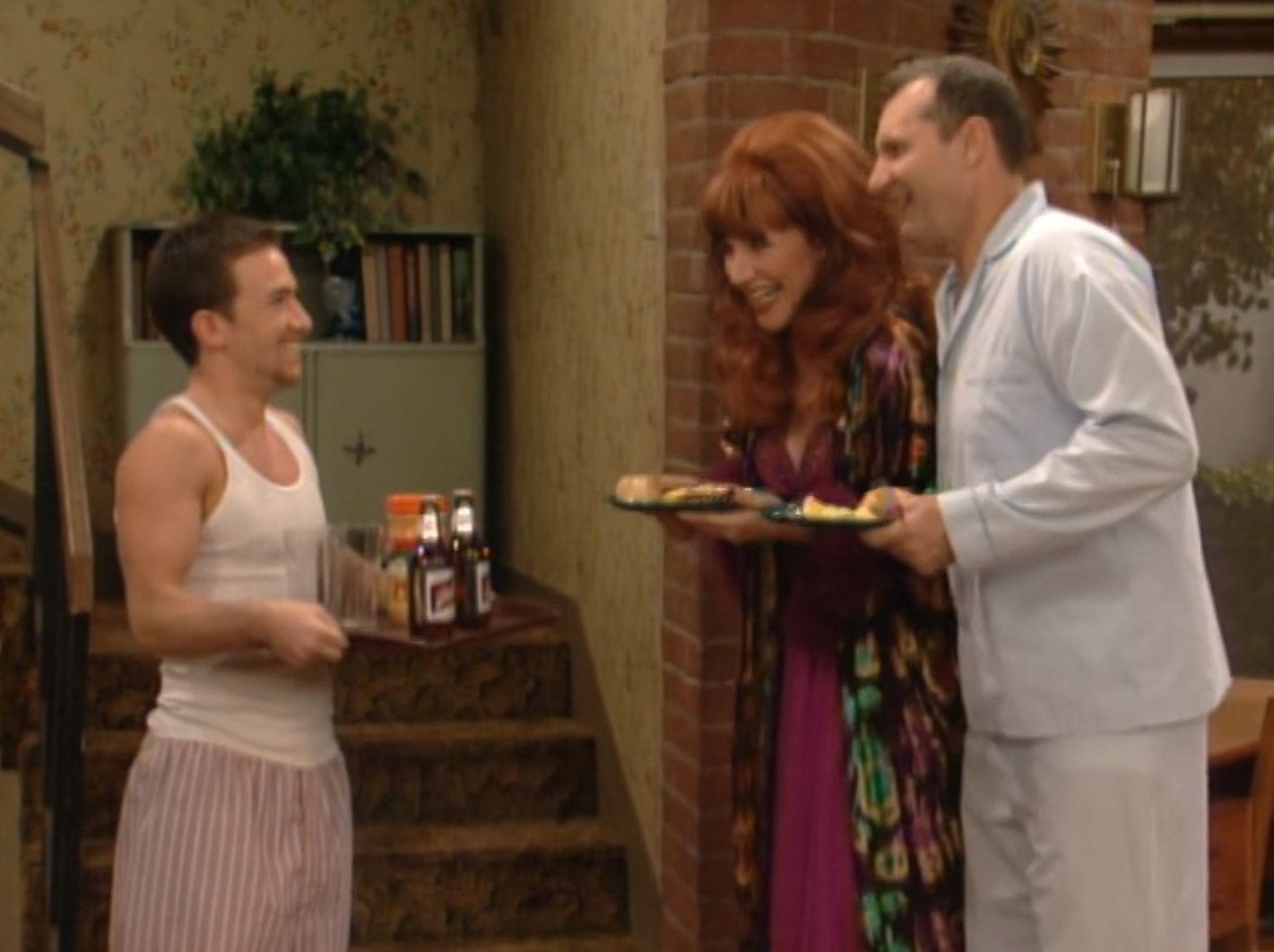 In the season eleven episode "Bud on the side," showcases one of these aspects through the Bundy Mimosa, which is a mix of beer and powdered tang. It is essentially a poor man's cocktail, but the simplicity of it can make anyone feel like they are on vacation on the holidays.   
The Recipe:
Beer, preferably a wheat beer like a Blue Moon
Powdered Tang
Mix some powdered tang into the beer and enjoy this poor's man mimosa.  
4. Tootsie Roll – How I Met Your Mother
How I Met Your Mother is a fun show that brought together many memorable and quirky characters. When these characters make a drink, you would expect it to taste like how they joke about it. This Halloween drink from the season one episode, "Slutty Pumpkin" seems like such a simple drink that could taste so terrible.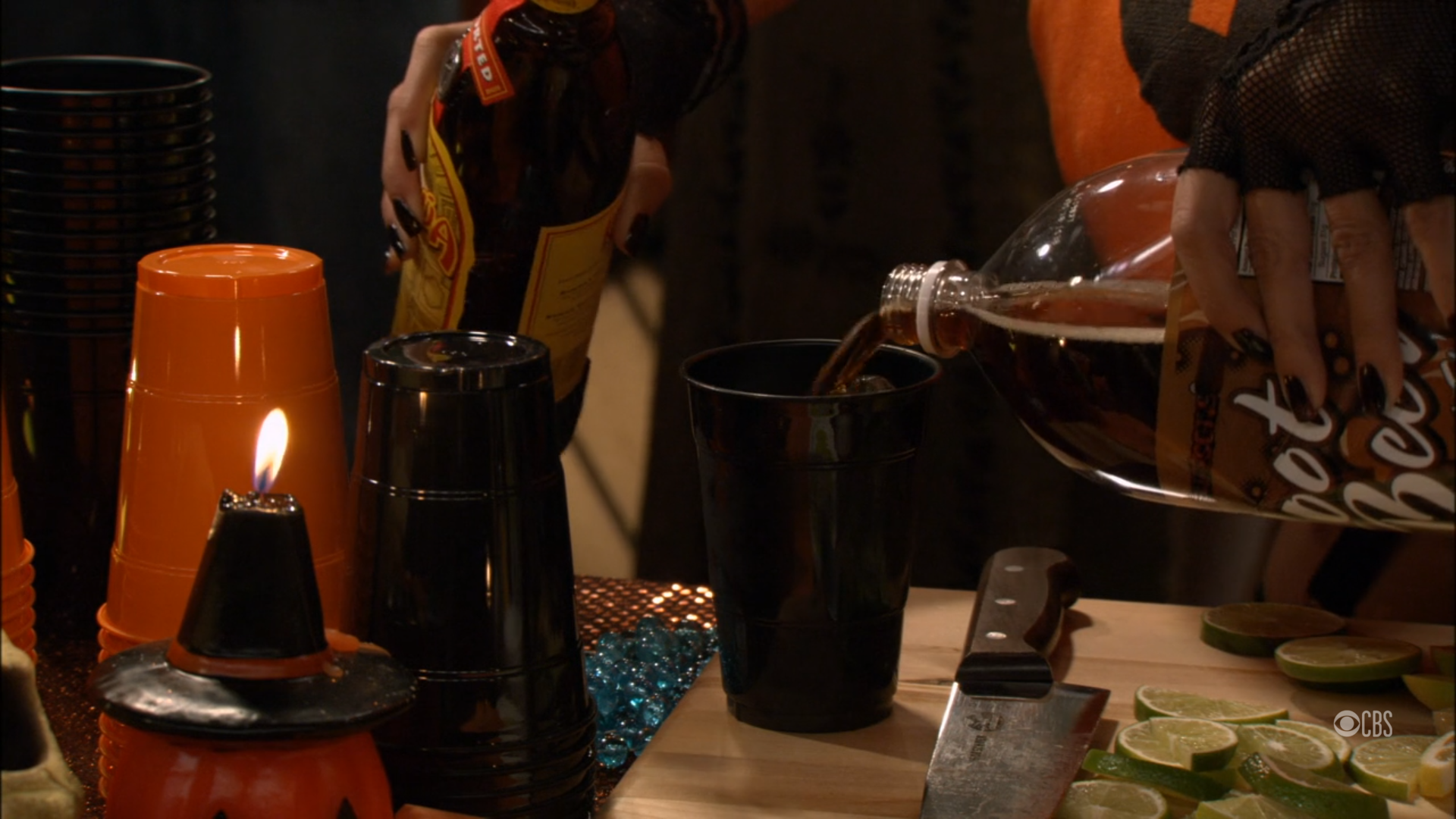 The drink itself is comprised of two ingredients: Root beer, and Kahlua. Due to the simplicity of the recipe, the root beer complements the natural flavors of the Kahlua. It is a good and simple drink to start off and impress your friends and soon become known as a legendary bartender.  
The Recipe:
Root beer
Kahlua 
Mix both into a glass and enjoy the New Year, hopefully with a slutty pumpkin at your side!
5. "A New Year" Margarita Mix & Tequila – The Good Place
When in doubt, margarita's out! If there's ever a drink that is good on any occasion, the margarita reigns supreme in that category. Many television shows have used margaritas as a symbolic drink to let loose and have fun, with each show making slightly different variations of it. However, for this list, we will be focusing on the margaritas from The Good Place.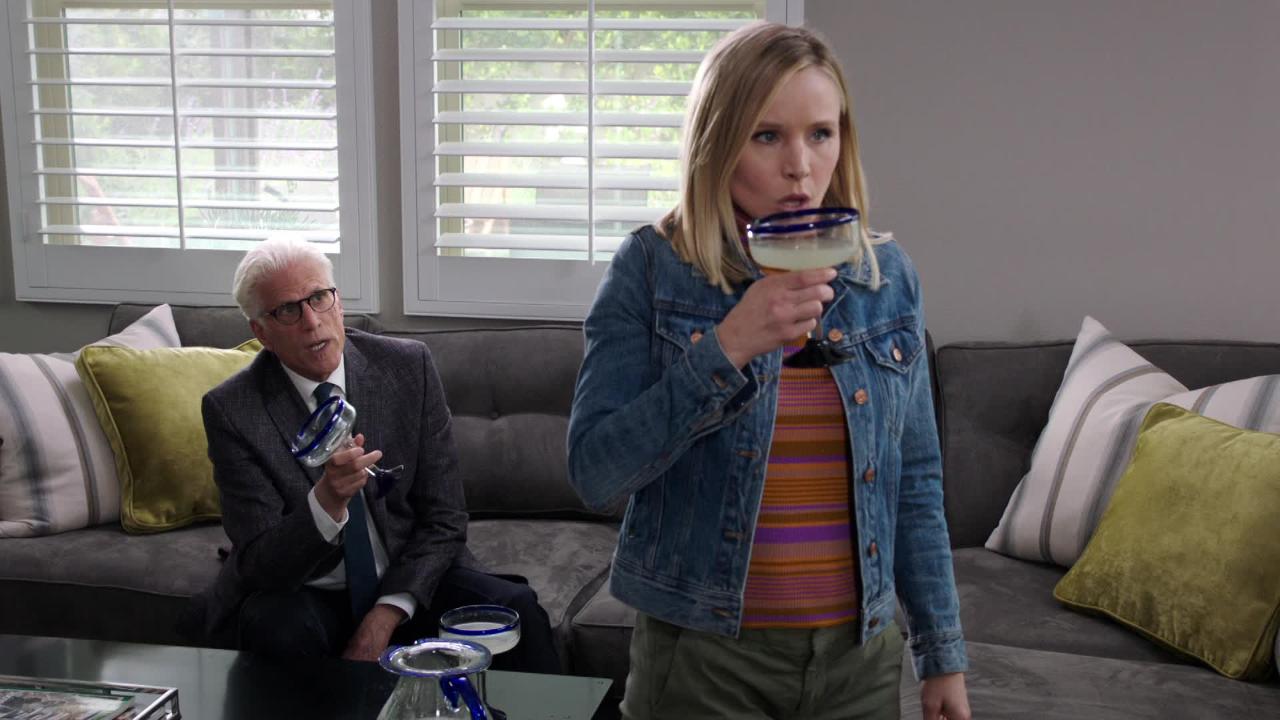 The television show first shows its love of margaritas in the first episode when Eleanor is buying a gallon of margarita mix for herself before she dies. After that episode, the show always goes to the margarita mix whenever someone is in need of a drink. This is arguably the perfect drink for a New Year's party mainly due to how easy it is to make and how it can be easily adjusted to people's tastes. 
The Recipe
Margarita mix
Silver Tequila
Triple sec
Limes and salt
Pour about three ounces of Margarita mix, two ounces of tequila and an ounce of triple sec into a cocktail shaker and shake.
Rim the edges of your glass with salt and pour the mix inside.
Lastly, place a wedge of lime on the rim and enjoy forkin' New Year!
Toast To The New Year!
We welcome the start of the new decade with excitement and a list of New Year's resolutions. Everyone here at the Daily Fandom would like to 'Thank You,' the readers for always showing support and interest in our work and from all of us to you, we wish you a Happy New Year!