90
Stellar Space Adventure
Sea Of Stars Vol 1: Lost In The Wild Heavens, collects issues 1-5 of the series. Written by Jason Arron, Dennis Hopeless, along with illustrations by Steven Green and colors by Rico Renzi. Published by Image Comics, Sea of Stars brings a story about a father and his son as fate strips them apart from each other. The cosmic twists and turns will leave readers in awe as pain and imagination flood out of the pages. It's a hard-hitting science fiction comic, filled with humor and fantasy. To that end, Sea Of Stars Vol 1: Lost In The Wild Heavens does not disappoint and already has us aching for what comes next.
An Oceanic View Of Space
Sea of Stars begins with space trucker Gil and his son, Kadyn, on a ride that changes them both forever. The book follows the two getting separated after a Space Leviathan tears through Gil's ship. Granted, it's a story that feels familiar at first. In short, Gil, thought dead by Kayden, lands on a near-by planet and fights for his life to get back to his son. Between ancient space tribes and evil cauliflower, Gil's journey isn't the most pleasant. With oxygen running low, it seems the impossible is before him. Gil's only motivation to go on is seeing Kadyn's homing beacon still active.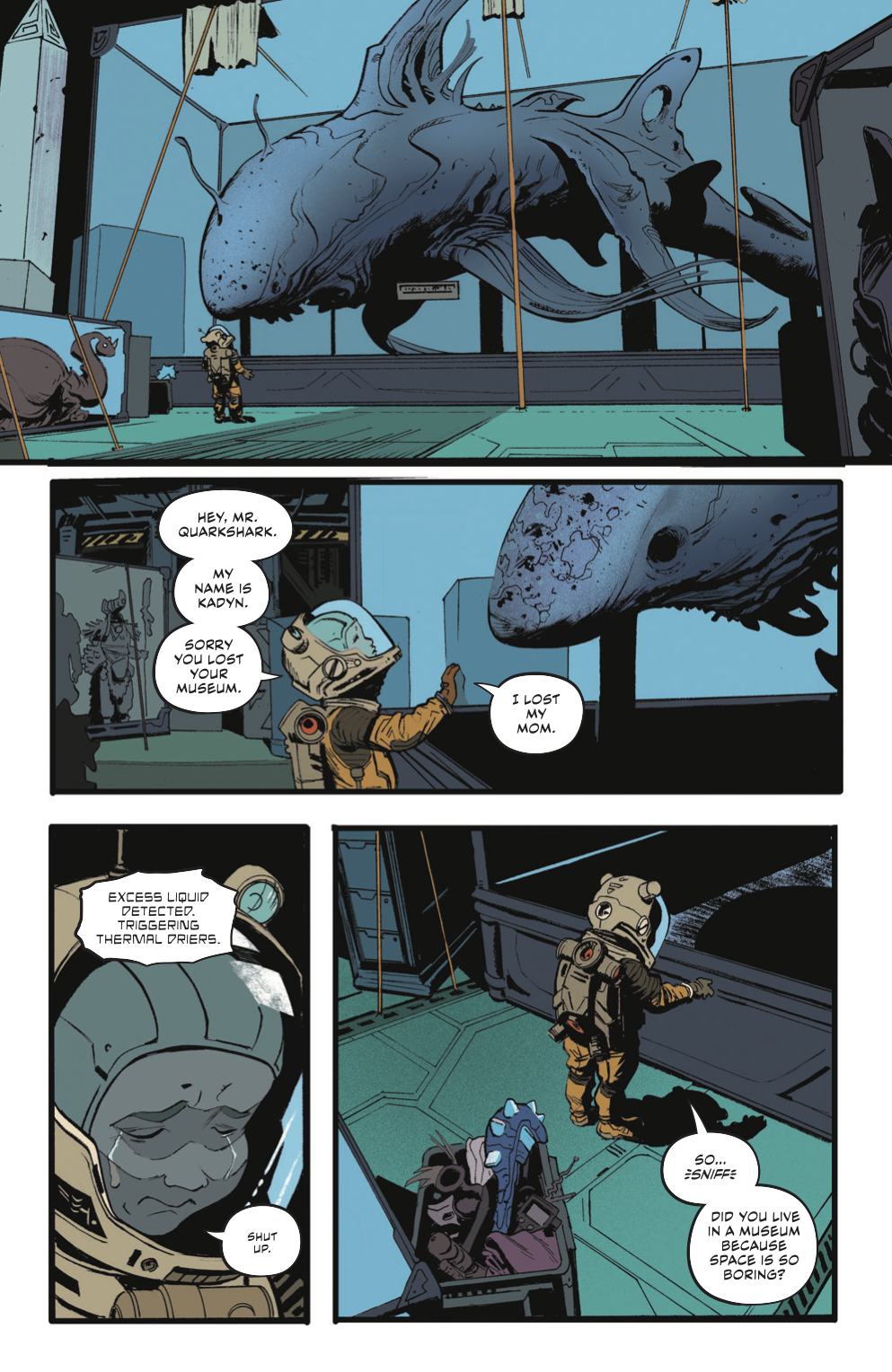 Kadyn's shocked when he wakes up after the accident with a destroyed space-suit and discovers that he doesn't need it. In fact, the Space Monkey and Space Dolphin that appears are just as shocked. With his new friends, he swims through space and uncovers new powers within himself. It's here we come across the ancient tribe of Zzazteks! Kadyn's arc feels more like a fantasy-space adventure than a survivor's story. It's what takes us away from the bleakness of the situation and into a fun and adorable voyage.
It's Full Of Stars
Undoubtedly, Jason Arron has seemed unstoppable the past few years. Now teamed with Dennis Hopeless, the Marvel writers have created a beautiful adventure. A digestible and straightforward plot that a reader of any age can enjoy. Sea of Stars has the potential to slip into a timeless tale. The story itself holds up to interpretation as one gets older to read it.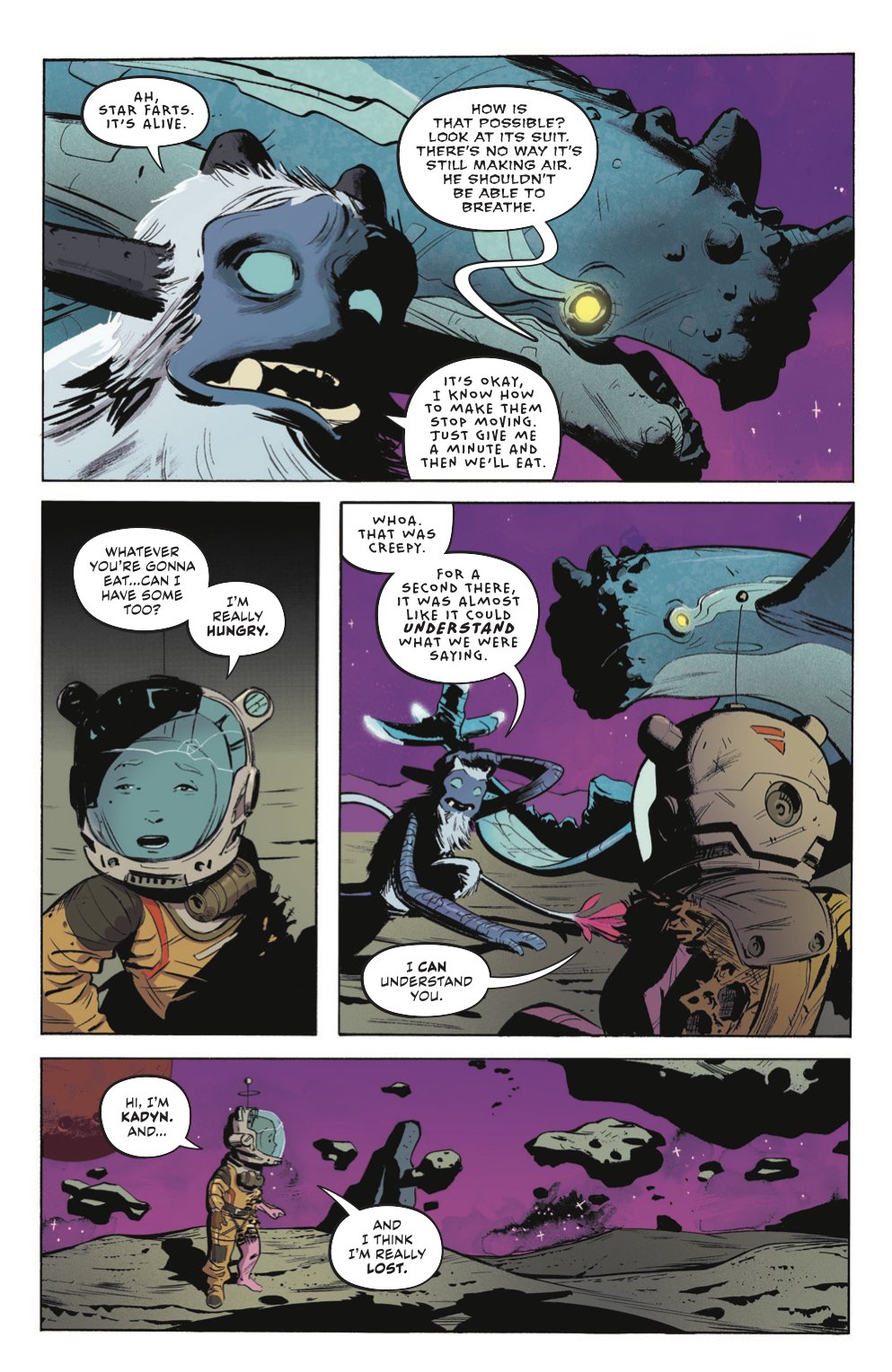 The pacing of the story feels very even, and none of the characters or creatures feel hard to grasp. Even flashbacks and longer expositions have a poetic telling that lifts our interests. The story, although a conventional setup, tells so much truth about who we are in the world.
An Ocean Of Emotions
Sea of Stars focuses more on the parallels of adult views and child mindsets. Gil's journey to finding Kadyn takes him through treacherous attacks and regrets as a father. Every step he takes puts him more in danger and more into falling out of hope. However, no matter how hard the obstacles are, knowing that Kadyn's suit still shows life, gives him absolute hope. On the other hand, Kadyn awakes with incredible abilities that feel as if his imagination broke open. Kadyn treats everything as a game, filled with fun and excitement. Even at his lowest moments, he uses that energy to push on. Overall, the contrast of the two journeys reminds us what it's like to think and feel like a kid again.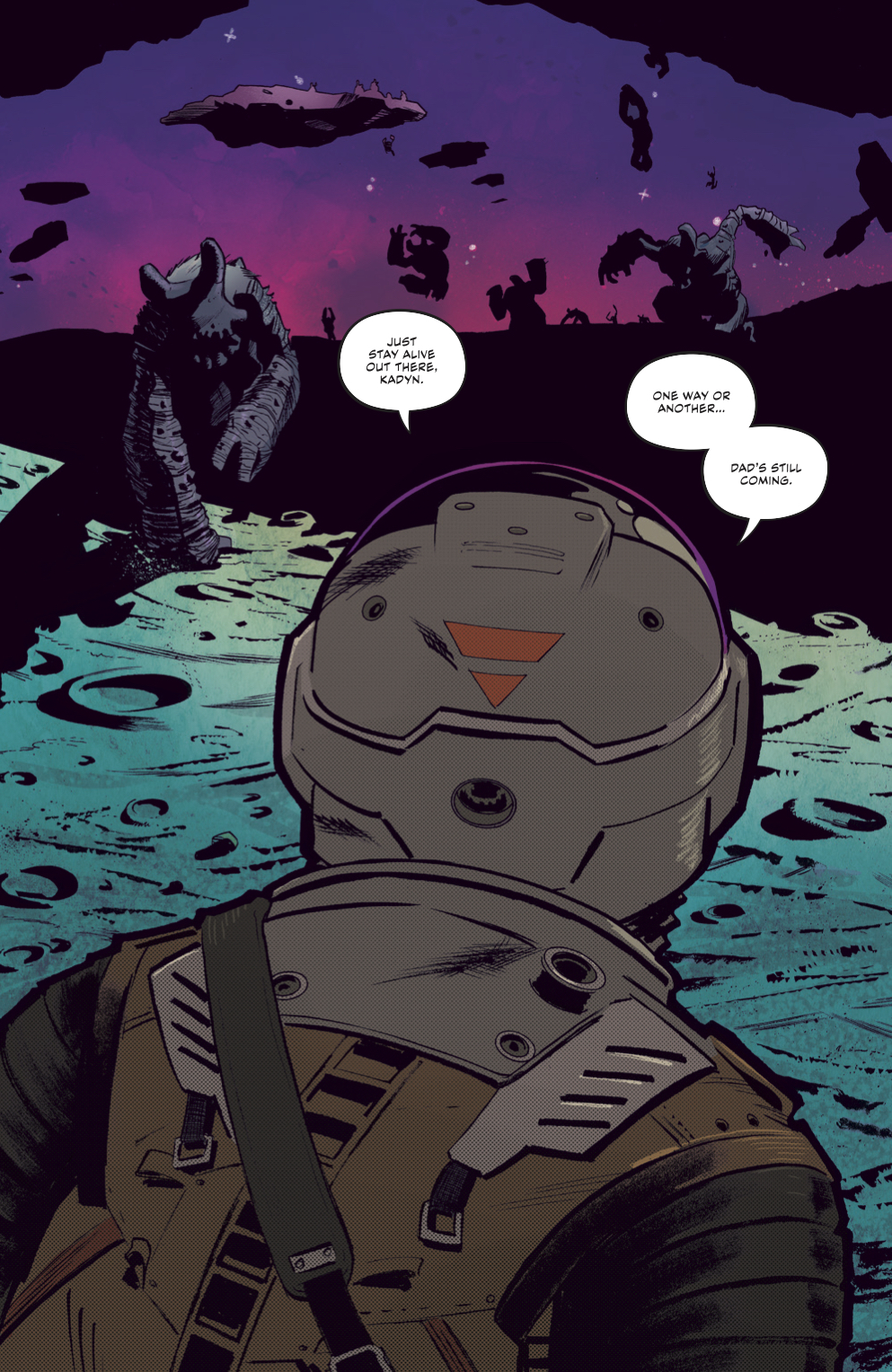 Additionally, Steven Green and Rico Renzi are what bring Sea of Stars to life. Green's illustrations keep the playful tone of the story, while Renzi's colors maintain the hard sci-fi elements. In no way does it feel too childish or too adult with what's on the page. Green's work looks more like a Star Trek children's book, especially early on in Kaydn's journey. The Space creatures are exciting and vary from interesting monkeys to something out of Hellboy. Renzi's color pallet focuses on a lot of blues and purples, intensifying the space-fantasy vibe. They both work together to make Gil's moments more dramatic and textured compared to Kayden's.
Imagination Wins Over Fear In Sea Of Stars
Overall, Sea of Stars gives readers an interesting story with astonishing artwork. There's some deep galactic history with the tribes and creatures that we come across. Along with a father and son bond, that feels like a living room adventure filled with imagination. It's only the first part of a longer story, but it holds up enough to keep readers interested in what comes next. In the end, Sea of Stars reminds us of what it's like to be a child in a cold dark universe.
Space Is Smaller Than You Think In Sea Of Stars Vol 1: Lost In The Wild Heavens
Sea of Stars reminds us of what it's like to be a child in a cold dark universe. A story for all ages to appreciate and learn from as we grow older.
PROS
Father/Son Relationship
THAT Cliffhanger
Art
CONS
Setup feels predictable
90
Stellar Space Adventure