Have you ever had that hard-hitting bug to become a journalist and crack a case wide open? Well, we have — so Bury The Lede by Gaby Dunn, Claire Roe, and Miquel Muerto scratched our itch. A graphic novel under BOOM! coming October 8th, 2019 dives into the behind-the-scenes journalism narrative by Madison Jackson, "the intern." By the end of the novel, she won't just be an "intern."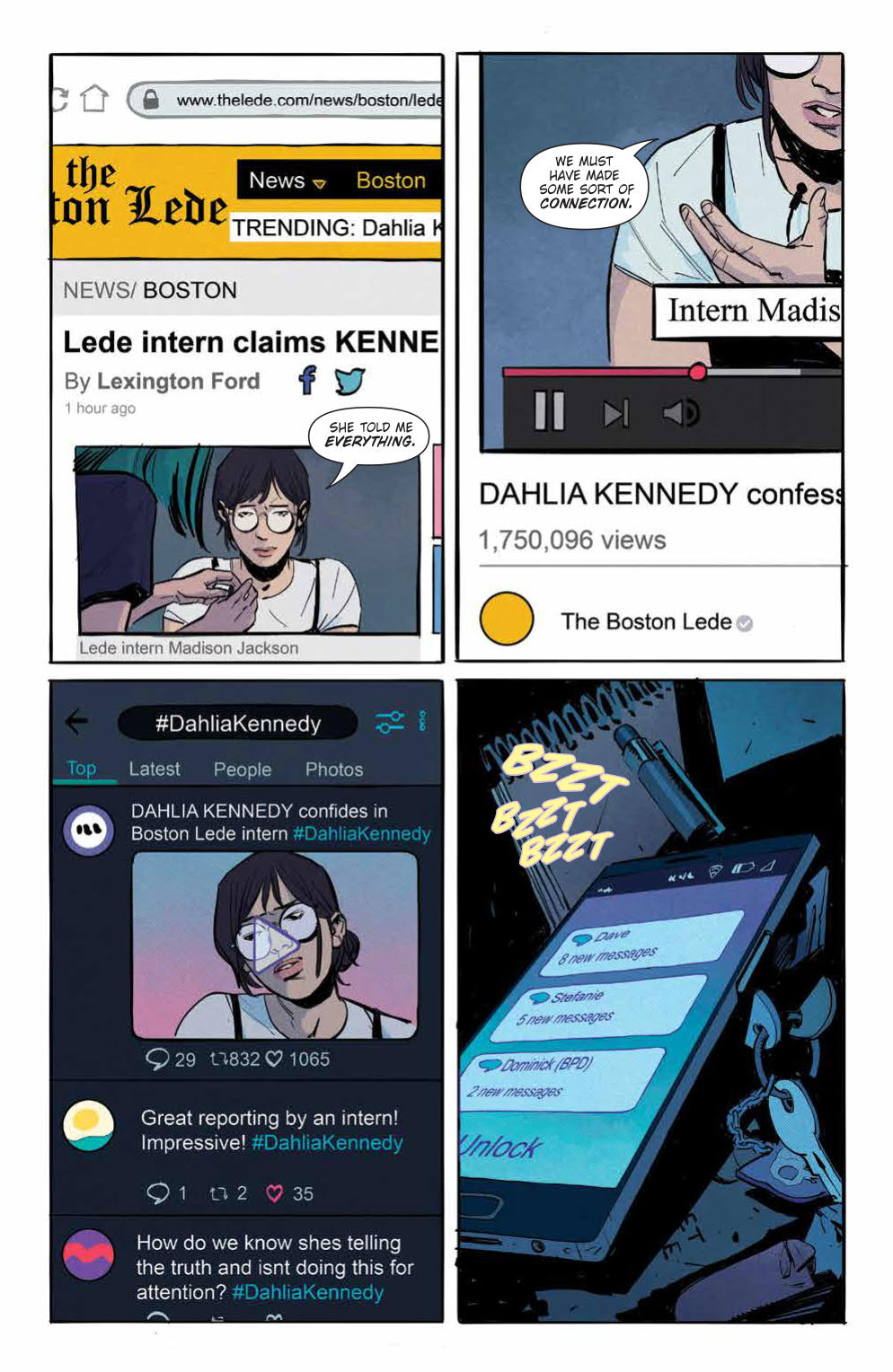 Madison Jackson is on an internship with The Boston Lede, a hard-hitting journalism newspaper that finds the answers. However, she has only been able to say 10 words to the boss and less to anyone else who works there. She sticks to herself and tends to stay recluse. However, that is until she is the main component in a case that she never signed up for. Well, she didn't sign up to be a scapegoat. Madison is destined to prove that she is a "reporter" and nothing less.
Therefore, she decides to get the scoop of the century. A prominent Boston Family has a murder under their hands and the wife will only talk to one person: Madison Jackson. Her life unfolds and she has to choose if she will step on others to get to the top or choose to have allies along the way. What would you do to prove yourself as more than just an "intern?"
Gaby Dunn's Narrative(s) In Bury The Lede
Throughout Bury The Lede, there are various themes being set. It is a queer graphic novel with LGBTQIA+ themes all over, which we love. Seeing these themes on the page was especially exciting to have, especially in a novel with this plot. You don't see that very often at all. Not only was it a queer-driven novel, but it also featured two (from what it seems) PoC main characters.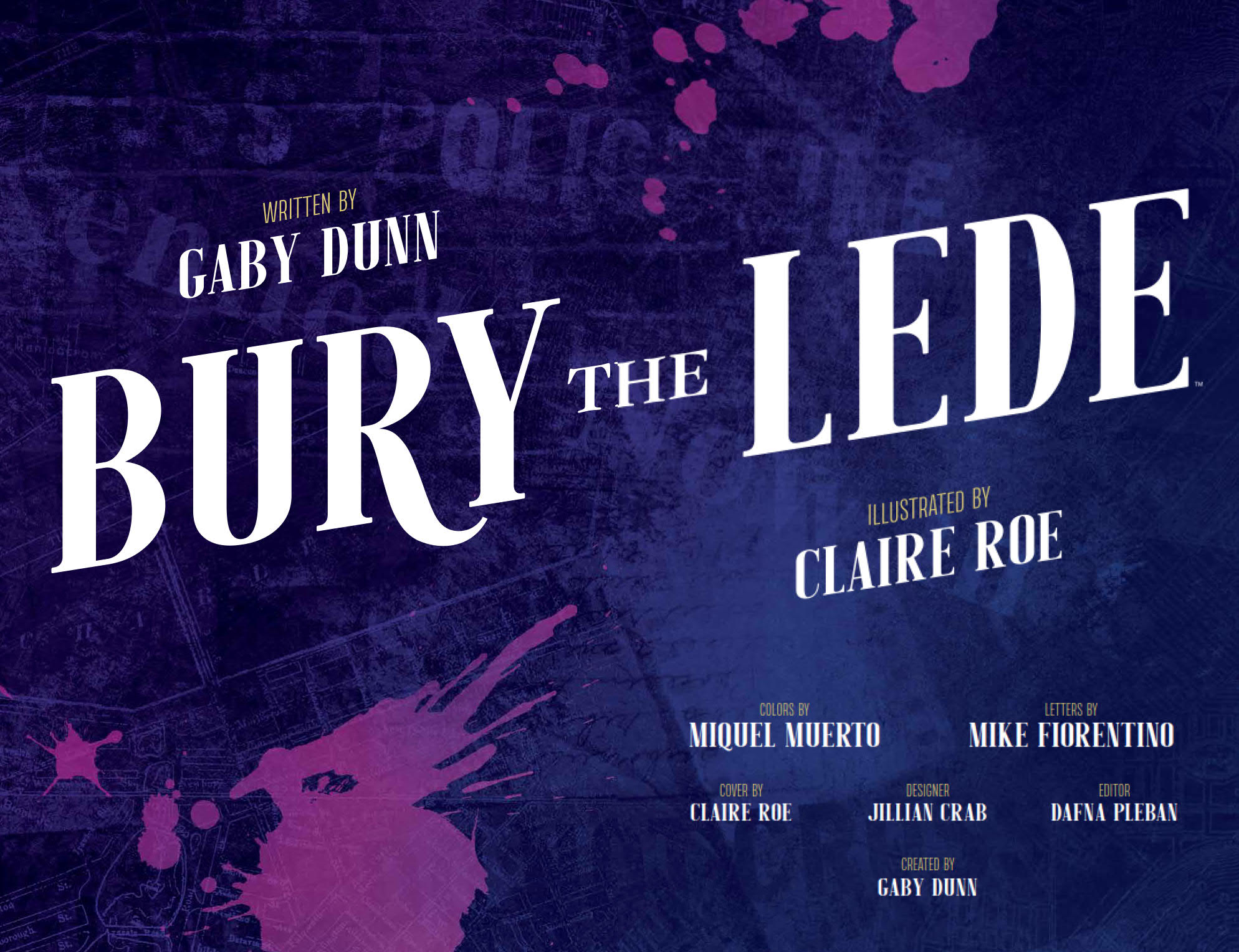 With that being said, the narrative is fantastic. It is written as an "investigative journalism" narrative. I couldn't stop turning the pages because I wanted to know what happened next and by the time I wanted to know more, I was done with the entire novel. It is a quick read, but it is because it's so intriguing. Madison is a bold character; she knows what she wants (for the most part). She wants that story and she will get it. Her problem is, she wants to be more than just the "intern" and doesn't realize that you need friends along the way.
The Character's Alter The Story In Bury The Lede
The novel ends with that question in mind. Madison stepped on everyone to get where she wanted, but at what cost? She could have had love, but she exchanged it for a story. Each character plays a pivotal part, no matter what that part is. The story is written with various narratives in mind and it works very well throughout the entire read. Towards the end, I felt it was rushed. I did want to see her tie loose ends with at least one character she kissed. I get why she didn't, but to have those moments and do nothing with them made me feel hollow towards the end.
Nonetheless, the narrative overall was spectacular. As a reader, I always want to see more. Bury The Lede gave me what I wanted: A hard-hitting thriller story about journalism. I left wanting a second part to find out what happens next in Madison's life. What is the next story? It also gave me an act of small courage to channel my inner journalist and crack a case (not a murder case!)
Whoa! Claire & Miquel's Illustrations
To have sex scenes in anything is risque. In a way that they have to be depicted correctly. Claire Roe did an unbelievable job with the lesbian scenes in this novel. Sometimes you can expect a panel, at best, or a kissing panel. However, this was a well-drawn, colored, and written scene for the readers. Even the kissing scene with Detective Dom was tasteful. In such a widely LGBTQIA+ themed novel, this was an aspect that had to come to the forefront and was done exceptionally well.
Onto the illustrations throughout Bury The Lede. With the concept of the story, we have so much that has taken place that the illustrations can make or break the TPB. However, the art was mesmerizing — not only with the themes presented, but the illustrations and coloring was something that moved the story along. You get these color palettes of dark purples and oranges, mixed with hues of blues and greens. It was a brilliant way to showcase the intensity of the plot.
One thing you have to show with art is the intensity of the plot since this is a noir detective journalism story. Claire and Miquel did that showing with Gaby's telling with the writing. You know when you see a great team together because the showing and telling are effortless. That is what happened here with Bury The Lede. Not only did it do an incredible job with the plot and themes, but it made the reader dive into the story and get into the mindset of a journalist. What a powerful thing to do!
Overall, Bury The Lede Brings Out The Journalist In The Reader
In terms of quality — the comic might not work for everyone. You have to be into the detective narrative and be able to become engulfed in it. The narrative and voice, personally, were exciting to read. It left me wanting more and even after it ended, I wanted a second part already.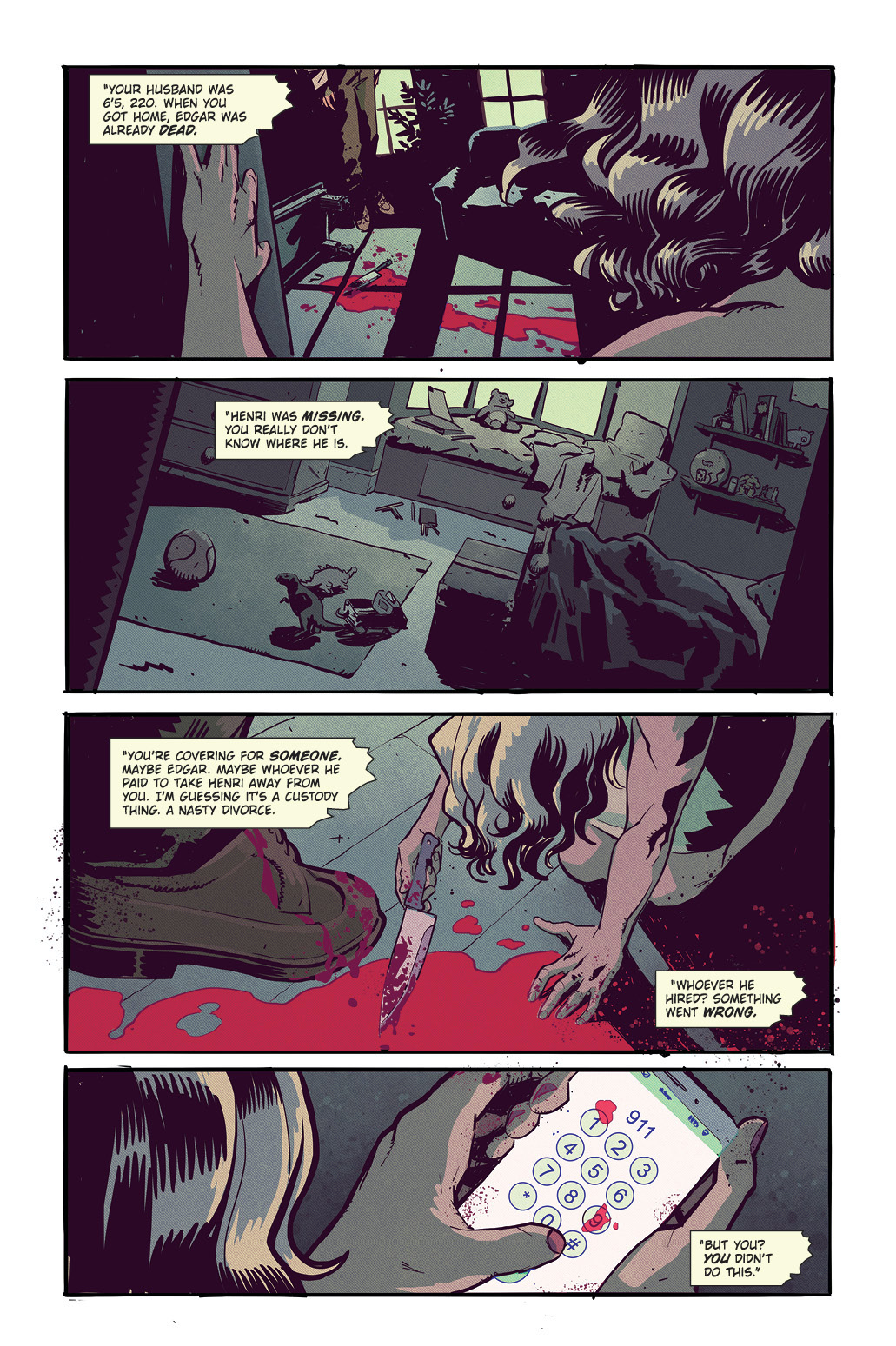 The life of Madison was exciting, even though I may not have agreed with the decisions she made — it was exciting to have it all unveiled by the end. I believe the team here, Dunn, Roe, and Muerto, did an unbelievable job with the plot and themes taking place. One of the best TPB's we have read this year. If you are into that noir detective journalism scene, this remains a phenomenal read.
BURY THE LEDE BY GABY DUNN, CLAIRE ROE, AND MIQUEL MUERTO
Bury The Lede by Gaby Dunn, Claire Roe, and Miquel Muerto under BOOM! Studios is a comic about solving a case, but not just any case, a career-defining case... Would you solve the toughest case of your internship career and step on people you care about in order to make a name for yourself? This is what Madison was struck with during her internship with The Boston Lede. What decision will she make? What path will she take?
PROS
THE NARRATIVES WERE FANTASTIC
THE ILLUSTRATIONS WERE TO DIE FOR... NOT LITERALLY
MADISON WAS A GREAT LEAD OF A CHARACTER
THE SUSPENSE AND MYSTERY
LOVED THE LGBTQIA+ NARRATIVES (INCLUDING BISEXUAL)
EVERYONE LOVES A GOOD SEX DREAM ABOUT A MURDERER, WHO DOESN'T?
CONS
SOME PLOTS WERE "MEH."
THE ROMANCE PLOTS WERE A BIT "MEH"
THE SEX SCENES, WHILE ILLUSTRATED WONDERFULLY, WEREN'T NECESSARY IN MY MIND