DC's fantastic movie rendition of Shazam! brought the audience to laugh and even kept us guessing what superheroes they were going to throw at us next. With hints of Superman (Henry Cavill) joining the film and even the Black Adam (The Rock). DC has kept us on our toes. Even with their choice to enlist the talented Zachary Levi for the Captain Marvel Shazam-y roll.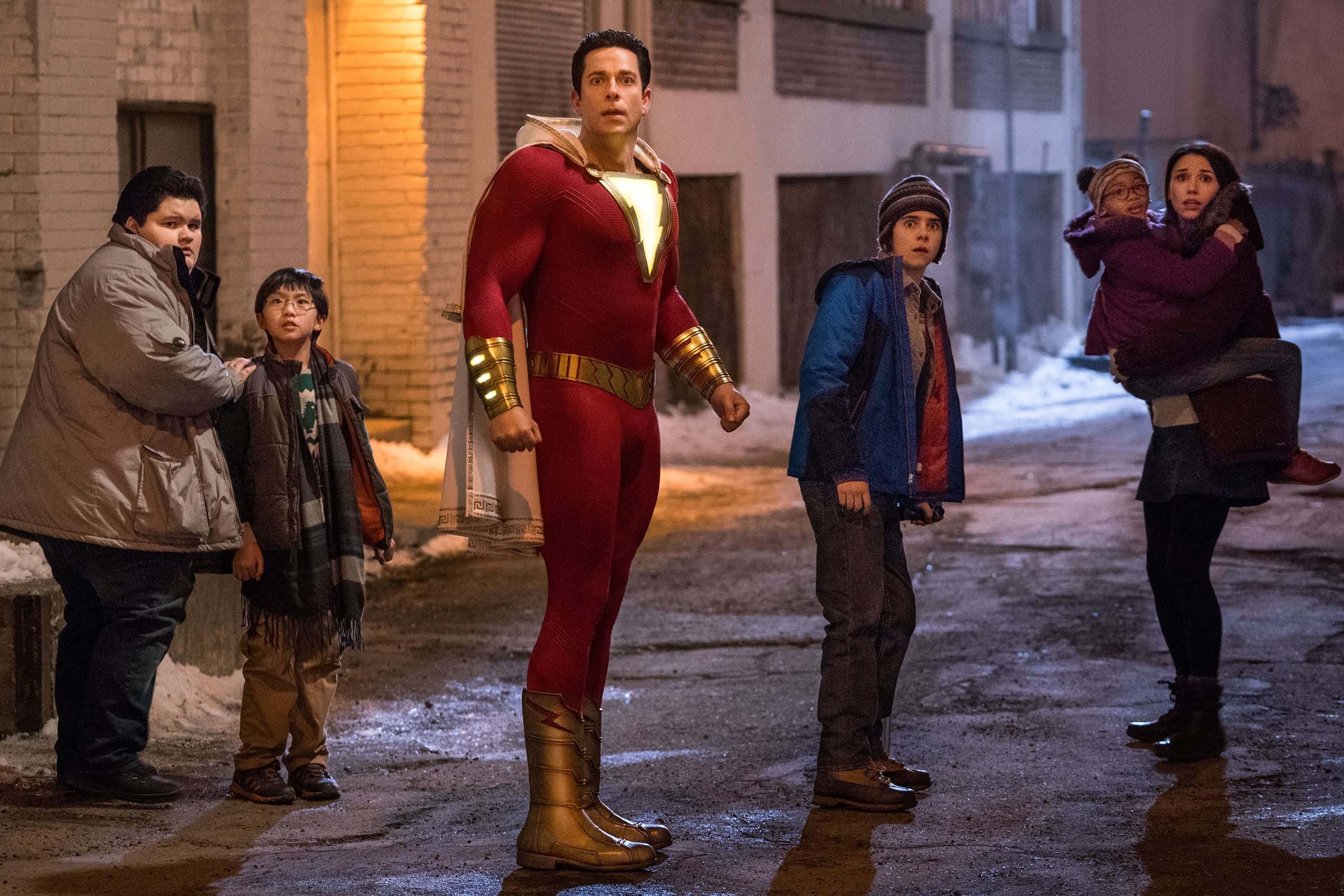 Everyone was on edge wondering what DC had up their sleeve with this and they delivered a wonderful and wholesome movie. Even scoring a 91% on the Rotten Tomato-meter. Critics proved to love this movie as well. Zachary Levi not only brought the role to life but gave it a character that only he could bring. He definitely blew everyone out of the water with his physical change for the role. Making everyone eat their words for doubting Levi's ability and physical appearance.
Shazam! 2: The Sequel
We've heard quite a few hints from not only the directors but even the actors themselves that Shazam! 2 is already in script production. We're looking at filming to start in the spring or summer of 2020. Though the film had amazing reviews and was well received by many, its grossing was only $363 Mill worldwide. Despite that number, Warner Bros., and DC saw the movie as a hit. They've already given the go-ahead for writers to start scripting and plotting for their next films.
Now, in which direction will this film take? We've heard plenty about Black Adam and how much the studio was pushing The Rock to be in the first Shazam! film. They ultimately decided that they wanted Shazam! to be their own stand-alone movie first and foremost. So no character overshadows the other, which is understandable. That would most likely be why Superman (Henry Cavill) didn't make it to the movie either. Not only because Henry might overshadow the main characters, but also the fact that Mr. Cavill might not even be Superman for much longer.
No More Cavill As Superman?
Henry Cavill was in negotiations with Warner Bros. and DC when Shazam! was in production, and Cavill wanted a pay-raise that the studio seemed less thrilled about doing. So Cavill might not even be our DC Superman in the next upcoming series of films. If that is so, DC definitely didn't want that debut of an actor transition to overshadow Shazam!'s debut. Even more so, wanting people to know that Shazam! is apart of the same "Extended Universe" as Superman and Batman. (As they were mentioned quite a few times in the movie.)

This further leads us to believe Shazam! will be part of the Justice League down the road. If Superman was a different actor, it might lead people to believe Shazam! is apart of a different universe. It would further just bring up too many questions. Leading us away from the main thing that was happening here, debuting the star that is Shazam!.
Black Adam Cameo In Shazam!?
Yes, you read that right. However, that contradicts what we just quoted about the director stating they wanted Shazam! to be a stand-alone movie! Yes, yes we know… They didn't exactly add him to it in the conventional sense. According to the director David F Sandberg, the Black Adam was in fact in the FIRST Shazam! movie, just not as we would have expected him.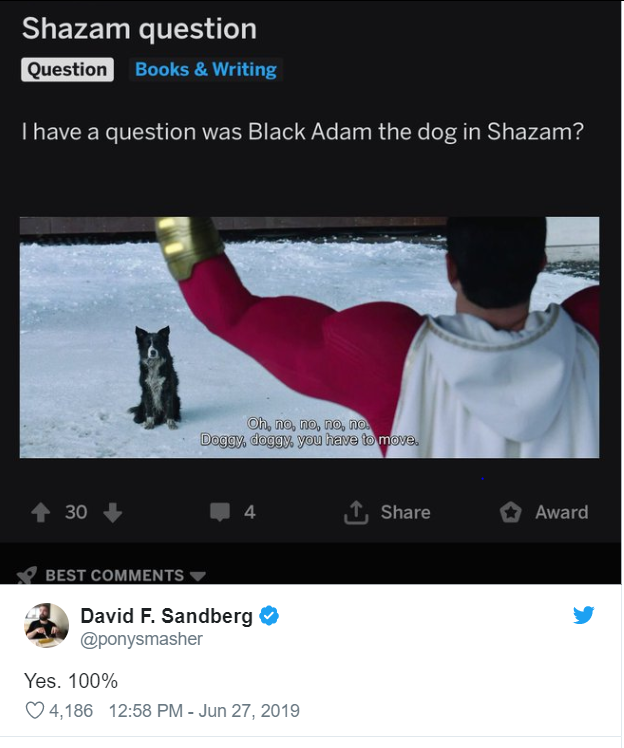 A fan asked Sandberg on Twitter if the Border Collie was seen in one of the scenes where Shazam! was saving a bus full of people was the Black Adam. David's response was not what was suspected, it dropped some jaws. Answering "Yes, 100%."
Black Adam Was a Dog?
Funny how this little moment was set aside by most viewers as just comedic relief. But with DC's plans, apparently this dog had some malicious intent by sitting there and making things difficult for our Billy Batson. Maybe he was sizing him up, knowing he was going to be a threat to him in the future. Whatever the case might be, we know DC has plans for Black Adam. Already stating that they want the great Black Adam to have his own stand-alone film.
That kind of squashes the idea that in Shazam 2, Black Adam will be its main villain. (Also the ending credits squash that too, but we'll get to that.) It does look like Black Adam might be getting his own movie before Shazam 2 comes out. It's been said that filming for the Black Adam movie will be taking place in early 2020. Perhaps he will make another cameo in Shazam 2, or possibly be hinted at for the 3rd movie. It does seem that DC is looking at the Shazam world of DCEU in the long run. We're sure many fans of the movie can be happy to hear that, and we can look forward to many more promising plot twists for this Shazam-i-verse.
Keep Your Eyes Peeled For Mister Mind
In the mid-credits teaser of Shazam, we got a scene with Dr. Sivana in prison, going crazy. He continued to write the symbols that once opened the door to another realm, all over the walls. We then hear a robotic voice call out to him with reassurance, letting him know that
"The seven realms are about to be ours."
The little wormy/caterpillar creature is none other than Shazam's arch-nemesis: Mister Mind. Mister Mind has his own plans for the universe, multiverse, and realms. He wants to dominate it all, with his mind-controlling powers. Seeing Mister Mind in the ending credits scene gives us a clue as to what direction the next film will take. That, it most likely won't have anything to do with Black Adam, just yet. It's sure to have a lot going on and great plot turns that can be grabbed from using Mister Mind as our second evil villain for this series.
We're excited about what DC has in store for us, and we can't wait for the trailers. Hopefully, we should be hearing more about this production by the new year. (Or maybe get a treat sooner, if we're extra good!) Keep an eye out for more news here at The Daily Fandom, and we will keep you updated on the latest news from DCEU and Shazam!
But in the meantime, as we wait for more Shazam goodness to be produced. Go buy a copy of the Blu-ray and DVD on sale at all major retailers as of July 16th! Walmart even has an exclusive Blu-ray + DVD + Digital + Funko Pocket Pop available. Grab them while supplies last!
---