When done correctly, the slice-of-life genre can bring laughs to readers as they exaggerate the normalcies of life. Along with the comedic aspect, the genre also has the potential to create social commentary. One manga recommendation that combines both the social and comedic features of the slice-of-life genre is Yupechika's Satoko And Nada. The series focuses on two international students from vastly different countries: Satoko is from Japan while Nada is from Saudi Arabia. However, despite their different origins, Satoko and Nada display how lasting friendships can form between people from all around the world.
The Plot Of Satoko And Nada
Satoko And Nada follows a Japanese woman, Satoko, who is an international student studying in America. She decides to move in with a girl named Nada as she attends university. However, when she meets Nada, Satoko finds herself surprised to see that Nada is a Muslim woman from Saudi Arabia.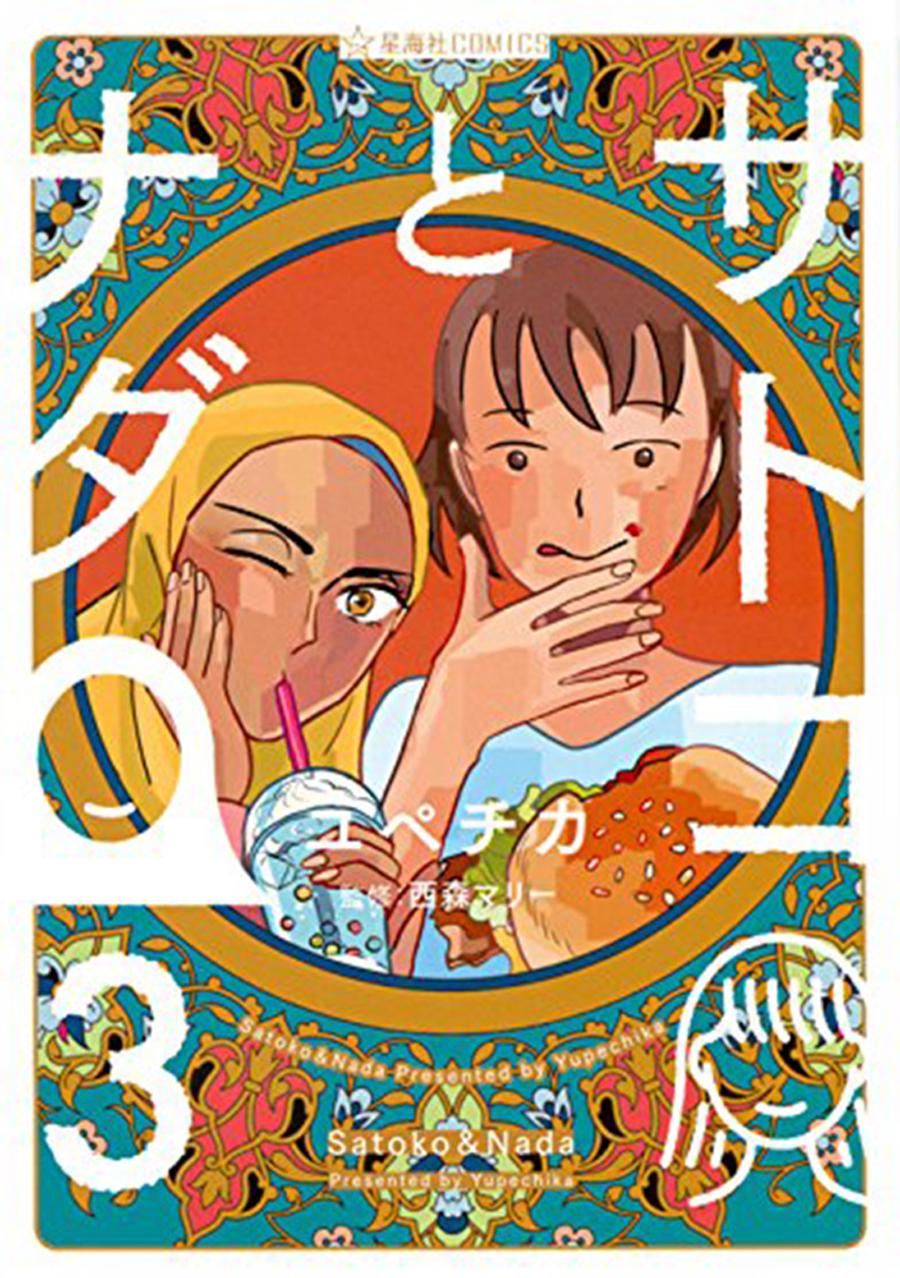 After their initially awkward meeting, the two become best friends who learn from each other's cultures. They experience America together as first-time, international students. Also, instead of their contrasting upbringings separating them, they bring them closer together.
The Art Of Satoko And Nada
Unlike most manga, Satoko And Nada follows a 4-koma format. (Each page consists of 4 boxes of equal sizes similar to a gag comic strip.) Due to this formatting, the art for the manga is not very intricate and the linework appears quickly drawn. For example, there are moments in the manga where the linework in Satoko's hair provides pointed ends to distinguish her bob cut. However, the following page can show her hair as simple lines that make it appear as if she is bald with only a few hair strands left.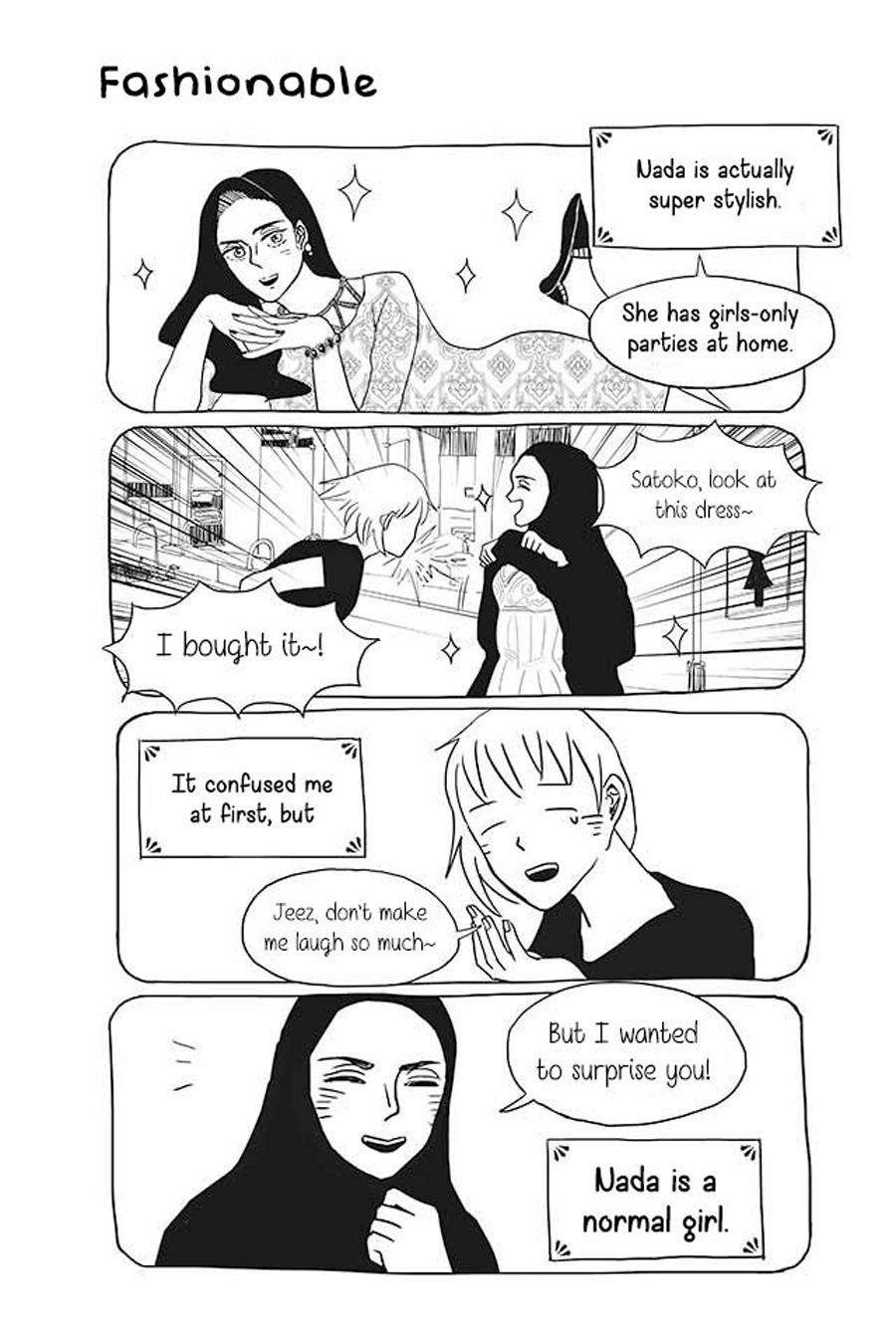 While the artwork is nothing extraordinary, it nevertheless assists in promoting the comedic aspects of the series. Due to the fact that Satoko And Nada is a 4-koma, each page counts as its own story. There are rarely any consecutive pages continuing the event which occurred in a previous one. This means Yupechika has to tell a new story in each page using only four boxes to do so. The storylines that occur consist of the characters having spontaneous reactions to events in each other's lives. The simplicity of the art style enhances these hilarious moments, as the silly, quickly drawn characters help emit energy and emotion.
Representing Islam Through Nada
Unfortunately, people who practice Islam are often dehumanized when represented in the media. They are either portrayed as dangerous individuals or people with no other characteristics outside of their faith. Luckily in Satoko And Nada, the character of Nada displays a well-rounded personality and is not solely distinguished by her religion. She comes off as energetic and adventurous as she fully immerses herself in American culture.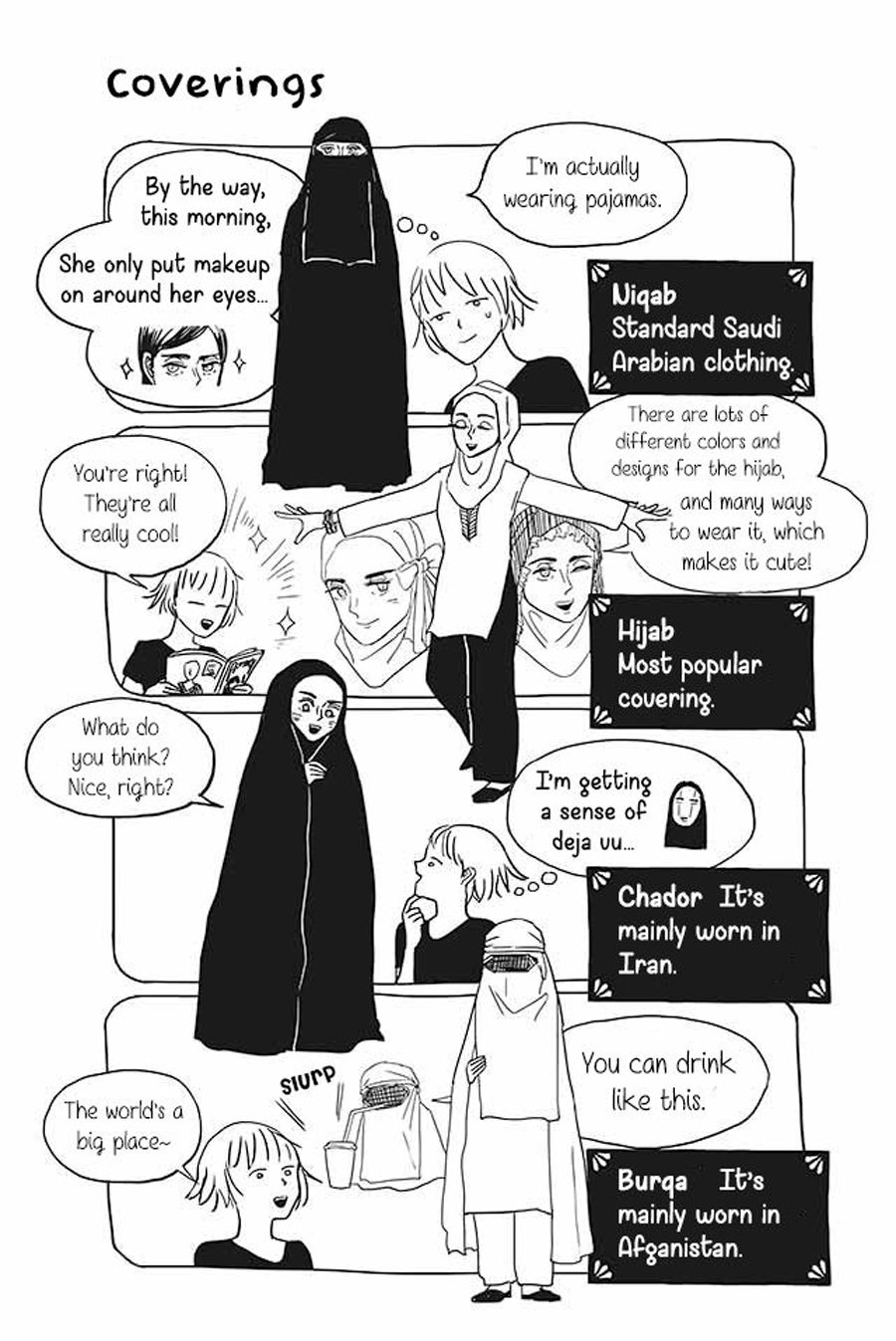 She wanted to study in America because she wished to leave her social bubble and experience the world. Now, this does not mean her religion is not important to her, for it is. However, she is not solely defined by it. Nevertheless, the series offers a different perspective on a group of people who receive a lot of negative publicity. For example, when Nada first meets Satoko, she does her best to clarify any misconceptions Satoko may have regarding her religion or country.
Overall, the series goes into detail explaining the core teachings of Islam. These lessons range from differentiating between the various types of religious garbs Muslim women wear to educating readers on the Muslim diet and the concept of "Halal". While Satoko And Nada itself is mainly comedic, manga fans can look forward to learning more about Islam by the end of the story.
Portraying "The Other" In America
Since Satoko And Nada's main characters are both foreigners living in America, readers receive an alternate perspective on being "the other" in the United States. This country is home to people of all races and religions. It advertises itself as a safe haven for everyone. However, this does not remove the fact that, like in every country, the U.S. has individuals who make people feel unwelcomed.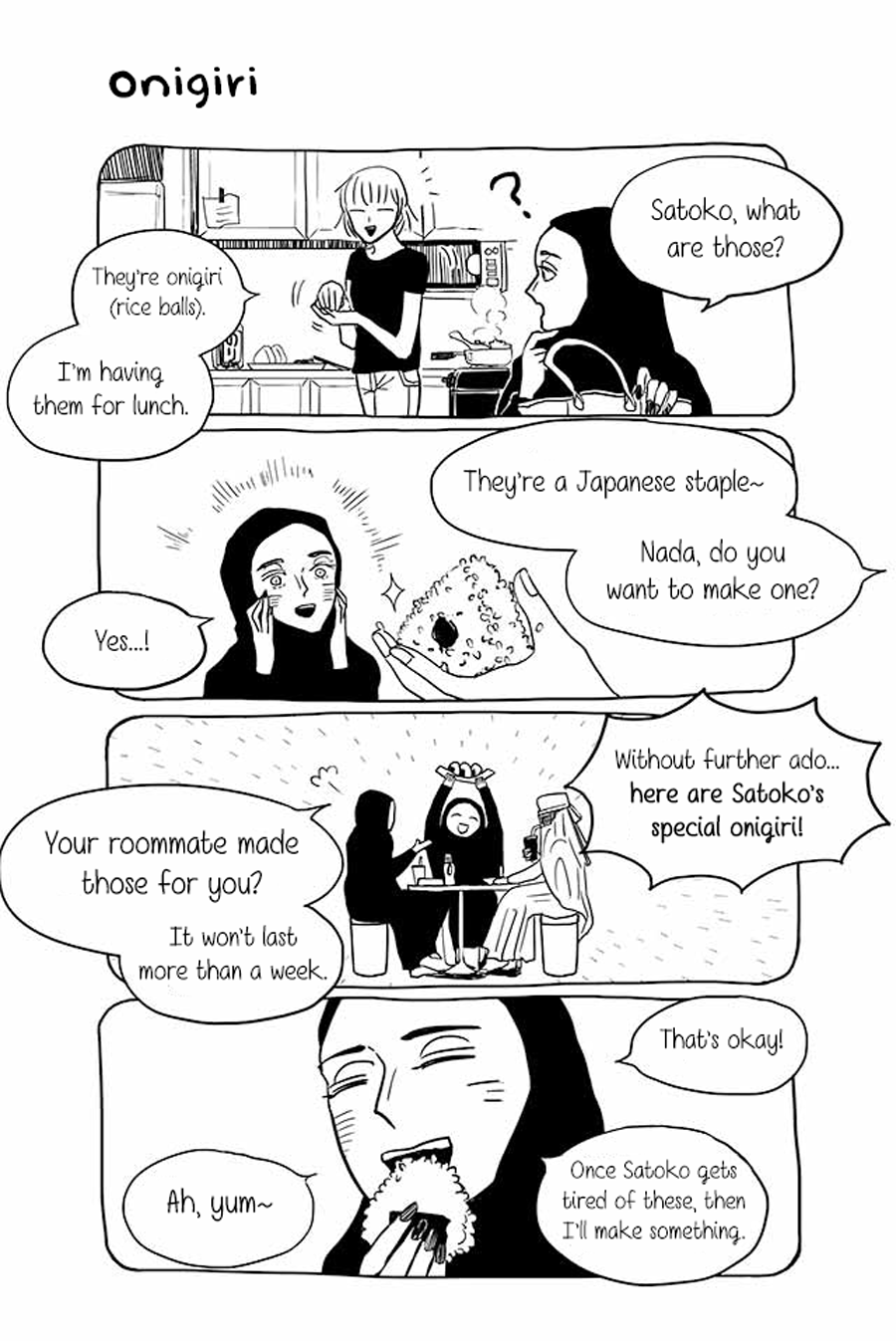 During its serious moments, the series covers the racism and discrimination of people of different countries and religions. Before meeting Satoko, Nada had many potential roommates who decided not to move in with her because of her faith. They were upfront with how uncomfortable her religious garbs and faith made them. Therefore, it took Nada quite sometime before meeting Satoko to feel comfortable in America.
Satoko has also had similar experiences while in America. Instead of facing religious discrimination, she faced racism. She recalled her first moments in America of people making fun of her appearance and the way she spoke English. When she first met Nada, she initially had the same shock and discomfort as Nada's other potential roommates. However, after getting to know her, Satoko realized the two had more in common than she first thought.
Why Satoko And Nada Is So Great!
Despite the culture shock, these women formed a strong bond and made other new friendships along the way. The great thing about the series is that while it does not hide away from the real-life struggles foreigners and people of different faiths face, it emphasizes to readers that people have more similarities than differences. Also, it teaches that there are more people in the world who will welcome you than those who will not. From its hilarious slapstick comedy to its educational lessons on Islam, it is for these reasons that Satoko And Nada is a must-read for every Animanga fan.
---
Satoko and Nada is available for purchase at Barnes and Noble, Amazon, and Rightstuf. For more Animanga articles, visit The Daily Fandom's Animanga page.