Sabrina Spellman is back… (see: Sabrina The Teenage Witch #1) and not the iniquitous Spellman this time. In this mini-series — consisting of five issues — by Archie Comics veterans, Kelly Thompson, Veronica & Andy Fish, and Jack Morelli, we get a new look at Spellman. There have been many re-tellings of the character, both in dark and light customs. However, this story is going to be about Sabrina's struggles as a regular teen. She will be balancing her normal and witch life as per usual, but with some cracks in the sidewalk along the way.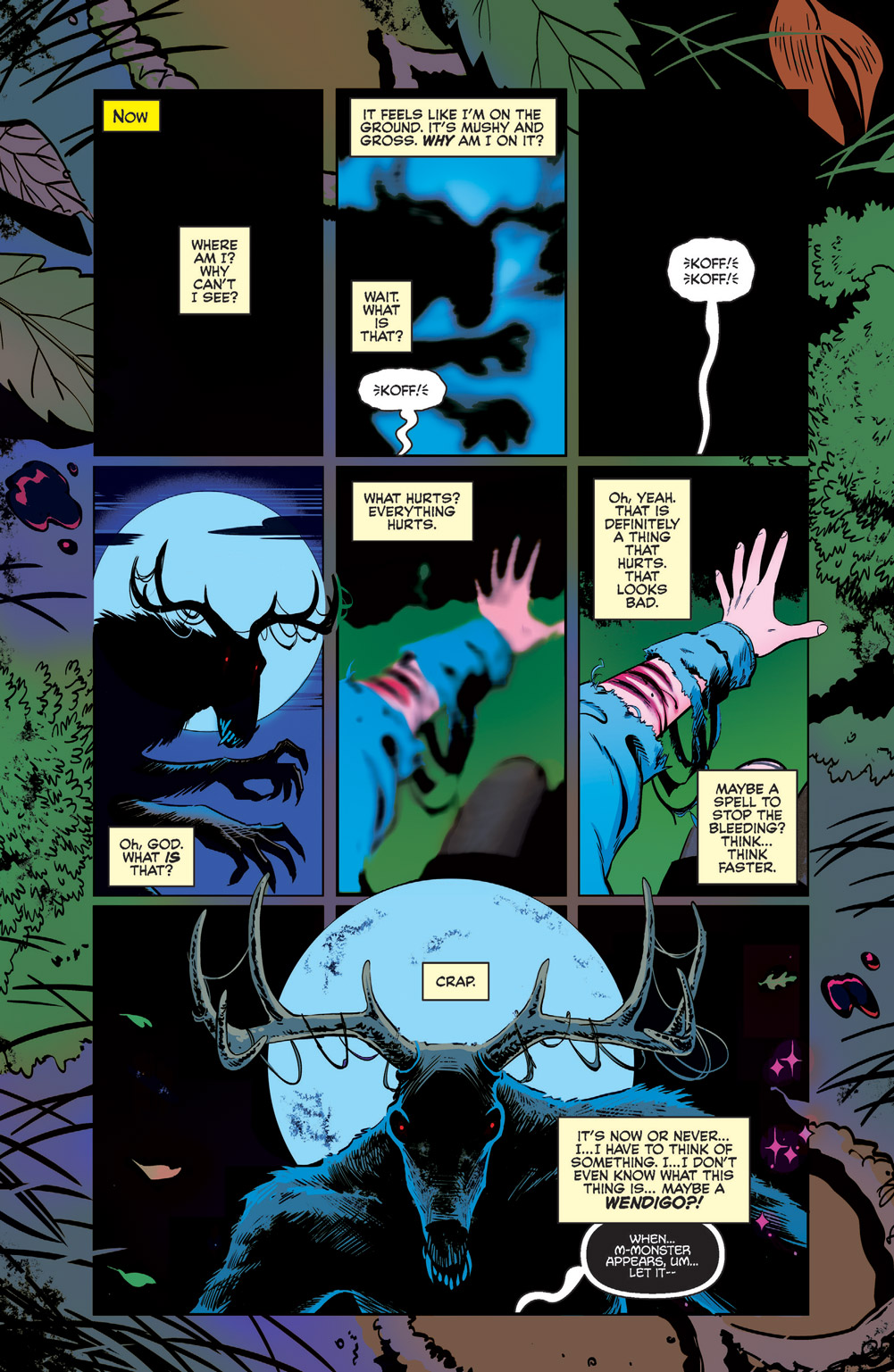 Sabrina has relocated to Greendale and she needs friends — that's not just her cat Salem — and a boyfriend wouldn't hurt, either? On her first day at a new high school, Sabrina meets not one but two new love interests, a villain, and a new friend. What could go wrong? Oh right, she might have to save her entire high school from supernatural events, NBD (see: no big deal!) Sabrina is going to have to juggle what it means to be a witch-mortal.
Sabrina The Teenage Witch #1 Is Classically Modern In The Best Ways
As everyone is aware, we know the story of Sabrina The Teenage Witch, right? A witch-mortal (or mortal-witch) who begins a new school and has some trials and tribulations along the way. It's a simple coming-of-age story that we will never forget. We have had countless mediums, two television series', a dark comic, an animated series, a regular comic, and she's now dating Archie Andrews (which is something else). You get the drift. We know Sabrina Spellman as well as we know Peter Parker; they are one and the same.
In this new mini-series, for it to work, we truly have to get something modern as a re-telling and, thankfully, we do. We got a new version of Sabrina, her friends, and even Harvey. (He looks different than the blonde haired boy we are accustomed to.) This makes for a great start to the series in just issue one. The writing, which Thompson is in everything right now, is something I am used to. From her newer comics, I have read Nancy Drew (see the reviews here) and I have read some West Coast Avengers. As a reader, I am used to her voice in comics. Coming to Sabrina The Teenage Witch #1, I had no issues with the voice of the narrative of the first issue.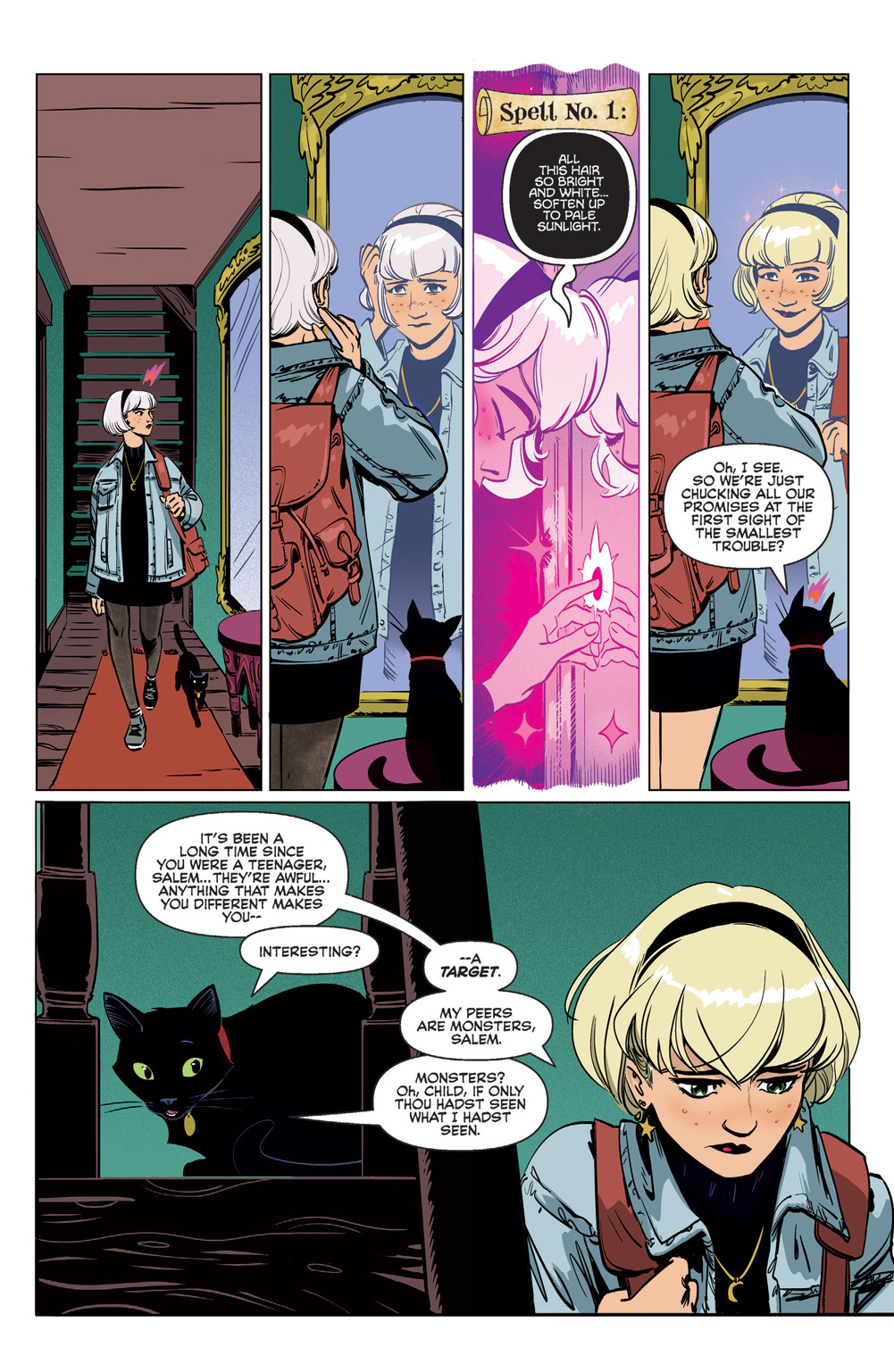 The characters have distinct voices, we get some new characters as well, and Kelly Thompson has a great way of making us feel at home with the narrative she creates. Sabrina feels like the Sabrina we know, but with a modern-vibe to her. That is essentially what fans want from the character I am sure. They don't want her to change drastically — especially for an Archie Comic — the fans love their simplistic character/s with a slight re-telling.
All This Hair So Bright And White… Soften Up To Pale Sunlight…
The art, coloring, and lettering are just so whimsical and fun. Not only does Sabrina appear to be an adolescent, but in a sense, she's not quite a perfect mortal nor witch just yet. Her appearance is between being a badass witch and a newly formed mortal; I just love the way she is drawn. The characters we know and love are all completely different in this series – the aunts are different than any other adaptation, Harvey (as stated before) isn't the same as the normal Harvey; we do get a light of modern in this series, even with the art, coloring, and lettering. The art is by Veronica and Andy Fish.
The coloring (I presume) is by the Fish's as well. The lettering is by Jack Morelli. The coloring, however, is marvelously done. I love the concept of using green to showcase Greendale. While that may not be the intention (I could be pulling at straws), it reminds me so much of the aspect of Greendale by using the overcompressing grass green color. The last three pages of the entire issue are some of my favorite when it comes to art, color, and lettering.
The colors with the background and pinks are outstanding. Sabrina's close up was entirely too perfect with the pink spectacle in the small outside of her eye. The Wendigo also looks like the exact demon from Chilling Adventures of Sabrina and it feels like a crossover episode. It adds to the Archie world that has been created between all of these mediums.
Is Sabrina The Teenage Witch #1 Promising?
Yes. If you love the character, you will love this new modern spin on it. Grab a copy this #NCBD and enjoy some Sabrina Spellman. We did. We cover all things Archie Comics on The Daily Fandom, you are intrigued, you can follow @wesuribe and I's reviews here.
Sabrina The Teenage Witch #1 by Kelly Thompson, Veronica and Andy Fish, and Jack Morelli
A MORTAL WITH WITCH TENDENCIES?
The half mortal-half witch is back in Greendale in Sabrina The Teenage Witch #1. In a battle between mortal and witch, who wins?