Catwoman: Book One By Jim Balent is a Catwoman graphic novel instilled with a ton of great old school Catwoman lovin'. We will be talking about the 328-page graphic novel that should be on your radar for the next buy you make. Uh, because retro Catwoman is glorious! This graphic novel is set around the 90s runs of Catwoman. Most of them are written by Jo Duffy and Chuck Dixon. Gotham City's Feline Fatale is facing off against Bane, Knightquest, Knightsend, and it even includes a few Zero Hour Crossovers.
90s Catwoman Is Puur-fect!
The 90s Catwoman is, honestly, a very attractive, sharp, and strong female lead throughout the comics. Written by Jo Duffy and Doug Moench, art by a series of great artists and illustrators Jim Balent, Dick Giordano, and Ande Parks. The series of issues is such a fan ride with Catwoman, Selina Kyle herself. Selina Kyle may appear to be a wealthy and beautiful socialite by day, but by night…
She has become the world's greatest thief, known as Catwoman. Her stint starts out as a job for Gotham City's newest crime boss, Bane. The man who broke Batman's back, and ends up being the start of Selina's long journey to find out answers… or redemption. She is starting to become more than just a feline thief. She started to become a hero… and that's the last thing she thought she was going to be, above all else.
Who Is Catwoman?
We all know Selina Kyle, right? Maybe not, if you don't, Kyle is a powerhouse kitty-kat. She can meow with the best of em' and kick butt with the other half. Selina Kyle (her real name) is a gorgeous, wealthy powerhouse by day. Her alter ego, though, is a super-villain and sometimes superhero.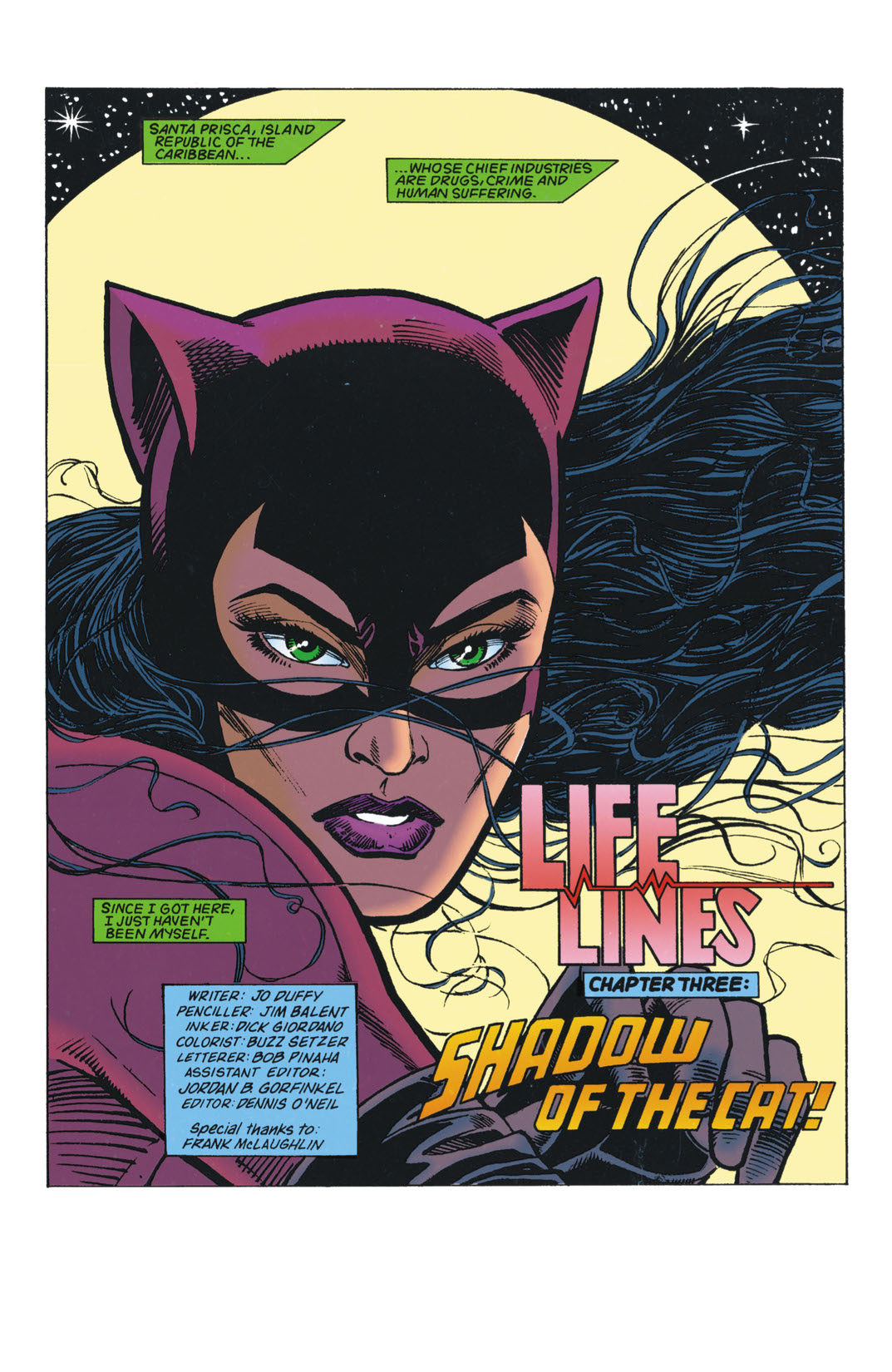 She began as a thief and enemy to Batman, and throughout the run of her comics — Kyle and Wayne have been on/off in a relationship (most recently getting engaged!) She has still remained a supervillain, at times, however, she is not so much a thief anymore. As all the superheroes do, Kyle had a not so great upbringing. If you don't know about the famous Catwoman you can always check out more of her backstory around the internet. You can always watch Batman Returns, Catwoman (the film), and any possible run of Catwoman in the DC comics universe ever.
A Look Back At Where Selina Kyle Started
This entire graphic novel is just what Catwoman fans needed from her. A look back on the 90s version, as well as a fantastic look at where she's come from. The art style of the 90s is much different in a lot of ways than what you see now. It looked dated, but not so much that you don't want to read it. The colors are still as vibrant as ever, and the writing is outstanding by Duffy. And, above all else, Selina Kyle/Kitty Kyle looks breathtaking.
The way she is drawn brings in who Catwoman is. She knows she's attractive, and she knows she was wanted by almost all the men and women of Gotham. She either uses that to her advantage or has the confidence of a thousand shining suns. What is most loved about her is that she is so confident and knows she is the best at what she does. No one can replace her. She's witty, smart, and always on the ball.
'Kitty Kyle' Began Like Any Other…
This comic brings back all of those feelings and more. With so many runs from each of the DC heroes or villains, it feels like these older comics can get lost in the wildfire. You have so many installments of different versions, different universes, and time travels — you can forget about where they started. Older Batman comics are something fantastic to read in the same light, as well.
Reading this graphic novel, while it is long (328 pages), is so worth it. There is a sense of joy when you get reading and looking at how far we have come. The font, the panels, and the speech bubbles look entirely different than what we see now from Selina Kyle or any comic of the 00s.
Let's Remember The Good Times…
Some of the best of the best villains are in this series. Issues #1-13 are present here in Catwoman: Book One By Jim Balent. We have the infamous, Bane, who meets his demise early on. Batman and Bruce Wayne (not necessarily a villain, but important to note). In that case, you have yet to read this issue — or if you want to in the distant future. There are some really cool villains in this issue, some that I either — have not heard of, or haven't seen in a long time. The marvelous thing about this issue is that over the course of so many pages of each issue we get a continuous plot. Issue 2 follows after 1, etc. They are continuous.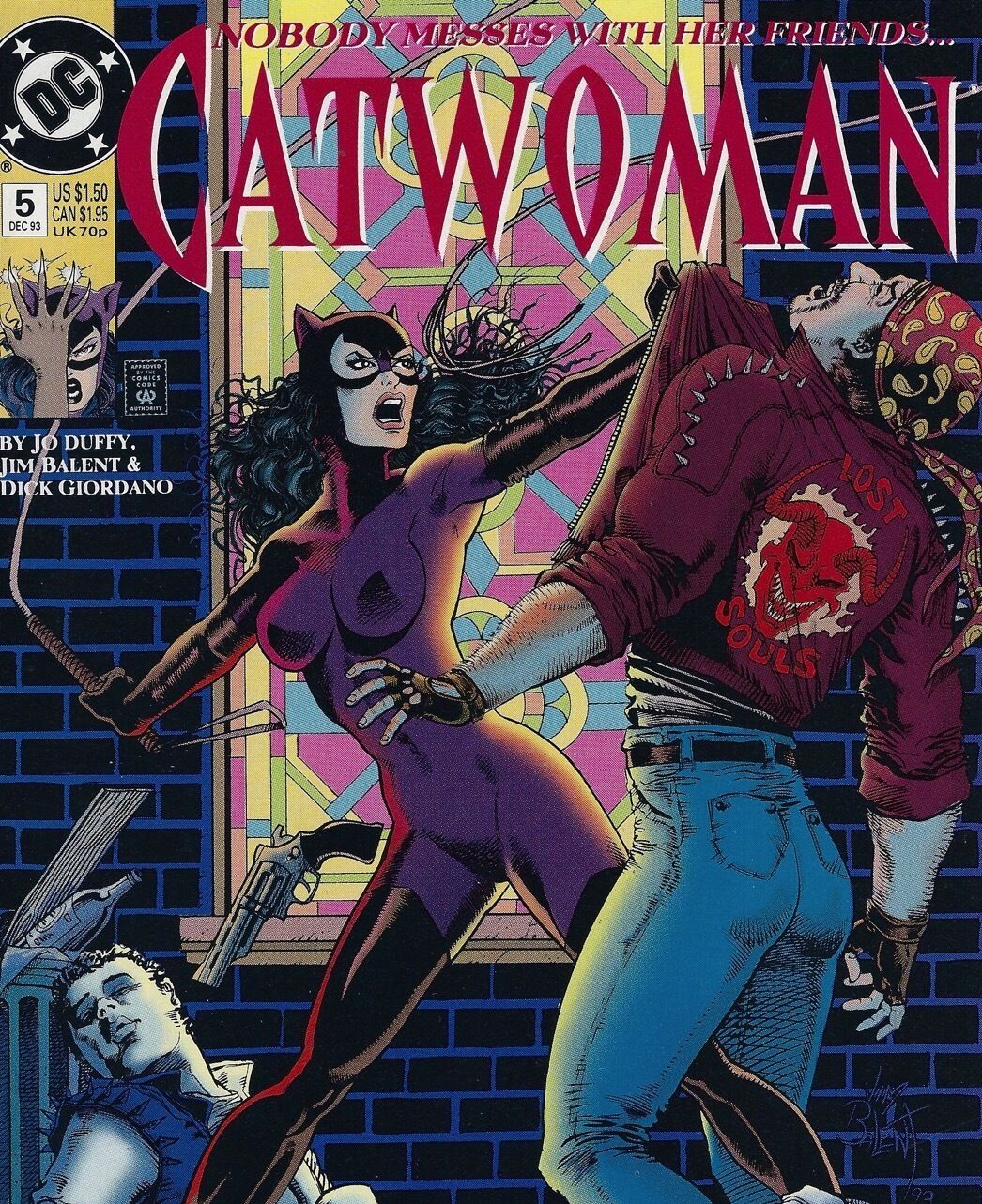 When you see a "to be continued" they mean, to be continued. In the next issue, the plot follows what just happened. The 90s was such a good time for comics. If anything, the height of the comic book era was the 90s. And Kitty Kyle brings that to the surface.
Hands Down The Height Of Comic Books
Now, we don't need to judge this whatsoever — but, since it is a newish comic, we will give a verdict. If you have not figured it out already, it's a flawless graphic novel full of great 90s Kitty Kyle. Something we would advise anyone to read if you love Catwoman as much as we do.
Throughout these thirteen issues, we got an insight into how Selina Kyle began and how she intended to look. How her facial features were designed to look and how her personality was assumed to come off to readers. There is definitely a lot you pick up on from the DC universe from both Catwoman and Batman, even Bane, at times.