Steve Orlando and the creative team use Wonder Woman #754 as a one-shot issue between story arcs. Princess Maxima comes crashing into Diana's home looking for help to restore the power structure on her home planet Almerac. The way the structure works on Almerac claims there must be a King and a Queen. Princess Maxima, who is due to become Queen, must have a King, however, Maxima does not give her heart to men. She knows she can rule with another woman, but only if they can stop Prince Ultraa from being coronated.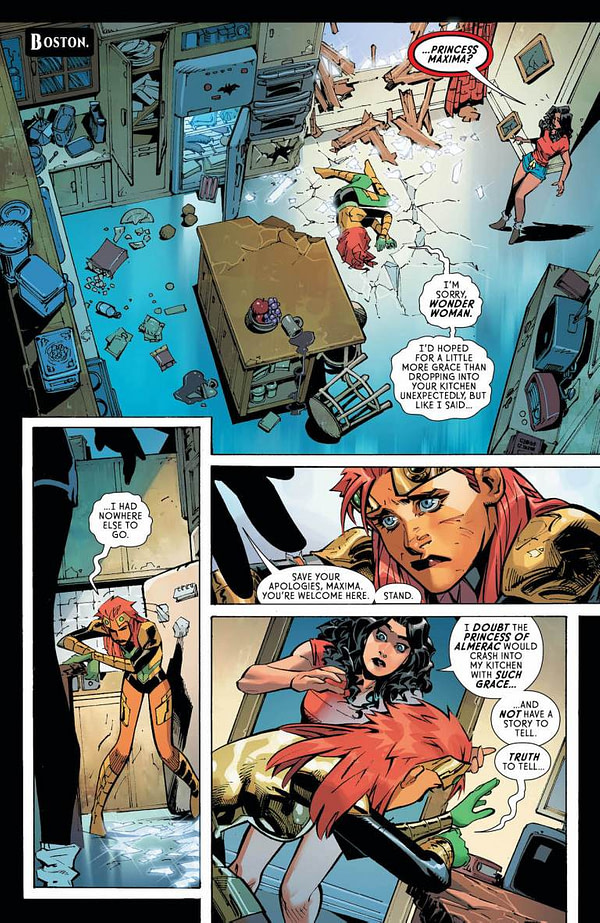 Steve Orlando's run on Wonder Woman has been decent thus far but, Wonder Woman #754 felt like a swing and a miss for me. The threat of Prince Ultraa never felt real. In fact, I would argue Prince Ultraa was not even a threat at all. The team took Ultraa down with ease, and never ran into any adversity or challenge through the issue.
Lies Of Power
As Wonder Woman and Princess Maxima arrive on Almerac, Prince Ultraa is echoing a speech before he is crowned King. Diana and the team must stop Ultraa from being crowned or else he will be King, forcing Maxima to marry him. The team makes quick work of Prince Ultraa. And by quick work, I mean he went down in basically a single punch. There was no resistance at all from Ultraa which lead to an underwhelming climax.
Wonder Woman #754 represents good values and teaches a valuable lesson for the world but, it was done in a rather lackluster way. What makes superheroes great is that they face the most daunting challenges imaginable, and they manage to overcome even if they need to sacrifice something to do it. They go up against our deepest fears and give us hope that we can do the same no matter how hard it may be. I appreciate the values the team was trying to push in this comic, but the way it was portrayed was disappointing.
The Art Team Of Wonder Woman #754
Gleb Melnikov took over as the lead artist on Wonder Woman #754, working with Romulo Fajardo Jr. as colorist. I am a big fan of Fajardo's coloring. Bright coloring and perfect shading is an obvious match for a Wonder Woman book. Melnikov does a great job in the issue, with the many different scene locations. I particularly enjoyed the scenes that involved the invisible jet.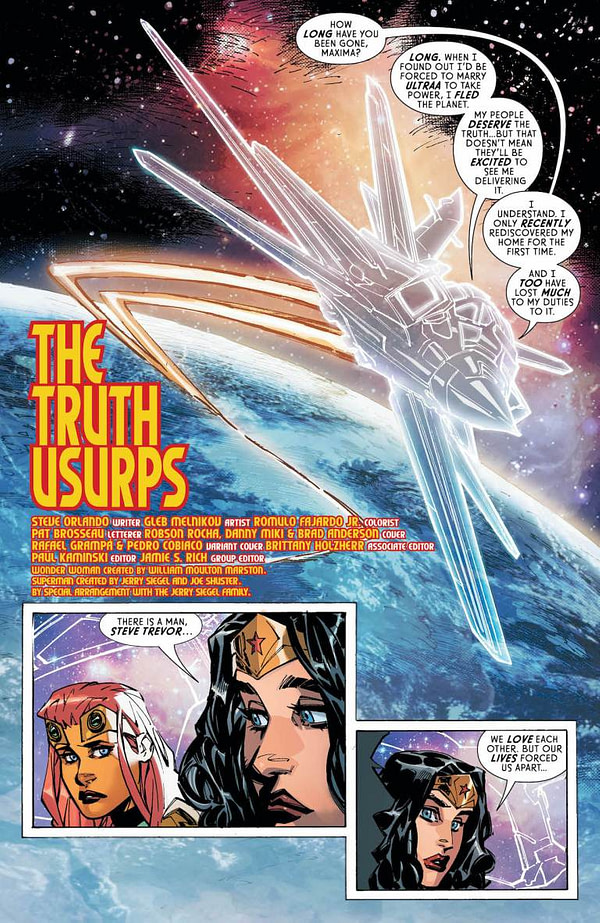 The problem I had with the art was the faces at times. There were a few instances in the issue where characters would be making expressions that didn't necessarily match what was happening around them. For example, there were a few moments when Wonder Woman would be smiling in a serious situation or action scene that did not feel realistic.
What Did Wonder Woman #754 Bring?
Wonder Woman #754 was a bit of a disappointment. As I stated previously, the threat of Ultraa never felt legitimate. There was never a feeling that Diana and Princess Maxima may fail, in fact, there wasn't even a struggle to accomplish their goal. The overlapping story of the Four Horsemen has been interesting to follow in the issues. I am looking forward to seeing what Orlando does with them in future issues. O also hope that the disappointment on this issue is a one-off.
Restore The Structure Of Power In Wonder Woman #754