After over 15 years of working at Nintendo, Reginald Fils-Aimé officially stepped down on April 15th. However, since 2006, Fils-Aimé has been working as the company's president and chief operating officer. During his time there, he oversaw the release of the Wii, 3DS, Wii U, and Switch platforms, among other accomplishments.
Pre-Nintendo Life
In his New York Times interview, Reggie detailed some of his early life:
"I grew up in a lower-middle-class environment… My parents, both immigrants from Haiti… came to New York, where their romance was able to flourish."

New York Times – "Life as the Regginator"
Reggie went on to talk about his employment at Procter & Gamble, Pizza Hut, MTV Networks, and VH1. After playing a part of a 30% increase of ratings for VH1, shifting the channel's focus to younger viewers, Reggie joined Nintendo of America.
First Impressions Of E3 2004
At a time when games were "just for children," Nintendo knew they needed to change the public's mindset. Hired as the company's Executive Vice President of Sales and Marketing, Reggie oversaw sales and marketing activities in the United States, Canada, and Latin America. At E3 2004, with Fils-Aimé as the face of the presentation, Nintendo gave an aggressive and theatrical presence that went against its previously child-only image. However, many considered the presentation to have the right attitude Nintendo needed at the time to show themselves still relevant in the current console wars.
Reggie As Nintendo President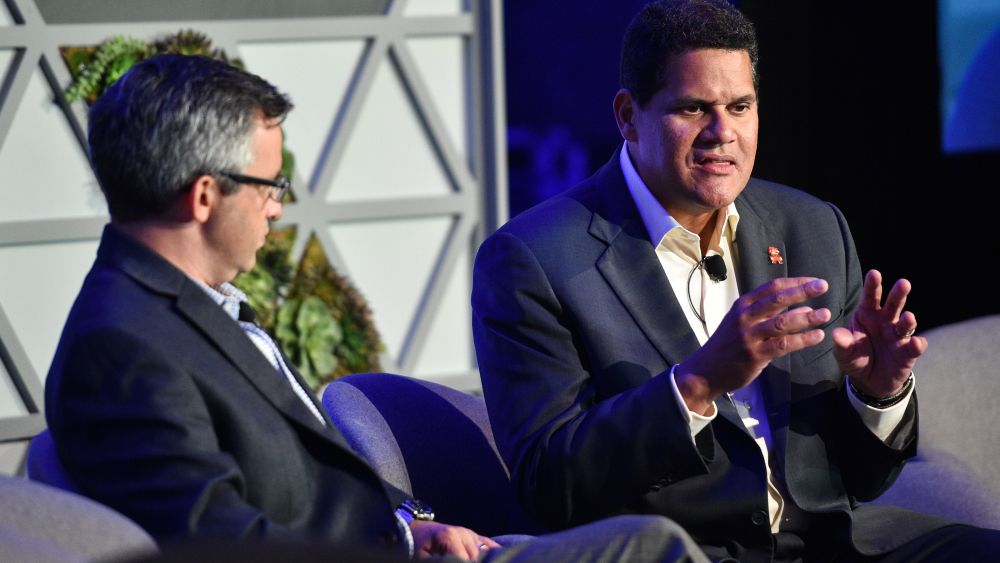 As the face of many public Nintendo appearances, Reggie has become instantly recognizable by fans who would tune into directs and panels. Nonetheless, many of his most memorable quotes went viral, being used in memes that he embraced. In May 2006, Reggie was appointed Nintendo of America president and chief operating officer.
Behind the scenes, naturally, Fils-Aimé was part of the team that was responsible for the success of the Wii. Through smart marketing, it has become one of the most successful Nintendo consoles, moving over 50 million units. The company's success flourished with the addition of DS and 3DS, despite stumbling with the Wii U. As president, Reggie oversaw many first-party games that would launch on their consoles.
Furthermore, tragedy was eventually struck when Satoru Iwata, the CEO of Nintendo and Reggie's mentor, passed away in 2015. Nonetheless, in remembrance, Fils-Aimé gave a heartfelt dedication at the 2015 Game Awards.
Collaborating With Fans
In an attempt to boost communication between the company and its fans, Reggie participated in collaborations with many influencers. Such collaborations include two debates with the Game Theorists, an interview with the Completionist and Nintendo Minute. In his most viewed collaboration, entitled "Should Nintendo STOP Making Consoles?" Yet Reggie has defended the company's decision to create the Switch. The video offers details on how companies and executives view the creation of new products.
With an indecisive ending, the viewer remains left to determine their own winner.
Retiring as NoA President
Announced on February 21st, Reggie's retirement came as a shock to many fans. Seen as the face of the company for the majority of fans, and its only face for younger viewers, his parting was met with congratulations, but also sadness from the community. In his parting video, Fils-Aimé announced that Doug Bowser would be taking over as company president. Other industry leaders such as Shawn Layden, the CEO of Sony Interactive, and Phil Spencer, the executive vice-president of Gaming at Microsoft, joined in to wish the best for the former NoA president. Reggie's retirement officially took place on April 15th.
Lastly, What's Next?
The day Reggie retired, though, he opened his official Twitter account, which garnered over 300,000 followers in just a few days. Also this summer, Super Mario Maker 2 and Fire Emblem: Three Houses will be released, becoming the first Nintendo-original game launched without Reggie as NoA president.