When you're trapped on a strange planet with your parents and a shirtless alien, how much weirder can things get? It's time to find out! From Saladin Ahmed, Minkyu Jung, Juan Vlasco, Ian Herring, and Joe Caramagna comes The Magnificent Ms Marvel #4!
Drama On Saffa In The Magnificent Ms Marvel #4
The Magnificent Ms Marvel #4 picks up with Kamala saving everyone as their aircraft blows up. Despite her parents' doubts, Kamala and her family follow Cheb Hura to the rebel base. Along the way, Cheb Hura reveals that the tyrant, Maliq Zeer, is his father. Kamala reflects on her own father, who she and Bruno saw with another woman back on Earth.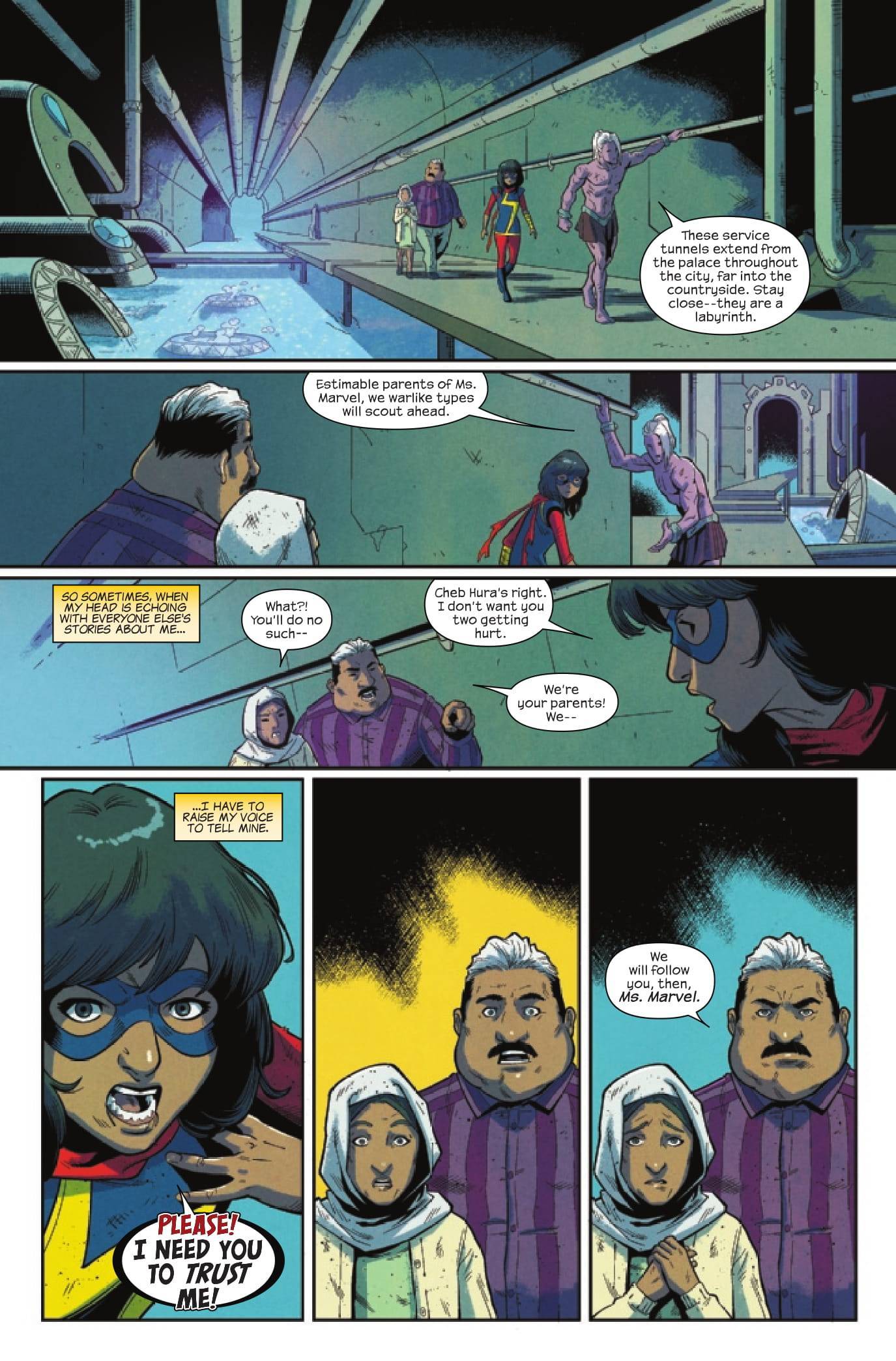 At the rebel base, the Free People welcome Kamala and company. Cheb Hura also asks to be Kamala's "second-heart". Before she can answer, Maliq Zeer's army attacks the base. Kamala and the rebels fight back until Maliq Zeer captures Kamala's parents. Suddenly, the Beast Legions descend from the skies as the prophecy predicted.
Kamala In Her Own Words
Finally, The Magnificent Ms Marvel #4 returns the narration to Kamala's point of view. As much as I've enjoyed seeing other characters' perspectives, I missed her voice. In this issue, her musings center around her views on her own story compared to how others see her. This reflects previous uses of narration as well as the current story. Now, the Saffans constantly project their own views about the Destined One onto Kamala. She may be a superhero, but Kamala gets tired of the constant expectations. This is best exemplified in her interactions with Cheb Hura. He calls her "Valiant Kamala" even after she asks him to just call her Kamala. While she is flattered, she still doesn't know if she is the Destined One. She prefers to be called Ms Marvel because she chose to take up that mantle.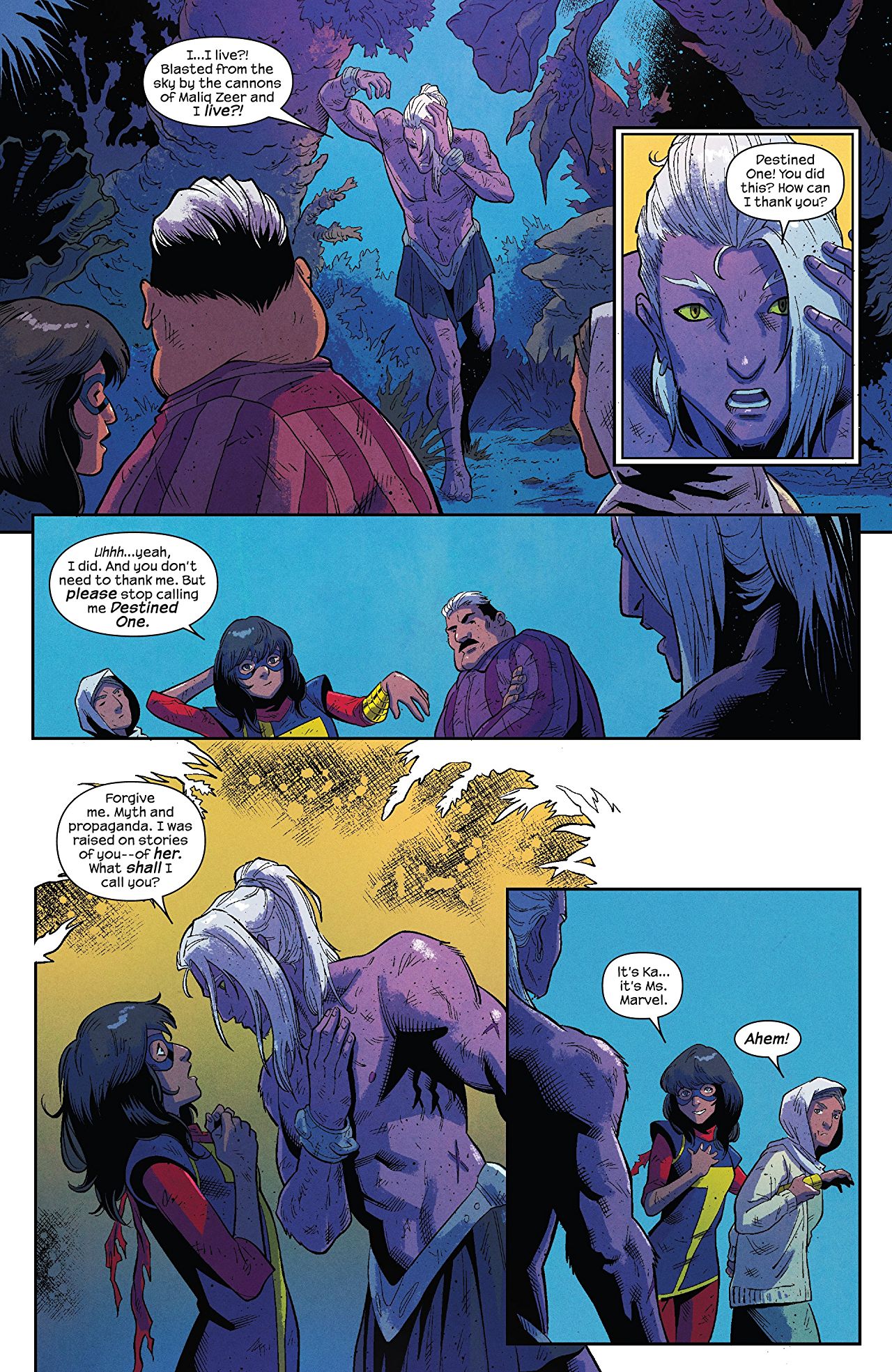 In The Magnificent Ms Marvel #4, we also learn a bit more about Cheb Hura. The revelation that Maliq Zeer is his father makes his story even harsher. Even so, Kamala's parents still don't seem to fully trust Cheb Hura. After all, he is making advances on their daughter right in front of them. Nevertheless, he does appear to be in the right by opposing his father. Even though Kamala seems to like Cheb Hura too, this issue confirms that she still has feelings for Bruno. I doubt she'll choose an alien she just met over her best friend.
Trouble Brewing
The issue also reveals what happened to Kamala and Bruno. They see her father with another woman and conclude that he might be having an affair. In spite of this, I have a feeling that this could just be a big misunderstanding. While the woman does touch his arm affectionately, this doesn't confirm anything. On the other hand, if her father is having an affair this could drive a huge wedge between Kamala and her father. Either way, Kamala will probably have to confront her father about it sooner or later.
Battles & Boyfriends
The Magnificent Ms Marvel #4 features some great battle scenes along with many touching emotional scenes. In both cases, hands become the main focus. During the fight between the rebels and Maliq Zeer, Kamala's fist becomes a literal wrecking ball. In other fights, she embiggens her hands and to pick up and restrain her opponents.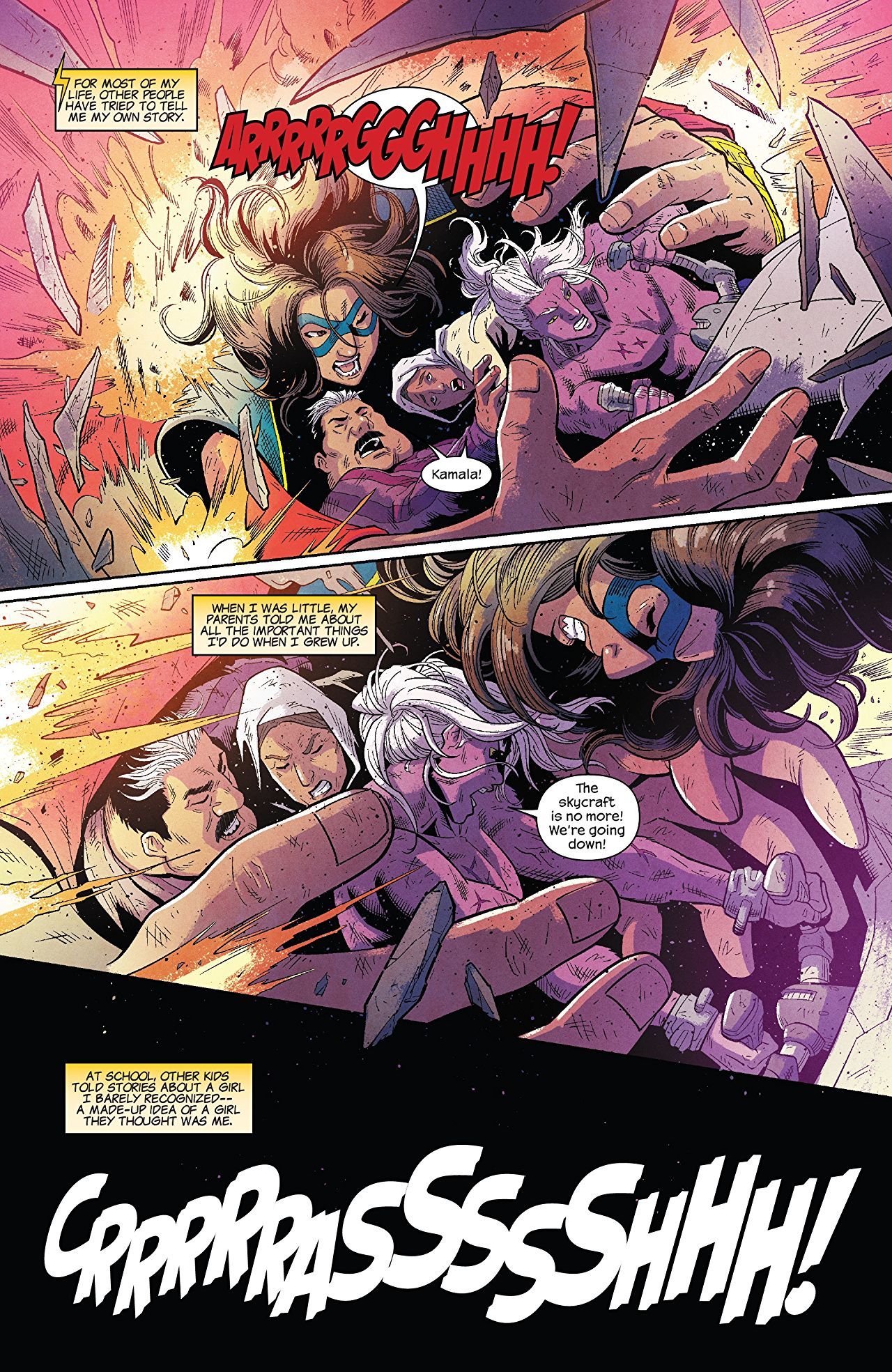 Conversely, the artists' use of hands to indicate her feelings toward Cheb Hura. When they start to bond, they both appear to reach for the other's hand. Later when he asks to be her "second-heart," Cheb Hura takes Kamala's hand. She isn't sure how to respond verbally but she takes her hand back, showing that things are moving a little too fast. She may still be mentally processing but the hands don't lie.
A New Foe Appears For The Magnificent Ms Marvel #4
This month brought us another exciting issue in The Magnificent Ms Marvel #4! Kamala got her inner monologue back just in time for another love interest and more important realizations. This issue provides some long-awaited answers as well as new questions. Is Kamala's father really having an affair? What's going on between Kamala and Cheb Hura? Now that the Beast Legions have returned, will Kamala be able to fulfill the role of the Destined One? We'll have to wait and find out next month!
The Magnificent Ms Marvel #4 by Saladin Ahmed, Minkyu Jung, Juan Vlasco, Ian Herring, and Joe Caramagna
Tyrants and Rebels and Beasts, Oh My!
Things are heating up! I'm really glad to be back in Kamala's head where we can get some answers. Hopefully we'll get to stay with her as she takes on the Beast Legions. I can't wait to see how she evolves!