Notes On A Case Of Melancholia, Or: A Little Death began as a Kickstarter project by comic artist and cartoonist Nicholas Gurewitch. After the Kickstarter ended, an updated edition of A Little Death was released digitally by Dark Horse and in print. Gurewitch's work usually features dark humor and a variety of art styles. A Little Death is a very different art project from Gurewitch's colorful and comedic comics. The book is primarily in back and white and features a silent story about Death and a psychoanalyst. It is a different take on the comic medium, being wordless and focussing on storytelling through single, detailed images.
Death Goes To Therapy & It's Oddly Relatable
The plot of Notes On A Case Of Melancholia, Or: A Little Death balances a simple conflict with a larger, supernatural theme: Death is in need of some therapy. The story features a psychoanalyst who unknowingly brushes with Death with a few close calls. Eventually the two meet, and the psychoanalyst invites Death into his office for a session. Death laments that the next in line for the family business, the littlest death, is not following in his footsteps. The littlest reaper, portrayed as a hooded skeleton child, instead wants to share flowers with little animals. Death is distraught by this, as the child's fascination with life could not be further from the business of death.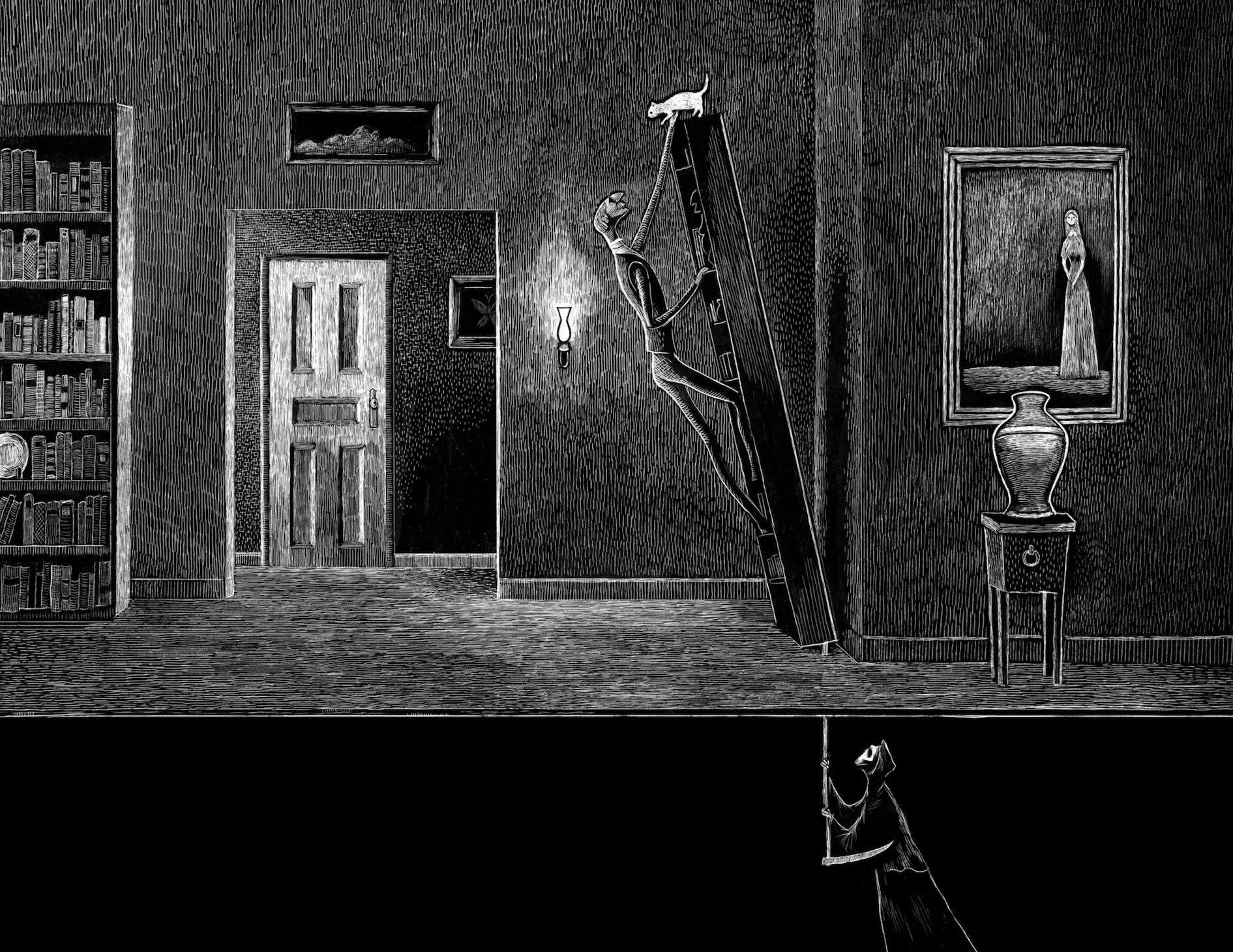 While the characters deal with the extreme supernatural and heavy subject of death, the book contrasts that with a down to earth problem. Death is a traditional parent, and his child has new ways of doing things. The psychoanalyst acts as a midpoint between the duality of both life and death and parent and child. Through the dynamic of the characters, supernatural as the conflict may be, the three bring about the comic's question of parental expectations and finding oneself.
A Little Death's Silent Storytelling
A Little Death is a unique graphic novel in that there is no dialogue. The story is told entirely with images, with minimal use of panels. Moreover, it resembles a story book, with a fully rendered illustration that takes up each page. There is careful attention to the scenes and how the use of artistic language can be used to tell a story. The expressions and emotions of each page carry the weight of the conflict, which is simple but significant. Death cannot relate to his child who is failing his expectations.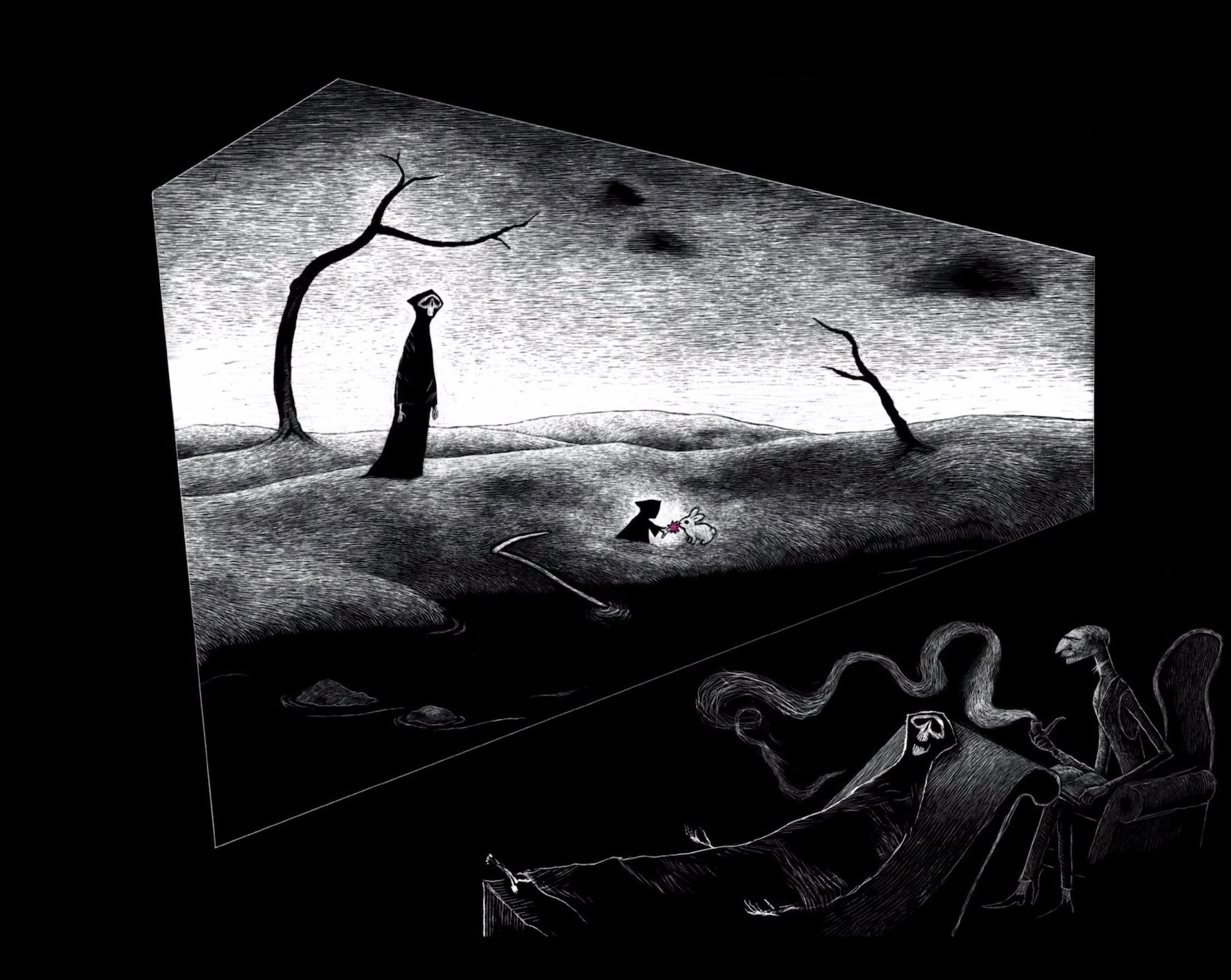 Despite having no dialogue, the story is simple and strong. A Little Death speaks to the stresses of parental expectations.  Death is distraught that his child is not a classic grim reaper, and cannot yet accept a new way of doing business. The choice of motifs like classic Western images of death paired with motifs for life and innocence, like flowers and rabbits, is a clever way to tell a story with symbols. "Life and death" speaks to how different the father and child's priorities are. Even the familiar "therapy" symbol of a chaise lounge immediately tells the reader that Death is in therapy with a problem.
A Little Death's Technique Combines Comics With Children's Book Illustrations
A Little Death's art style is inspired by a slightly macabre storybook illustration by Edward Gorey. While being a self-declared homage, the book also has its own style. A short documentary about the making of this book showed that Gurewitch used scratchboard for the illustration. Scratchboard is a traditional art technique where black ink on a board is scratched away to reveal the white surface underneath. It's a reverse inking of sorts.  It's an incredibly time-consuming craft, but one that makes a rich and vintage effect. The gothic etchings give the book the perfect mood for the grim reaper and melancholic feelings.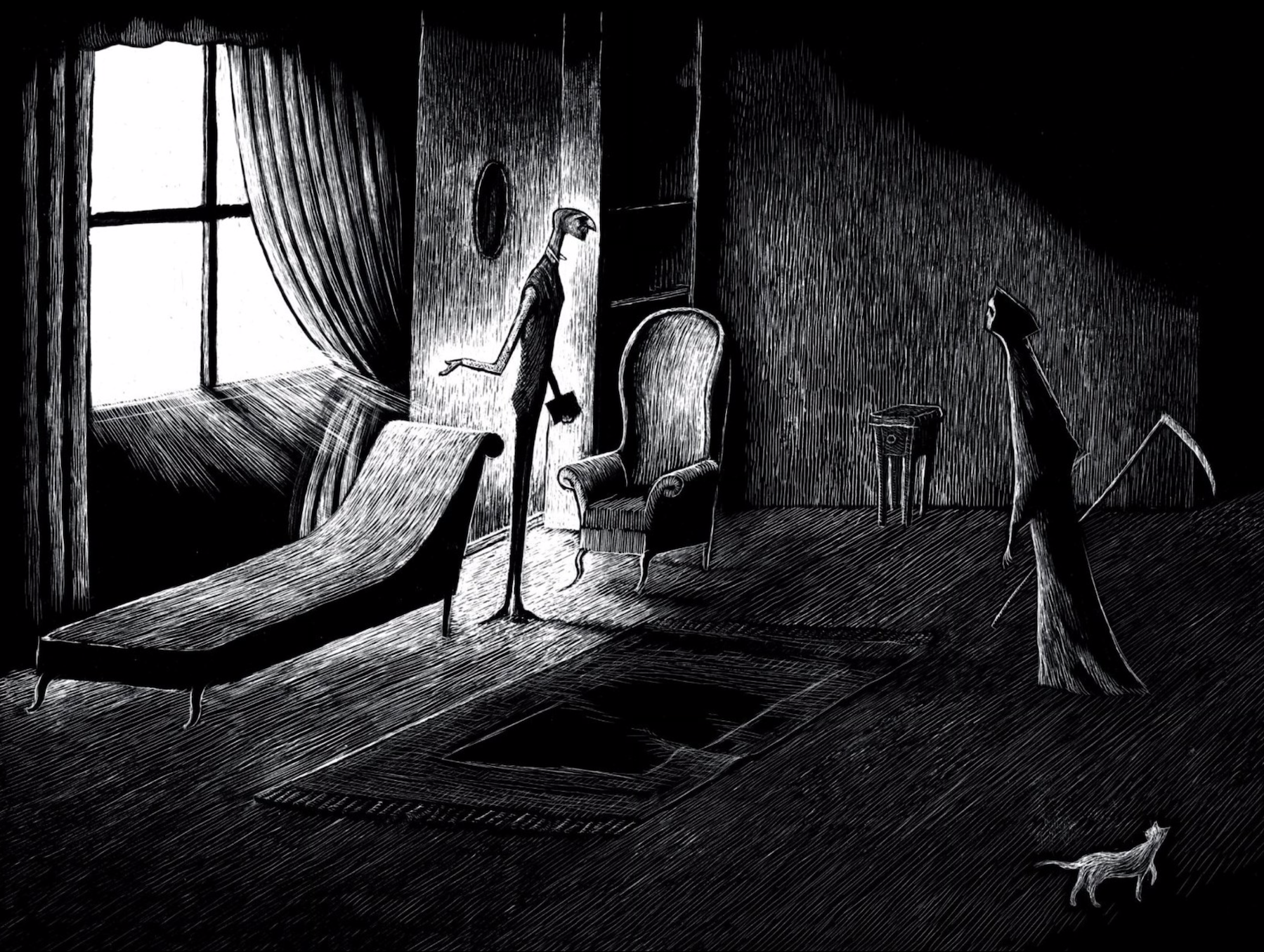 The technique creates interesting textures that fill the space. It also allows for dynamic lighting and shapes that give the art of A Little Death so much character. Working in black and white can make for stark contrasts, but there is just as much softness with the delicate lighting. The artwork reflects the grim symbols of the story and the contrast between life and death. However, the art is also soft and retains a childlike, storybook feel. What is probably most notable about the artwork is the amount of detail. The use of positive and negative space makes for visually pleasing shapes and designs.
The characters are expressive in their designs and gestures — it is easy to see how this silent story works without dialogue. Despite being a skeleton, Death gives off such dark gloom in his posture and expressions. Death's child invokes innocence and happiness in their design alone. The designs and placement of characters combined with the expressive backgrounds let the reader peek into this supernatural problem with a sense of familiarity. It's easy to forget that this story has no dialogue as the pictures so clearly convey the states of characters.  
Notes On A Case Of Melancholia, Or: A Little Death Showcase: The Range Of Storytelling With Graphic Novels
While A Little Death may read more like a picture book, the comic or graphic novel qualities that are present only enhance the storytelling. Gurewitch breaks up pages and uses unexpected forms of panels. Some pages feature panels in broken glass or different rooms, which packs a lot of story into each page. Graphic novels allow for alternative types of panels and layouts, such as in Neil Gaiman's The Sandman. A Little Death pushes the boundaries further and uses the page space in an unusual but dynamic way. By doing so, the artwork and storytelling have no trouble being wordless yet engaging. The comic explores its aesthetic to the edge of each page, giving the reader something new with each illustration.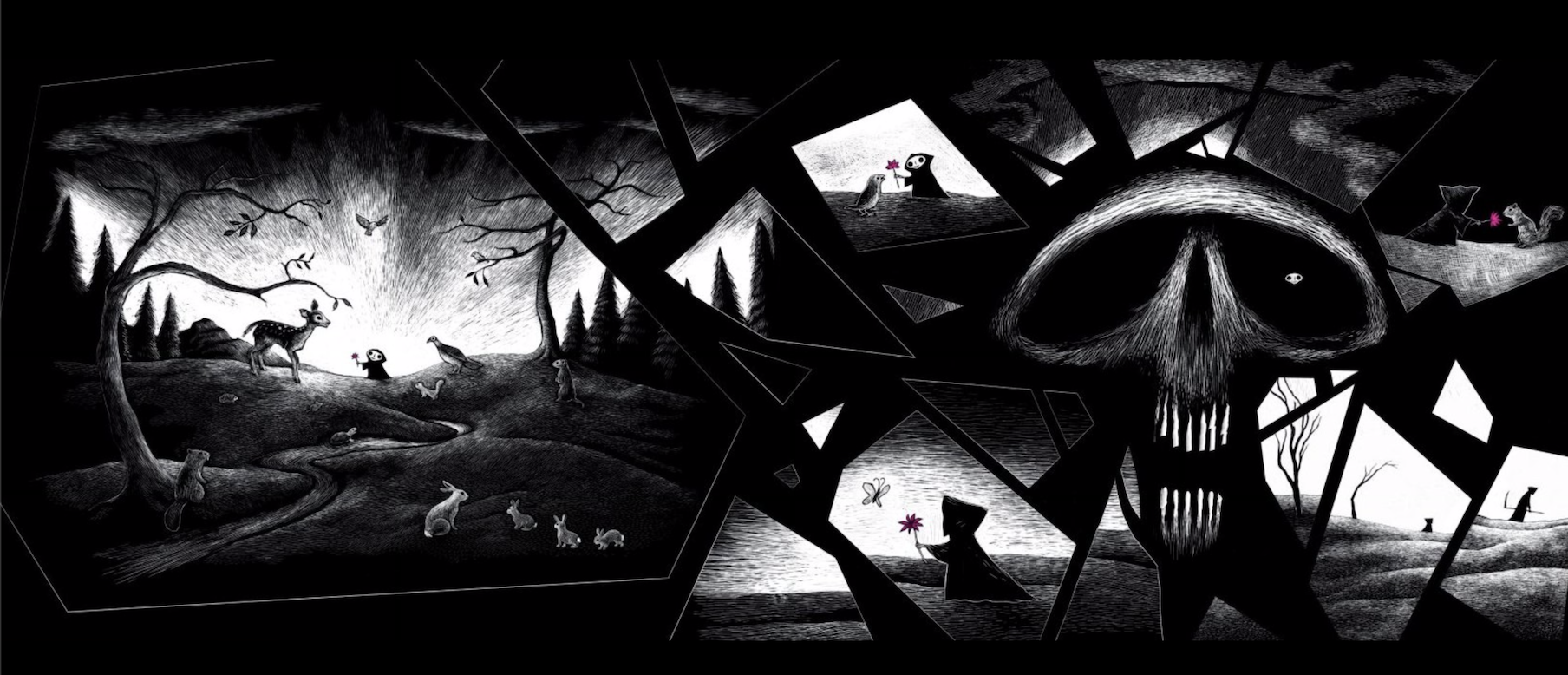 A Little Death's unique, silent form shows the power of image-based storytelling. The story uses familiar motifs and plays with grim reapers, therapists, and parenthood. Not only does it showcase the different storytelling formats that graphic novels can use, but also different artwork. The technique of traditional scratchboards is visually effective, even in digital form. The story is simple but the art is extremely complex. Notes On A Case Of Melancholia, Or: A Little Death is a lovely little read that also speaks to the flexible world of graphic novels and telling stories.
Notes On A Case Of Melancholia, Or: A Little Death And The Sweetness Of Silent Storytelling
PROS
Art you can stare at for hours
Tone, mood, and story feel vintage but original
Adorable baby death