Once And Future #1 is the new fantasy-epic comic by writer Kieron Gillen (Die, The Wicked + Divine) artist Dan Moran (Buffy The Vampire Slayer), and colorist Tamra Bonvillain (Moon Girl And Devil Dinosaur) about an aging monster hunter and her grandson trying to stop an evil organization from fulfilling an ancient prophesy that may destroy Britain.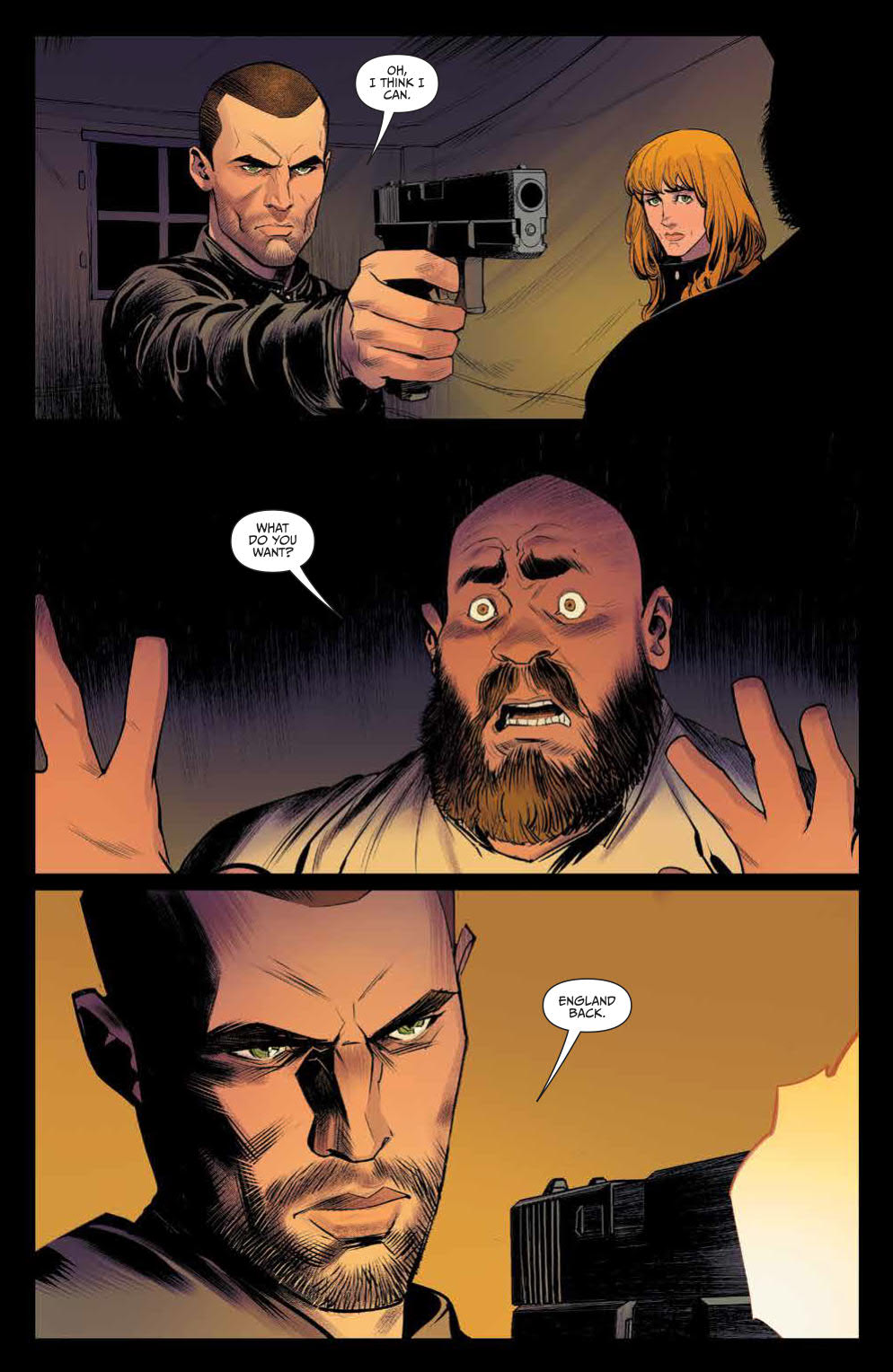 Despite the outlandish premise, Once And Future features plenty of real-world political connections that are peppered throughout the comic. The beginning of the comic makes short allusions to Britain's Brexit crisis, as well as the main motivations of the bad guys who murder an archeologist and steal an ancient artifact believed to be the scabbard of the legendary sword Excalibur in order to "take back England."
Don't Worry: It's Not All Political Commentary
Despite all the grim content, this is still a comic book about King Arthur and magic swords and pistol shooting grannies. After the opening crime, Bridgette, an aging monster hunter, comes out of retirement to stop the shady villains from attempting to resurrect the Mythical hero that is King Arthur for their nefarious plot. Calling upon her grandson, mild-mannered academic Duncan McGuire to help her out, reveals to him her secret as a monster hunter, and they both begin their quest to stop whatever forces seem determined to resurrect King Arthur.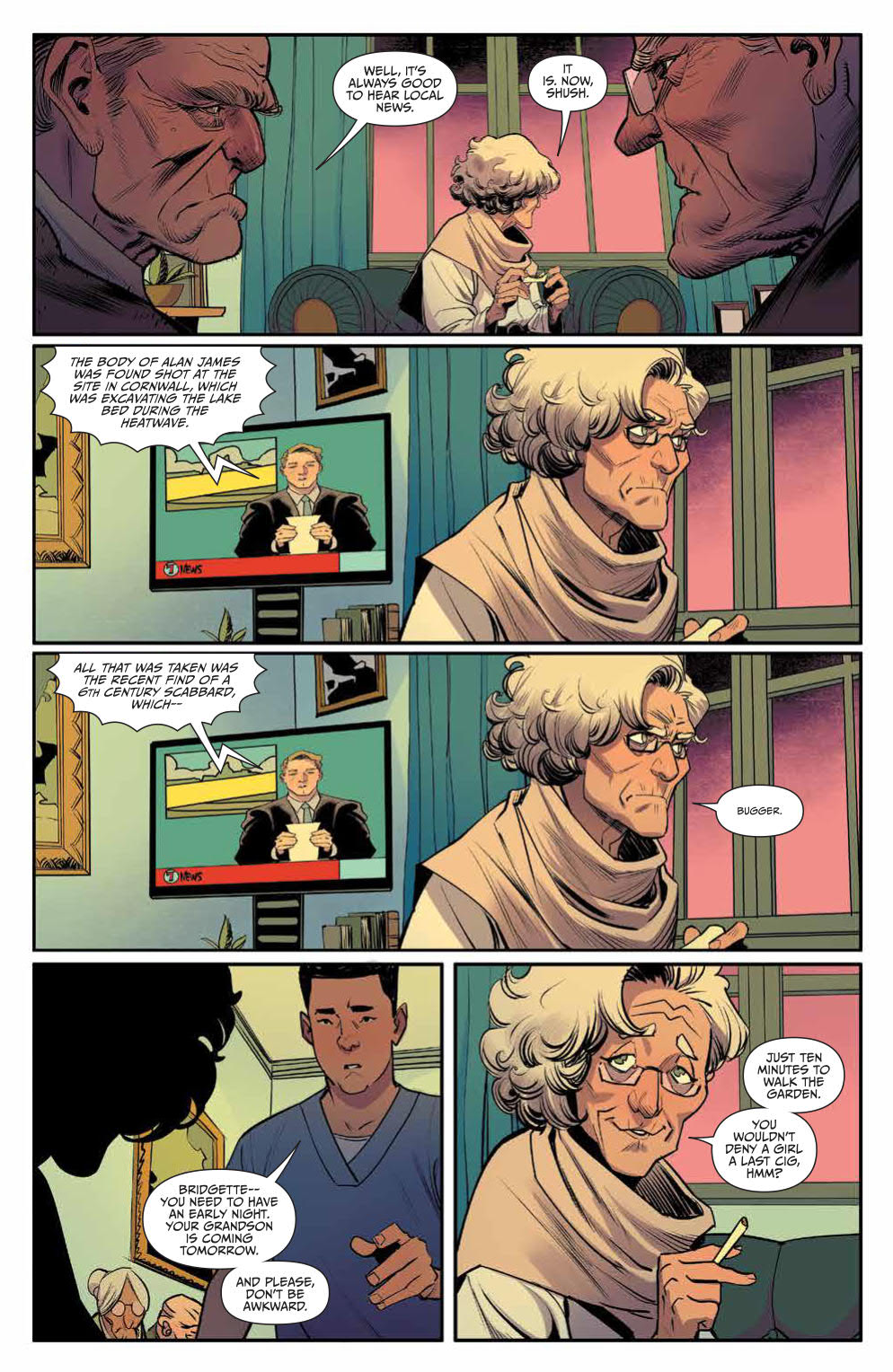 The first issue of any comic series will always be tricky, particularly ones that do not have the luxury of an established comic-book canon or recognizable superheroes. Rather than focus on explosive fight scenes or extensive world-building, Once and Future #1 instead focuses on character work for its two main protagonists rather than anything particularly expansive. This is a table setting: plenty of interesting implications and foreshadowing for where the story might take us, but Once And Future #1 mostly focuses on the relationship between the odd coupling that is Bridgette and Duncan.
Once And Future #1 Is Still Really Good
For the most part, it works. While there's nothing particularly exhilarating about this first issue, the banter between the head-strong and badass monster slayer, Bridgette, and her clumsy, yet surprisingly handy in a fight grandson, Duncan, is fun and charming. The writing moves at a clip, and we really get a sense of the polarizing traits of our two protagonists.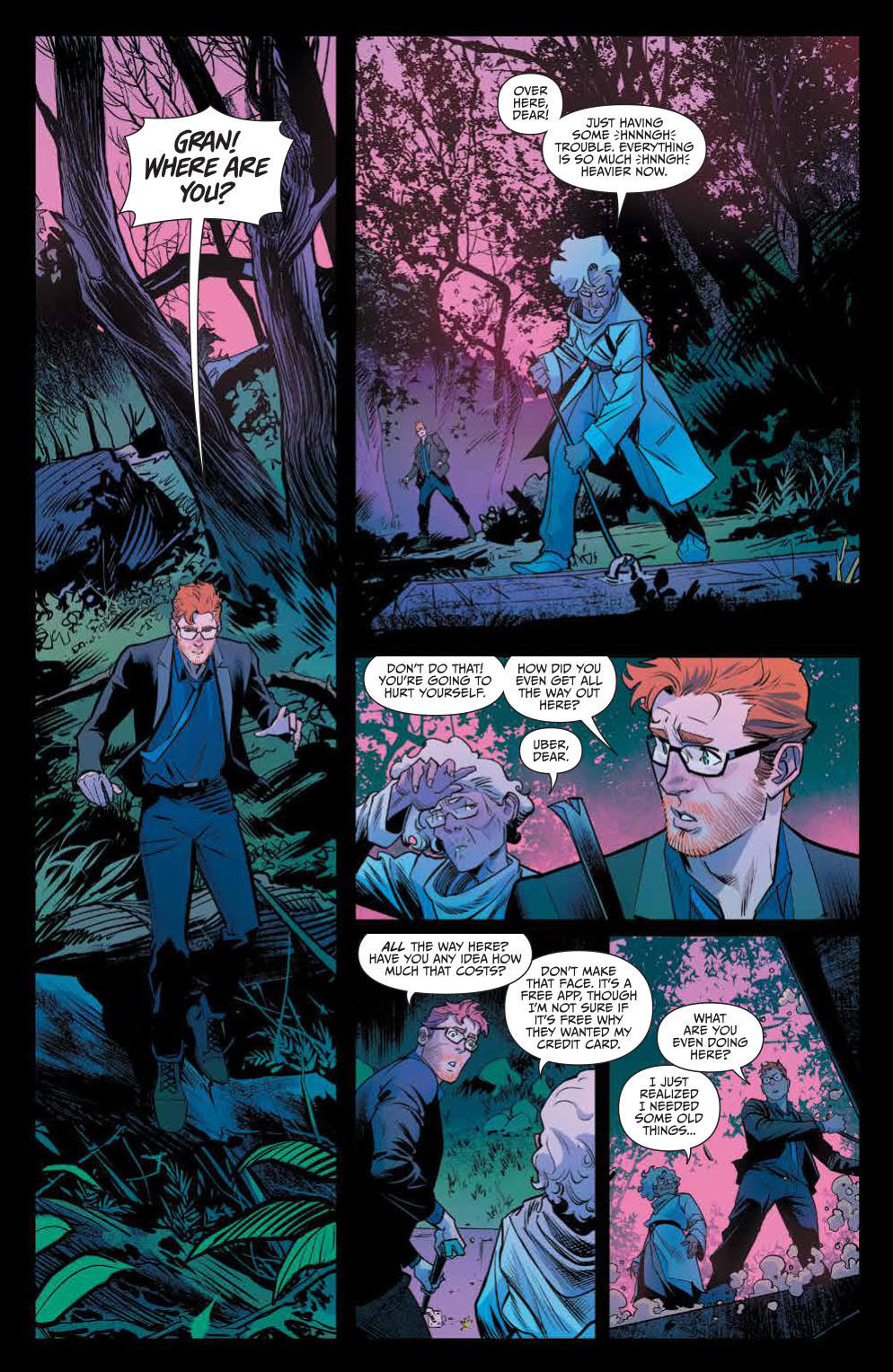 I get a sense there is more to Duncan than we're getting, but I assume that is something that will be revealed in a later issue.
Once And Future's Art Is Reason Enough To Give The Issue A Look
If Gillen is holding his cards a little too close to have an idea where the story will go, the artwork is absolutely reason enough to give Once And Future a shot.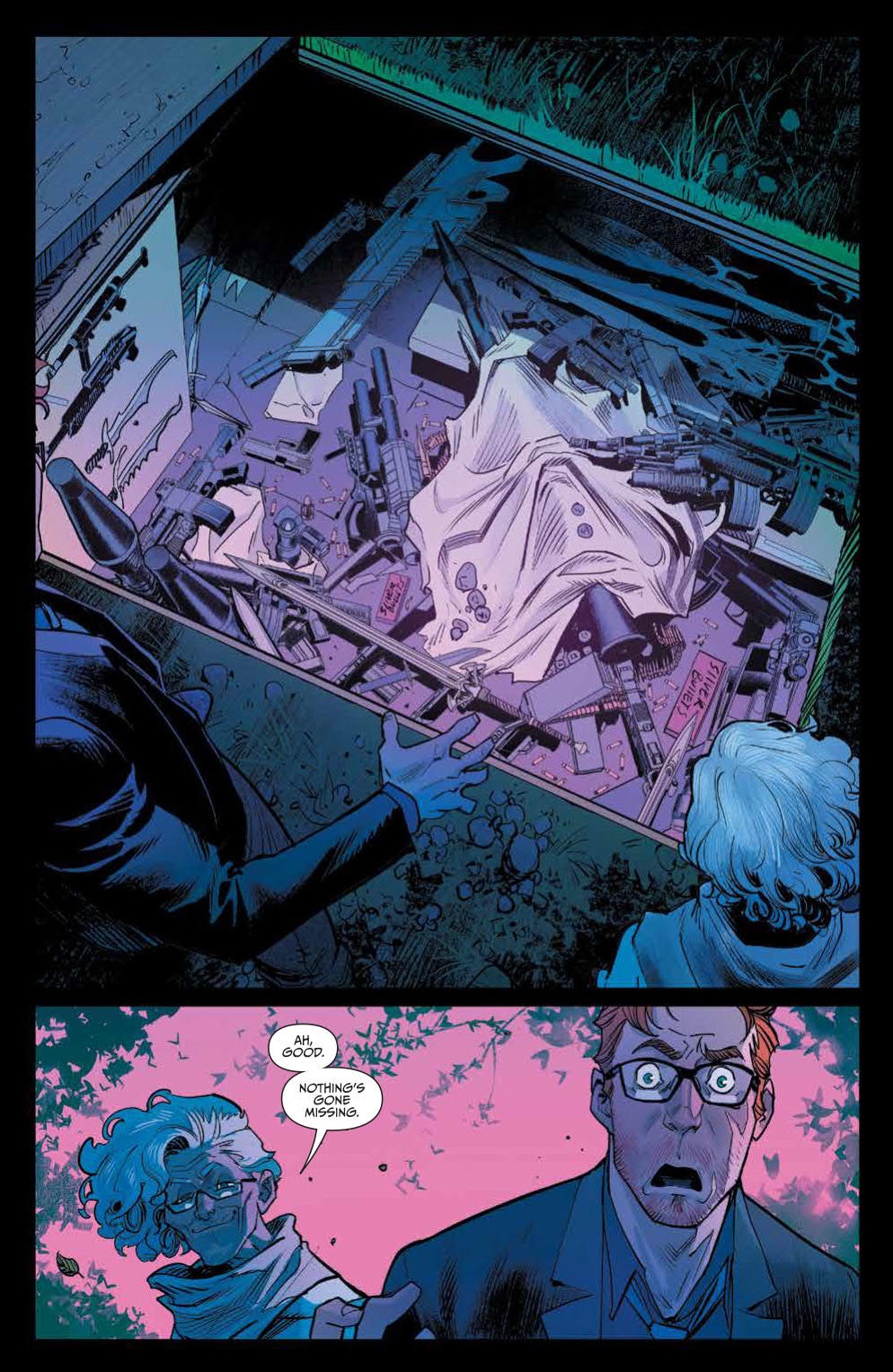 Co-creator Dan Mora's artwork is gorgeous, supported by some vivid colors by colorist Tamra Bonvillain which makes the world of Once and Future truly stand out, striking a nice balance between the grim atmosphere and more light-hearted effects that really captures the adventure aesthetic Once And Future is obviously going for.
Once And Future #1 Is A Nice Alternative To The Canon-Stuffed Main Stream Superhero Books
Like I said before, Once And Future #1 is mostly table-setting, promising intrigue and adventure based on the pedigree of Gillen and Mora's past work. Considering that this is a limited six-issue comic, one only hopes that Gillen gives readers a better understanding of the stakes at hand. But Bridgette's sobering reminder of the realities of history gives us a sense that Once And Future #1 is not simply going to settle as a romp through history.
However, as an introduction to a new franchise, Once And Future #1 does exactly what it sets out to do: draws readers in with an intriguing premise and fantastic artwork, and makes you anticipate when this series decides to go full-on crazy.
Once And Future #1 By Keiron Gillen, Dan Mora, & Tamra BonVillain
PROS
Magic Swords? Foreboding Prophecies? Gun-Toting Grandmas? What's Not To Like?
Fun Little Character Moments Between Bridgette and Duncan Already Prove Story Is Off To a Good Start
Gorgeous Art Makes The Characters And Setting Stand Out
CONS
Having To Wait Until Next Issue To Get A Clearer Sense Of Where The Story Is Going