Of course, we are back with Ghosted In LA #3. After a very exciting first two issues, fans get an interesting issue this month. I have a lot of questions, not many answers, and a coming out story for the ages in the wonderful BOOM! series by Sina Grace, Siobhan Keenan, Cathy Le, and DC Hopkins. Just to restate it: We will be covering the entire series issue-by-issue, typically they will spoil some events from previous issues, but not much.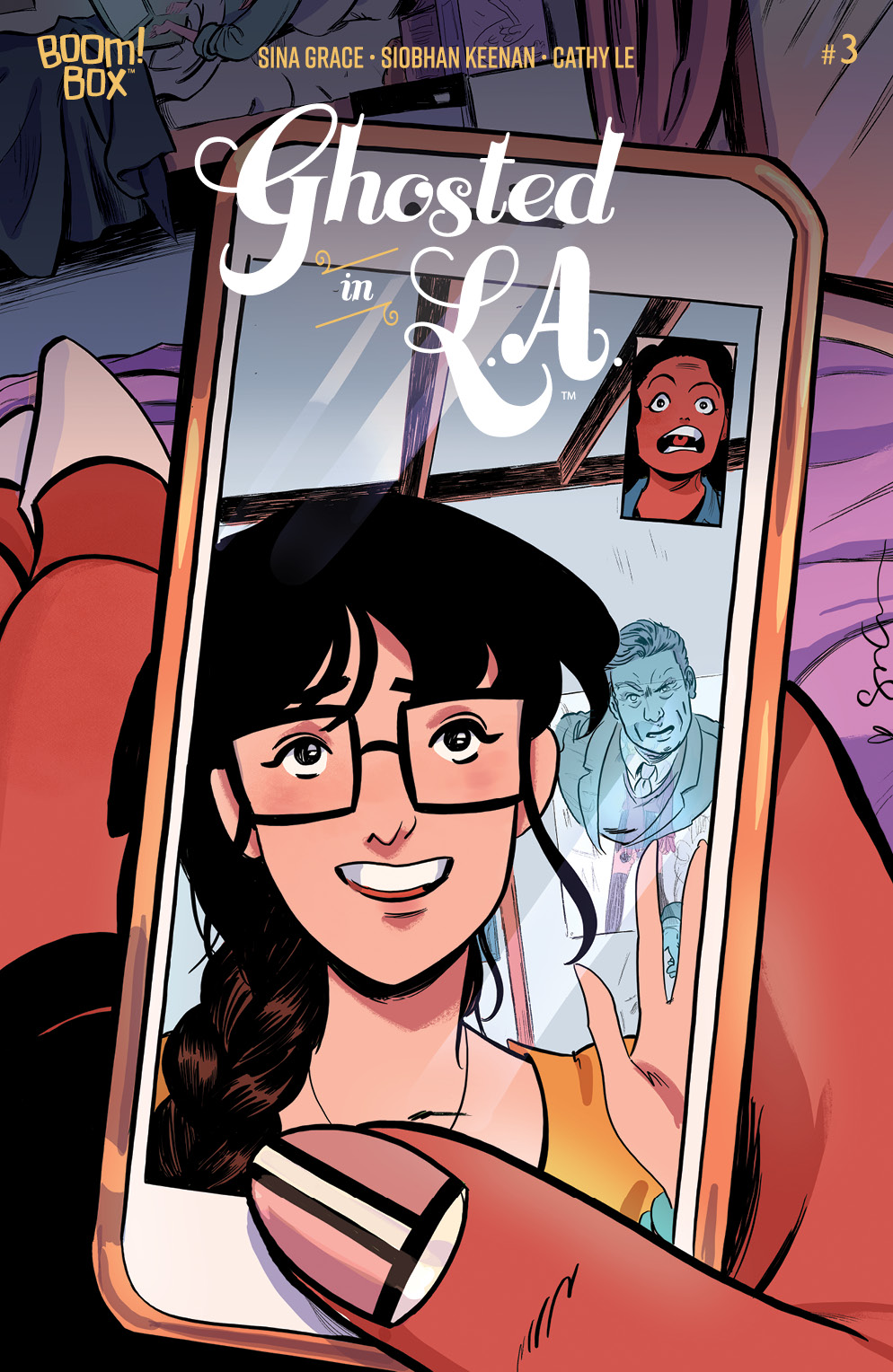 As per usual, we would like to give a shoutout to Michelle Ankley for design, Michael Moccio for assistant editing, and Shannon Watters for editing this series. All of you guys are the unsung heroes. Now let me dissect Ghosted In LA #3… or try to anyway.
Ghosted In LA #3 Has Me Overwhelmed With Love For Many Characters
I can't afford to care for so many characters in one comic, you guys. Ronnie is so precious and needs to be protected at all costs. Last month, I gushed about Ricky and now I have Ronnie. My heart is going to explode. In Ghosted In LA #3, we have a few developments on the spectrum with Daphne. Her roommate is… weird, still; she's seeing ghosts outside of the Manor; and… her ex-boyfriend, precious Ronnie, is gay (homosexual). Her life is exciting, to say the least.
The latter of the events is the most important — Ronnie coming out as gay in this issue is wonderful, but how Daphne reacts is even better. Someone — anyone — coming out as gay is frightening.
Particularly to an ex-girlfriend when they are a male and previously dated that said ex-girlfriend weeks ago. I am so proud and just filled with joy that Daphne treated the situation with care and that she was very sweet. I loved this comic already, but that was just a heartwarming moment to gush about in this issue. Plus, why is everyone attractive? Ronnie is dating a guy who is so handsome: @ the entire team behind this comic, I need to talk about this!! (Y'all are killing me!)
Art, Coloring, & Lettering Are To Die For… Literally
Typically, I begin with the writing — but Siobhan Keenan, Cathy Le, and DC Hopkins have nailed the art, coloring, and lettering in this issue. Every issue has been outstandingly good; however, there were moments in Ghosted In LA #3 that just had the best facial expressions. Particularly on Page 18, the bottom panel of Daphne's facial expressions and just her face, in general, is mesmerizing. The entire facial structure is incredible to look at on that particular page.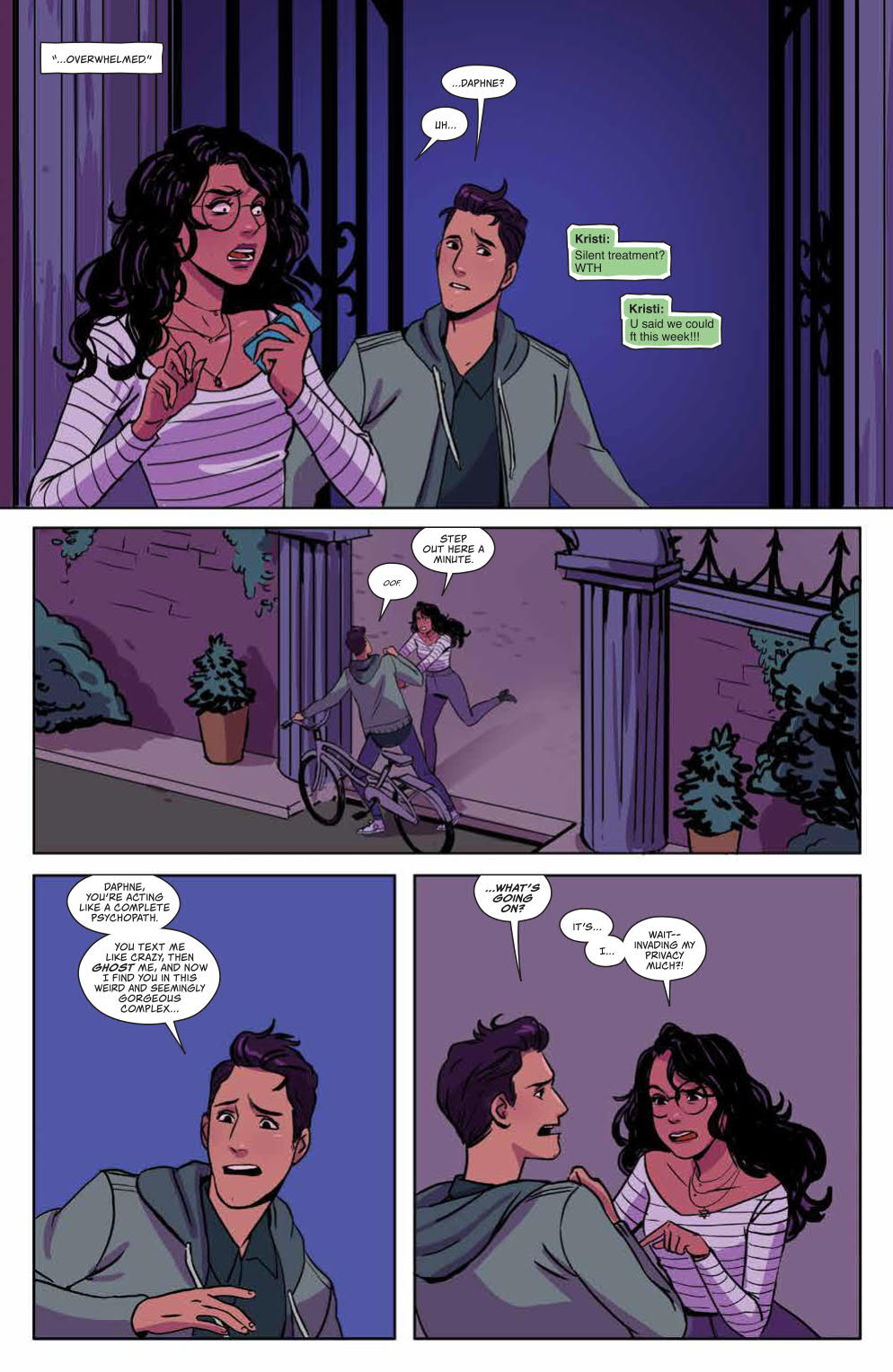 As I mentioned in our review of Issue #1, there were some weird facial expressions that threw me off in a flashback while reading. Nonetheless, by this third issue, I don't notice any of them and the facial expressions have been quite perfect since the second issue.
Again, I have talked about the colors in the past two issues as well, but Maurice on Page 24, with a small Daphne, and the red background is genius. The combination of art, coloring, and lettering is, on this page, highlighted immensely. It's such a simple page, but it showcases so much illustration that I love it.
The Best Issue Thus Far In The Series
The writing, in this issue, is as high as it has ever been. I mentioned this before, but the entire pages/panels where Ronnie is coming out are the best writing aside from Bernard in this issue. The coolest thing about Ghosted In LA as a series is that it focuses on a ghost per issue. We get a glimpse into the first few pages of whichever ghost is the focus (or character). Bernard was the focus this week and, in a way, it highlights who the character was and who they are now.
It casually foreshadows as well to something that happens in the actual issue, which is clever. It gives me a reason to appreciate these characters knowing who they were before they were… dead. Granted, I would appreciate them regardless, but it is nice to know where they came from and how they ended up where they are in the Manor. Nevertheless, Grace's writing is incredible in Ghosted In LA #3 and I can't wait to read more about each ghost in the Manor.
Ghosted In LA #3 Is Pushing The Narrative Forward In A Glorious Way
While this issue is fabulous, for many reasons, the issue pushes the narrative into the second half of the series. From here on out we are going to get spooks and shocks; have you seen that cover for issue #5? (I don't even want to talk about it.)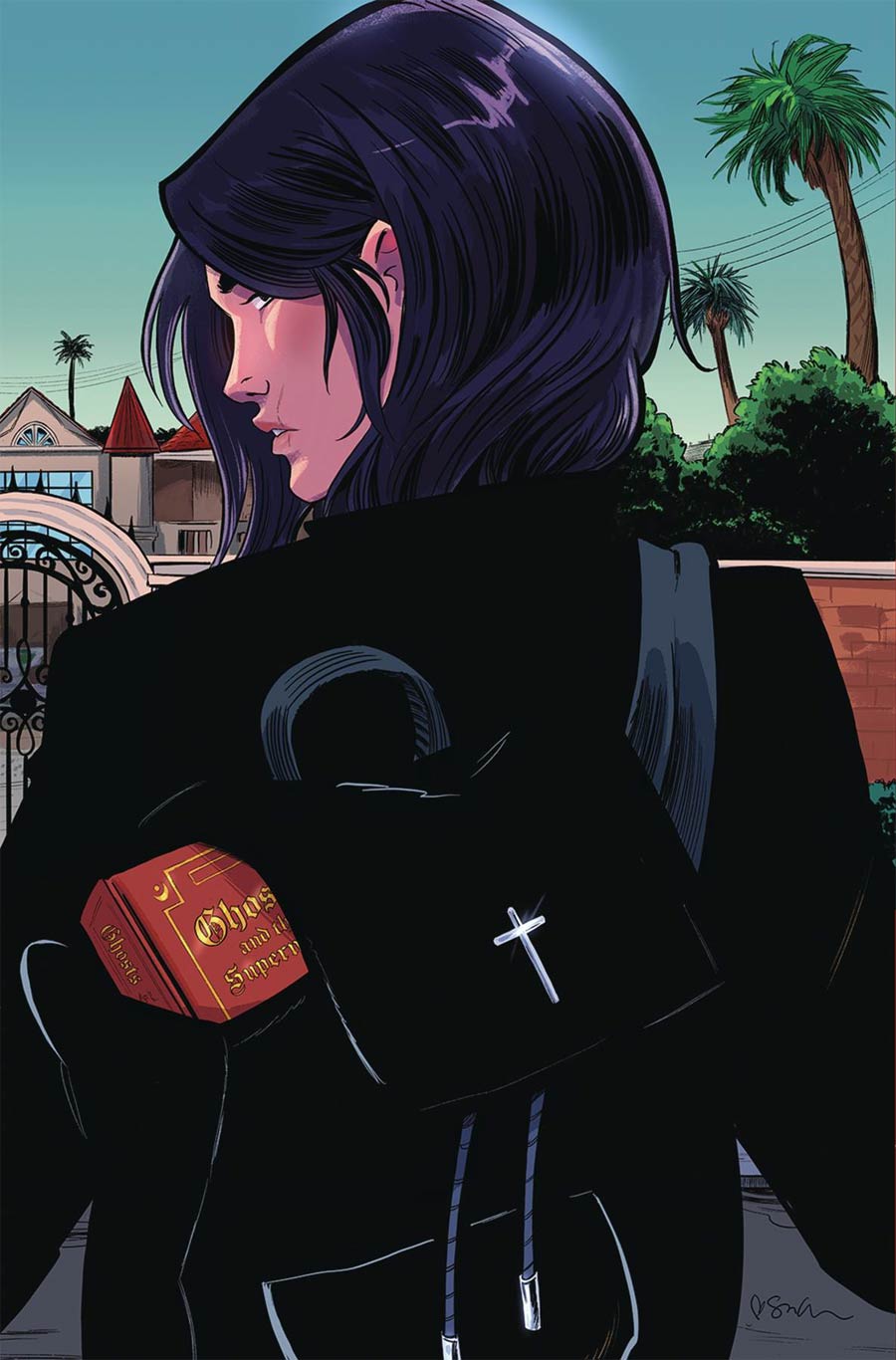 This series is entertaining and enjoyable, especially in between all of the fluff and superhero content we get from every national NCBD. It is refreshing to read comics such as these that are genuinely fun to read every month. I will keep coming back for more, will you?
Ghosted In LA #3 by Sina Grace, Siobhan Keenan, Cathy Le, & DC Hopkins.
Ghosted in LA #3 is taking the comic book world by storm in an artistic way. Sina Grace took a completely whimsical idea and made it into something great alongside the wonderful team of Siobhan Keenan, Cathy Le, and DC Hopkins. By Issue #3, we are invested in various characters, including the ghosts of the story. I cannot wait for the rest of the series to transpire.
PROS
RONNIE'S COMING OUT WAS HANDLED WITH SO MUCH CARE
DAPHNE IS A REAL FRIEND FOR SUPPORTING RONNIE
EVERYONE IS ATTRACTIVE IN THIS SERIES, LITERALLY
DAPHNE IS TALKING TO HERSELF, #RELATABLE
DAPHNE'S ANGER HAS NOW BEEN TALKED OUT WITH RONNIE, TALK ABOUT DEVELOPMENT
THE ART, THE COLORS, THE LETTERING, THE ALL OF IT!
THE WRITING, THE WRITING, THE WRITING!
CONS
MAURICE GET OUT, I KNOW YOU HAVE ISSUES, BUT STOP BEING MEAN 🙁
HONESTLY, NOT ENOUGH RICKY... I'M SORRY