We got to know Charlie, Liv, Jay, and Ashley. Now, the team's resident witch takes her turn in the spotlight! From Carly Usdin, Noah Hayes, Eleonora Bruni, and Ed Dukeshire comes another great issue, The Avant-Guards #8!
The Avant-Guards #8: The Witch, The Astronaut, And The Comedian
The Avant-Guards #8 picks up moments after the first annual Olivia Bates Film Festival. Tiffany returns to her dorm to Skype with her father, who is a world-renowned astrophysicist and astronaut. That weekend, she stops by the comedy club where Jordan and Ashley are on a date. Much to their surprise, Nicole takes to the stage and performs a stand-up routine.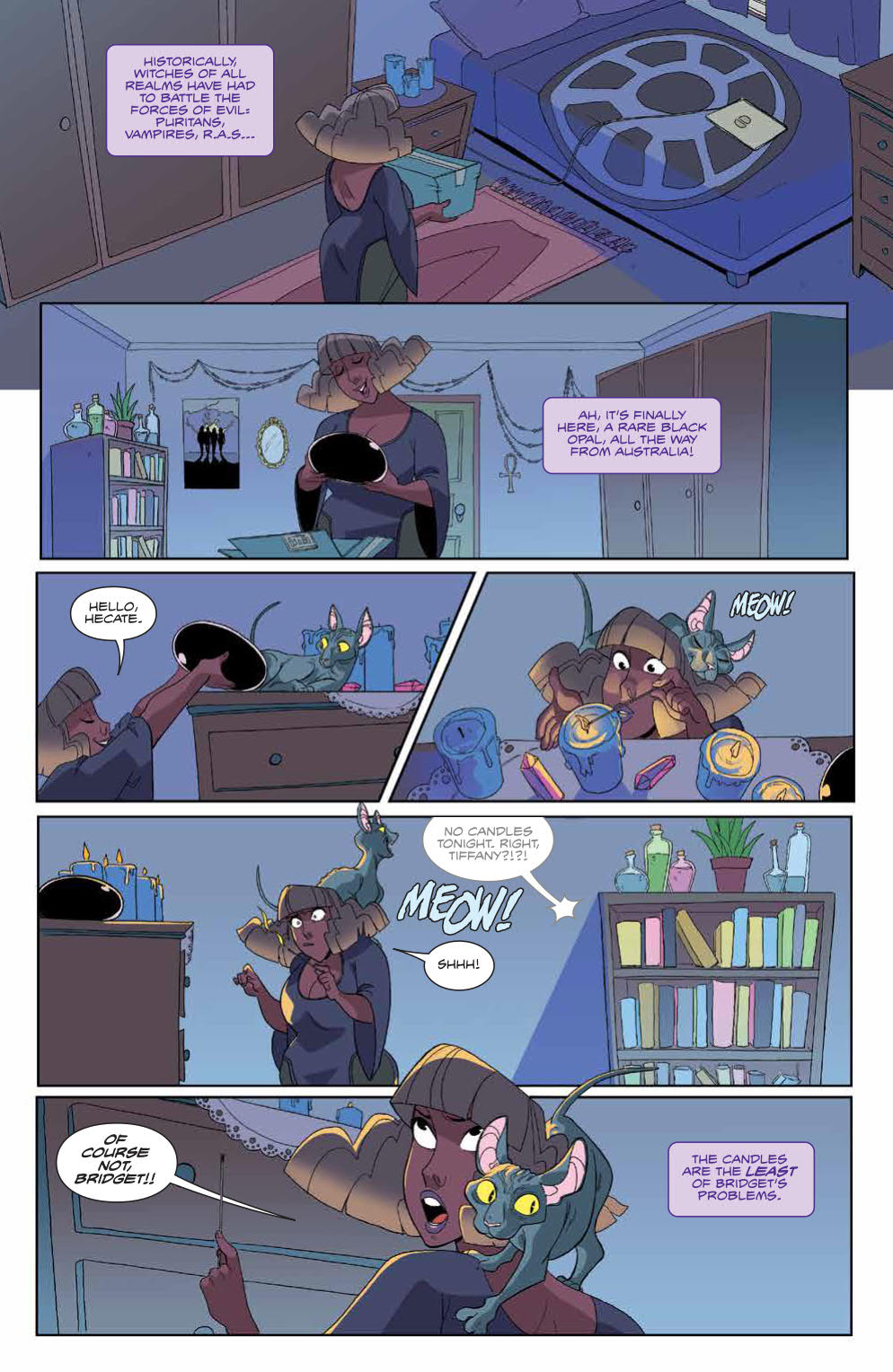 After the show, Tiffany confides in Nicole about her genius father and they both agree to keep the other's secret. Later, the Avant-Guards wins their final game before the tournament. Unfortunately, the league can't afford to continue unless they can sell more tickets to their games. Lucky for them, Liv begins to formulate a plan.
Reaching For The Stars
Tiffany finally gets her time to shine in The Avant-Guards #8! Unbeknownst to the rest of the team, her father is a famous astronaut currently in space. Even though Tiffany loves her dad, I understand why she keeps him a secret. This also explains Tiffany's fascination with astrology, witchcraft, and crystals. Like her father, she loves the stars but she distinguishes herself by focusing on mysticism rather than science. She wants to be her own person and for others to like her for her. This issue humanizes Tiffany and makes her more relatable.
Share A Secret, Keep A Secret
While we still haven't seen a Nicole-centric issue, this chapter gives us some insight into her character. Currently, she has a music scholarship but she secretly wants to be a comedian. Up to this point, we've learned about Nicole mainly through her love life. Now, we're finally learning what she's passionate about. We also get a glimpse into her relationship with her parents. Nicole maintains a laid-back, carefree facade, but underneath it, she cares about what her parents want for her.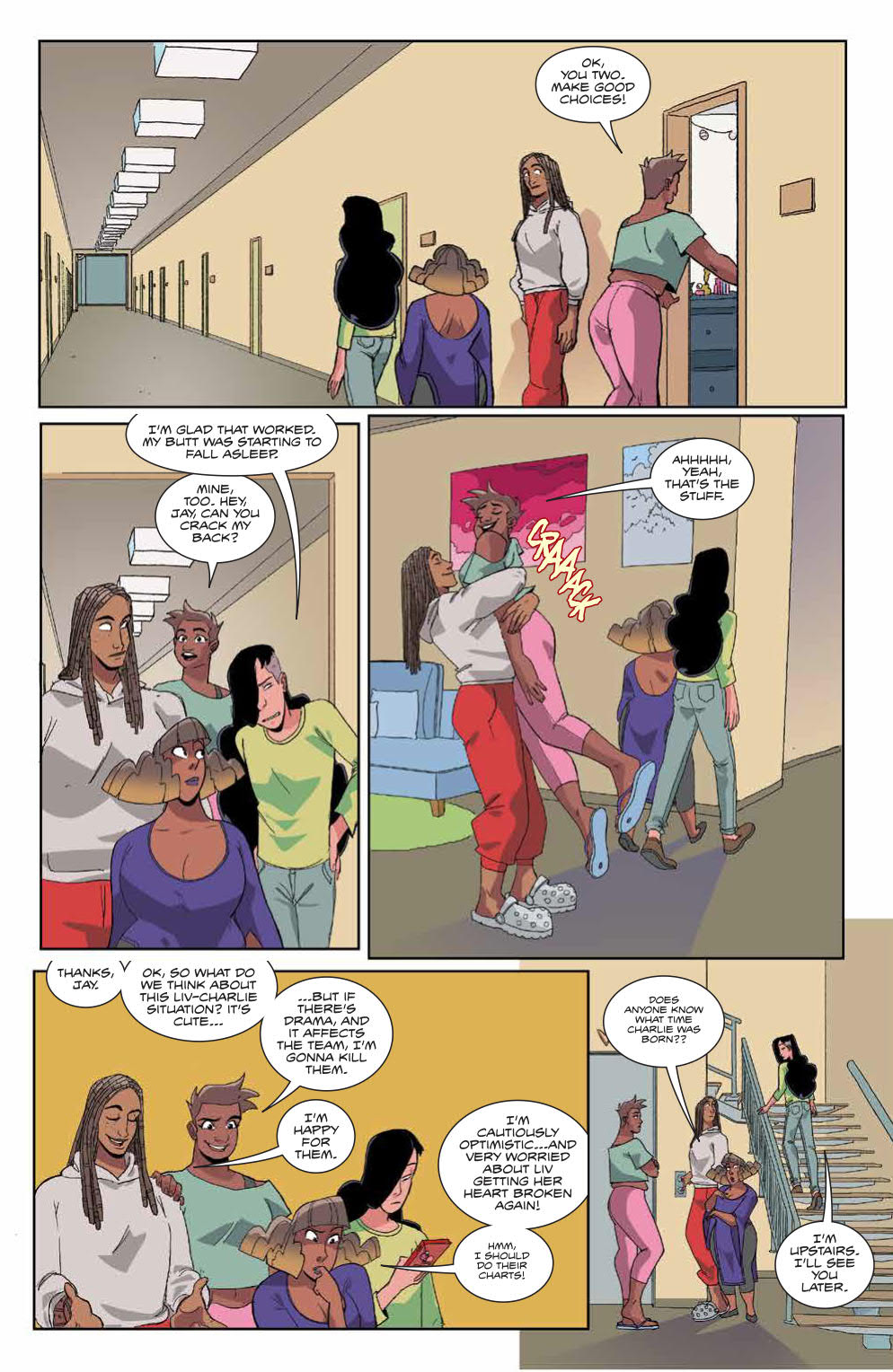 We also get to see her friendship with Tiffany start to develop more. They both become privy to the other's secret. As a result, they begin to understand each other on a deeper level. I could see this relationship turning romantic at some point. After all, their post-show talk closely resembles the conversation between Liv and Charlie before their first kiss. For now, however, I think one team couple is enough. Either way, it's nice to see these two characters bonding.
Tiptoeing Through The Cosmos in The Avant-Guards #8
As always, The Avant-Guards #8 features some great action panels during the Avant-Guards' final game. I especially enjoy the moment when Tiffany casts a spell mid-game to trip another player. But my favorite panel has to be the full-page spread of Tiffany by herself. She tiptoes across a stream, surrounded by planets, constellations, and pink clouds.
The cosmic background reflects the mental image she has of her father out in space. Even though he's not in the picture, she feels his presence. The constellations symbolize her own interest in astrology and the clouds give the picture a magical feeling. The entire tableau is stunning.
Finding An Audience
The Avant-Guards #8 gave us a welcome peek into Tiffany's mystical mind. Now we only need a Nicole-centric issue and then we'll have covered every team member. I really appreciate that Usdin takes the time to individually flesh out every character. Their unique personalities and experiences enrich their team dynamic and the overarching story. But just as things start going well for our team, trouble looms on the horizon once again. Will Liv's marketing campaign get people to come to their games or will this end their league? We'll find out next time in The Avant-Guards #9!
The Avant-Guards #8 by Carly Usdin, Noah Hayes, Eleonora Bruni, and Ed Dukeshire
A Fascinating Backstory
I'm so happy we finally got to learn more about Tiffany and her past. I feel like I understand her so much better than before. Every character has really come into their own and the main storyline is building up nicely. I can't wait to see what else is in store for the Avant-Guards!