Before the makeup, love, and manic, there was Harleen Quinnzel. Everyone has heard the origin of Harley Quinn in one way or another. The timeless story of a therapist who falls in love with her patient at the Arkham Asylum. Since 1992 the core elements of this character have stayed intact, with only slight modifications added in 2011. Following those added elements, Harley has become one of the most famous DC characters who is known for her fun and crazy attitude.
Today, she left the Joker and became her own woman. But the new series Harleen #1 gives readers a mature look back at where it all started. As this sounds like a retelling that readers have heard many times, there is much more to unpack in Harleen than fans may think. Let's take a look and travel back in time where a young doctor's life is going to change forever in Harleen #1.
A Delightful Mad Plot In Harleen #1
The comic opens with the surreal nightmare Harleen is having about a giant bat attacking The Joker. The next morning she begins a presentation on a new hypothesis she has. Harleen believes that there is an autoimmune disease of the mind that deteriorates empathy and creates sociopaths. During her presentation no one seemed impressed by her findings.
On the way home from a bar, she sees an explosion and The Joker appears in front of her. He suddenly points a gun at her face and then begins to laugh as walks away. As he makes his getaway Batman intervenes and stops the Joker in a bloody confrontation.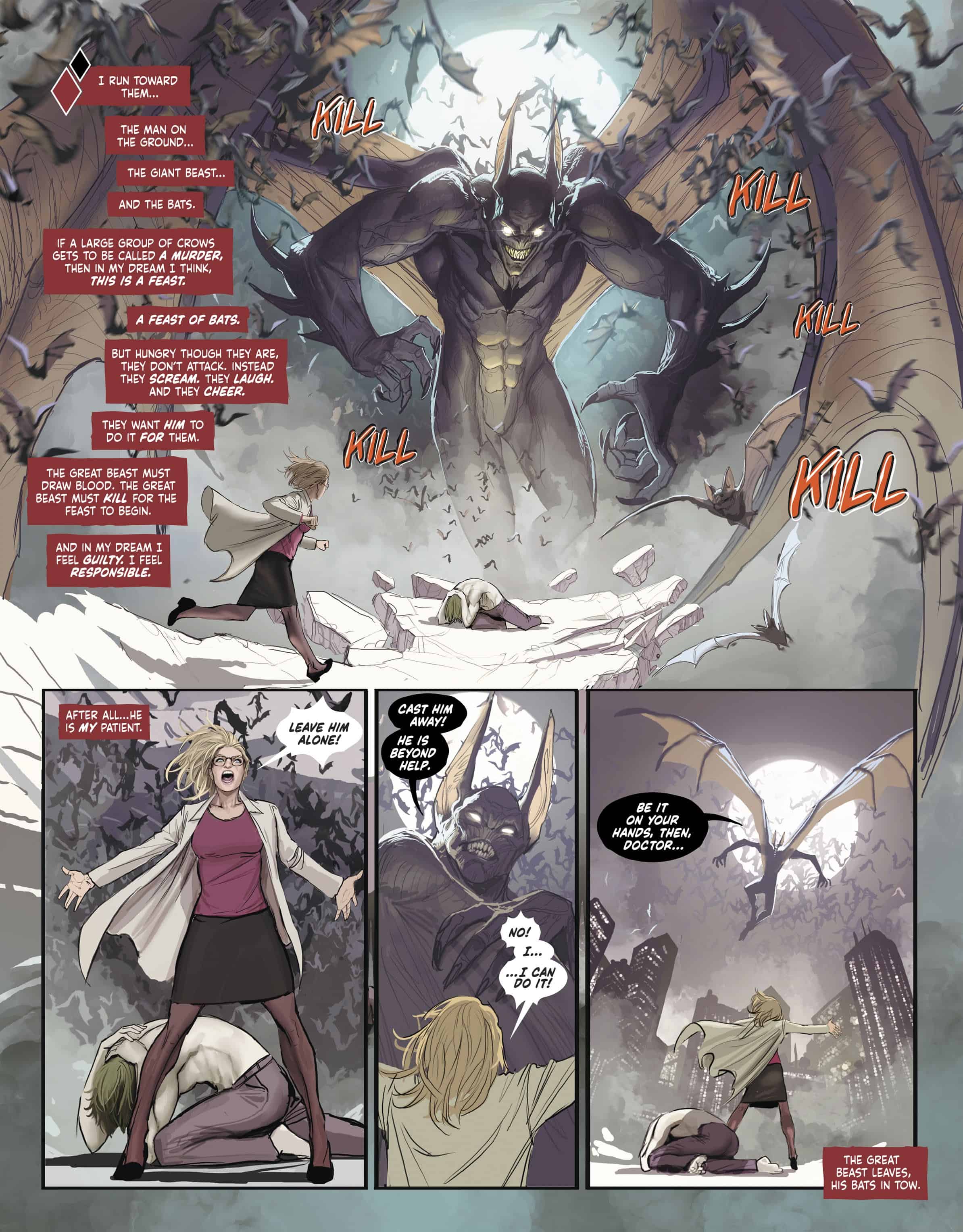 Days pass and she is haunted by her confrontation with The Joker. When she returns to work she is shocked to find out that Lucius Fox is waiting for her and wants to fund her research at Arkham Asylum. Once she arrives at Arkham she begins to interview all of the inmates with no success.
After much discussion with herself, she decides to look into The Joker's files. Right after her interview with The Joker, Harvey Dent set up a meeting to see her. He demands that she stop her research, but she denies his request. Harleen heads back to Arkham to meet The Joker and introduces herself. Not impressed by her, the Joker alarms her and comes to the revelation that they have met before. He then asks her to call him Mr. J and the session is about to begin.
Art & Writing By A Mad Genius
Harleen #1 is the start of a fabulous series that DC fans will not want to put down. The series is a new take on the classic character that not only retells the compelling narrative but adds new concepts. Readers get to see a new side of Harley that has never been fully shown in comics. Before Harley Quinn there was Harleen. An intelligent doctor with the goal to help people one patient at a time, living in a world where people seldom see her intelligence.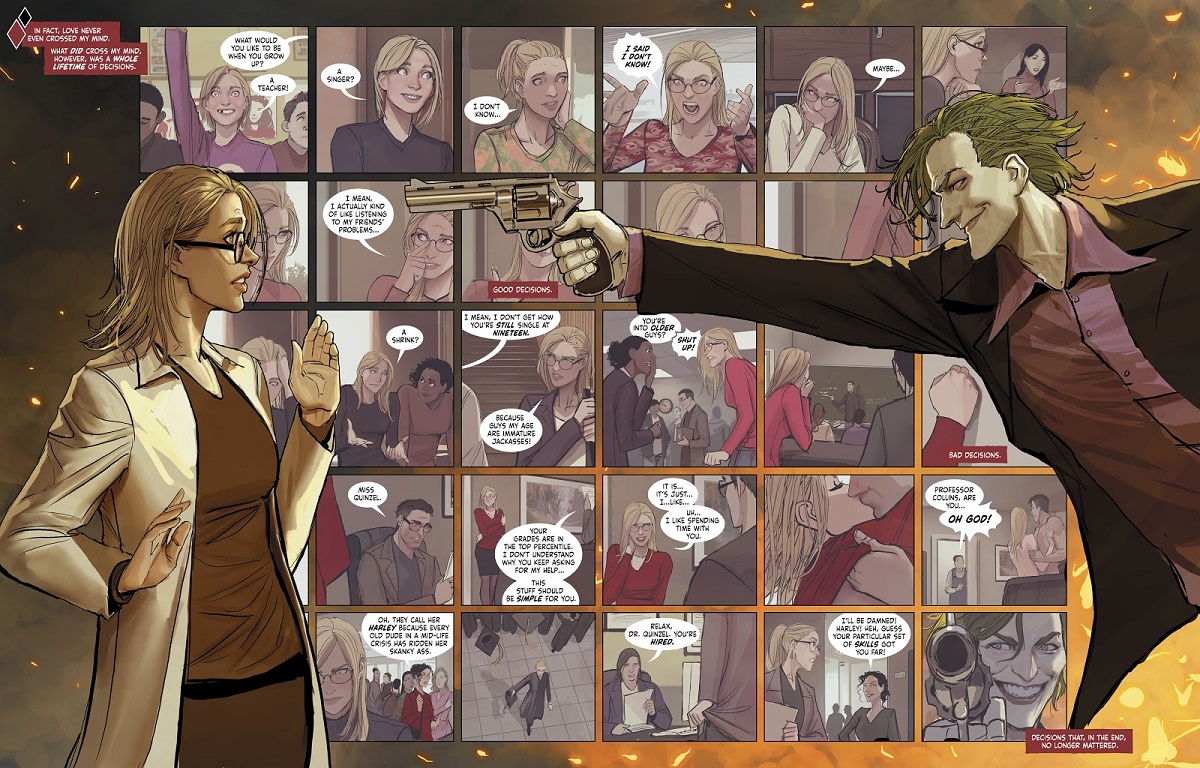 The writing and art, produced by Stjepan Sejic, is done wonderfully and is one of the highlights of this book. As readers go through Harleen #1 they can see how much love the writer has for this character. The visuals in this issue are done so perfectly that the reader will feel like you are inside Harley's mind as she narrates the story. Also, everything drawn looks realistic, but the artist also mutes all the colors in this issue to make this story feel grounded in reality. It's a unique look at a story that has compelled fans for ages.
An Odd Choice With Chemicals In Harleen #1
In the beginning, Harleen #1 readers get a slight glimpse at Harleen's future with The Joker. In the background of PG., 4 readers see that Harley is bathed in chemicals at one point in her future. The Readers can assume that the writers of this series will be taking inspiration from Harley's New 52 origin in Suicide Squad #7. As grounded in reality as this story is, it's a surprise that they would follow the idea of her falling in chemicals instead of her being manipulated by The Joker. Her New 52 origin is very outlandish.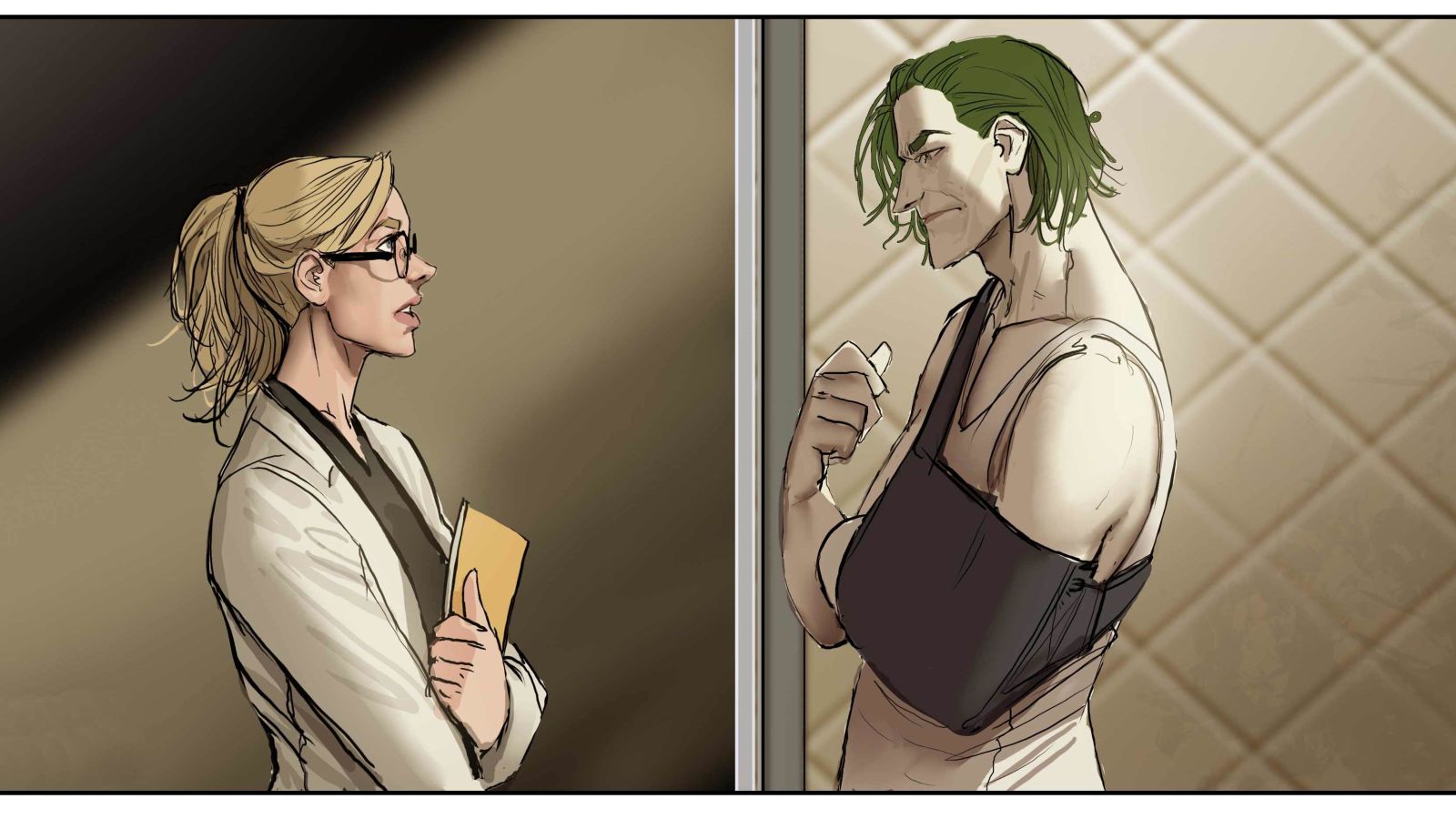 Furthermore, the series looks like it will dive deeper into her origin as well. Hopefully, there will be a more believable explanation for how she gets thrown into the chemicals. This version of Harleen just seems too intelligent to follow The Joker into Ace Chemicals. A lot of characters mention that she is a very bright woman so this doesn't feel plausible. In other versions, Harley is seen as a not so bright character who slept her way through college to get an A. It could be the case that she was too smart for her own good and one mistake changed her life forever. Only time will tell how the series gets to this point, but with three full issues, it's going to be a wild and crazed ride.
A Confrontation Between Murders
There are many moments that are done wonderfully in Harleen #1, but there is one that sticks out. There is a scene featuring Harleen talking to Harvey Dent. As they begin to talk to each other, Dent demands Harleen quit her research at Arkham. They have a magnificent back and forth speaking about law and order that's written marvelously.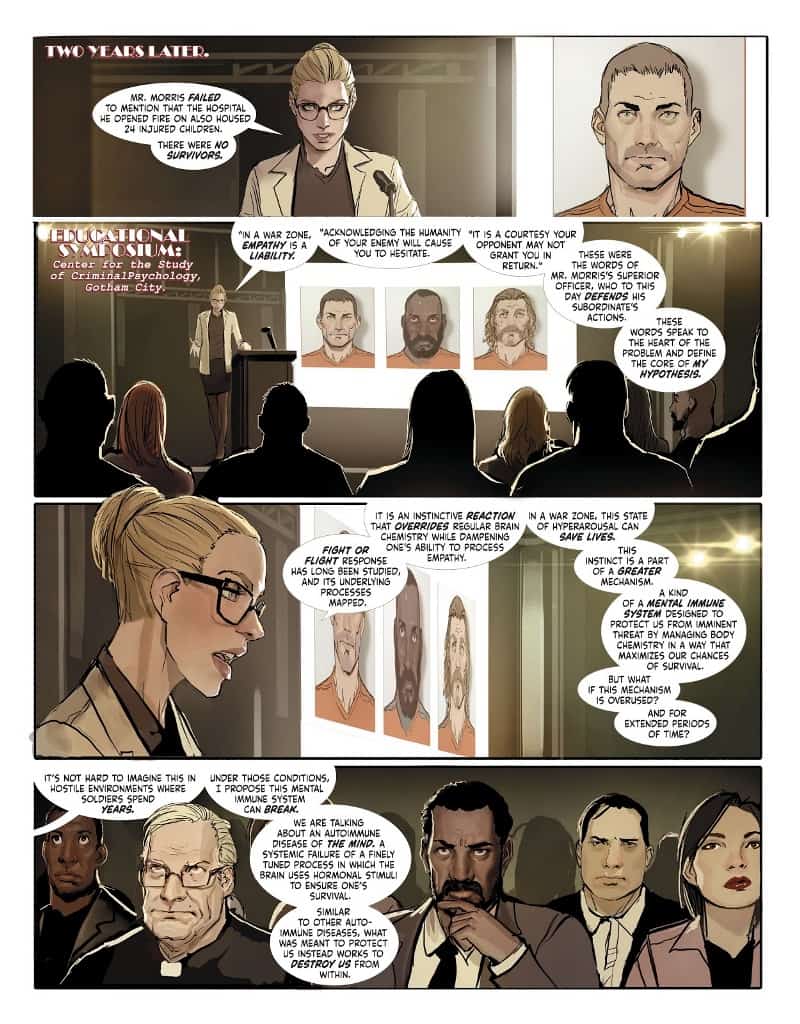 After the exchange of words, Harley walks away and narrates that she thinks it's hilarious that months later they will both become criminals. The scene was simply perfect with just the confrontation, but to add that piece of dialogue about their future paired with the art of the panel is pure magic. This moment can't get enough praise it's a scene that shows how prominent a writer and artist Stjepan Sejic is.
Falling Madly In Love with Harleen #1
This book is a must-read for any fan of Harley Quinn. There's a deeper look at one of Batman's most famous rogues and it doesn't disappoint. This series will be three issues long so there is sure to be more shocks in store for everyone reading this book. The superb thing about this book is that it could be a stand-alone one-shot of how Harleen became Harley Quinn and it will still work. We got to see who Harleen was and why she came to Arkham in the first place. It fills in the gaps and adds more lore to her origin.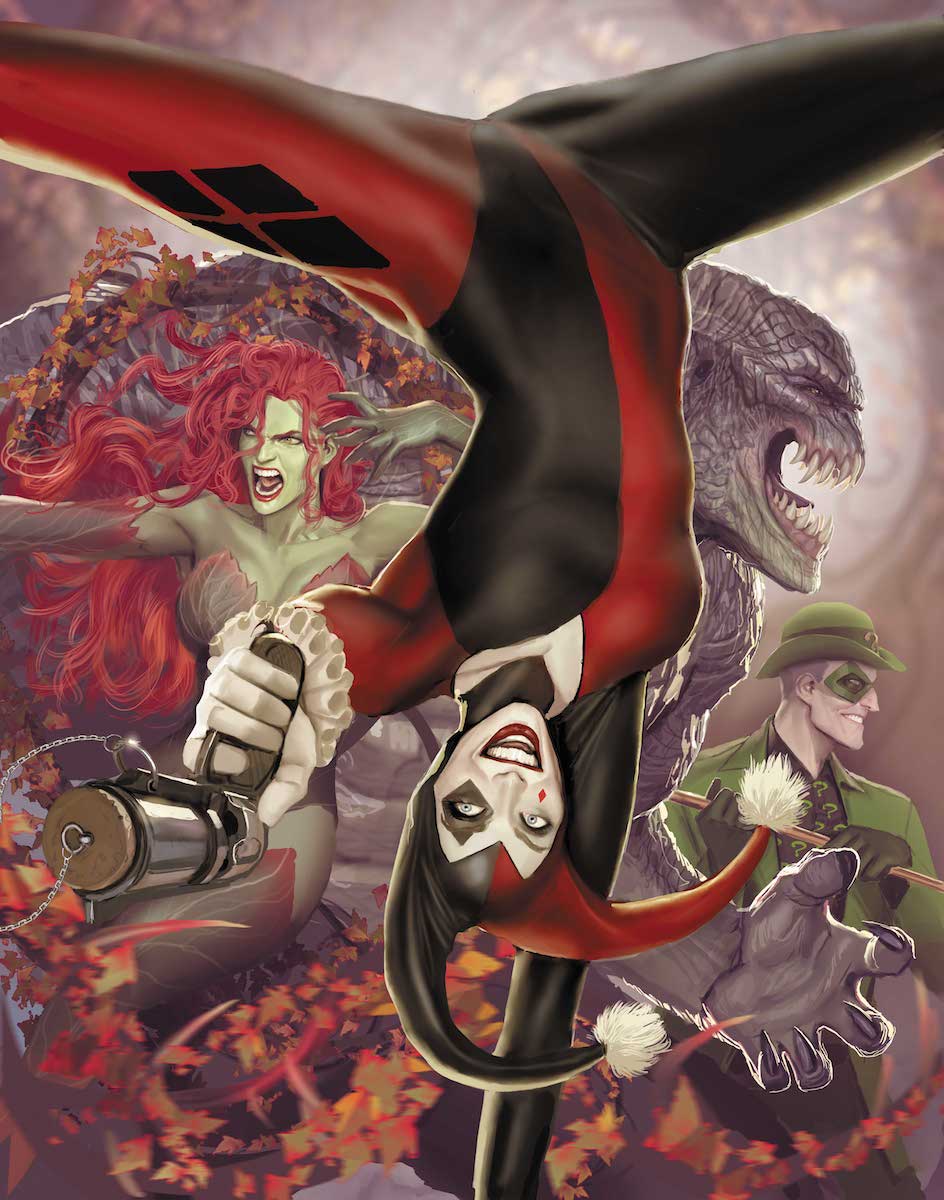 Harleen #1 ends with her standing in front of the Joker getting ready for her interview with him. It works so soundly because we are all able to put the rest together since we already know about her. Knowing that there are three issues, I can only hope that the next issue focuses on their interviews together. If you come across this issue do not hesitate and grab this book today, you will fall madly in love.