If you want to see a sneak peek of Lifeformed Volume 2: Hearts and Minds scroll to the bottom of this review (read the first half for Lifeformed: Cleo Makes Contact review) — we'll give you an exclusive preview of a picture of President Cleo.
---
Dark Horse Comics released another gem about a year ago now (September 6th, 2017) called, Lifeformed: Cleo Makes Contact. The graphic novel by Matt Mair Lowery and Cassie Anderson is a work of art, literally. Again, I know I am a million and one years late on this graphic novel review; but, I am just checking it out and I have to admit – I can't believe I never found this gem before. Cleo is a badass character with such grace and poise; I can't do Cleo justice just talking about her in a sentence.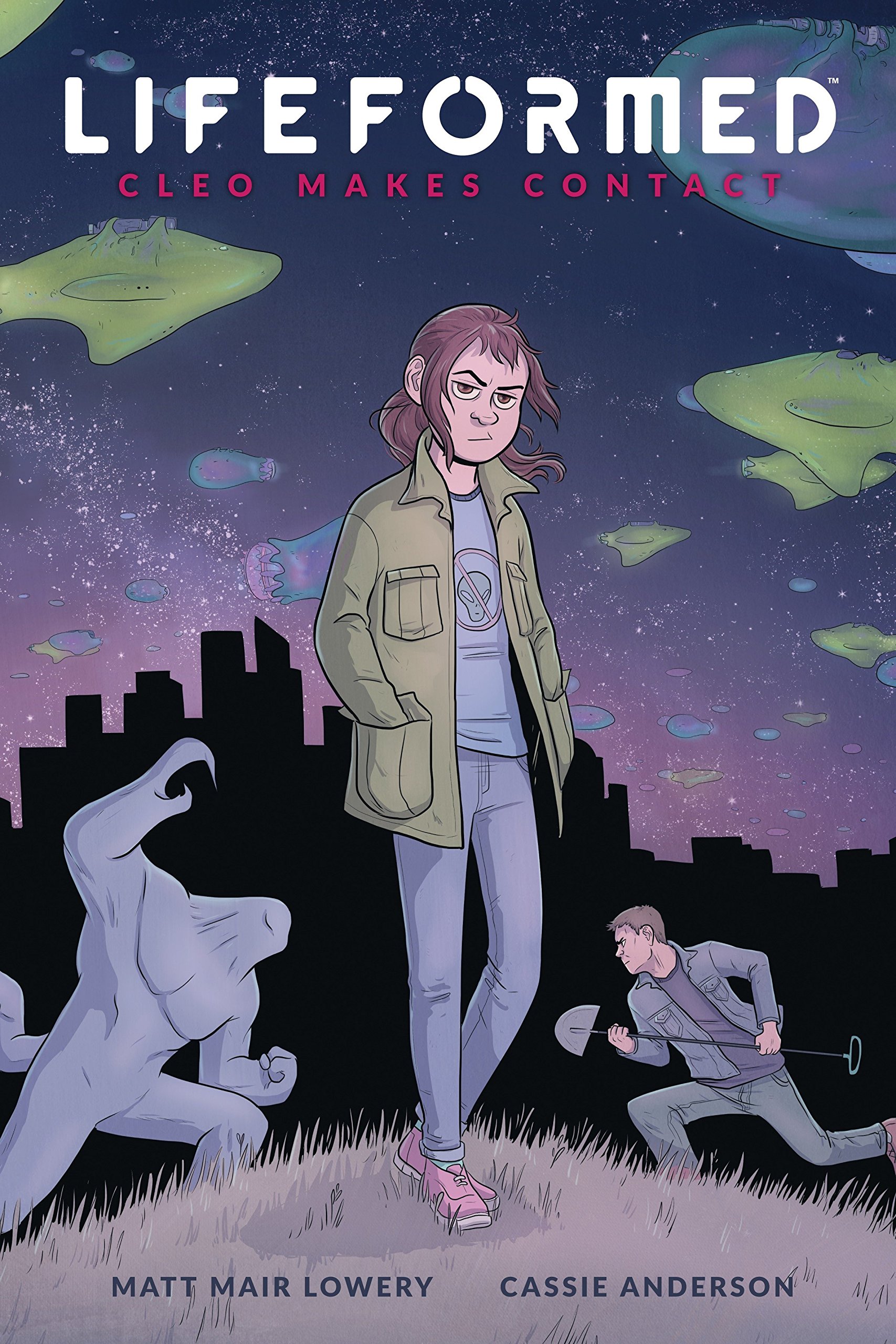 We will delve more into that later. However, if you need a graphic novel to read and have been sitting looking for something great… Lifeformed: Cleo Makes Contact is the one.
The Premise of Lifeformed: Cleo Makes Contact
In the wake of an alien invasion, a young girl named Cleo must save the world. She will fight for what she believes in and leave the world as she knows it behind… including the people closest to her. In the wake of her father, Alex, grandma, and friend, Emily's death – she goes on an adventure to save the planet with her "fake dad" aka., a shapeshifting alien. These two become closer by the day and take on over a thousand aliens by night.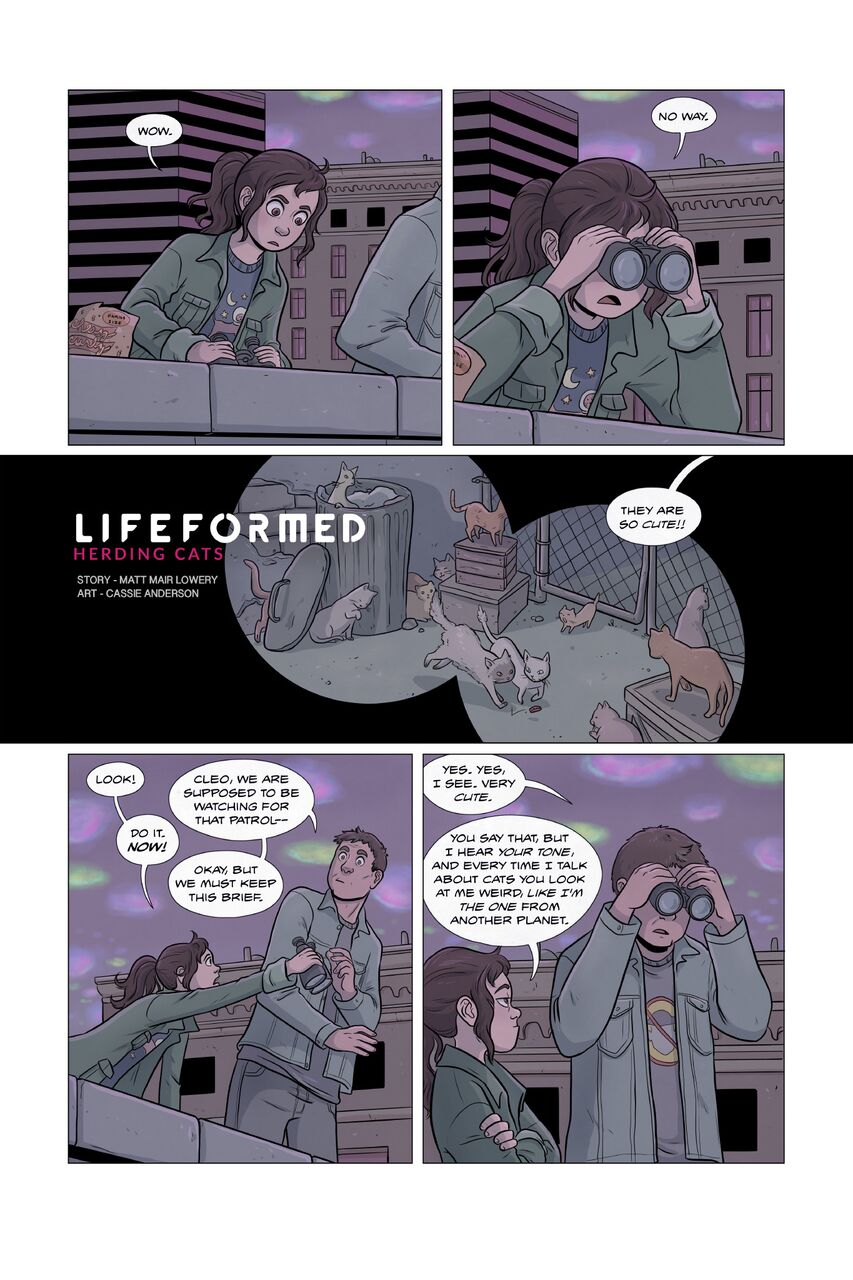 Before Cleo knows it, she's growing up and realizing that she is as strong as she wants to be. Cleo is mighty. Lifeformed: Cleo Makes Contact teaches Cleo and the reader about determination and solidarity. Even more so about friendship and relationships, as well as learning to grieve.
The Mighty & Powerful Cleo!
Cleo is an exceptional character. She is a character that I think is one of the better characters to come out of the comic book medium. Cleo is exceptionally defined, strong-willed and utterly compelling in her own light. She compels everyone around her to be as influential as her, and it's not easy because even for a young girl she is powerful.
At the beginning of Lifeformed: Cleo Makes Contact we see Cleo in a vulnerable state. Not only is she vulnerable, but she is anxious about a presentation. Her dad, Alex, is (at the beginning) a character who is dorky and loveable. Her relationship with her father is like any child with a father; sometimes you can get annoyed with them, you know? But, at the end of the day, it's all love.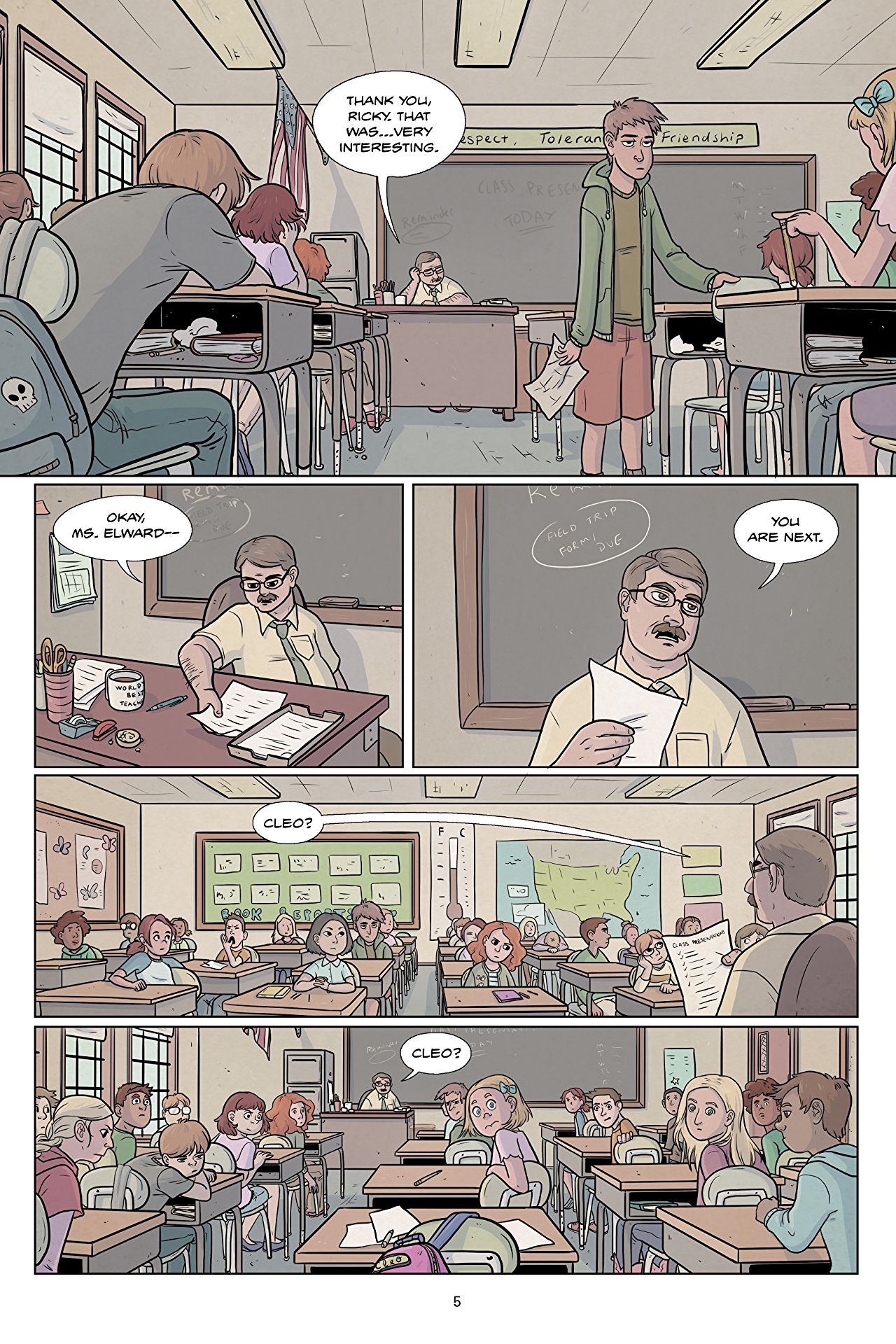 However, in the beginning, Cleo is not as mighty and strong as she turns out to be. Throughout Lifeformed: Cleo Makes Contact, she grows remarkably. And, that is some damn good character development if you ask me. I won't tell you exactly how she becomes this badass strong character, but I will tell you she kicks some major ass in this comic from start to finish.
Why Is This Graphic Novel SO Good?!
I have said this before and I will say it again, science fiction (in any way) is my forte. I love it, especially in the comic book medium. And I love it here just the same. The writing is fantastic, the art is just brilliant, and I adore the colors. One thing that I always look for in graphic novels and even comics are the colors; the vibrant or dull color codes that artists use. I would like to think they are on purpose.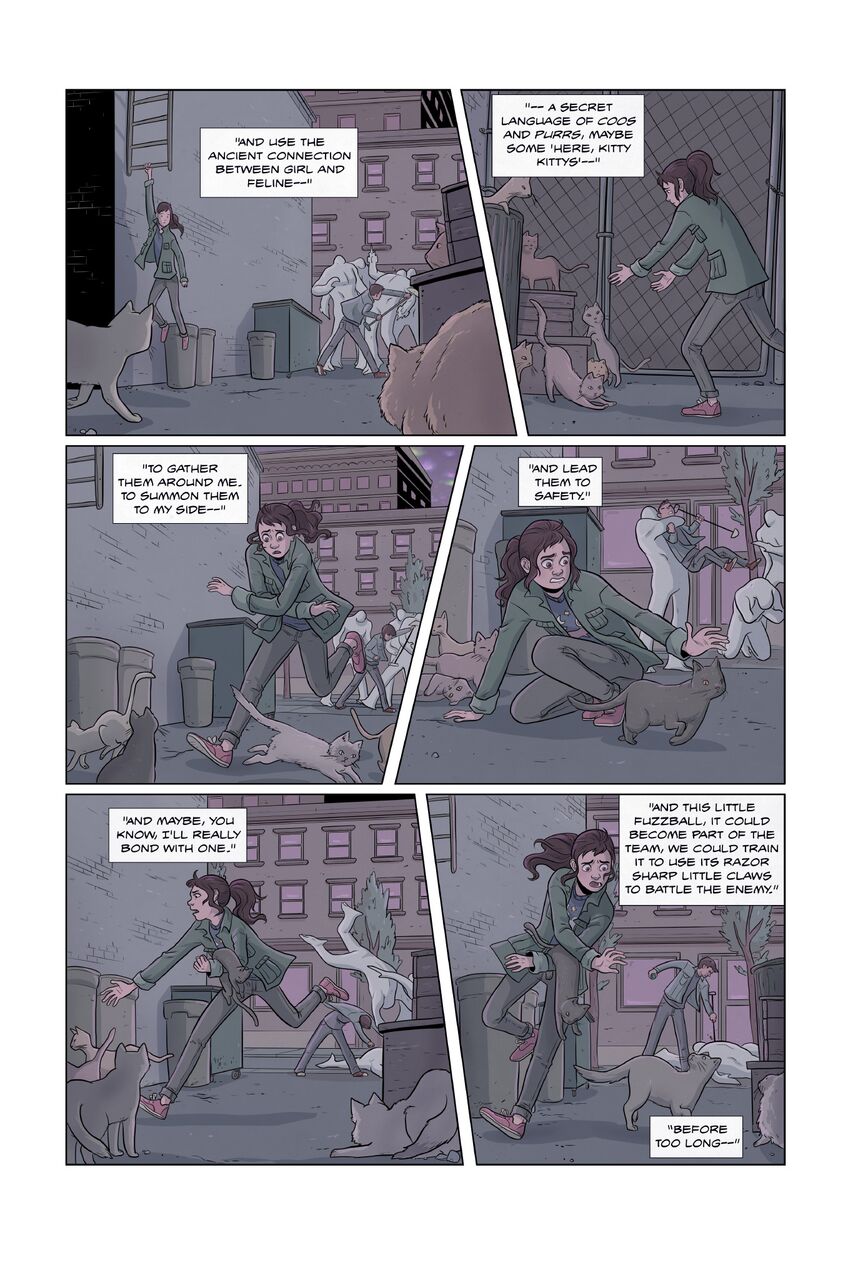 I like to look at how they alter the setting, the tone, and the characters' emotions. This graphic novel achieves all of those things flawlessly. The writing and the graphic novel, in general, reminds me of my favorite comic Paper Girls. I absolutely adore Paper Girls and this graphic novel reminds me (in little pieces) of that comic. That is a huge compliment. What I admire about the writing is the fact that it's not in an adolescent (eleven-year-old) tone.
Writing, Art, & PERFECTNESS In Lifeformed: Cleo Makes Contact
Cleo talks like an adult, she is extremely articulate. I love that because some children genuinely talk like that. The characters in the story also sometimes speak alien (or the language of) and I love that too. I love that aspect of another language being brought in and learning something new and intriguing in a sci-fi comic. The art is, by far, some of the best art I have seen. Anderson does a dazzling job with the art and lettering here. Just outstanding all around. The speech bubbles have a great addition to the conversation as well in this comic. The colors throughout this graphic novel are important to note.
The Colors Are Important
Again, colors in comics tell certain aspects that you don't really notice until after the fact. At least I would like to think so. Sometimes when a panel has a black background that means something might have happened such as death.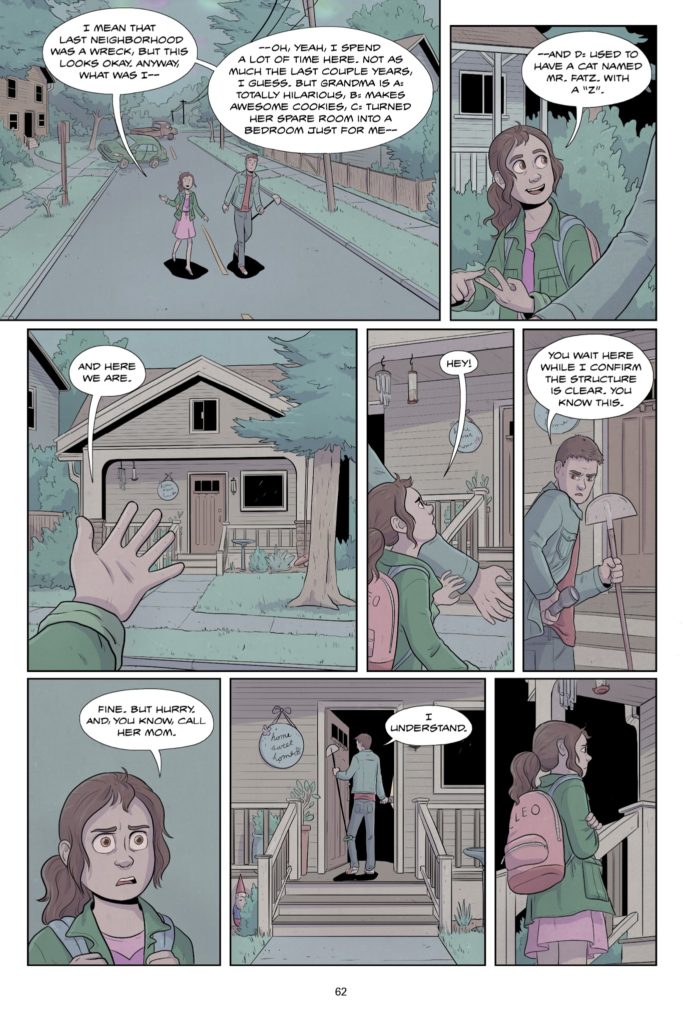 The pastel green-blue color code when you are in the scenes with the aliens depicts an unknown territory. An extraterrestrial color vibe of the scene is an aspect that is important because it makes the setting/scene/panel even mightier. After reading this graphic novel I am astounded by how many elements and characters of the graphic novel stuck with me.
Cleo is a piece of my heart now, she is someone that I was rooting for the entire time. Cleo has watched her father die, her grandma (she acknowledges is dead), and her friend, Emily. All right before her eyes. At such a young age (eleven-years-old) that is… terrifying. To be alone and only know an alien being? That is frightening. To write that and achieve that in such a realistic way is phenomenal.
I Can Talk About Lifeformed: Cleo Makes Contact All Daaaaaay
Lifeformed: Cleo Makes Contact is everything marvelous about the comic book medium. This graphic novel proves that comics are sophisticated, whimsical, and vivacious all in one fell swoop. Not only do we have spectacular character development and art, but we also have a story here. A genuine story about an eleven-year-old girl named Cleo. It's a genuine story about growth, grieving and evolving into who you are meant to be. It may seem like I only have great things to say about Lifeformed: Cleo Makes Contact, and it is because I do.
…This Is Truly An 100% Masterpiece
There is nothing bad or negative about this gem. It's truly hard to find a graphic novel or comic that is perfect; but… we got one. And, this is that one. Honestly, next trip to a comic shop or ordering comics online I am buying this to have in my collection. I would be mad not to. This graphic novel truly is a work of art. You will not regret reading the entire graphic novel in one night like I did. It was just so good. If you want to help out Lifeformed: Cleo Makes Contact, they have a Patreon because… CLEO IS BACK IN 2019.
This is great news and we want to share any way we can support it. I will be keeping an eye out for what these creators do next. They are outstanding in the comic book medium and I can't wait to see what Cleo looks like in Lifeformed: Part 2. If you want to talk to the creators, their Twitter's are linked above but also here: @mattmlpdx and @CassieDoesArt.
---
The Daily Fandom has anxiously waited to unveil the news for the new Lifeformed Volume 2. We officially have a sneak preview cover by Cassie Anderson and a release date: September 19th, 2019. In the fall you can officially continue the story of Cassie, the president we all deserve. Above we have our review of the first volume that we adored if you would like to read about it. You can pre-order Volume 2 now and appreciate the magnificent cover that Cassie did to hold us all over.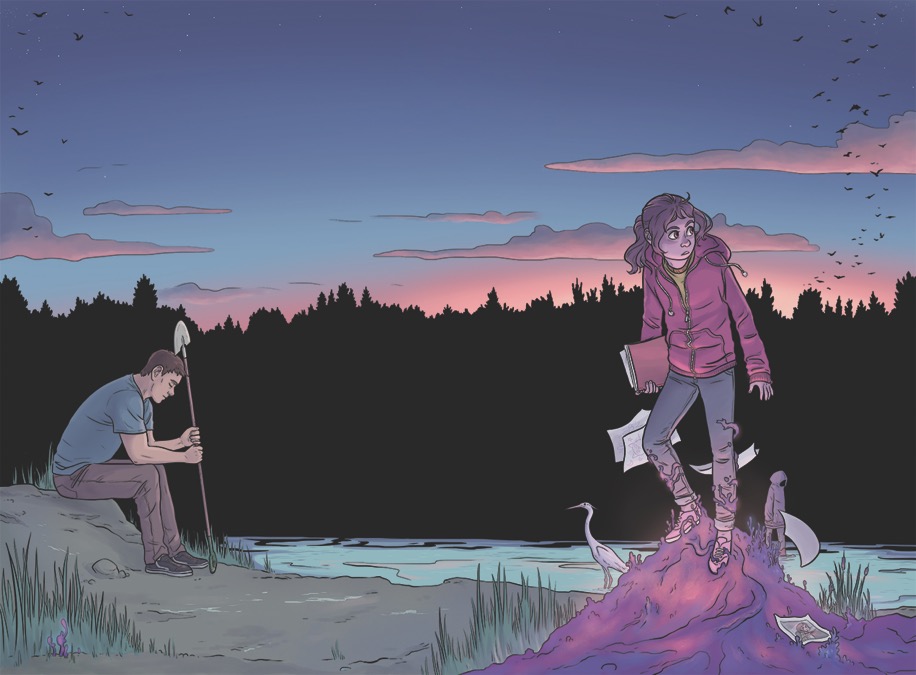 We have a synopsis of Volume 2 from Matt and Amazon — Cleo and Alex, the shapeshifter that is now Cleo's only father figure, make a great team in the guerrilla war against the invaders. However Cleo's past is coming back to haunt her, someone she thought she saw the last of is back for vengeance. And, if we remember correctly, that could be just about anyone! Cleo's relationship with her alien dad is put to the test in this new Hearts and Minds Volume 2. Matt and Cassie, the amazing duo, are back for another adventure with Cleo.
If you thought we were excited before, now with a release date under our nose, we are waiting for the new story to continue. If you enjoyed our review of the first volume, pre-order the second, you wouldn't want to miss out on President Cleo in 2019!