The 92nd Oscars ended with some big surprises for viewers. Prior to the ceremony, Joker was the film getting all the buzz thanks to its eleven nominations. While Joaquin Phoenix did win an acting award for his portrayal of the title role in that film, it was largely shut-out of the other categories. Likewise, Martin Scorsese's The Irishman also came home empty-handed despite its ten nominations. On the other hand, Parasite turned out to be the big winner, taking home five Oscars. Unusually, many of the memorable moments were presenters, performers, and winners calling out the 2020 Oscars for its lack of diversity. Let's break down the ceremony.
Parasite Wins Big At The 2020 Oscars
Jane Fonda presented the Oscar for Best Picture at the end of the night, and she paused just long enough after opening the envelope to build suspense. Most outlets predicted World War I drama1917 would take home the prize, so it was truly a surprise to hear that the South Korean film Parasite had won. Everyone who came on stage to accept the award looked legitimately stunned. It made history as the first foreign-language film to win the Oscar for Best Picture. Also, it is the first South Korean film to ever be nominated.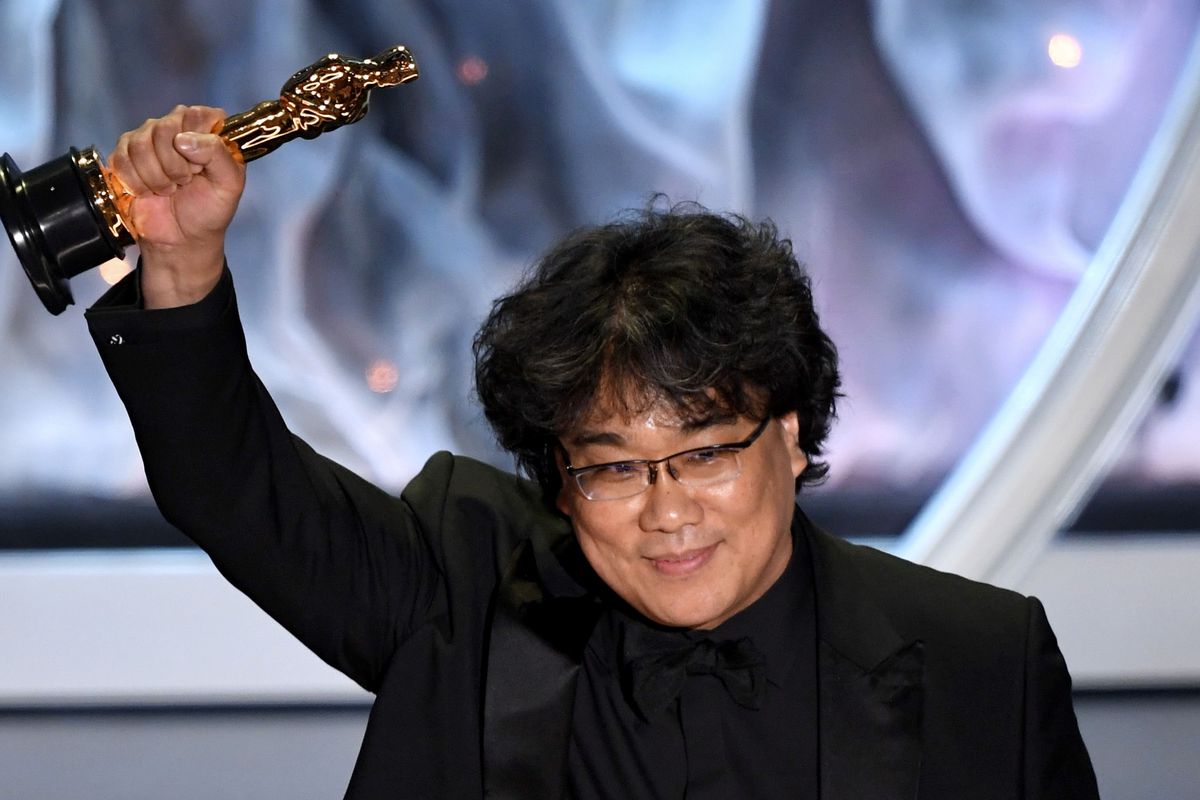 Parasite also won four other awards at the ceremony. In addition to Best Picture, the film took home the Oscar for Best International Film, Best Original Screenplay, and Achievement in Directing. In his acceptance speech for Directing, Bong Joon Ho graciously thanked the other nominees and lovingly talked about how fellow nominee Martin Scorsese influenced him in his career. The audience then rose to give him a standing ovation. He also thanked fellow nominee Quentin Tarantino for recognizing his previous films when others in the U.S. didn't.
"After winning International Feature I thought I was done for the day and was ready to relax."

Bong Joon Ho on winning the Achievement in Directing Oscar.
No Surprises In The Acting Category Wins
There were no surprises with the acting categories, though. The actors many predicted would win in those categories, did win. The winners for Best Actor and Actress were Joaquin Phoenix for the title role in Joker and Renee Zellweger for her portrayal of Judy Garland in Judy. The Best Supporting Actor and Actress were Brad Pitt for his role in Once Upon a Time in Hollywood and Laura Dern in Marriage Story. Both Phoenix and Zellweger had been nominated for acting Oscars four previous times, with Zellweger winning once before as a Supporting Actress. Similarly, Dern has been nominated three other times, and Pitt has been nominated seven times before. Phoenix, Dern, and Pitt all won for the first time for acting.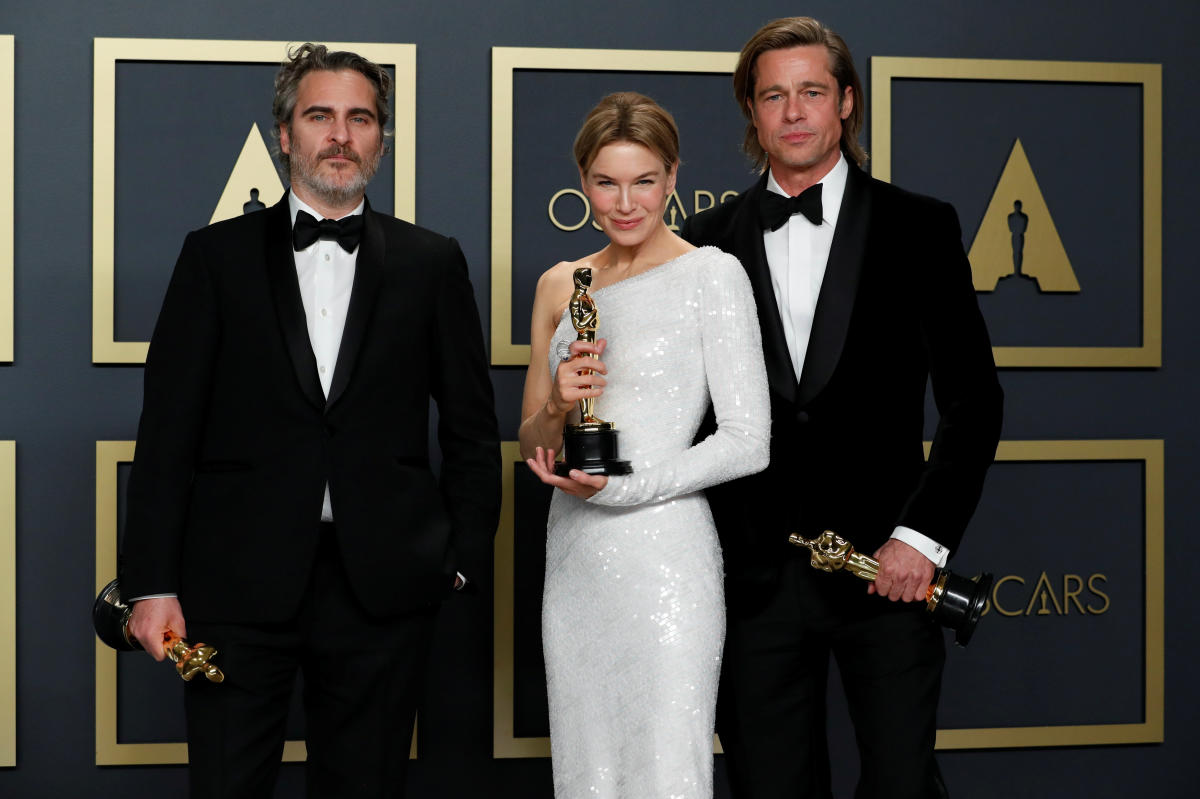 In their acceptance speeches, both Pitt and Phoenix got a little political. Pitt made a quip about the recent impeachment hearings. Likewise, Phoenix talked about the need to come together even when we champion different causes. Touchingly, Phoenix paid tribute to his late brother, actor River Phoenix. Similarly, Laura Dern called her actor parents her heroes. Zellweger also talked about how heroes can inspire, unite, and bring out the best in ourselves. She poignantly acknowledged that Judy Garland, the actress she portrayed, had never herself won an Oscar. She also recognized how Garland's impact crossed generations.
Janelle Monae Opens The Show By Calling Out The 2020 Oscars
"Tonight we celebrate all the amazing talent in this room. We celebrate the women who directed phenomenal films. And I'm so proud to stand here as a Black, Queer artist, telling stories. Happy Black History Month!"

Janelle Monae during her opening performance.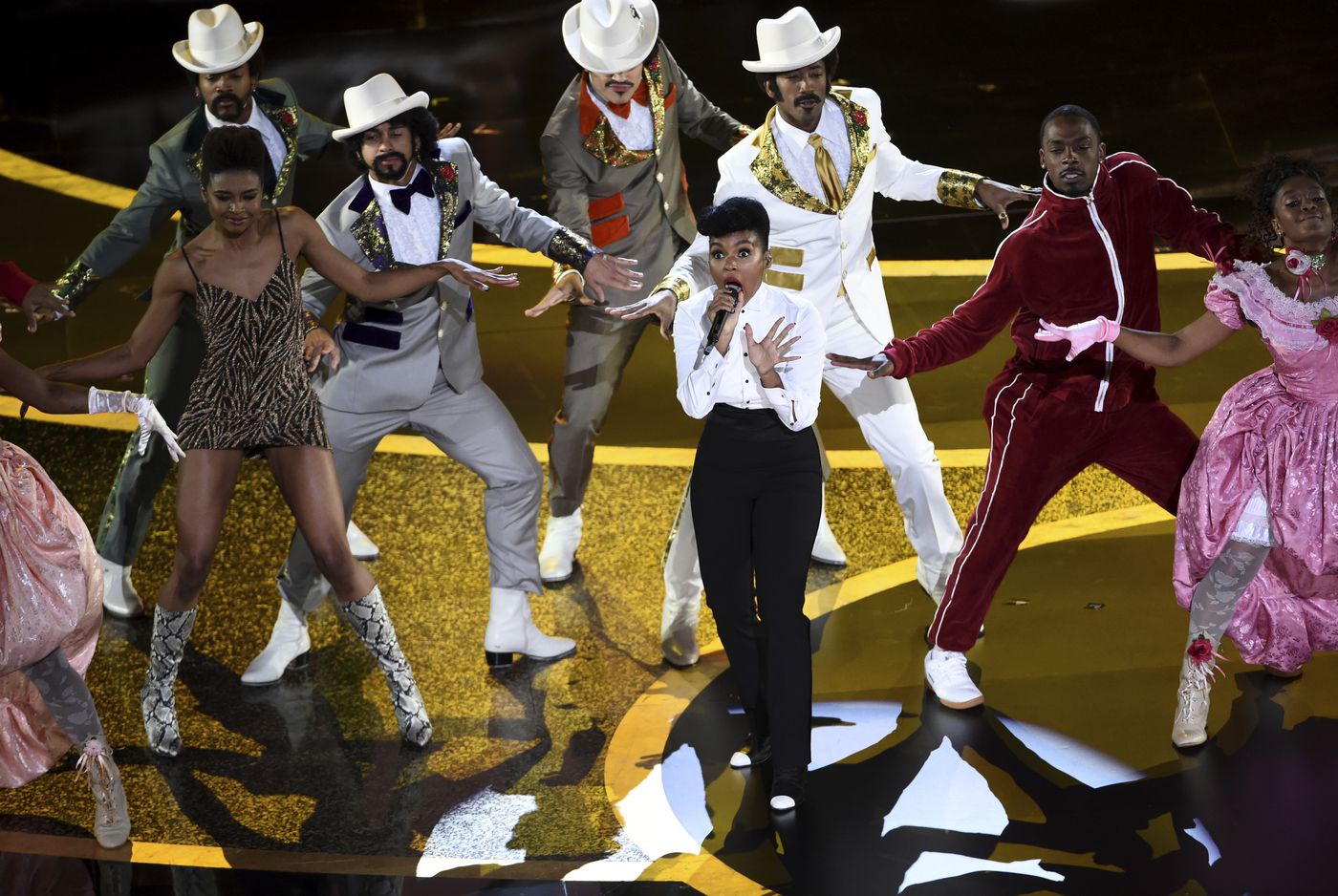 Many of the presenters and performers made a point to call out the lack of diversity this year. Janelle Monae opened the show with a performance that paid tribute to the late Mr. Rogers. (Tom Hanks was nominated for portraying Rogers in the Best Supporting Actor category). She then transitioned into the song "Come Alive" with lyrics adapted for the 2020 Oscars (she specifically included the lyrics "The Oscars/it's so white/it's time to come alive!").
It was also notable that her opening song featured dancers in costumes representing films from the year, including films that didn't get recognized by the 2020 Oscars including the horror film Midsommar and Dolemite Is My Name.
Diversity And Politics Take Center Stage
Following Monae were Steve Martin and Chris Rock who similarly noted that there was only one person of color nominated for an acting Oscar, and no female directors nominated. After winning for Best Animated Short for Hair Love, writer Matthew A. Cherry also called out a need to pass the CROWN Act, which extends protections under the Federal Housing and Employment Acts to include discrimination based on hair types. Likewise, Taika Waititi, after winning the Oscar for Best Adapted Screenplay for Jojo Rabbit, said his award was for:
"all the indigenous kids all over the world who want to do art and dance and write stories. We are the original storytellers and we can make it here as well."

Taika Waititi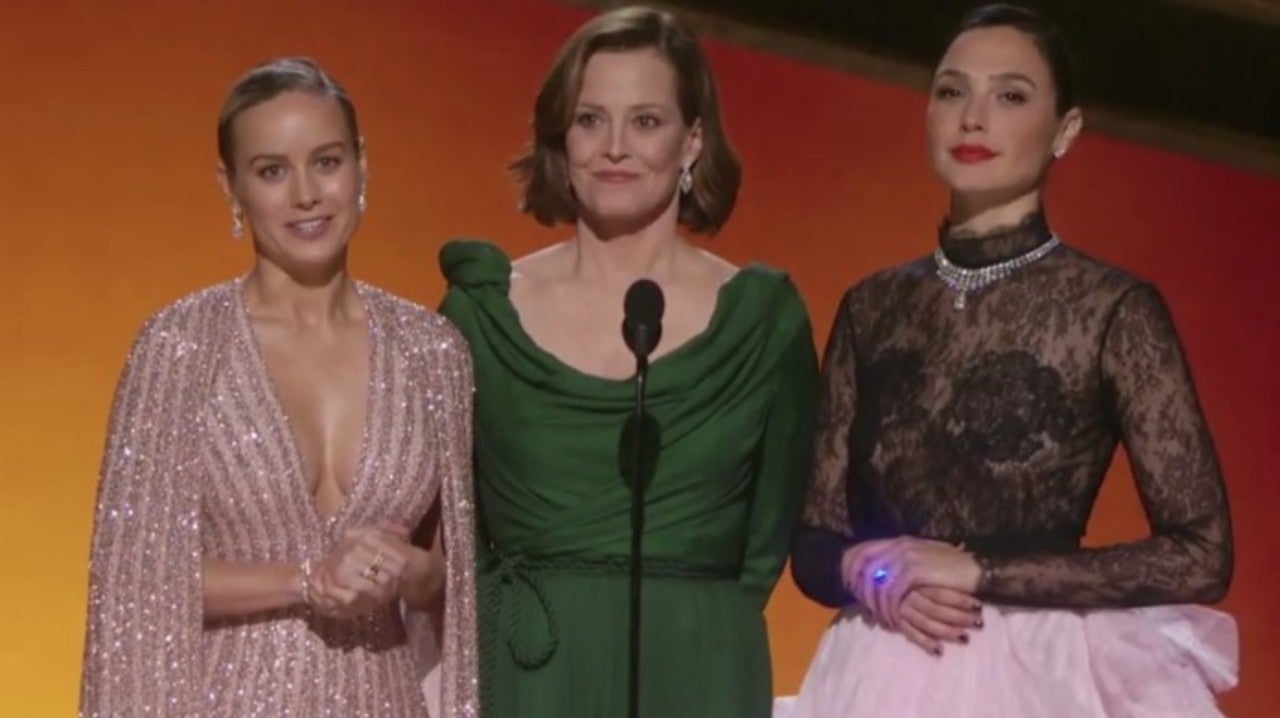 In another memorable moment, Sigourney Weaver, Brie Larson, and Gal Gadot presented the Oscar for Best Original Score. They joked about starting a Fight Club backstage after the show, and invited all the men to join, but warned that the loser would have to answer questions about being a woman in Hollywood. Importantly, the award went to only the fourth woman to win the Oscar (the first in twenty-three years), Hildur Guðnadóttir who wrote the score for Joker.
Notable Moments At The 2020 Oscars
Other notable moments included Elton John winning his first Oscar with longtime songwriting partner Bernie Taupin. (Although John had previously won with Tim Rice in 1994 for their work on the Lion King). Meanwhile, there was a surprise performance by Eminem after a short montage showing the importance of music in film. Apparently he did not perform when his song "Lose Yourself" won the Oscar seventeen years ago. In a humorous moment, when presenting the award for Best Visual Effects, Rebel Wilson and James Cordon appeared dressed as Cats and joked: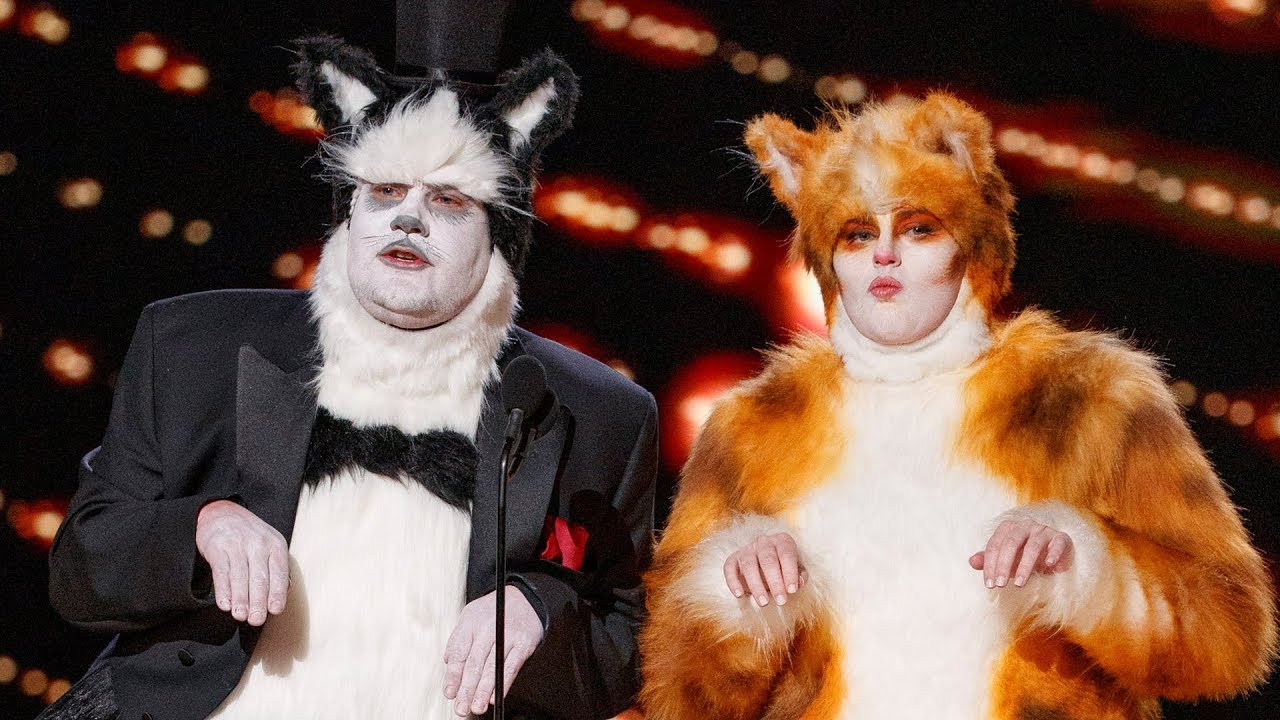 "As cast members of the motion picture Cats, nobody more than us understands the importance of good visual effects.

Rebel Wilson and James Cordon presenting the award for Best Visual Effects.
Full List Of 2020 Oscar Winners:
Best Picture
Parasite
Best Actress
Renée Zellweger, Judy
Best Actor
Joaquin Phoenix, Joker
Best Director
Bong Joon Ho, Parasite
Best Supporting Actress
Laura Dern, Marriage Story
Best Supporting Actor
Brad Pitt, Once Upon a Time in Hollywood
Best Animated Feature
Toy Story 4
Best Animated Short
Hair Love
Best Original Screenplay
Parasite
Best Adapted Screenplay
Jojo Rabbit
Best Live Action Short
The Neighbors' Window
Best Production Design
Once Upon a Time in Hollywood
Best Costume Design
Little Women
Documentary Feature
American Factory
Documentary Short
Learning to Skateboard in a Warzone (If You're a Girl)
Sound Editing
Ford v Ferrari
Sound Mixing
1917
Best Cinematography
1917
Best Film Editing
Ford v Ferrari
Best Visual Effects
1917
Best Makeup and Hairstyling
Bombshell
Best International Feature Film
Parasite
Best Original Score
Joker
Best Original Song
"(I'm Gonna) Love Me Again," Rocketman
---
Even though many of the winners in the major categories were predictable, it was still a very welcome, history-making surprise to see Parasite take home the coveted Oscar for Best Picture. The last time there was this much excitement at the end of the night was the famous 2017 Oscar blunder when La La Land was announced as the winner, but Moonlight was the actual winner.
However, while there is still some work to do on the diversity front, the Motion Picture Academy at least seems self-aware of its shortcomings. Hopefully, at next year's Oscars, most of the memorable moments won't be around calling this out.