Happy Pride Month, everybody! Here at The Daily Fandom, we know how hard it can be to find a proper queer comic that doesn't entirely fetishize LGBT+ identities. We hope we can give you at least a place to start with your June book list with Kiss Number 8!
---
Kiss Number 8 tells the story of Amanda Orham, a Catholic tomboy in a small town. Her life is about as normal as it can get until a discovery about her family's history sends her down a road of self-discovery she never thought she'd experience. She's holding it together pretty well, until her eighth kiss. The graphic novel is the first by artist Ellen T. Crenshaw and an old hat for former Eisner nominee Colleen AF Venable.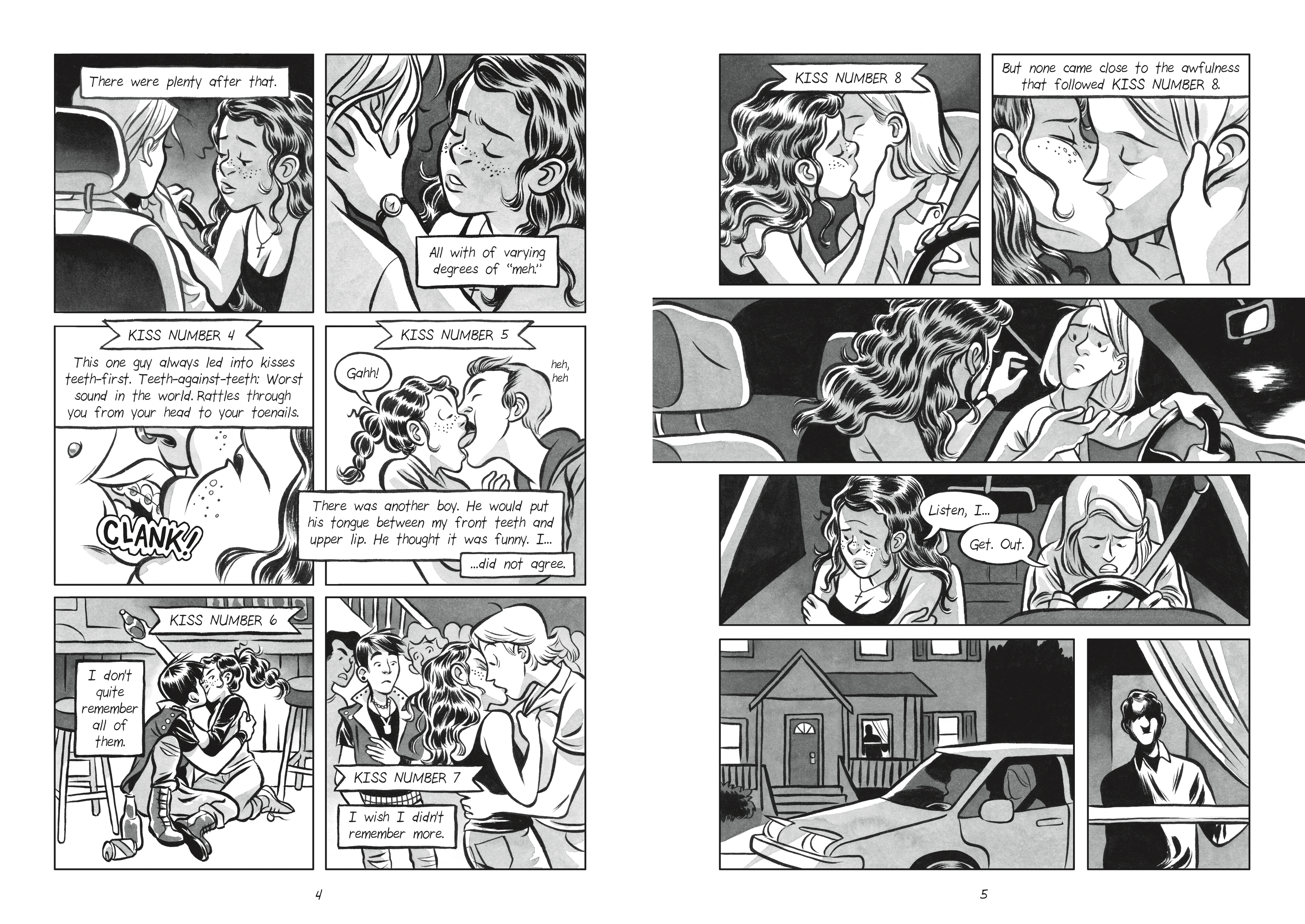 How It All Goes Down In Kiss Number 8
The story follows Mads in 2004 through her junior year of high school along with her friends Cat and Laura. The teens live in a small community and all attend the same Catholic high school. Pretty much the only socialization they get with the outside world is sneaking into dive bars. Mads leads a fairly typical teen life. She's at odds with her mother, goes to baseball games with her dad, and has a decent social life. But her life is thrown into chaos when her dad gets a mysterious call from a woman named Dina.
Amanda assumes the worst, that her father must have had an affair. Her parents reassure her that this isn't the case. To make matters worse, she finds a letter addressed to her hidden in her mom's trash can. Inside is a photo of a man she's never seen before, a check for thirty thousand dollars, and a note. It reads,
"Your grandfather loved you very much. Don't tell your parents about this. They would not approve."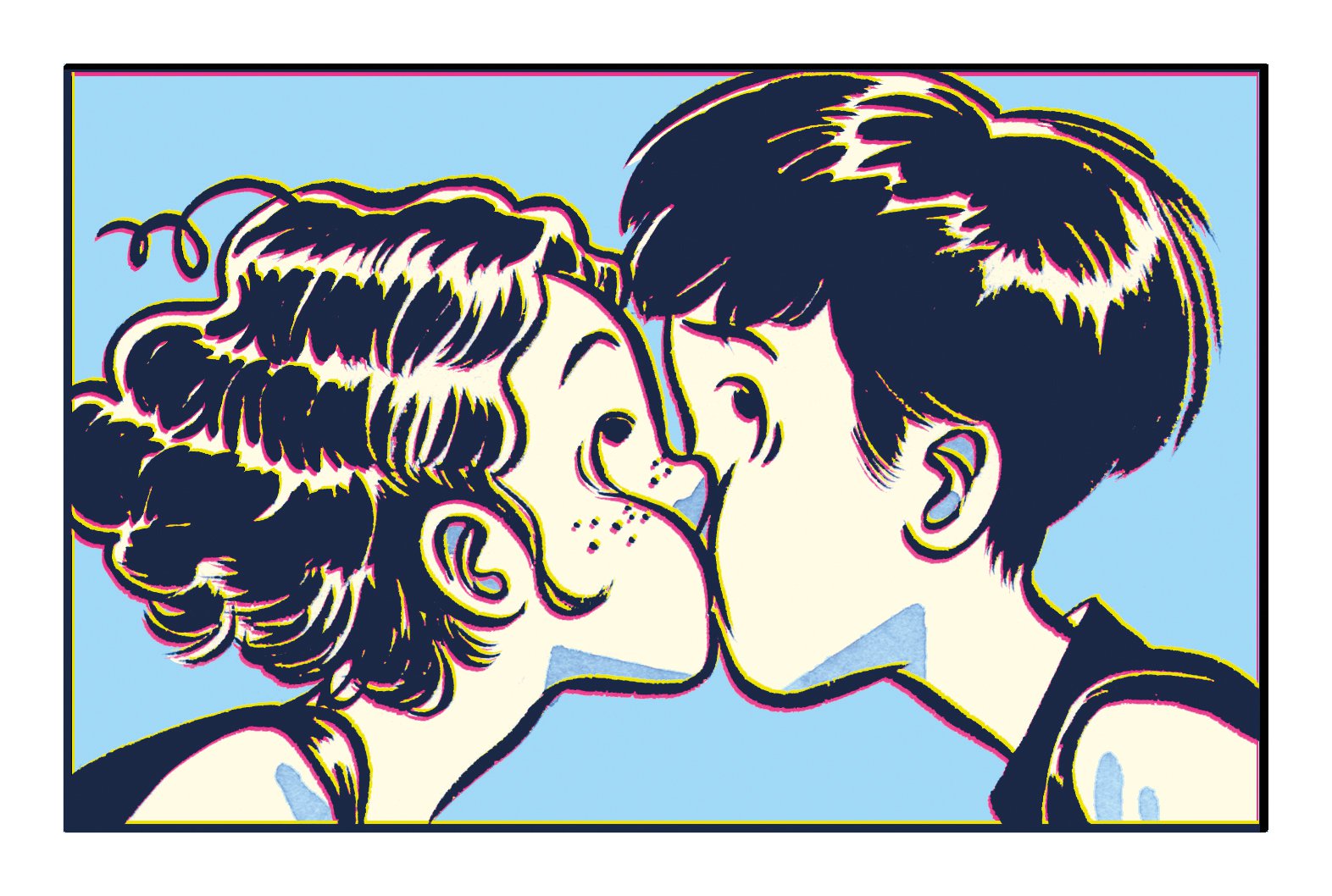 Through further snooping and teen shenanigans, Amanda and Laura find out the truth. The man in the photo is Sam, Amanda's grandfather. Sam has lived as Samantha for much of his life, raising Amanda's father. But when he came out and began his transition, he vanished from their lives entirely. Now, years later, Sam has passed and his widow Dina is trying to reach out.
After The Storm
The revelation has shaken the family, but they seem able to cope. Of course, as a reader, you're eyeballing the thick stack of pages left in the story anxiously. The back half of the story deals with Amanda's realization that she herself may not be as straight as originally thought. All of the small glances and lingering touches she shared with Cat earlier are cast in a whole new light. She's crushing HARD and has no way of talking about it.
It all comes to a head when she decides that if there's a thin line between being queer and straight, like her grandmother said, then she desperately wants to be on the straight side. She convinces herself to sleep with Laura's brother Adam, who has been desperately crushing on her since the start, at a party.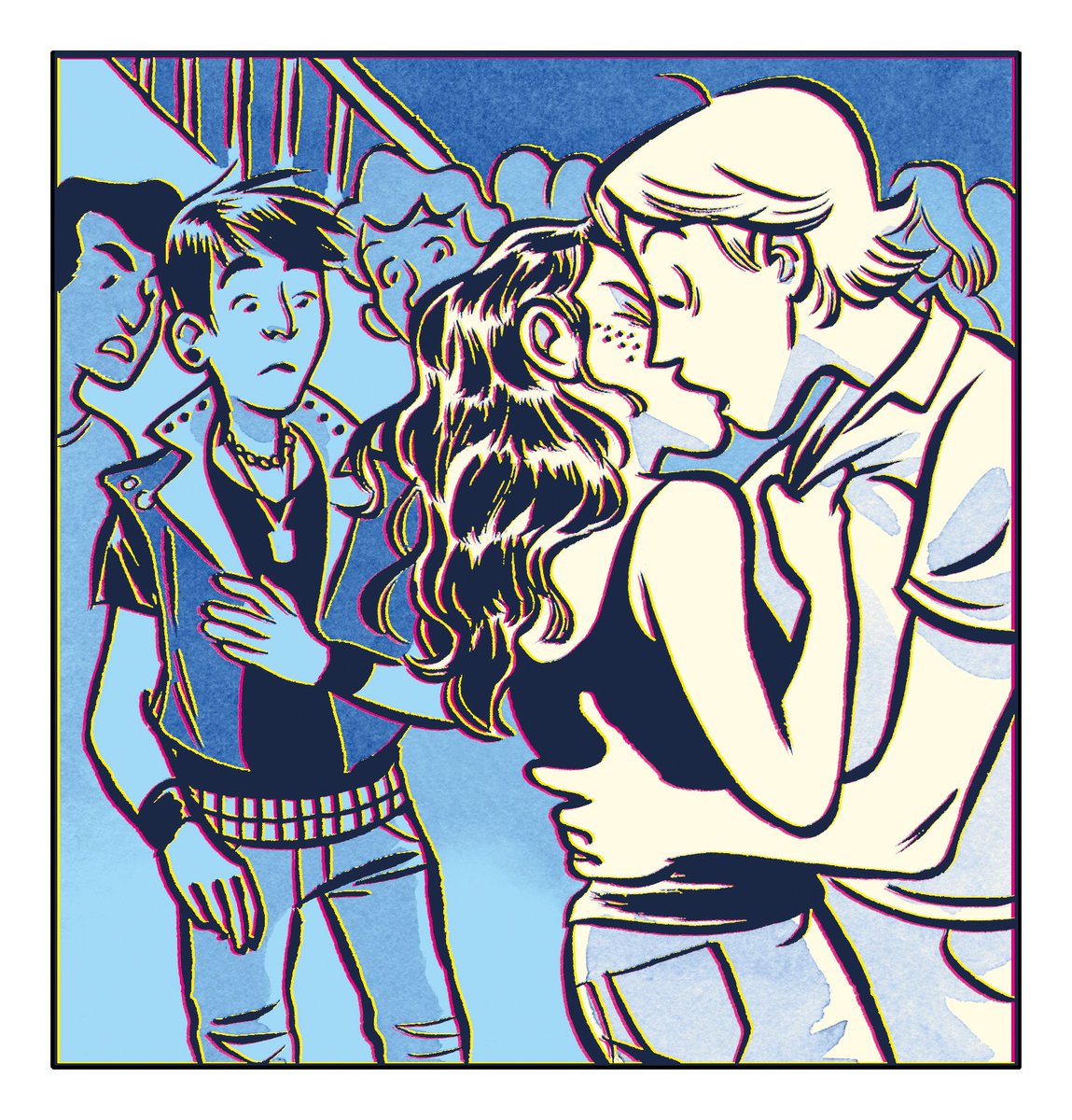 In a panic, Amanda calls Laura for a ride home. The scene is tense as Amanda recalls how the entire time she was sleeping with Adam, all she could think about was how Cat was in another room. With a person who wasn't her. Who would never be her? Adam was her seventh kiss. In a fog, she leans in and kisses Laura for kiss number 8.
Rumors quickly spread at a Catholic school, and Amanda quickly found herself shunned by everyone she once held close. Even Laura, who she knows, kissed her back. Isolated and rejected, Amanda moves schools. There, she's not exactly greeted with open arms. At least she's got friends in her new school's GSA. The book closes with Amanda embracing her identity, attending a pride parade with her club and flying a flag with her grandfather's name proudly displayed. The epilogue is so precious, I won't spoil it for you.
The Review Part Of This Review
Kiss Number 8 is everything modern queer YA fiction should be. The characters are charming, sympathetic, and SO believable. Each scene is written with the nuance and attention to detail of a master storyteller. The subtle shifts in emotion, the messy resolutions to difficult conversations, and dynamic character relations all contribute to a deeply personal story. Amanda is a delightful blend of what everyone thinks they were like as teenagers and what we were like as teenagers.
She's precocious, social, and determined. But she's also stubborn and emotional, and she jumps to conclusions like a rabbit into a hole. Her slow realization of her love for her best friend is hinted at sublimely with tiny cues throughout the story.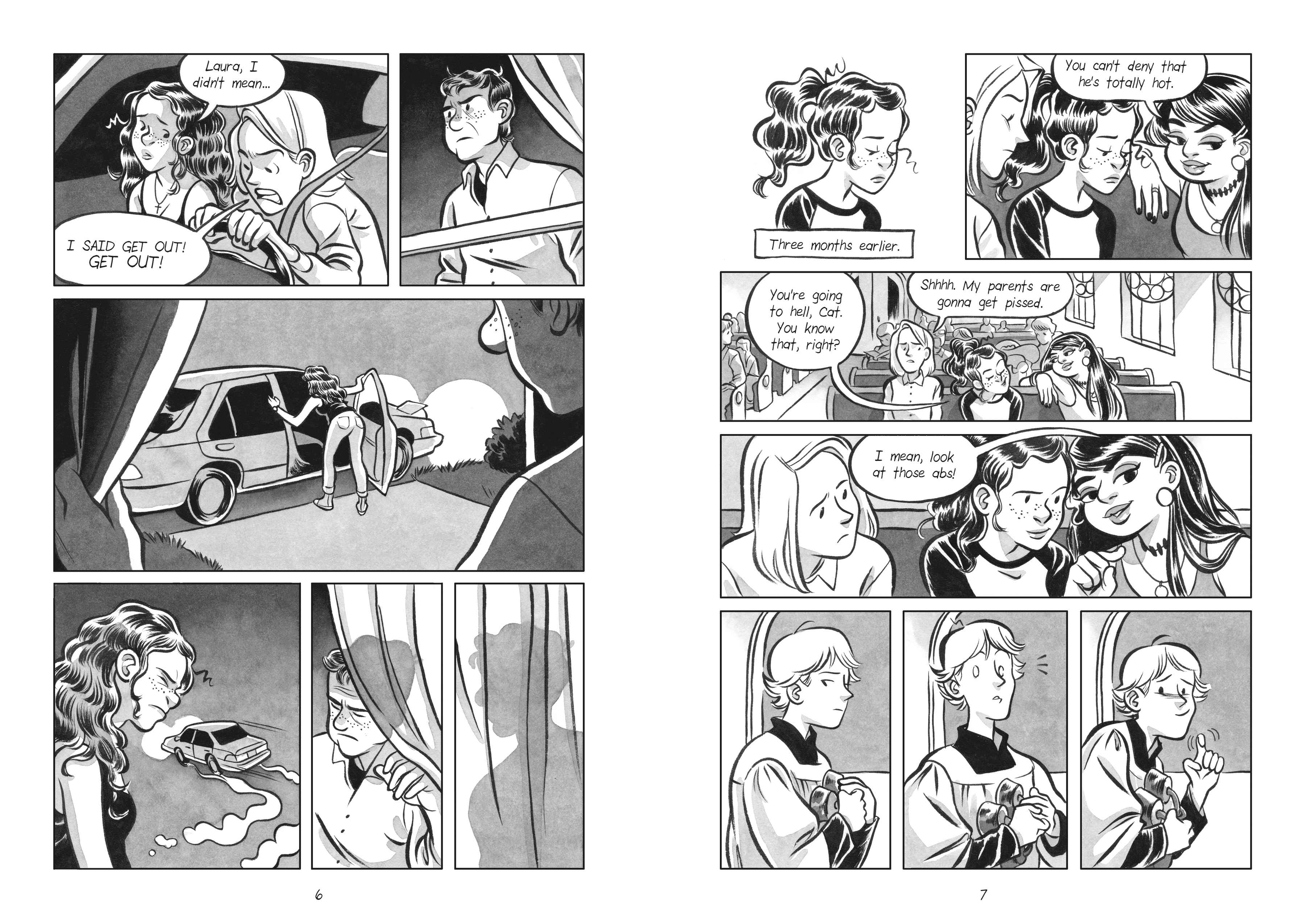 The most distinct character moment in the book is the change that we see in Amanda's mother. At the start, the two were at odds. As a tomboy, Mads has a hard time relating to her seemingly perfect, feminine mother. But as the story progresses, we see cracks in the veneer of perfection that mom works so hard to maintain. When Amanda comes out, her mother is quick to accept her while her father leaves the house for days on end. Mom has become a stable force for good in Amanda's life, helping her change schools and encouraging her through hard times. All in all, Venable sculpts an incredible world for us and breathes life into every little crevice with her writing.
Art Of Kiss Number 8
Crenshaw quickly establishes herself as a cartoonist to watch out for. If you don't already follow her work on The Nib, you've been missing out. Her work calls to mind Craig Thompson, but with a more refined focus on the environment and clean storytelling. Characters read well from silhouette alone. Everyone has their own distinct body language, fashion sense, everything. Literally, my only complaint in terms of design is the font choice, but even that is highly debatable in context.
Black and white mediums can become boring quickly, but subtle washes and careful applications throughout Kiss Number 8 stand out as exceptionally clean and thought out. The tone is always applied with a purpose, separating characters from backgrounds or drawing attention to certain details.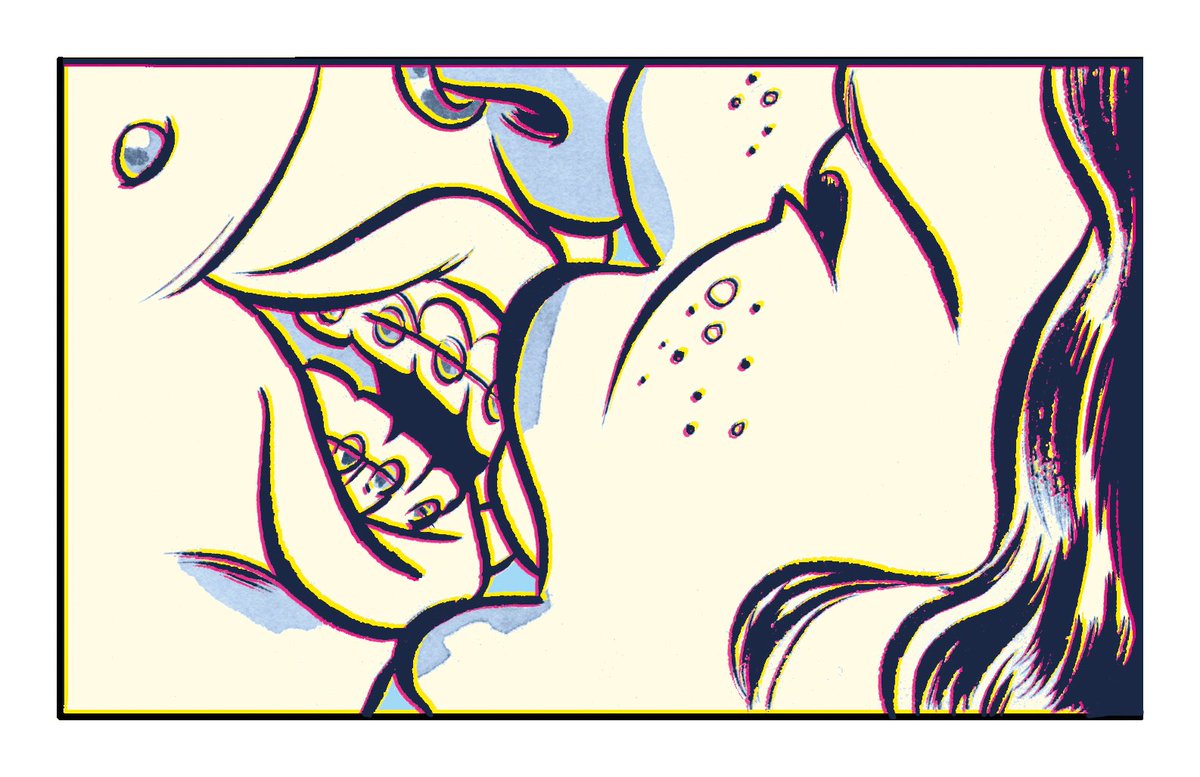 Kiss Number 8 establishes itself as a timeless tale through art alone. Crenshaw's use of traditional ink and washes lends a nostalgic edge to the comic. If you grew up in the 2000s, you may recognize a few choice fashion trends. Cat's checkered belt, for example, is very Hot Topic circa 2005. Beyond that, it feels like the art was manufactured to be relatable. A variety of body types, ages, and races are represented throughout the comic, without having to rely on caricature.
The Verdict
Venable and Crenshaw's Kiss Number 8 is already my top graphic novel of 2019. With great characters, a smart mystery in the front half, and a touching conclusion, there's really nothing better to read in twenty-bi-teen.
Kiss Number 8 by @colleenaf & @etcillustration