Jughead: the Hunger vs. Vampironica #3 (and #4) by Frank Tieri and Pat & Tim Kennedy.
---
The moment has ultimately arrived, the newest horror icons officially meet and it is a spectacle to see. Shockingly, this bloody meeting is only one of the highlights of this series so far. We last left the Archie gang in HungerVerse trying to understand what's going on in their world. There seems to be a vampire on the loose in Riverdale, but to Betty and Archie's surprise, it's not just one… there's a hoard of them. As it looks like they will have to fight for their lives, Vampironica appears to be helping the duo fight these creatures of the night.
What happens next?
Well, let's just say the next two issues will shock and entertain fans of this Archie Horror series. Get ready for horror, violence, and romance. That's right, through all this terror and confusion there is a spark between two unlikely characters. Let's not wait any longer and review both Jughead: the Hunger vs. Vampironica #3 and Jughead: the Hunger vs. Vampironica #4.
Hair Raising Plots For Jughead: The Hunger vs. Vampironica
Jughead: the Hunger vs. Vampironica #3 takes readers back to Vampironica's (Veronica Lodge) universe where a girl named Jinx is hanging out with her friends after a house party she threw. As they are relaxing, one of her friends dares Jinx to read from one of her father's occult books for a laugh. As she begins to read, the room begins to spin and then the book explodes. When Jinx finds out that everyone is okay, they begin to think that everything they saw was their imagination.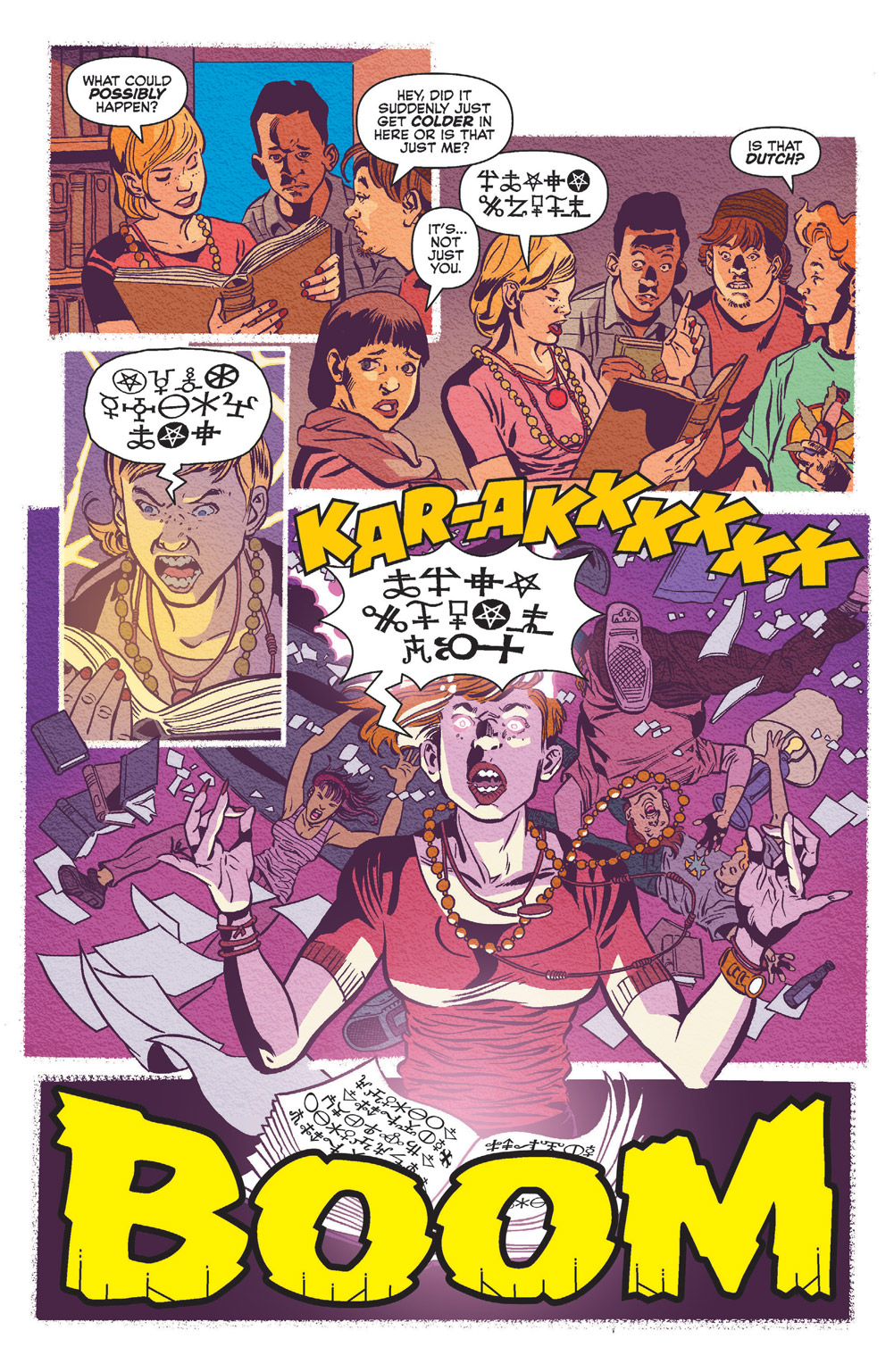 The book then cuts to where issue #2 left off. Vampironica is helping Archie and Betty fight the vampires but decides to flee with them for their own safety. When they stop, Betty begins to second guess Vampironica, believing she is the reason for the vampires in Riverdale. After some choice words, Betty and Vampirionica begin to fight until Wolfjug appears to stop them.
As Wolfjug tries, he begins to tussle with Vampironica and an astounding fight ensues until Archie shoots Vampironinca in the shoulder. Then, everything comes to a halt when they hear a voice coming from a nearby puddle. They discover it's Sabrina Spellman trying to contact all of them to save the multiverse. Talk about a plot twist.
On The Hunt In Jughead: The Hunger vs. Vampironica #4
Jughead: the Hunger vs. Vampironica #4 begins with Sabrina explaining that multiple worlds in the multiverse are being tampered with. She begins to discuss that the reason for this is because of a girl named Jinx. The teen is the daughter of Satan and the book she read merged universes. Sabrina then tells the gang that they need to find their universes "Book of Lucifer" and read it so everything can go back to normal.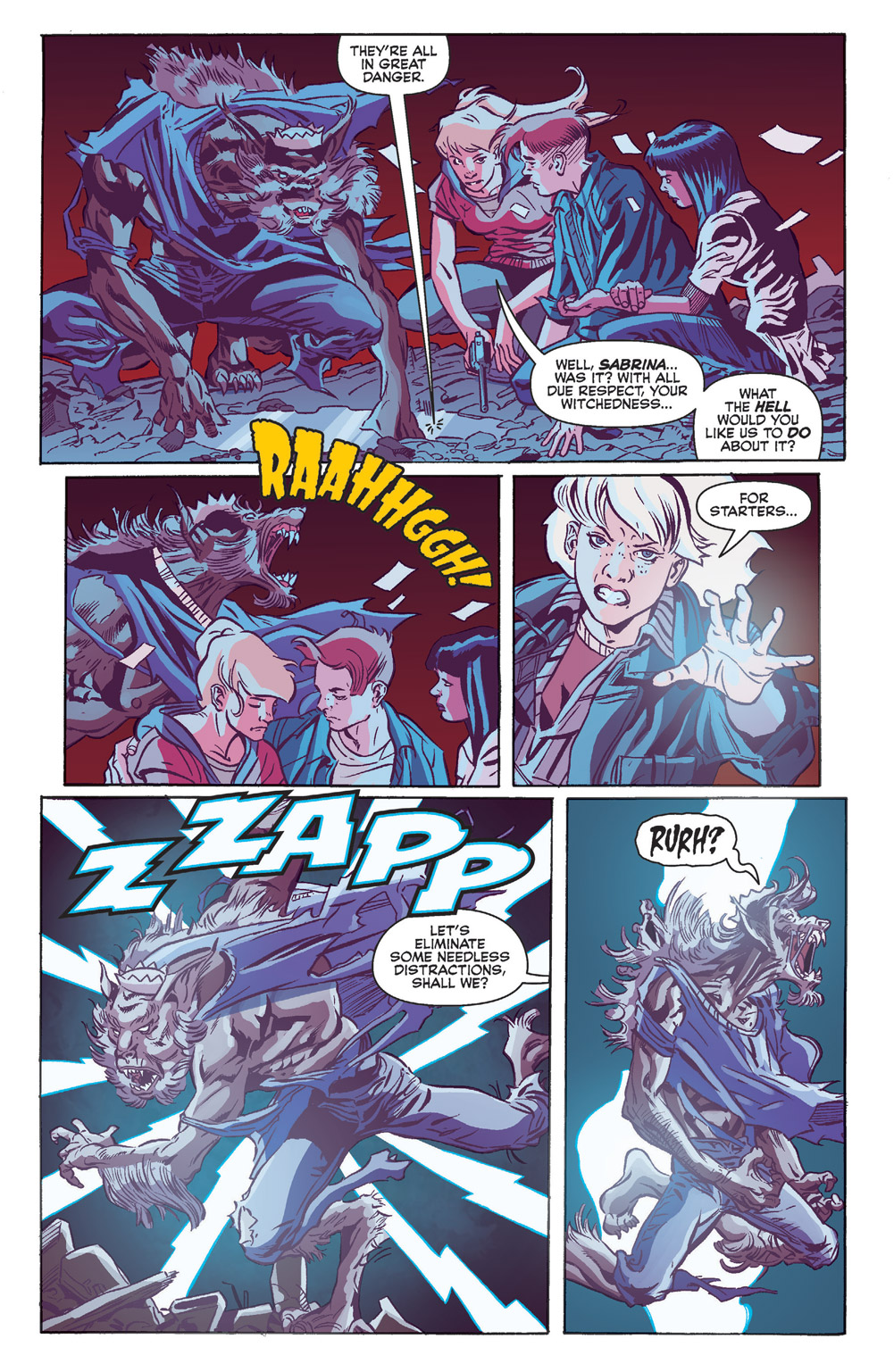 They arrange to make a plan to look for Satan's book when suddenly they are ambushed by vampires. As they are about to be killed, a barrage of silver bullets kills the whole group of vampires in an instant. The gang is stunned to see that Betty's cousin, Bo, just saved them. Betty tells him the situation and he decides to help them because he knows where the book is. Shockingly, the book is buried under Riverdale High. As they walk into the door of the high school they are shocked to see that a nest of vampires is protecting the book.
Battle Royale In Jughead: The Hunger vs. Vampironica #3
If readers are looking for a book full of action and horror, Jughead: the Hunger vs. Vampironica #3 is the book for them. This issue is filled with tons of fighting and gore and readers not only get to witness one match, but they get to witness four. One of the highlight fights in this issue is Betty vs Vampironica. Having Betty punch Vampironica in the face was such a shock, but it was a real treat for fans to see.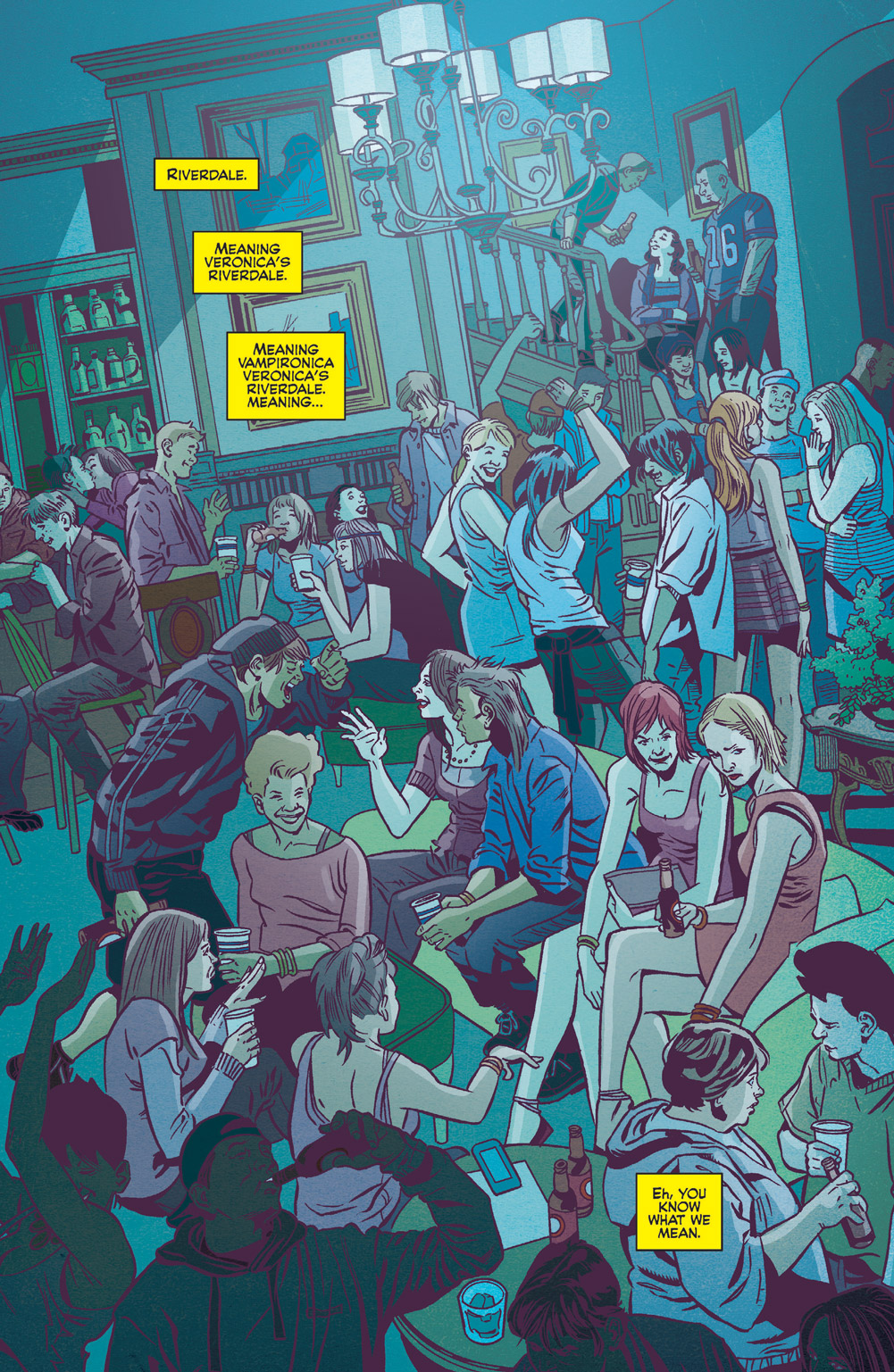 So, of course, the fight between Wolfjug and Vampironica is something fans have been craving to see since the announcement of the crossover. This moment does not disappoint, with scratching biting and guns, who could ask for more?
It gets even better when Archie has to end the fight by shooting Vampironica. Readers would have thought Betty would have stopped them, but it's the loveable Archie that has too. It made everyone wonder if Betty wanted to see how everything played out.
The Magical Horror Multiverse
With the shocking reveal of Sabrina, the teenage witch at the end of issue #3 readers will be wondering how she fits into this story. After reading Jughead: the Hunger vs. Vampironica #4 readers will be swept away on what she adds to this story. Not only is this wonderful witch now canon in the WolfJug universe, she just showed everyone that there is an Archie multiverse.
Readers get flashes of universes featuring classic versions of Archie characters, a Riverdale Universe, and the Blossoms 666 universe, just to name a few. There has also been a wonderful cameo appearance of Jughead from the recent Jughead's Time Police series. It's a wonderful addition because in that book he is dealing with a multiverse as well.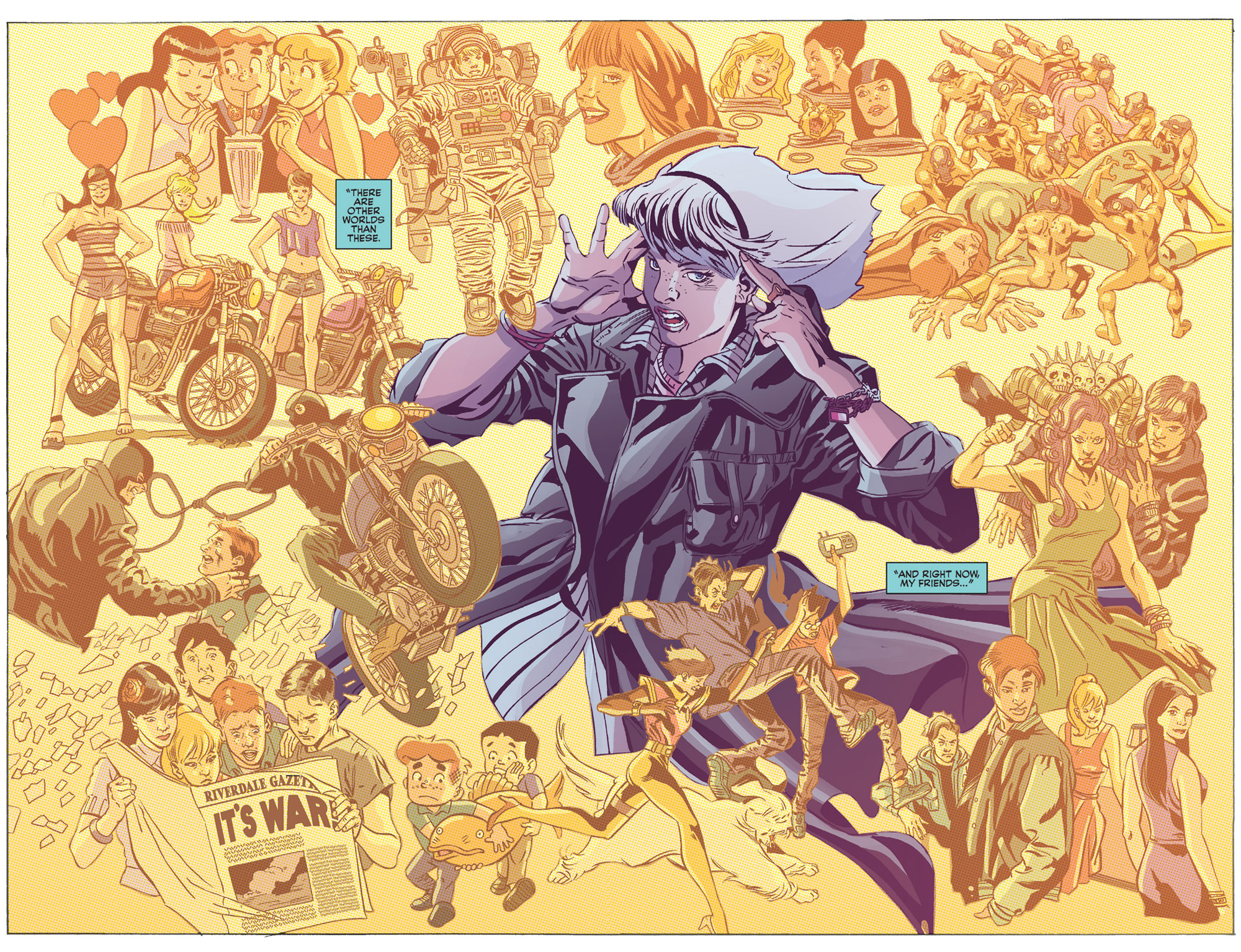 It is amazing that Sabrina is now known by the Archie gang, it stinks that she may not be part of the HungerVerse regularly. When she is communicating with them it's through a puddle, and not in person, so it looks like she may be in her own universe. Sabrina doesn't say she's from another universe so readers can keep their hopes up. Her cameo in issue #4 does end pretty strongly, though, well maybe not for her.
As she is talking to everyone, she is attacked by zombies, and not just any zombies. These are the zombies from the Afterlife with Archie series which is a wonderful Easter egg. The question that does come up: Is this Sabrina from the original Chilling Adventures of Sabrina series or what universe is she from? Also, where is the spin-off series Sabrina vs the Afterlife because that sounds astounding in itself? Either way, she's got the worst luck with the colliding universes and we hope she survives.
Monster Love In Jughead: The Hunger vs. Vampironica #4
With all the horrors that surround the Archie gang, there is a romance beginning within the group in Jughead: the Hunger vs. Vampironica #4. Sadly, it's not Archie and Betty, but it's Jughead and Veronica. It's a huge surprise for readers because they never looked like the perfect match. After this issue, the reader's minds will change and they will become your favorite OTP.
Throughout the issue, Veronica and Jughead begin to bond over how their lives are so similar and even though it's a short moment they are very cute. No spoilers on those moments because they are worth the price of the issue.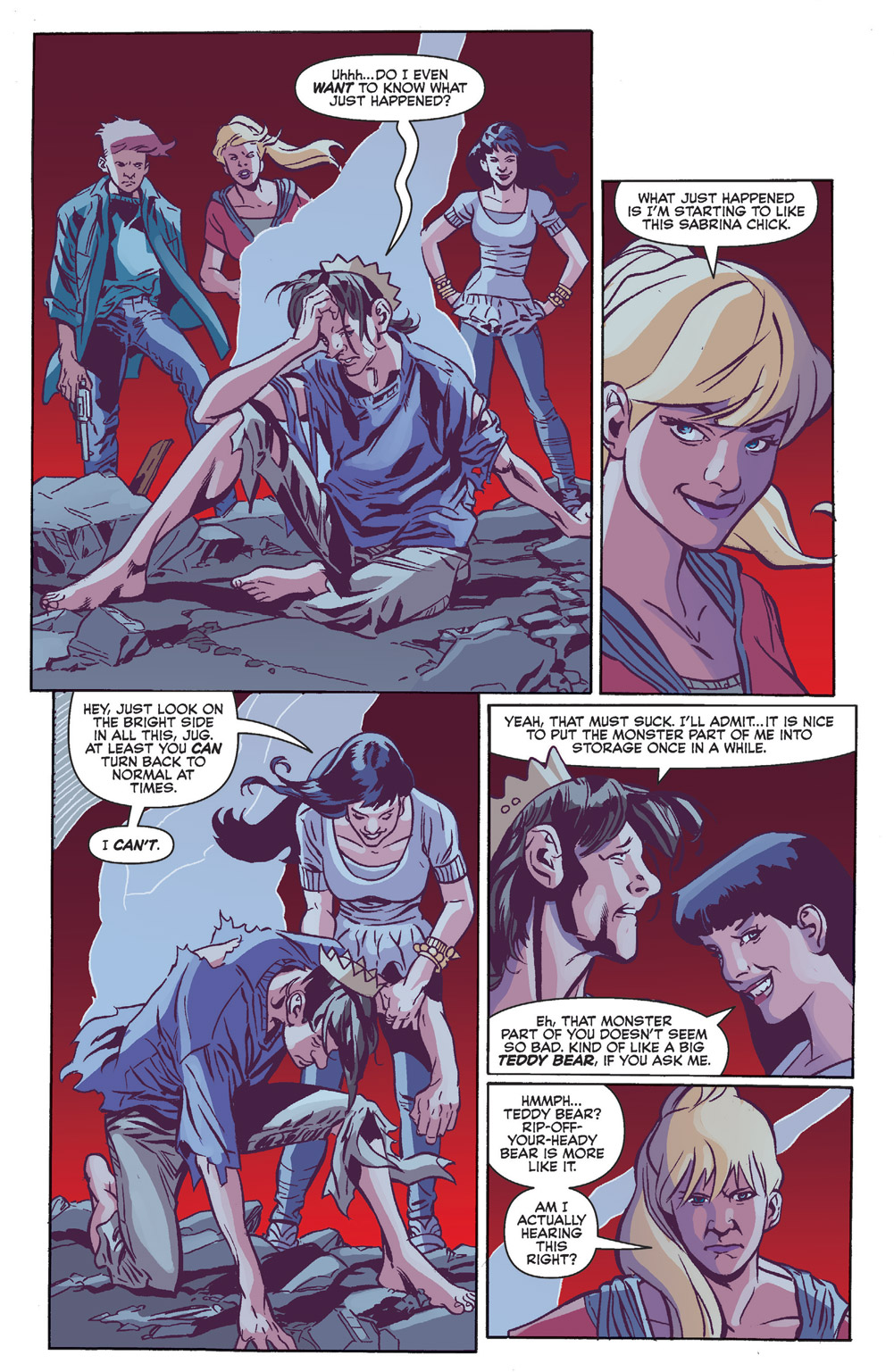 Sadly, zero may come from this because they are from different universes. As that hasn't stopped couples before, it may stop this one until they are in another crossover. Hopefully, there is a way the worlds can combine so readers can see this romance play out; it would be a very charming monster romance. If not, then maybe Sabrina could make Jughead a transporter so he could visit Vampironica (Veronica Lodge).
Our Final Blood Thirsty Thoughts For Jughead The Hunger
Both issues of Jughead: the Hunger vs. Vampironica are done strongly and they are a must-read for any fan of horror. Archie Horror is at the peak and this series is another hit. There are so many moments in this series that make it a comic book gem. Seeing Betty punch Vampironica (Veronica Lodge) is personally one of my favorite scenes. It comes out of nowhere and is just perfect. It is the perfect image with and without context. Another moment that I love is seeing Jughead and Veronica lightly flirting with each other. It's so adorable and it would be wonderful to see a monster couple come out of this series.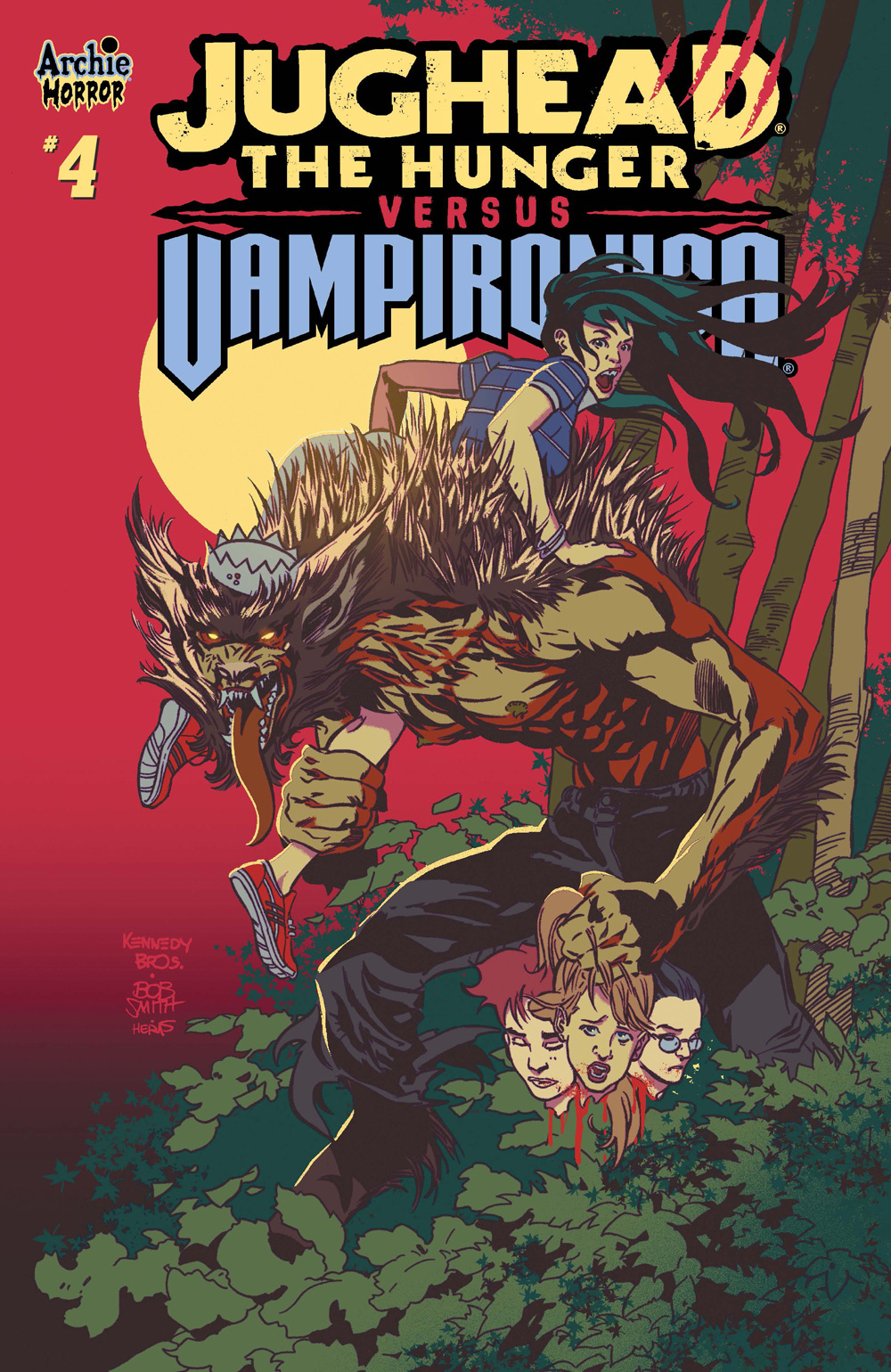 Additionally, including the wonderful Sabrina in this series and adding the multiverse is a work of magic. With the addition of the multiverse, there seems to be no limit to where any of these series from the Archie Horror line can go. It feels like there is something brewing in Archie Comics. Could there be an epic horror crossover? It would be a crime not to fuse all of these Archie Horror series into something bigger.
Jughead: the Hunger vs. Vampironica seems like it could be a trial run for something bigger and if it is I can't wait for what comes next. I could go on and on about how glorious these comics have been but nothing beats the experience of reading these comics yourself. I say hurry and find your copies of this epic series because there is one last issue to go and you will not want to miss the thrilling conclusion to this story.