There are moments in life that individuals would love to change. From a mistake on a test to an embarrassing incident that people want to forget. Many can only wish time machines existed to fix these problems. Well, wish no longer because Jughead is in everyone's shoes and is on a mission to fix one mistake he created. Will he be able to change the outcome of his error or will he make it worse? Get ready for a comic filled with comedy and what ifs. Get ready for a fun trip through time in Jughead's Time Police #1.
Archie Comics Is Rebooting The Time Machine
Many may not know that this comic is a reboot of an older series of the same name that was created around the 1990s. The original series focused on Jughead meeting Marshal January McAndrews from the Time Police in the 29th century. The series is a mixture of stories featuring Jug and January fixing moments throughout history.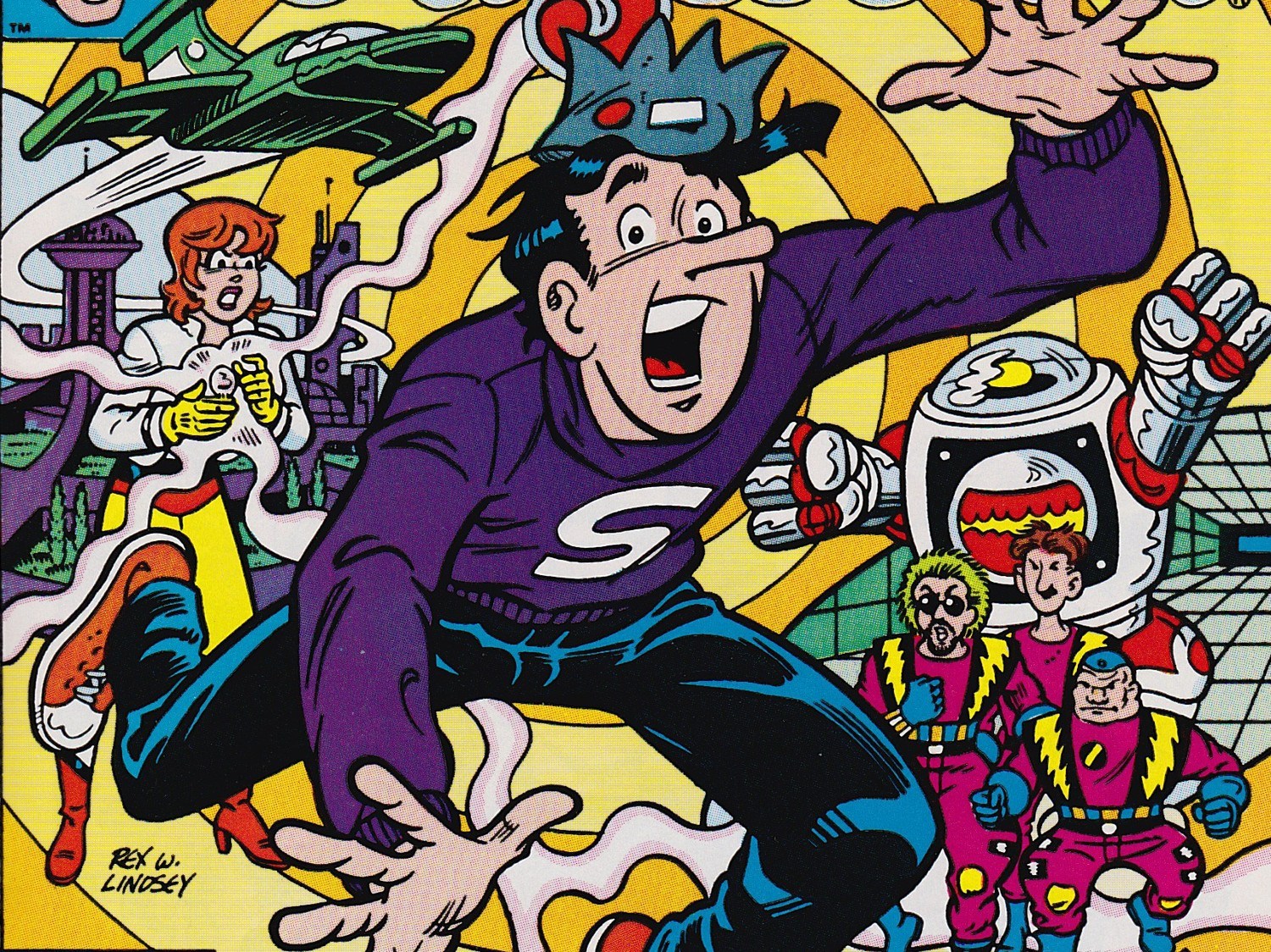 With time periods ranging from pre-historic to colonial times. There is a light storyline linking the issues together, but each comic has a conclusion so they could be read as one-shot issues as well. If you are looking for more Jughead or some classic Archie fun I would recommend the original series.
The Plot Of Modern Jughead's Time Police #1
Jughead's Time Police #1 begins with Jughead, Archie, and Veronica at Pop's Diner. After a few milkshakes, Veronica reminds Jughead about what he was doing before he ended up at the diner. Jughead begins to run home to start making a pie for a contest. After one bad ingredient, he is disqualified and banned for life. Jughead becomes depressed and all his friends try to help him but with no luck, they head to Pop's where Archie wishes they had a time machine.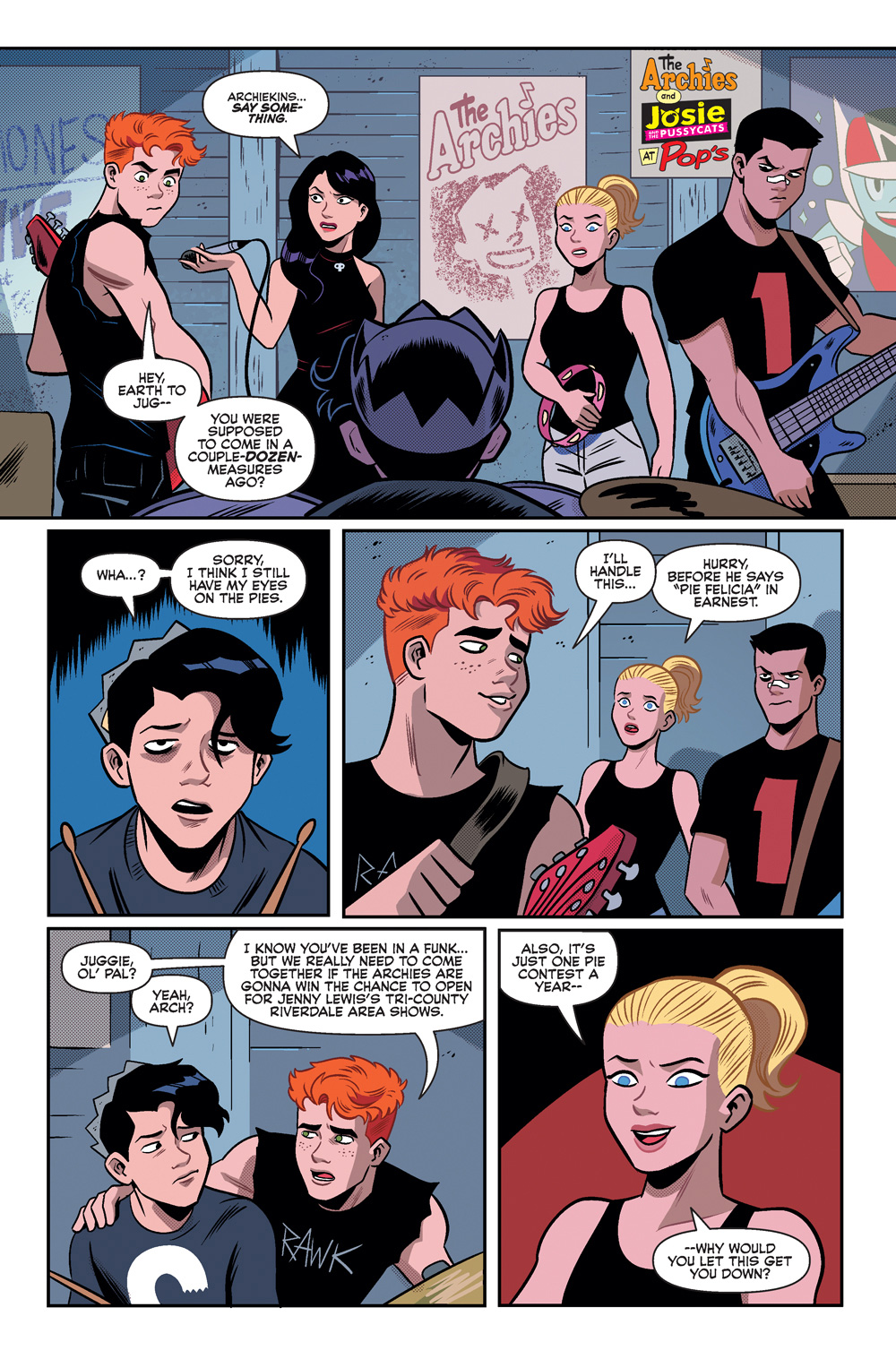 At that moment, a lightbulb goes off in Jughead's mind. He decides to make a time machine and asks local genius Dilton if he could help make his idea a reality. After a few days, Archie is concerned about Jughead not talking to his friends. Archie confronts Jughead and is shocked to find out what he has been up to. Jughead explains everything about the time machine and invites Archie to keep watch. Jug then presses his newly modified hat and accidentally both Archie and he gets sucked up into the machine.
There will be no spoilers as to what happens, but let's just say that absurd events occur. After these events, the book ends on a cliffhanger. Jughead gets confronted by a character that asks him an unusual question. Read Jughead's Time Police #1 to find out!
A Fresh New Take
Jughead's Time police #1 is a fresh modern take on Jughead as a character. He is mainly portrayed as the goofy kind-hearted hamburger lover. This comic adds to those character traits and makes him relatable. Readers can all agree that they have made one big mistake and wish they could go back in time and change it. Either just to alter it a bit or completely make the event never exist.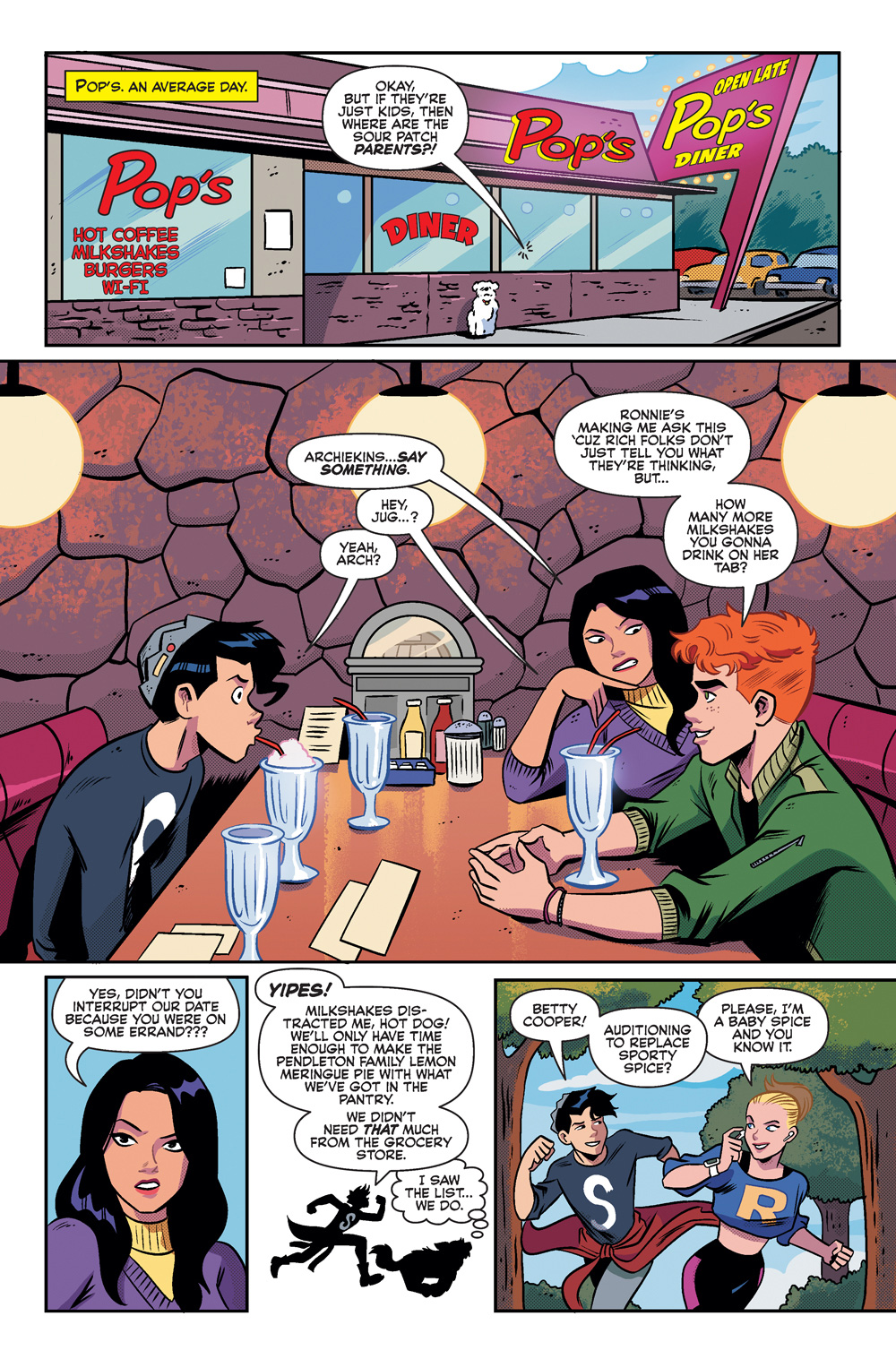 Sadly no one has created a time machine that everyone could use to fix their mistakes. Jughead, though, sees this problem as a challenge and is bonkers enough to create a time machine of his own. The plot just works on all levels and a vast deal of gratitude should go to Sina Grace. Sina wrote the GLAAD Media Award-nominated series Iceman and his excellent writing shines in this book as well. It is comedic in all the right places and even though this is a reboot of an older series it seems completely fresh.
The art by Derek Charm is wonderful as well. He has worked on jughead before and it was a fabulous choice to bring him back. His artwork feels fresh and new but keeps the charm of the original series (pun intended). The redesigns of these classic characters work well. Sina and Derek look like a wonderful pair for this series. The two will make readers excited to see what the duo will do next in the series. The Daily Fandom cannot wait either!
Time Treats In Jughead's Time Police #1
There is a wonderful treat in this issue. Other than writing and art, this comic adds characters that aren't utilized much in the Archie series. Both Kevin Keller and Dilton are in this issue for more than just a panel. It's a joy to see more characters getting a spotlight in this series. Usually, these characters are in the background or only get a piece of dialogue. A grand example of this is in the recent Archie Meets Batman '66 series.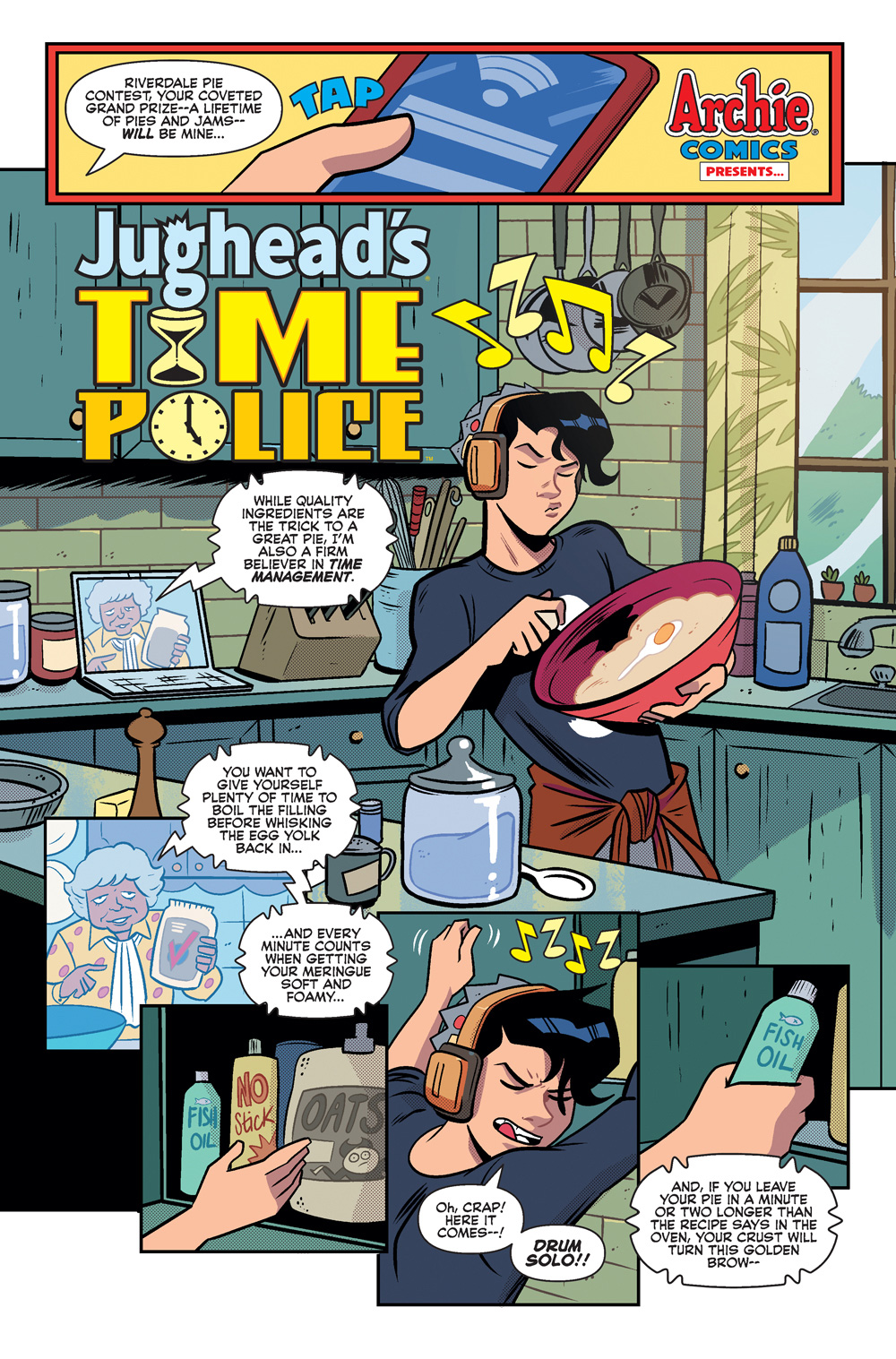 In that comic, these characters seem like random kids in Riverdale High. In this comic, everyone seems like they are good friends and part of the main Archie group. It's writing done right and it is a treat for all fans of Archie comics.
Time Is At A Stand Still For Jughead's Time Police #1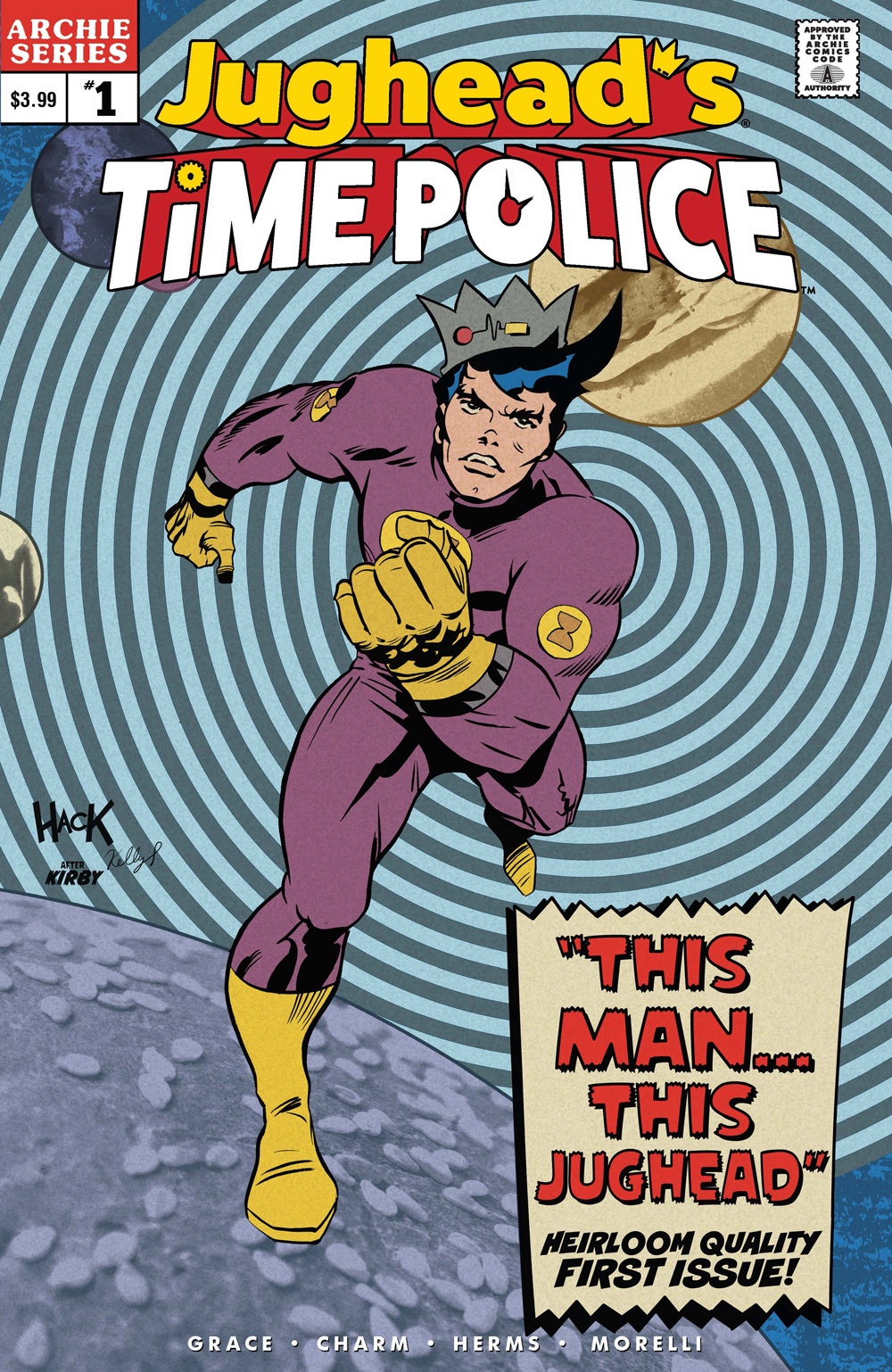 Jughead's Time Police #1 is a glorious time for any comic reader looking to get away from the normal superhero grind. There are no issues you need to read prior to this one so anyone can jump in. I'm not trying to overhype, but this comic was a pleasant surprise that makes me want the next issue right away. Having read the original series that this is based on, I got to say, personally, I am enjoying this a bit more.
It's a fresh reboot that truly works well and that's hard to do. You want to do something new, but being faithful to the original is always a daunting task. Sina and Derek look like they've found the perfect formula to make everyone happy.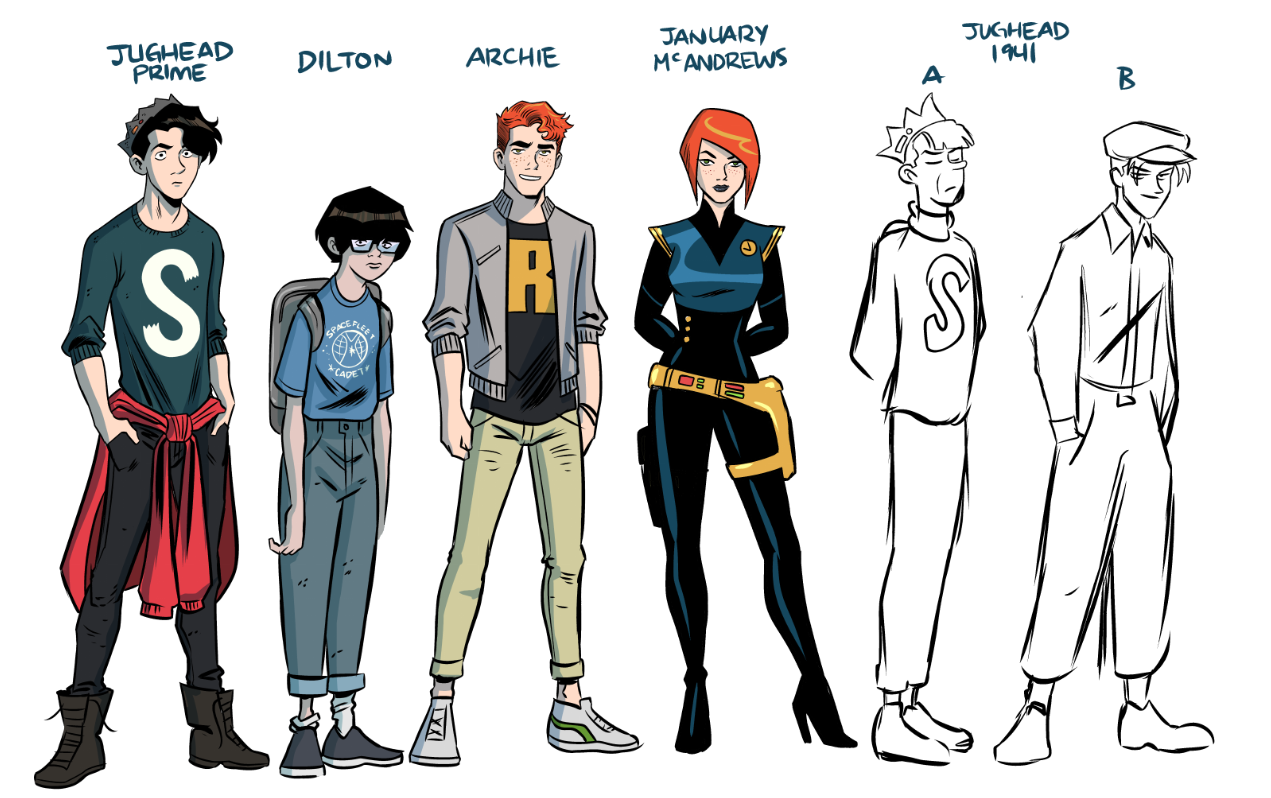 The original series was a classic time travel adventure. From the looks of early sketches from this series, it looks like this book will deal with the multiverse. As a fan of multiverse stories and seeing two versions of Jughead on the concept of art I was on board with this series. I hope that there is a slight crossover with the original series because why not? As of this issue, it seems like this comic may be a classic time travel adventure with the concept art just an idea. Let's just hope we get to the next issue soon before Jughead messes the time continuum up even more!