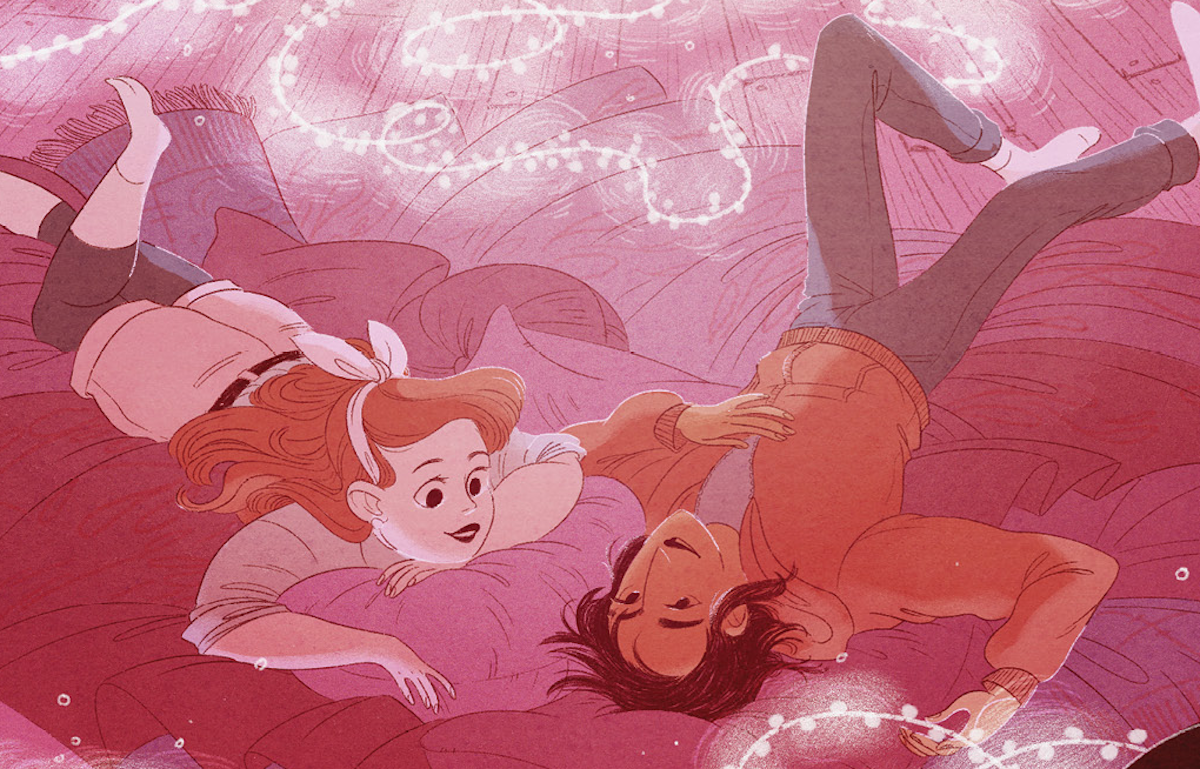 Jealousy And Diversity In Lumberjanes: The Shape Of Friendship
PROS
More content with the 'Janes is always a positive
More diversity
Jen got to have her big moment
CONS
Kind of plotless
Not enough Molly, Mal, and Ripley
Wish it had been in color
Lumberjanes: The Shape of Friendship comes out this week and is definitely something you should pick up off the shelf. Written by Lilah Sturges, this is the second graphic novel in the Lumberjanes world. If you're a fan of the series, you'll likely enjoy this read as well. Lumberjanes: The Shape of Friendship is illustrated by Polterink (Claudia Rinofner) and lettered by Jim Campbell. The cover of the novel was done by Alexa Sharpe.
Set in the world of the Lumberjanes comic book series, this graphic novel follows the same group of 'Janes as they explore an unknown area near the camp. After seeing opossums interior decorating, they can't help but investigate further. However, they don't find opossums with an eye for design, but a group of shapeshifting creatures called Pookas. When the Pookas realize how much fun the Janes' are having at camp, they decide to shapeshift into them and replace them forever.
Art & Design In Lumberjanes: The Shape Of Friendship
If you're a fan of the comic book series, don't expect to see the same art style here. The Shape of Friendship features a rougher art style and only one color. The rose-y pink color is only used in the background, and in certain items, making it feel symbolistic for the story. The colored sections are often ones where the 'Janes are working together and seem to be used to show their friendship in full gear. While the simplicity of the art is attractive, there are moments when it's hard to decipher between characters because their sketches are too similar without color representation. Overall, it's nice to look at, but I miss all the colors that we get to see in the comic series.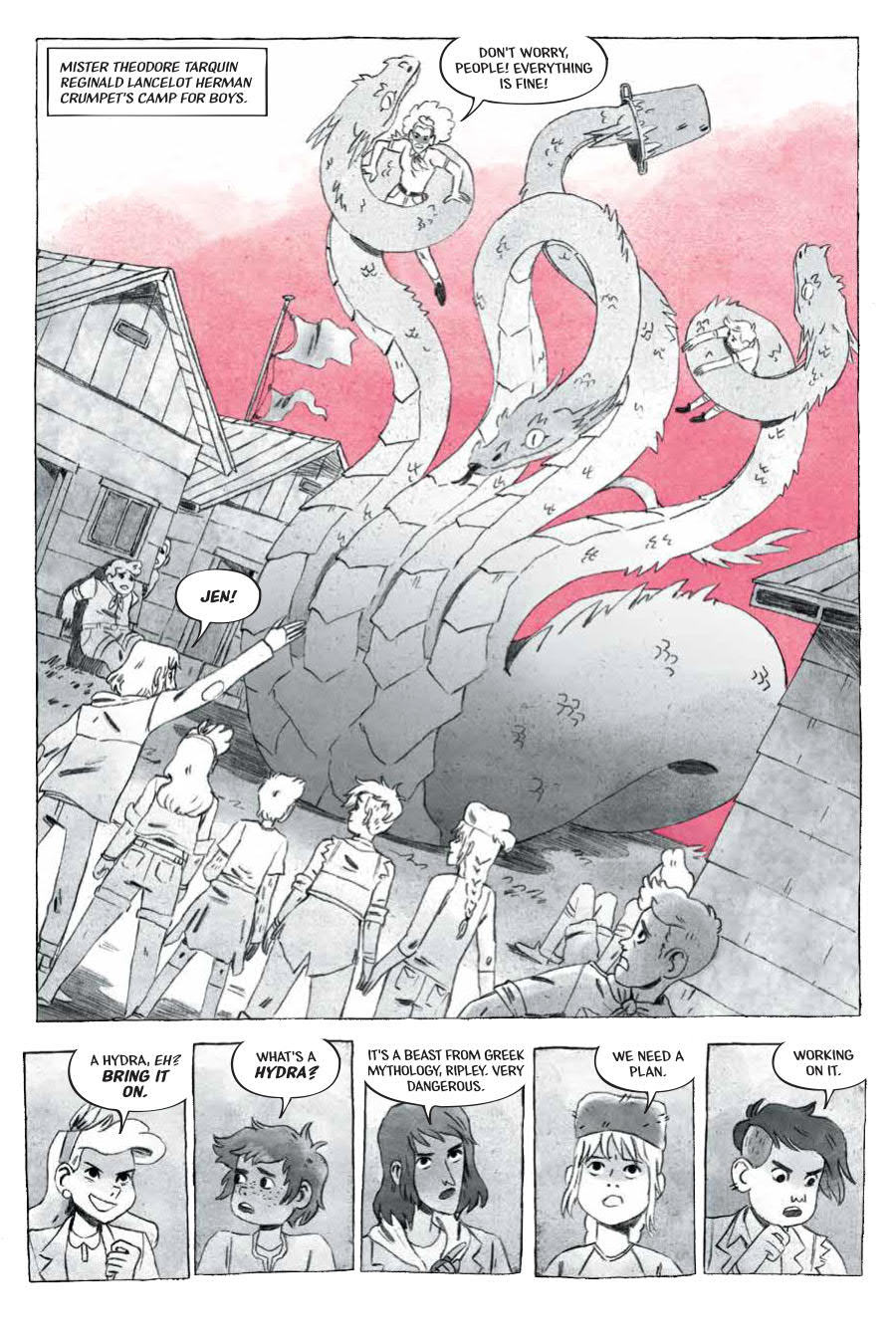 The writing is exactly what you would expect of something from the Lumberjanes universe. It's simple and incredibly easy to follow. The characters are extremely diverse in their personalities, and the dialogue is quick and snappy, especially from Ripley.
April And Jo And The Importance Of Honesty
From the very first page of the comic, there's a tension growing between best friends April and Jo. A new camper has joined the mix and has old ties with Jo. Their name is Barney, and April immediately sees them as a threat. Barney and Jo used to go to camp together, and have begun sharing stories about the experience. April refuses to voice her concerns but is quickly worried about what this means for her friendship with Jo. Will they continue to be best friends, or is Jo going to want to be Barney's best friend?
The jealousy that April feels throughout the story is a key element in the plot. It takes a while, but April is finally honest with Jo about her insecurities with Barney. April and Jo talk things through and agree to continue to be best friends, even though Jo might spend time with Barney sometimes. As this is a graphic novel targeted at kids and young adults, it's important to include situations like these. It normalizes talking about feelings even when it seems scary.
Subtle Diversity In Shape Of Friendship
My favorite thing about the Shape of Friendship was the introduction of new information. While Jo is comforting April — and explaining that they'll always be best friends — Jo brings up the fact that April was the first person she told when she "realized she was a girl." There is no further explanation, or a long drawn out explanation about Jo's backstory, and it's perfect. It's diverse without having put it in all caps. This is something that Shape of Friendship really excels at. Throughout the entire novel, Barney is referred to as "they." It's a small detail that is greatly appreciated. It's things like these that normalize the inclusion of LGBTQ+ characters and encourage others to do the same.
Jen's Big Moment And The Rest Of The Lumberjanes
Of course, this is a camp after all, so the 'Janes do need to have a camp counselor. She goes by Jen, and she is very much not supportive of the girls' wild adventures. Jen would much rather spend time inside doing arts and crafts than get into trouble and fight a hydra. Though, she pretty much never gets what she wants. That is until the Pooka versions of the Janes' show up.
Jen and the Pooka-Janes spend the entire day doing arts and crafts. Jen should be happy, right? Except she keeps seeing a mysterious wolf in the woods, and he's wearing a tuxedo? She shouldn't explore. If the 'Janes are behaving, she should too. She quickly realized that she would much rather explore the strange tuxedo wolf than sit around doing crafts. She finally sees where the 'Janes are coming from, and it's a big moment for her.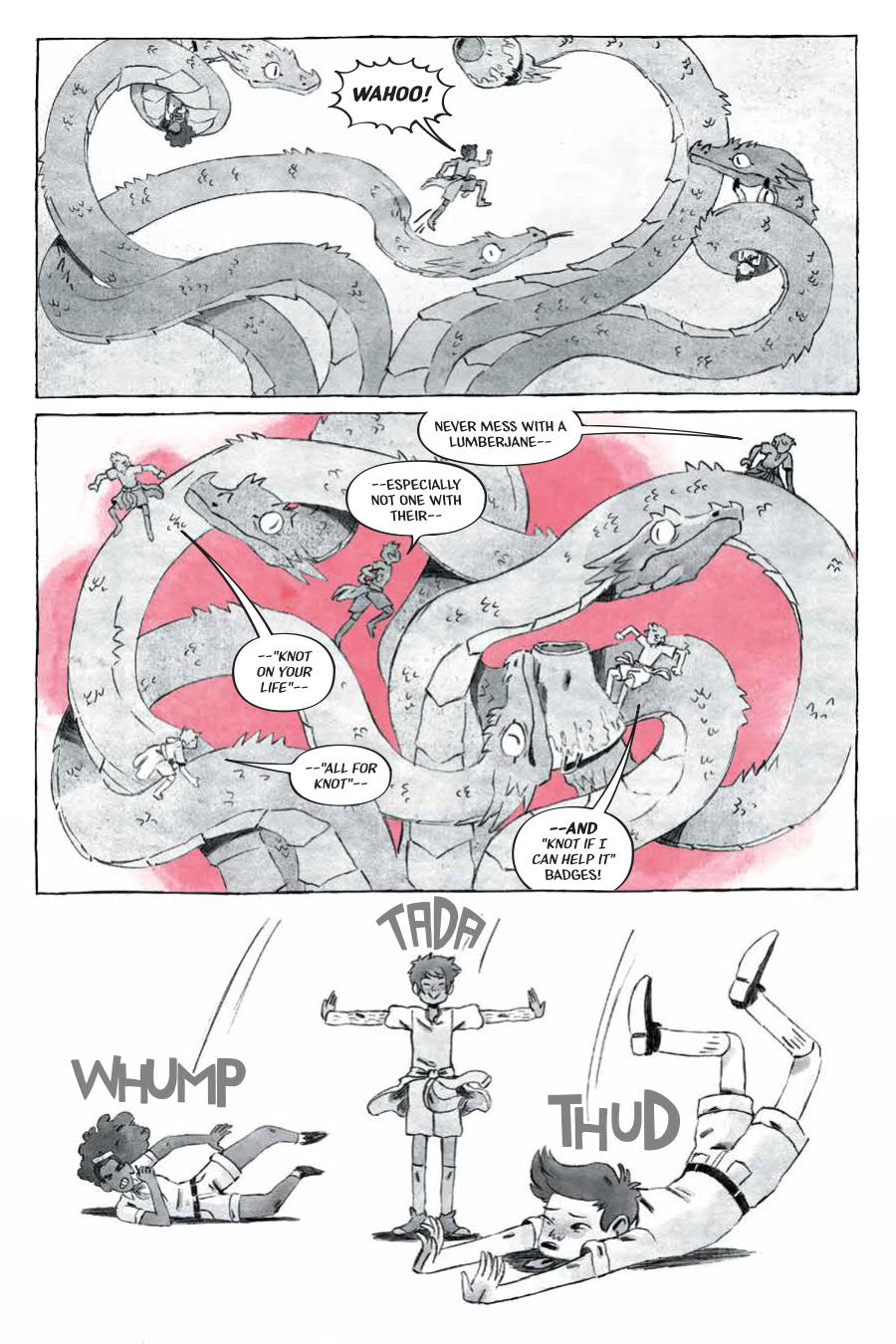 April and Jo are the focus of Shape of Friendship, as it's their friendship on the line. It doesn't leave much room for the rest of the girls. Mal, Ripley, and Molly are kind of just along for the ride. Mal makes a few comments about cave snakes as they escape from the Pookas' cave. Ripley eats a bunch of gummy candies, gets herself covered in sugar, and attracts a lot of birds, and Molly hatches a plan, but otherwise isn't a huge part of the story. For a graphic novel about the Lumberjanes, I wish it had featured the entire group, and not just April and Jo as the focus of the story.
Should You Buy Lumberjanes: The Shape Of Friendship?
Maybe. If you're a big fan of the series, and you really love the characters, I would definitely tell you to go for it. If you've never read anything about the Lumberjanes, and you're looking for a place to start, I would advise against it. While the art is nice, and the writing is witty and intelligent, the Lumberjanes have much better stories in their comic series, which you should definitely read. Lumberjanes: The Shape of Friendship is an enjoyable read, but if you choose to skip it, you aren't missing much.