You know when a comic begins with "this is bad, real bad," then it is going to be a venture. In THE BLACK GHOST #1 and THE BLACK GHOST #2, we get precisely that introduction. In this brand-new Comixology Original five-issue mini-series, by Alex Segura, Monica Gallagher, George Kambadais, Ellie Wright, and Taylor Esposito of Ghost Glyph Studios, we meet Lara Dominguez.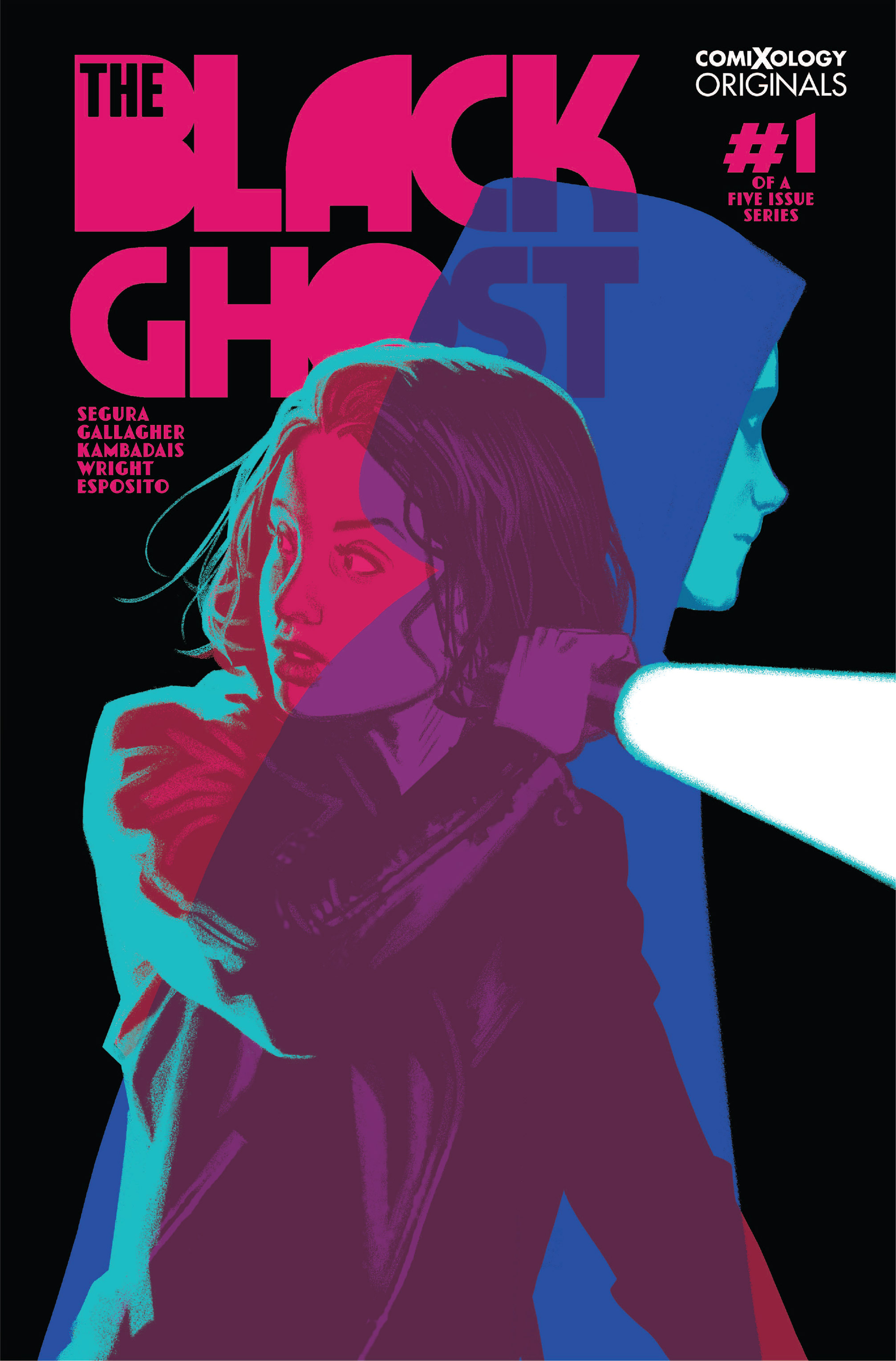 The first part titled Hard Revolution Part 1: Beast in View (issue one), we get the narrative of Dominguez (who is a burnt-out cop-reporter) finding herself battling thugs who are attacking her GED-prep students after class. Escaping her past in Miami, Lara found Creighton along the way; with that, she also found a new obsession — the city's vigilante: The Black Ghost. Unable to focus on much of anything else, and pushed to figure this out by LONE, Lara is at a crossroads. Will she continue on this road of uncertainty? Or does she find herself in the pit of the fire?
What Is Lara Getting Herself Into In THE BLACK GHOST?
The story, right off the bat, grips you into it. Lara's narrative is appealing, especially if you are into journalism stories these days. The appeal of having a masked character that you don't know is gripping, it makes you want to find out who it is. The writing in the first issue of THE BLACK GHOST by Segura and Gallagher is prose. If you enjoy the prose tone and the narrative of it, then it works.
As a reader, I enjoyed it. There is something about swearing in indie comics that I enjoy a whole lot. I don't know why, but it makes me feel like I am on the outside looking in on someone's business. That is how I feel about this first issue. I am supposed to be Lara, but at the same time, I'm not. I am, as a reader, a lens looking in on the day-to-day life of Lara instead of being her. This aspect is something that I find entirely gripping and it keeps me wanting to find out more about what Lara is creepin' in on.
In THE BLACK GHOST, The Illustrations Are Fantastic
What stands out automatically about this series is that it doesn't have any case of same-face-syndrome (which happens often in indie comics). The colors stand out, the characters stand out, and there are certain panels that just create such a unique reading experience. Fascinating pages to check out in issue one are 12, 20, 21, 22, and 24. These entire pages are outstanding with artwork and concepts. I love it when whole panels are spread out to entire pages.
I likewise enjoy the colors, I think they work for this series. They are simplistic, but bold when necessary. When you first begin, the colors are bold, then they become muted and simplistic, then they are bold again. Depending on when Lara is in anxiety mode, it seems to change to bold; the background is pitch black, or her face has a shadow to it. Honestly, illustration is everything because it should follow suit with the writing: showing versus telling (and vice versa).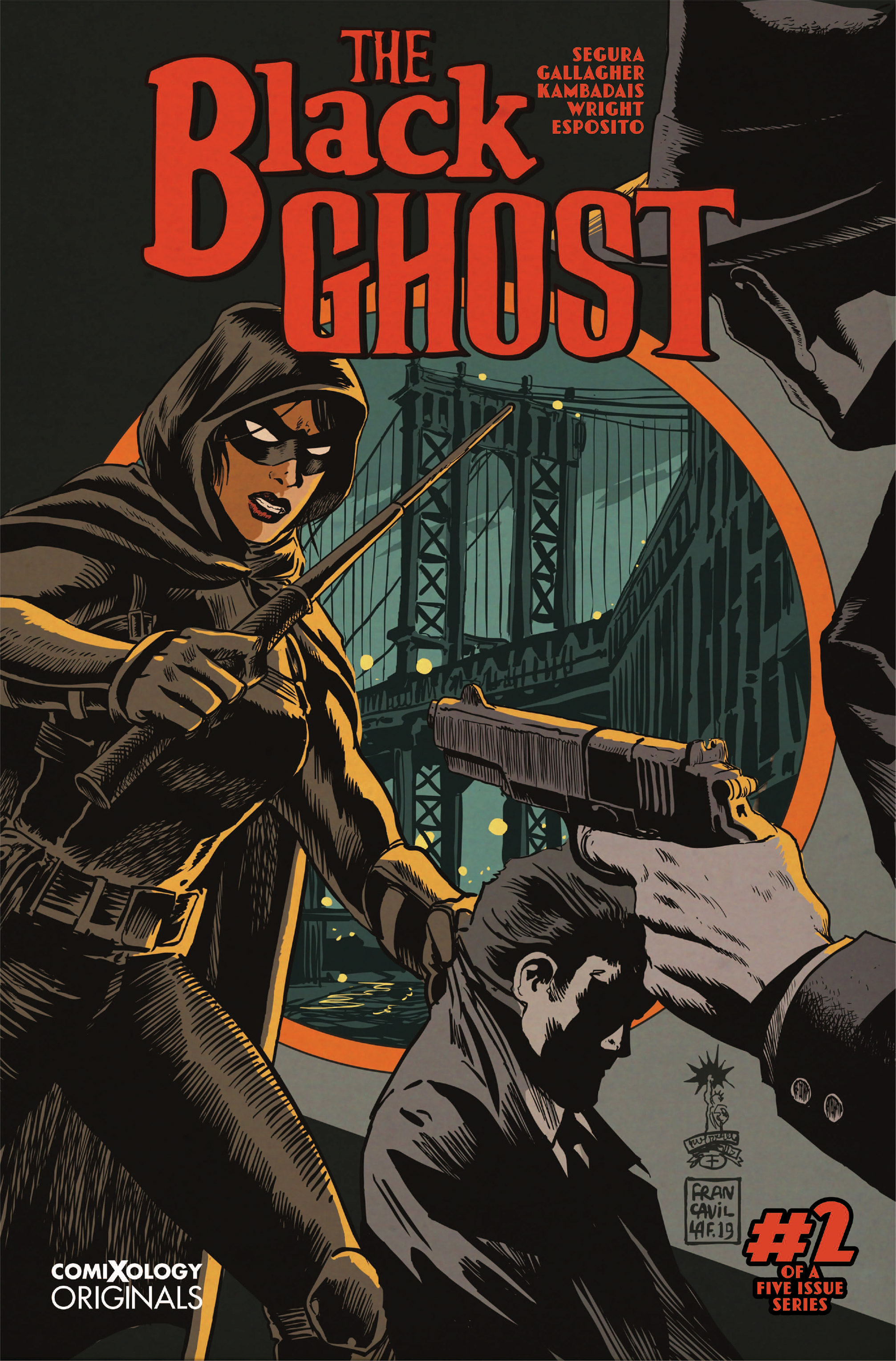 The showing aspect is the illustration and the telling is the narrative. They should go hand-in-hand. In THE BLACK GHOST, they do. You can tell that the team knows what they want to do and where they want to go with this series. The story is defined as well as the illustrations, lettering, and overall writing.
What Will Lara Do Now That She Can Take On The Mantle?
The second issue in the series is just as mighty at the first. I am extremely intrigued by the narrative taking place, for a character like Lara and someone that reminds me a lot of Peter Parker, she has the qualities to become the next Black Ghost. But will she? The very last page of this issue is a gift, they pay homage to the legendary Spider-Man page where he gives up the suit.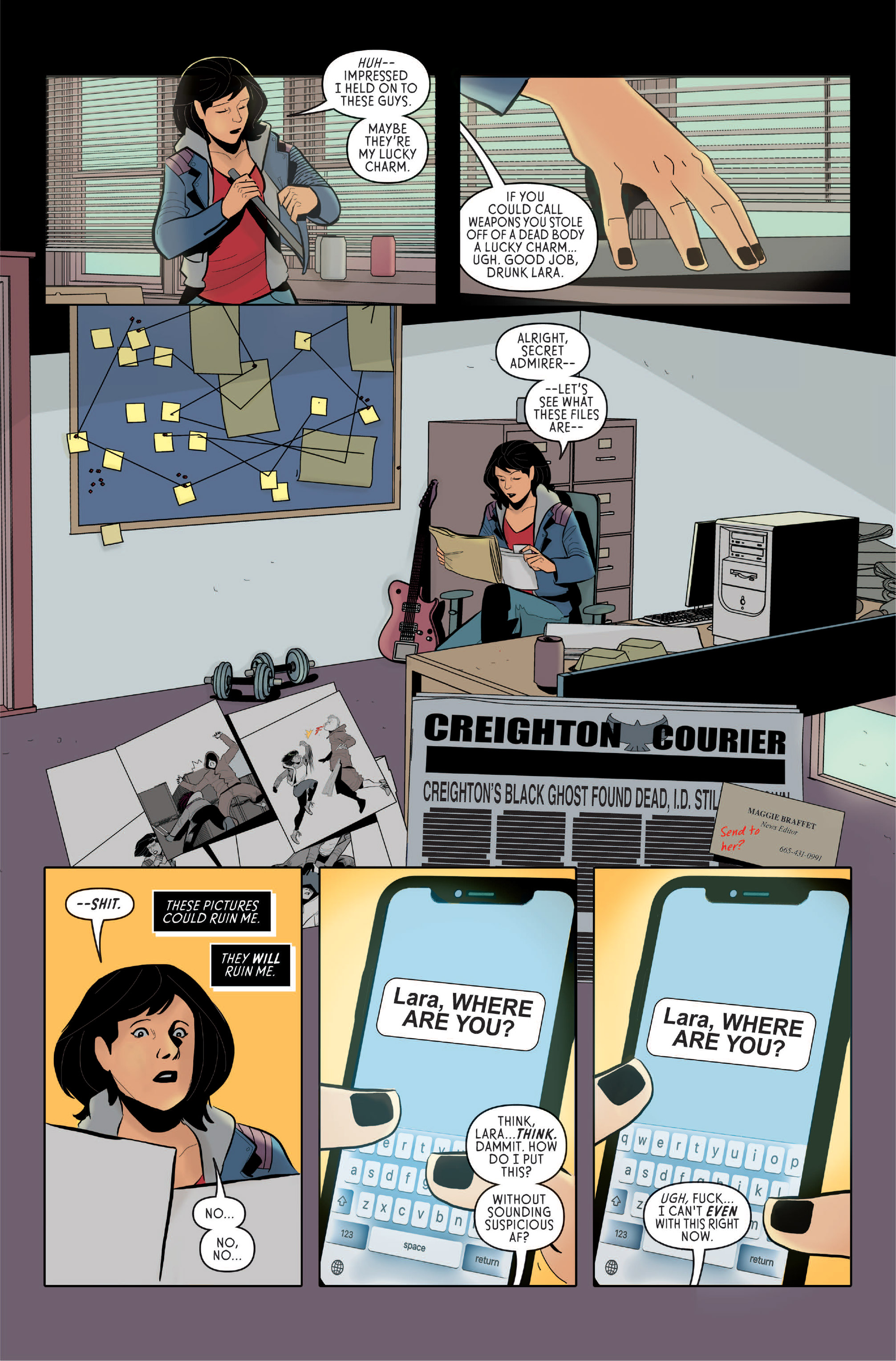 If you don't know it, it is here. But it is such a pivotal moment in Parker's history that the moment in itself has become alluded to Lara's as well. The moment she gives up everything to become The Black Ghost (or at least consider becoming The Black Ghost). Such as the first issue, I am enjoying the colors placed in the second as well. Again, the colors are simplistic, but vibrant when necessary.
The Colors Are Mild In THE BLACK GHOST But Tell An Essential Story
We don't get an unbalanced amount of colors being thrown at us (and rightfully so with this narrative). I enjoy the toned back colors of both of these beginning issues. It is a delightful change from other comics that tend to throw so much color at our face that we can't focus on the narrative at hand. If you enjoy that blurred line of vigilante versus superhero versus journalist, then I would pick this series up. I am excited to see where it can go, not only for Lara's sake but for figuring out what will happen now that The Black Ghost has been slain.
You can find this comic on Comixology now, the first two issues. We are entirely too excited to see where the third issue goes. As we have stated before, after the second issue in series' that is where the fun begins. You get to the climax of the comic and where the story is truly taking place. We can't wait to see what the creators do with Lara and her wonderful badassery.
THE BLACK GHOST #1 & #2 by Alex Segura, Monica Gallagher, George Kambadais, Ellie Wright, & Taylor Esposito of Ghost Glyph Studios
What does it mean to be a superhero? We ask ourselves that question every day when it comes to any superhero comic. Lara challenges that question with how easy it is to become a vigilante. So what's the difference?
PROS
LARA IS A BADASS CHARACTER
AM LOVING THE NARRATIVE AND STORY
THE ILLUSTRATIONS ARE SIMPLE YET PERFECT
A SUCKER FOR JOURNALISM STORIES
CONS
THE PLOT ISN'T FORMING TOGETHER JUST YET
A LOT OF LOOSE ENDS THAT DON'T QUITE MAKE SENSE OR COME UP IN THE SECOND ISSUE
THE GED STORYLINE NEEDS TO BE TOUCHED ON MORE, BUT MIGHT IN FUTURE ISSUES
LARA HAS DEPTH BUT SO FAR MOST OF IT IS JUST DRINKING?
CHECK OUT THE BLACK GHOST SERIES ON COMIXOLOGY