Lookout Bay City, there is a new hero in town and her name is Gamma Rae. By wielding the power of super-strength she will surely save the town from evil; or will she? Pretty Violent #1 is the newest Image comic written by Jason Young (I Hate Fairyland, Middlewest) and illustrated by Derek Hunter (Duck Tales). Here we have a story of a girl trying to save her town one mistake at a time.
Gamma Rae wants to be a hero, but comes from a family of supervillains. What is a girl to do when she wants to help save her town, but do all the civilians hate her? On the first day of Gamma Rae being a hero, she inadvertently helps a villain escape from the hero known as Hulktress. Now the whole town thinks she is also a villain. Not only that, but it seems like a lot of civilians die when Gamma Rae is on the case. With people being used as weapons against her and a magma man killing her first fan, there is a lot to learn before she is anyone's hero.
Jason Young & Derek Hunter Obviously Had Fun Making Pretty Violent #1
Pretty Violent is a comic for adults. If you don't enjoy harsh language or you're sensitive to brain matter and guts flying everywhere then this might not be the comic for you. This first issue has a lot of violence and gore which readers will see throughout the series to come. However, we can say that this story is a lot of fun. It presents a world that is lighthearted and savage. The Civilians — throughout the story — bring hilarity to the comic as they make snide comments and throw hate at Gamma Rae.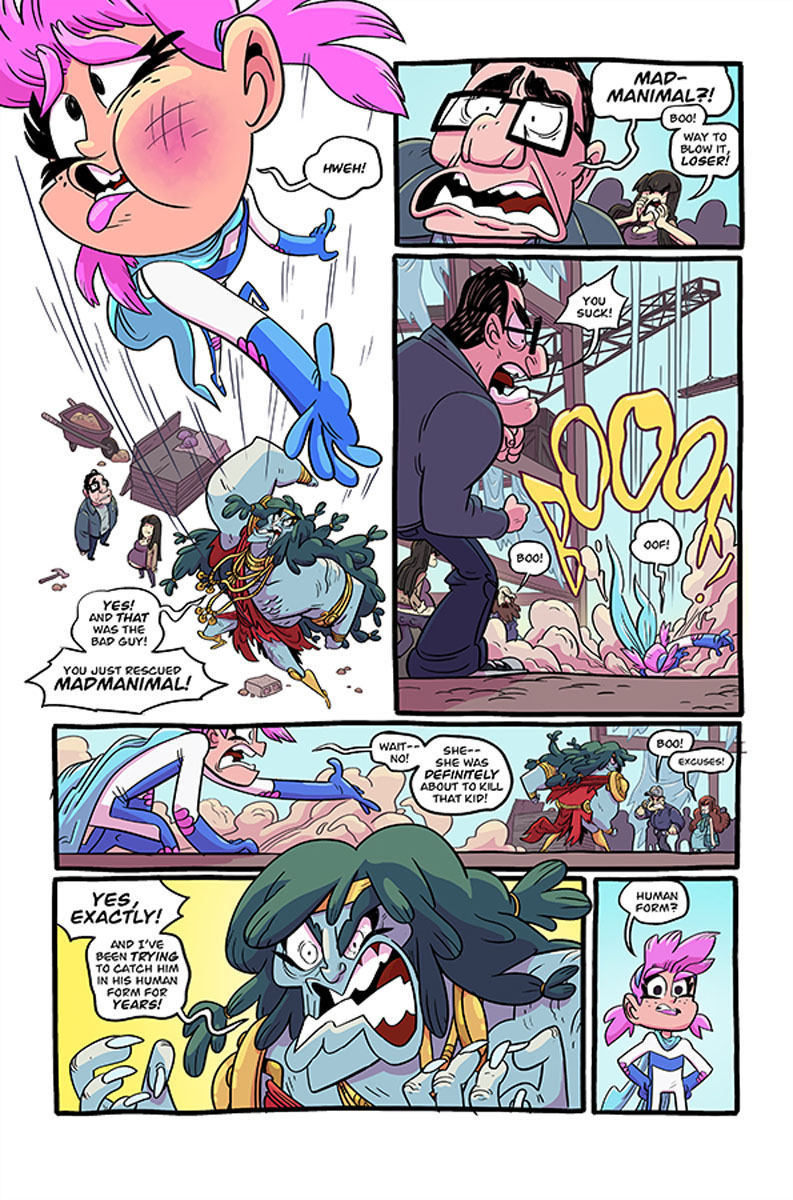 Gamma Rae is just trying to do her best at being a hero but it seems to fail miserably. You can tell Jason Young had a great time writing this comic. It is a great read about a young girl going against her family and trying to be her best self.
This Comic Has A Lot Of Graphic Illustrations
The art for this comic is very cartoonish. The characters have huge eyes and very exaggerated facial features. The characters are very detailed with costumes that are unique and different from each other. Pretty Violent has no lack of blood, guts, and gore. While you may think it would be daunting to see these images with Derek Hunter's art style, it is fun in a kind of a charming way. The death scenes are likewise very detailed and leave nothing to the imagination of the readers.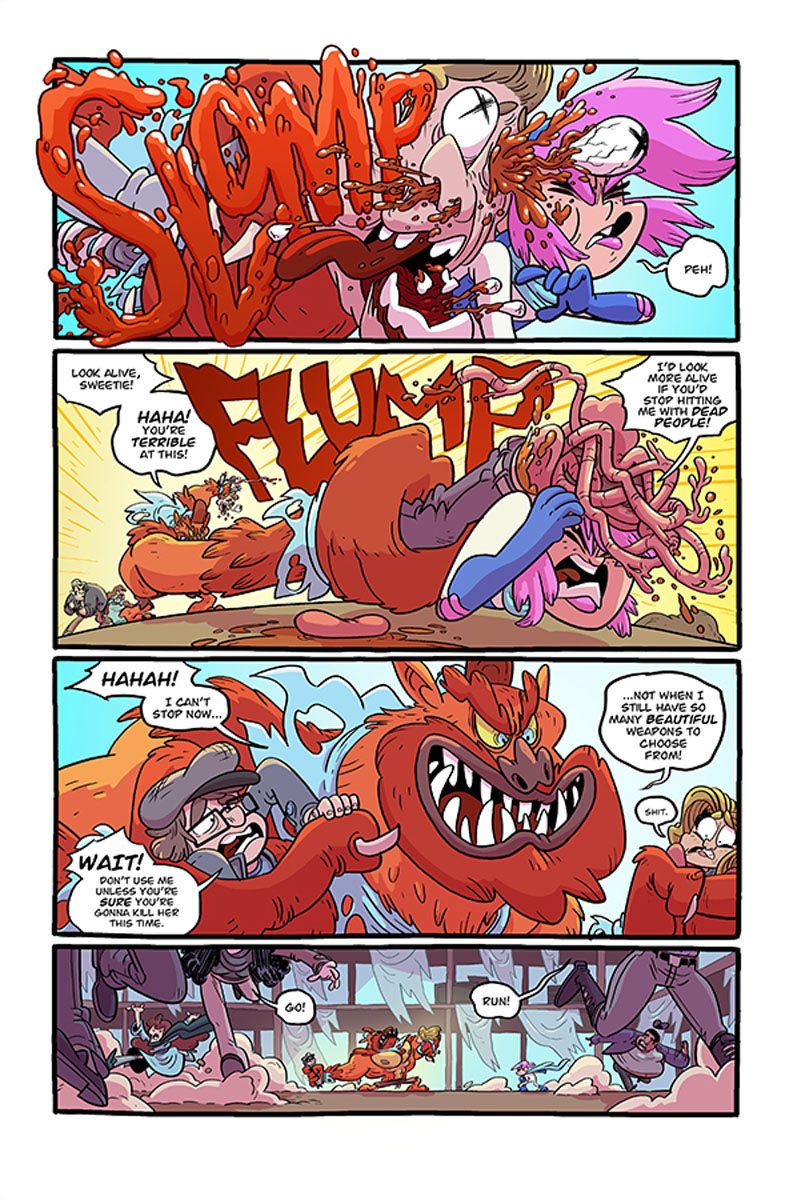 The colors are very vibrant and bright. In the panels, you can tell who is important and who isn't by their color scheme. The character that is important will be brightly colored while the people that aren't will be darker in comparison. The unique way they use blood for lettering is similarly fun in a disturbing way. Overall the art goes perfectly with this adventurous and disturbing story.
Pretty Violent Is A Gory Coming-Of-Age Story
The first issue of Pretty Violent #1 is very enjoyable. Young and Hunter's new series is going to be a hit. Gamma Rae is going to be a character that you root for in her journey of becoming the good guy. We are excited to see what other heroes and villains come up along the way while reading Pretty Violent. Something that will be fascinating to read about future issues is the way Gamma Rae will grow and hopefully succeed in becoming a hero.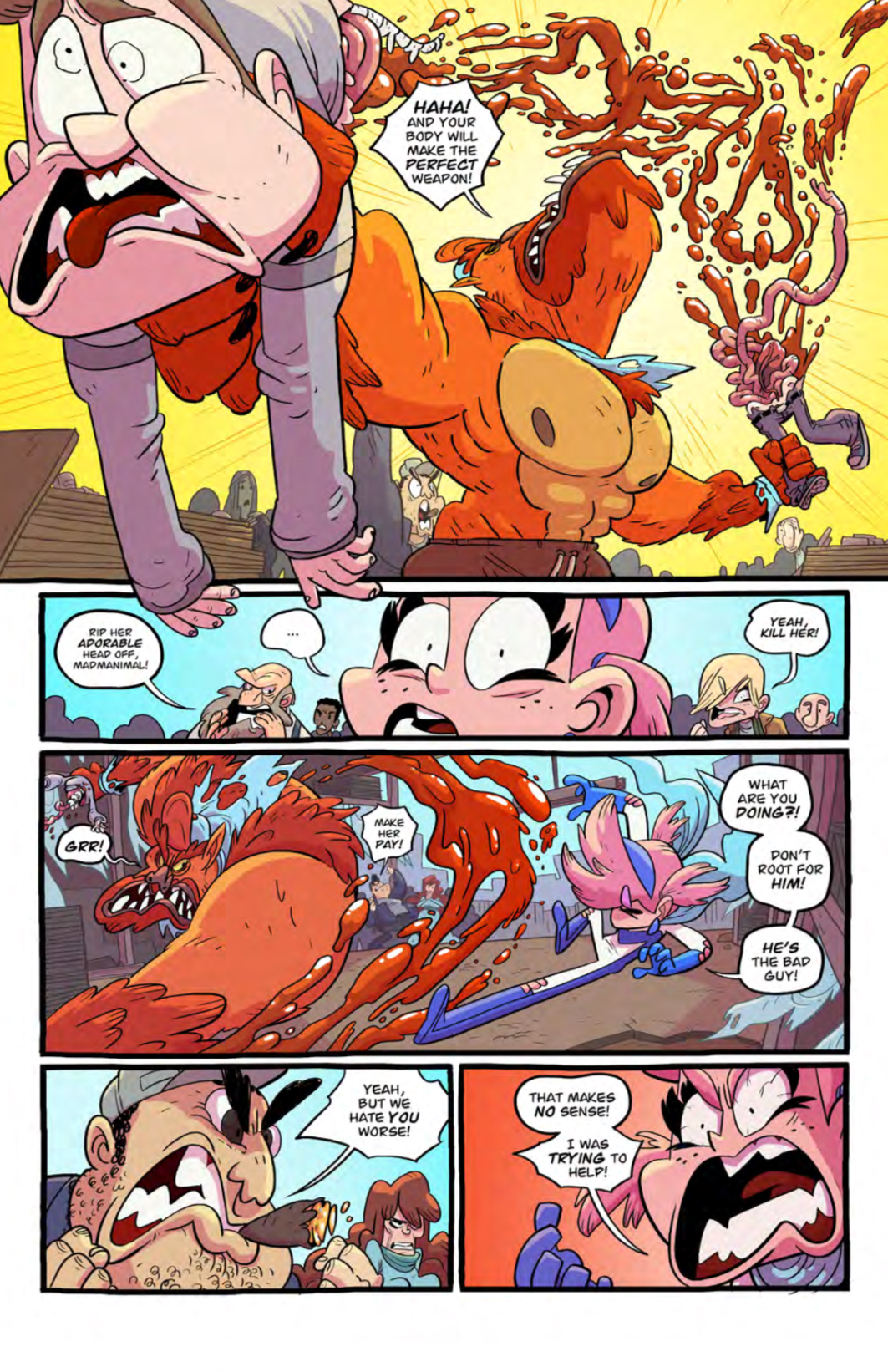 Right now she is immature and makes rash decisions, but with time and practice hopefully, she will save Bay City from evil. With this creative team, it is going to be a wild ride to see what they will do with issues to come. You can buy Pretty Violent #1 at your local comic book story on August 21st, 2019.

Pretty Violent #1 by Jason Young & Derek Hunter
Pretty Violent #1 is a great story for anybody wanting to read a superhero comic that has a fresh take on the genre.