Our previous review for Canopus #1.
---
The second issue of the Canopus series by Dave Chisholm (Scout Comics) is just as wonderful as the first. We last left Helen on her unknown trip to an unknown place. This place gives her every bad memory she has ever had, seemingly for fun. Mysterious things transpire, but Helen is one step closer to finding her father, or so she thinks.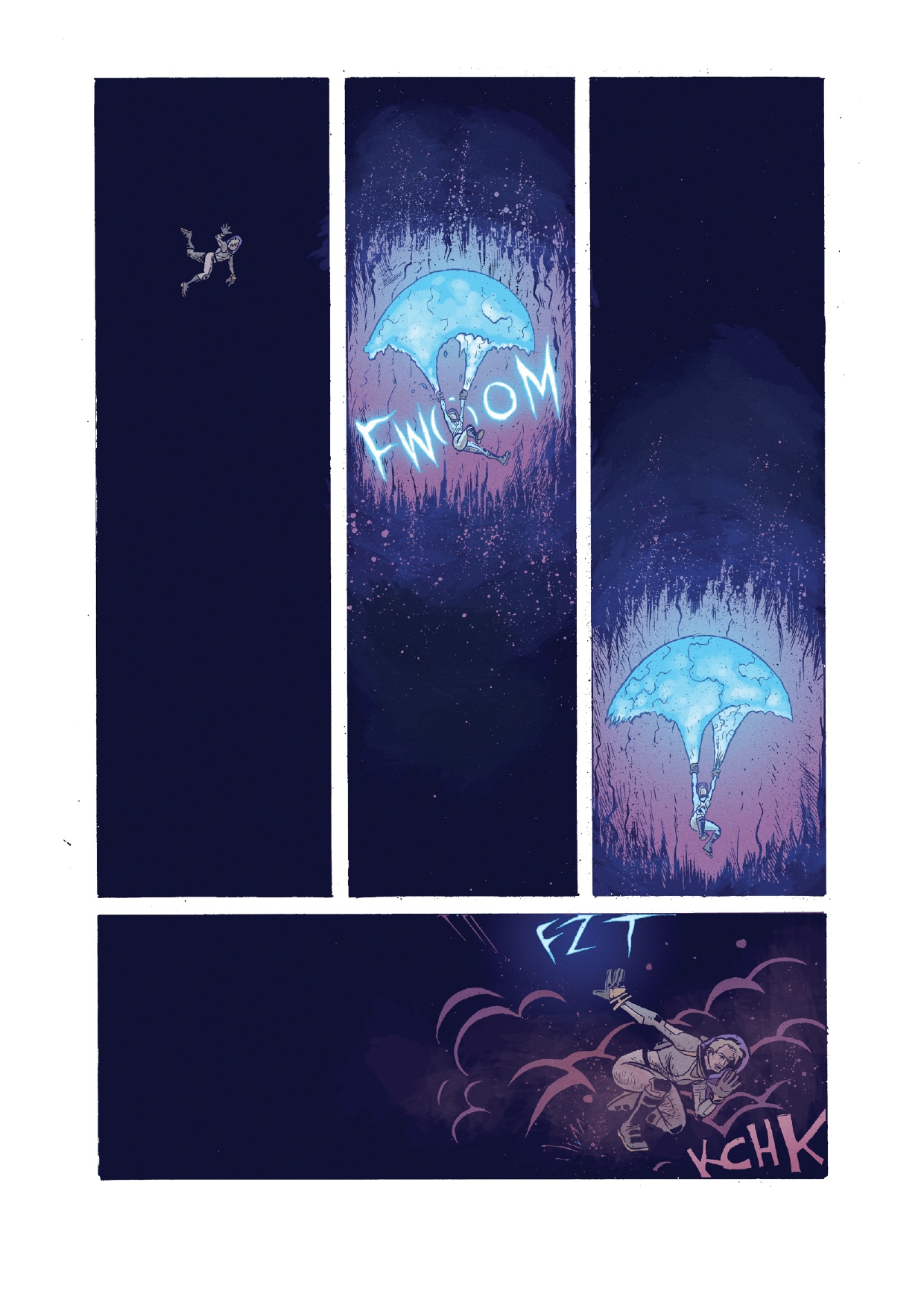 With the alarming PTSD, panic, and anxiety, Canopus #2 positively makes you appreciate comic books a little bit more. When issues like this are created, it makes the comic book realm seem a bit brighter. As we move into Canopus #2, keep in mind that it focuses heavily on PTSD, women issues (such as infertility), anxiety, and panic; if you are easily triggered be mindful of the content.
About Canopus #2
We meet Helen directly at the conclusion of the first issue. She is falling into her "supposedly" dad's arms, but is it her dad? We realize that Helen obtains her memory back after each encounter. That means all of the bad memories are flooding back all at once immediately after she encounters them. We are aware that her ex-boyfriend stole her idea for "Arther" and gave her no credit for it. We find out that she has infertility issues and pushed her husband away. And, we don't know what happens after that, as she is stuck in another miserable situation regarding her father. What we do know is… Canopus #2 might be better than the first and that is a hard feat.
A Mighty Female-Led Series
The writing, as we mentioned previously, is immaculate. It creates a fantastic showing to the telling that is the art. The moments of intensity are always following by wordless panels. Whereas when she is not in an intense moment, all she can do is talk. These are small instances of anxiety and PTSD. If someone gave you only the worst memories throughout your entire life, until that point, would you not have PTSD? I surely would. Easily Page 24 is my absolute favorite from this issue. It creates the perfect balance between dialogue and art. You have the singular panels, but the speech bubbles are wonderfully placed. Alongside that, you have Helen going from hostile to agitated to frightened.
The page is just marvelously drawn and written. The most valuable aspect of this comic is that Helen is a woman, not only that, but Chisholm is creating a voice within Canopus. She is suffering from PTSD, anxiety, and infertility, from what we know so far. The infertility topic is extremely important because it is an actual problem within the health industry for women. Showing that people are not alone, even within this circumstance, is heartwarming.
I Want To Frame The Art, I Really Do
We gloated about the art in our first review and it will follow suit in this one. The perfection that is the art in Canopus #2 is what drives me to yearn for more of this in the comic industry. At first, I didn't know where to place the art, I didn't know if I liked it or hated it, I didn't know what it would provide to the overall theme. However, it first effortlessly with the writing and the nature of the comic, I didn't end up hating it, and, in turn, I ended up loving it more than anything else. The colors, while dark, pop.
If you reference Pages 9 and 10 and Pages 17 and 18, you will find the unbelievable imagery I am talking about. (Figure 1 & Figure 2 from above.) Dark blues, purples, pinks, and blacks are a magnificent palette for this series. Without spoiling too much, the last page, the top panel is one to celebrate. It is absolutely gorgeous.
Should You Read Canopus #2?
Yes. So far, the second issue is better than the first and that is saying a lot. While the themes can be intense, the story is so wonderful that you can't help but keep wondering about where Helen is and what this place means to her. It isn't just a place to torment her, but instead a place to teach her a lesson perhaps? A place that has her family? Maybe she is in the hospital and dying and this is her alternate dream sequence? Who knows, but I am so very intrigued to continue learning more about Helen and her adventure to nowhere.
Helen's World Is Turned Upside Down In Canopus #2
PROS
ART, ART, ART
WRITING IS FANTASTIC
THE TOPICS ARE JUST MARVELOUSLY WRITTEN
A WONDERFUL FEMALE CHARACTER, HELEN
MY GOSH THE DAD WAS CREEPY