Poison Ivy is back from the dead after being killed in the Heroes in Crisis mini-series. Harley helped her come back to life with a flower that Ivy gave her before. Jody Houser brings the couple back together in Harley Quinn and Poison Ivy #1 with penciling by Adriana Melo, inking by Mark Morales, coloring by Hi-Fi, and lettering by Gabriela Downie.
Harley & Poison Ivy Are Partners In Crime
Harley and Poison Ivy are back in action, but there is just one problem: Ivy is in an unstable state. That is until Lex Luthor sends Ivy a special type of fertilizer that has a little something extra in it. While you may think all their problems are solved, you would be wrong.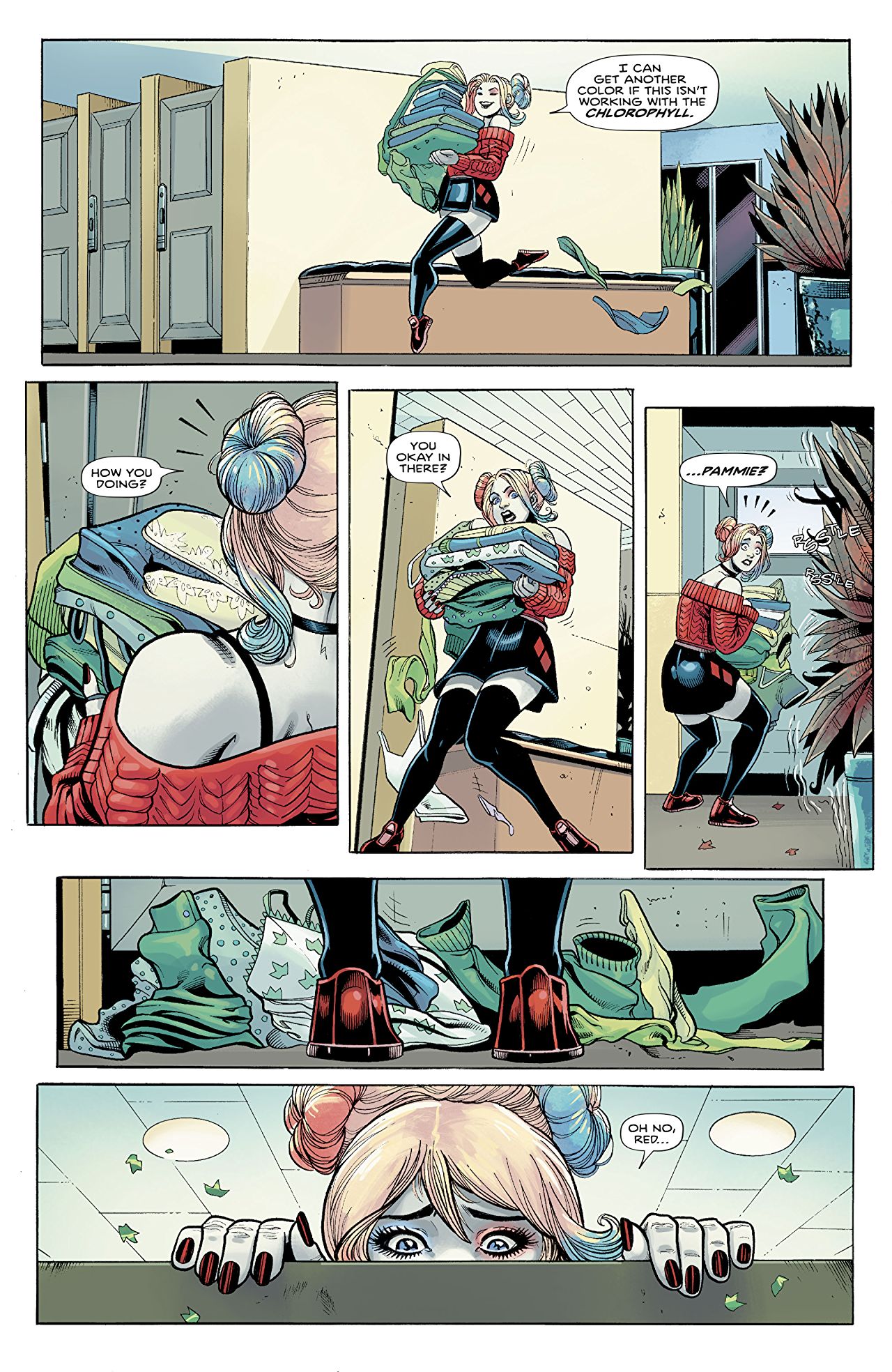 Dr. Jason Woodrue, AKA., The Floronic Man, comes to tell Ivy the power of the Green has shifted and the will of the green is his. What will this dynamic duo do to stop the Moronic? (That is what Harley likes to call him.) Or will they join forces?
Writing In Harley Quinn & Poison Ivy #1
The writing of Harley and Ivy is a pleasure and a great read. Harley is her usual rambunctious self, but it is nice to see her try to become a good guy. It would be glorious to see the changes that Jody Houser brings to this comic. Poison Ivy just came back from the dead and is adjusting to her new life and body. Now they have to figure out why the green is out of control.
This six-part series is going to be an enjoyable read with multiple fun adventures along the way. With Harley Quinn and Poison Ivy back together again, it is exciting to see what they will do and how they will handle being the good guys for now on.
The Illustrations Of Harley Quinn & Poison Ivy #1
The art is drawn in a contemporary style with character poses that are not very common in comic books. You will also see unique paneling in multiple different places within this book. There is likewise a variety of detail in Ivy when she becomes a mess of vines. You can see tiny individual lines throughout the piece that gives more depth to the leaves and veins. You can additionally see the magnificent detail in Harley's hair on Page 4 with her Princess Leia buns.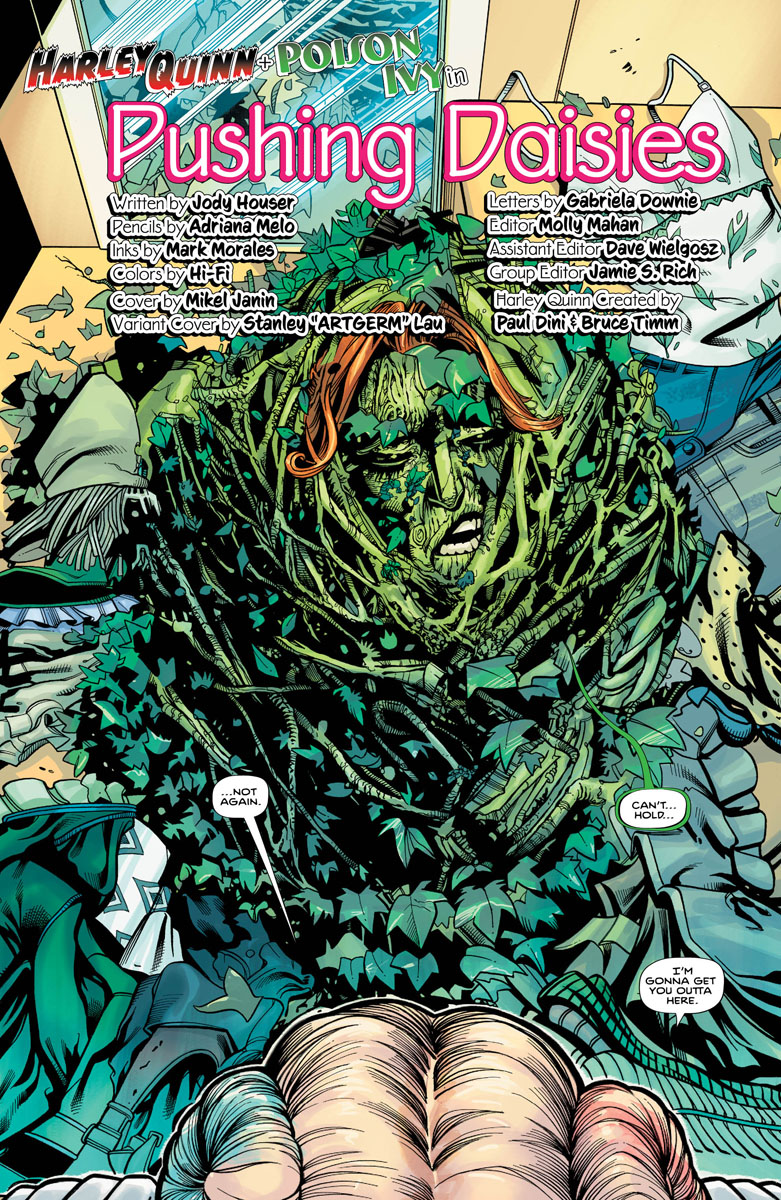 Another excellent thing is Harley and Ivy's new looks. Harley looked rather charming in her red sweater and skirt with her signature diamond pattern; Ivy looked fabulous in a plant robe Ivy made herself. Ivy has a ton of different looks in just the first issue. It will be intriguing to see what the other looks have in store for us in future issues. The colors of Harley Quinn and Poison Ivy #1 are very vibrant and bright. Harley's blonde hair and faded red and blue highlights accented her white-as-pearl skin. Ivy's green skin against her bright red hair really pops on the pages as well. All the colors are visually pleasing.
The Conclusion Of Harley Quinn and Poison Ivy #1
This is a fantastic first issue. The characters and story are engaging, it is going in a direction you would not imagine. Alas, we are sure that when you first heard about Harley and Ivy coming back as a team, you assumed it was a joke. However, it is not.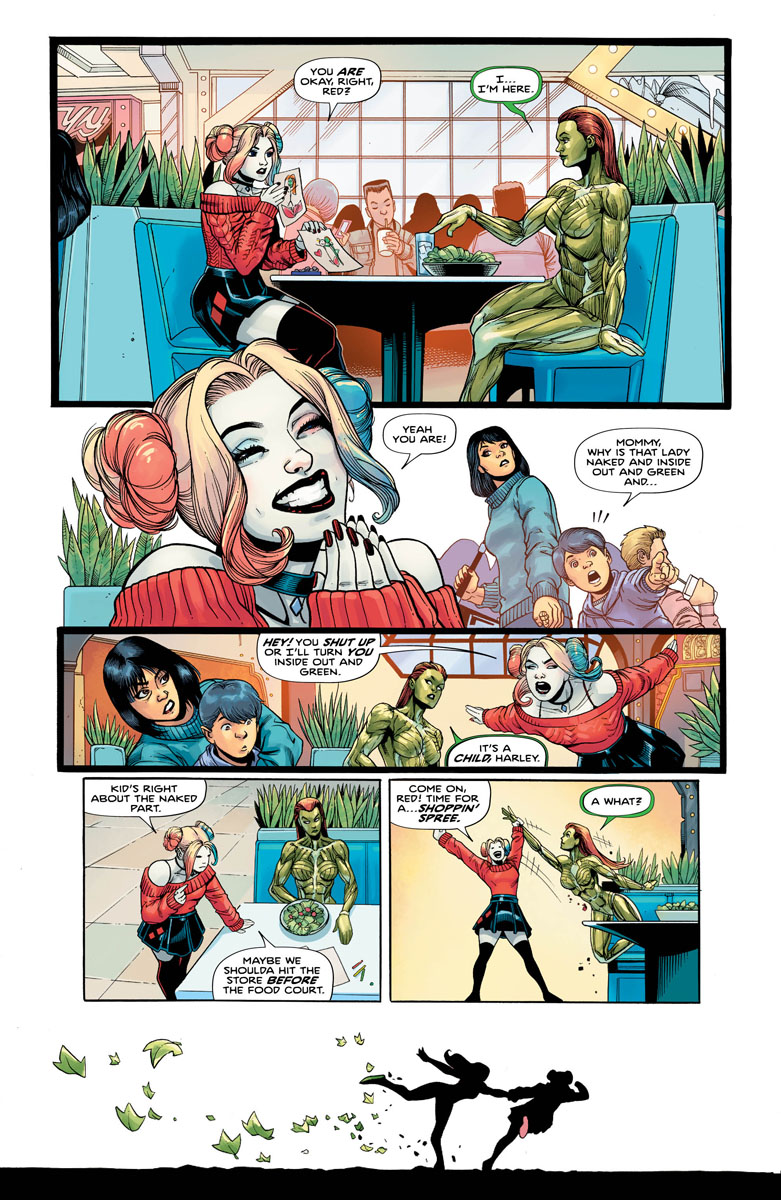 It goes deep into DC lore with the Green, a character we do not see often in the comic books. Most of the time we only get a story of Ivy being a villain, not her actual connection to the mystic force that is green. A fun first issue that we can only hope to see more of as the mini-series continues.