Al Ewing has achieved quite the pedigree in his time at Marvel. From The Ultimates to Immortal Hulk, he has a reputation for reinvigorating properties and making them feel fresh again. Now, he turns his attention to the stars. Guardians Of The Galaxy #1 brings him together with Juan Cabal (X-23, Friendly Neighborhood Spider-Man) on pencils, Federico Blee (Marauders) on colors, and VC's Cory Petit (seemingly half of all books) on letters.
"Nowhere's Safe"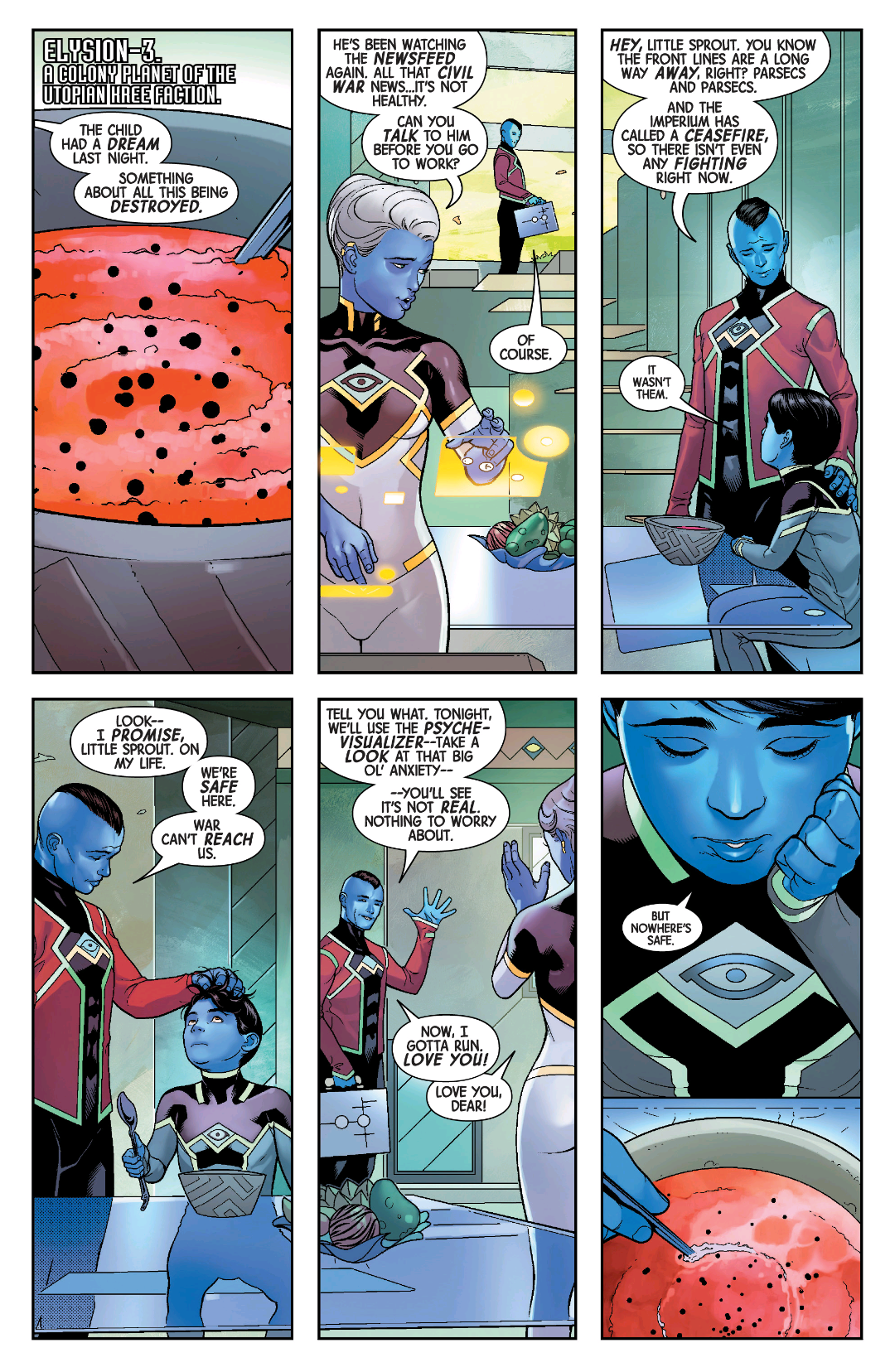 Ewing really knows how to set a table. Cabal and Blee give this family life and emotiveness in their very brief appearance that is seldom seen in comics. "Nowhere's safe" is the ominous warning that echoes through the comic. It's a scary thought in space, where there is just so much of everywhere, that a simple phrase like that can send chills down your spine. That message becomes clear as a god appears in the sky, announcing that a new day has dawned, in a very bad way.
A New Team For A New Mission
This isn't the lineup of Guardians you'd expect, given the movies, but this series is going for a different approach. Guardians Of The Galaxy #1 assembles a new team comprised of Star-Lord, Rocket in a suit, Phyla-Vell, Moondragon, and Nova(Richard Rider). We start with the team, and then some, taking a day to relax, and bask in their found family and enjoy this brief moment of peace.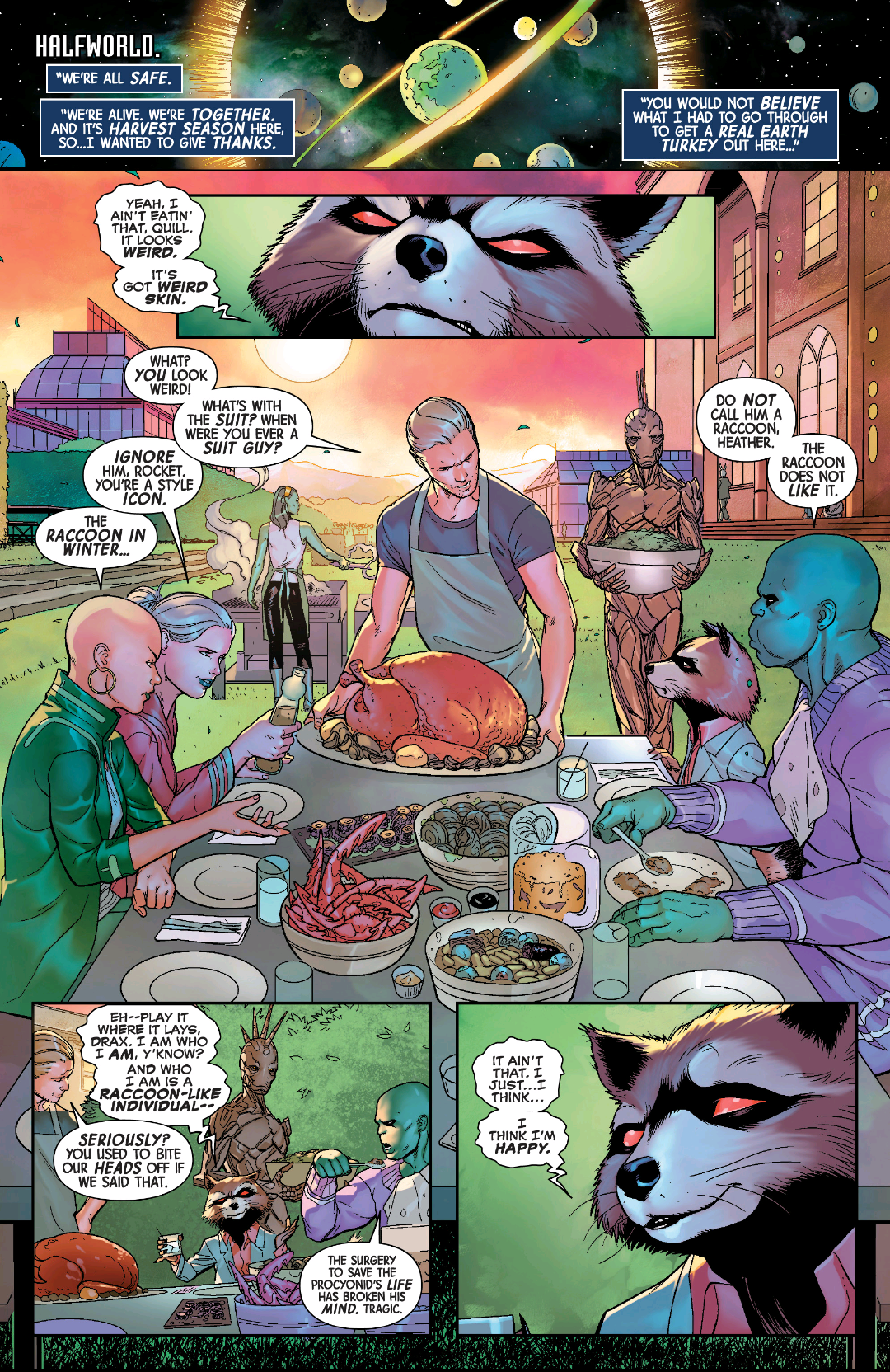 Sadly, this peace short-lived, as Nova crashes the party, looking for help and delivering expositions. Ewing didn't write Guardians Of The Galaxy #1 to pull punches, and reveals that God is in fact Zeus himself, of the Greek pantheon. The request for assistance from Nova sends the Guardians in different directions. Gamora, Drax, and Groot feel like they've earned this time to be together as a family, rather than a superhero team. Moondragon and Phyla can't agree fast enough, desperate to be of assistance in any way they can. Star-Lord and Rocket are less than sure they should be relaxing, so depart stealthily in the dead of night without Drax, Gamora, and Groot.
Enter: Marvel Boy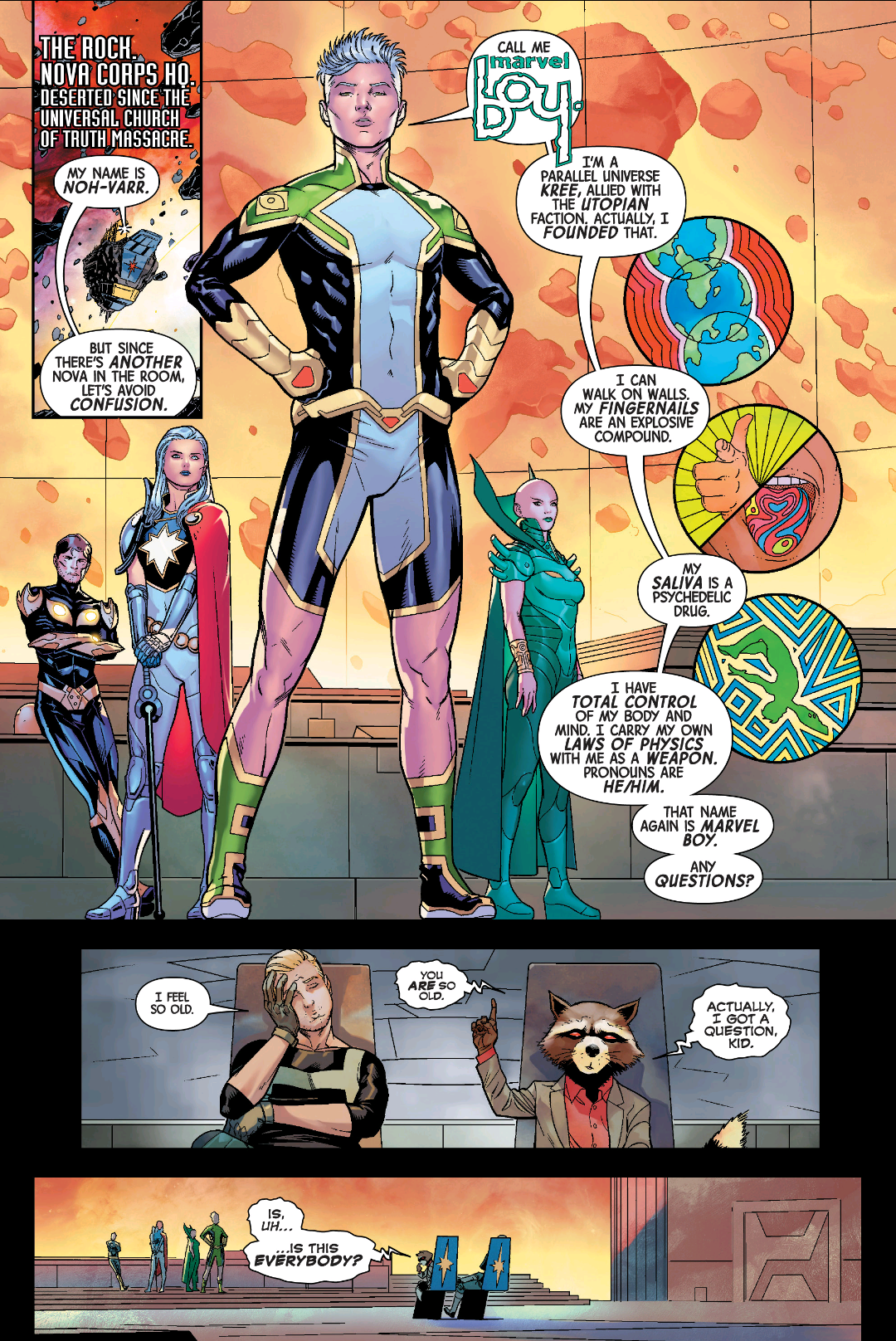 Marvel Boy is the last person I was expecting to see on this roster. The last time I saw him was in West Coast Avengers last year, so this is a hell of a move, but he fits the tone of Ewing's new team well. The description of his powers is incredibly Morrison-esque and hilarious. I appreciate the balance this issue brings to both its humor and depth.
Greek Gods Reborn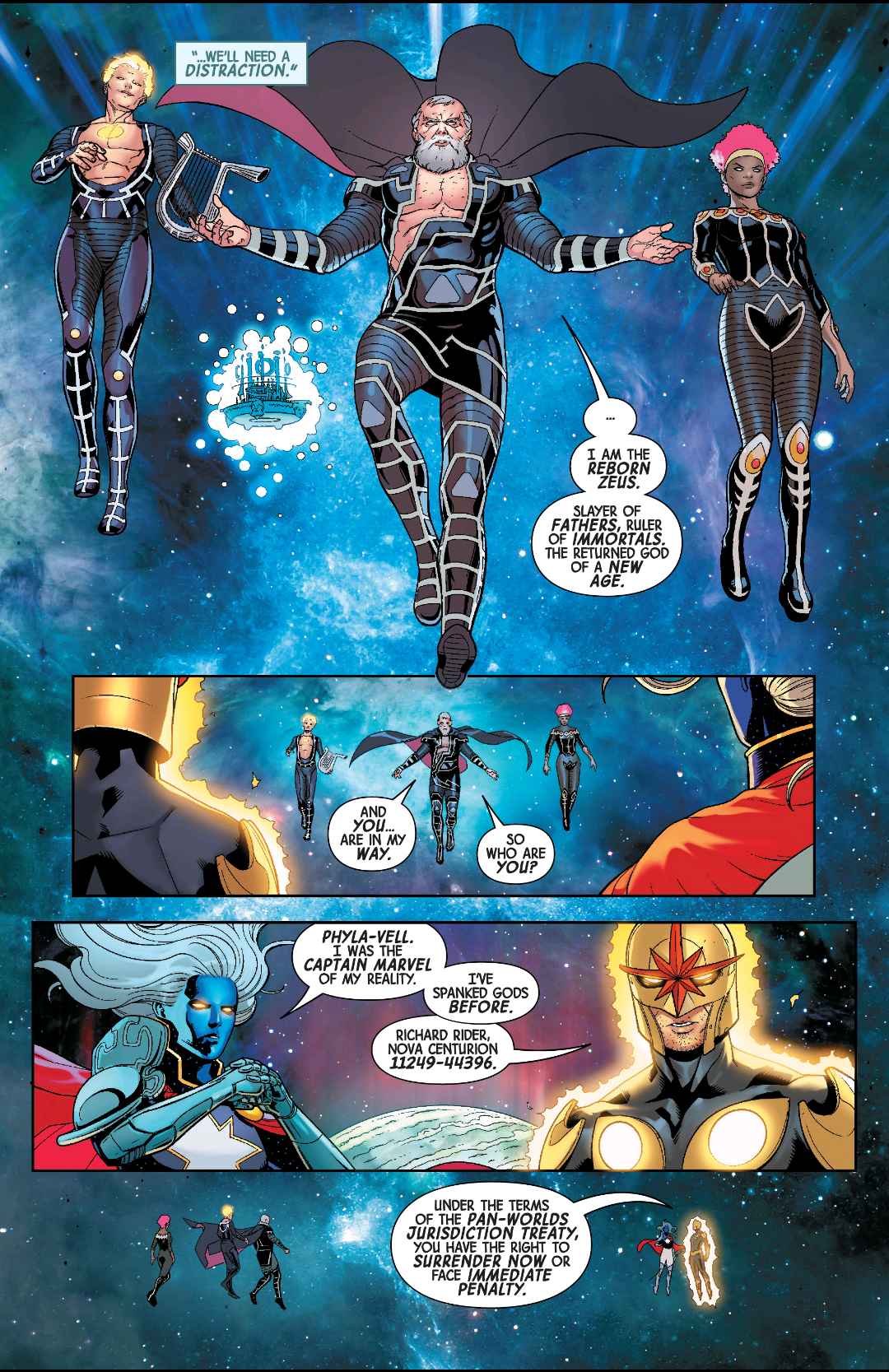 "Rebooted pirate-gods" is the aptest description you could really manage for this concept. This is EXACTLY the type of hyper-ridiculous idea that Ewing thrives on. Guardians Of The Galaxy #1 spends many of its pages asserting just how powerful and dangerous these beings are, just as well as how strong this new team is. There's more action than I would rightfully ever expect for a new #1, but it sets a hell of a precedent and fires on all cylinders.
What Makes Guardians Of The Galaxy #1 Stand Out?
Truly, I can't praise the work of Cabal and Blee here enough. The expressions of the team tell a story all on their own, feeling authentic and real. The breadth of emotion worn on Nova's face throughout the issue is stunning. You can see he's been having a hard time before this series, without relying on you knowing exactly what that is, but he wears it on his sleeve. There's so much heart in these pages as well, giving you a good idea of what the relationships between the Guardians are like at this point in time.
Considering this is a new Guardians Of The Galaxy #1, it's welcoming that Ewing doesn't assume you know too much about the current status quo of the team. To put it simply, this is a dynamite creative team on all fronts. They are each tried and true creators at Marvel and have an incredible body of work behind them. Their names alone, I feel, warrant the price of admission. That being said, this is an excellently executed book that I am more than happy to be reading.
Guardians Of The Galaxy runs can be hit or miss, but usually missed for me despite my profound love of cosmic Marvel, based on the chemistry of the team members. Sidelining some of the core team members in favor of fan-favorites like Phyla and Moondragon was an inspired choice that will pay dividends over time, I have no doubt. These are the high times for Marvel #1's and it's only the beginning of the year even.