Shall Gryffen: Galaxy's Most Wanted #1-2 defy a Nazi regime? The answer to such an obvious question is yes. A thousand times yes. Gryffen: Galaxy's Most Wanted, written by the illustrious Ben Kahn, art by the snazzy Bruno Hidalgo, colors assisted by the colorful James Penafiel, and lettered by the wonderful Sal Cipriano offers a genderqueer, sci-fi adventure.
You know I'm going to talk about representation, but we have to mention the plot. In service of the Sovereign Reach, Captain Lyla Gryffen dedicated his skills to the regime's nefarious interests. This abruptly changed when they disappeared for six months before roaring back to destroy the system she swore to protect. When the resistance attempts to recruit Gryffen to be their new leader, Gryffen refuses and chooses to destroy their old bosses by rewriting the entire system itself.
Fixating On The Narrative Arc Of The Jello Cup
There was a long moment where I doubted this story's direction in chapter one. At first, I expected a narrative with fewer tricks as the establishing shot that one has seen time and time again. The intrepid and rebel Gryffen speaks in an openly defiant speech in front of the Sovereign Reach in front of a court. The truth, however, was that she was asked to pick her lunch meat option. I liked how the meaningfulness of the words felt tempered by the humor. It shows a good balance when opposite tones exist at the same moment, but don't clash with each other.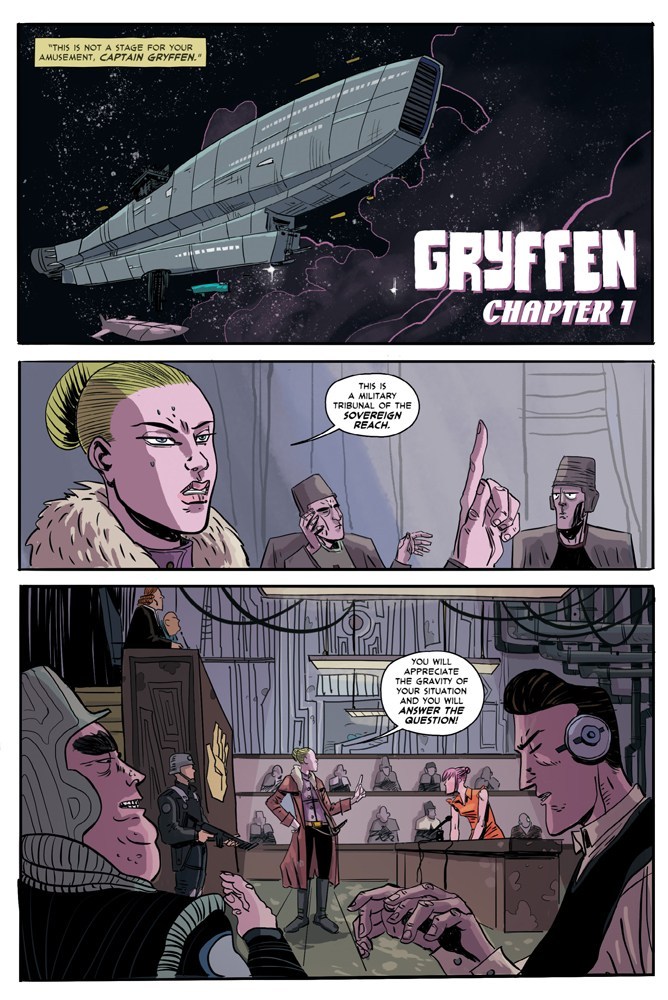 The character's personalities all have strong personalities that make them memorable. My one caveat is that I haven't seen them work together as a team in the second chapter. Their dynamics working together as a unit might change my opinion of them. For my part, Gryffen kinda just pushes everyone into a specific position on the chess board. I wonder what the other character's motivations are going to look like in other chapters. It's a potential fear that Gryffen will overtake others in terms of character growth.
This Genderqueer Pal Represents And Should Be Trustworthy
Finally, I have to talk about representation. This may be a controversial opinion, but I loved how the story so far is about Nazi destruction. As of this review, Gryffen hasn't gone the deep moral introspection root of what being genderqueer means to the titular protagonist. While I do believe those types of stories are important, it's kinda nice to see representation in the form of a bunch of people saving the world as well.
Where this may potentially falter is the reader has to take the character's word for how the world works. This narrative choice poses a future problem if the showing of these beginning truths doesn't align. My face will be so tired if this narrative becomes a poor deconstruction.
Winning Expressions In Gryffen: Galaxy's Most Wanted
I appreciate how Hidalgo stylizes the anatomy of his characters. The character designs are jagged, raw, and rough in a way one would expect from people who want to pick a fight.
In addition, the background characters also use unique designs, which is a nice touch on top of it all. As further proof as I was googling Gryffen: Galaxy's Most Wanted #1, a friend of mine glanced over my shoulder, took a look at the screen, and muttered: "Hey, this doesn't look like 99% of Marvel or DC characters!"
Subsequently, I waited until they left before continuing to write this article, but that comment remained in my head. It's fascinating to me that I don't see 'traditional' beauty in any of our main pals, but they're artistically and aesthetically pleasing. I'd just call that unexpected, which seems to be a trend for Gryffen. There are no technical flaws to the art that casts doubts on whether these designs would be better if a different choice had been made.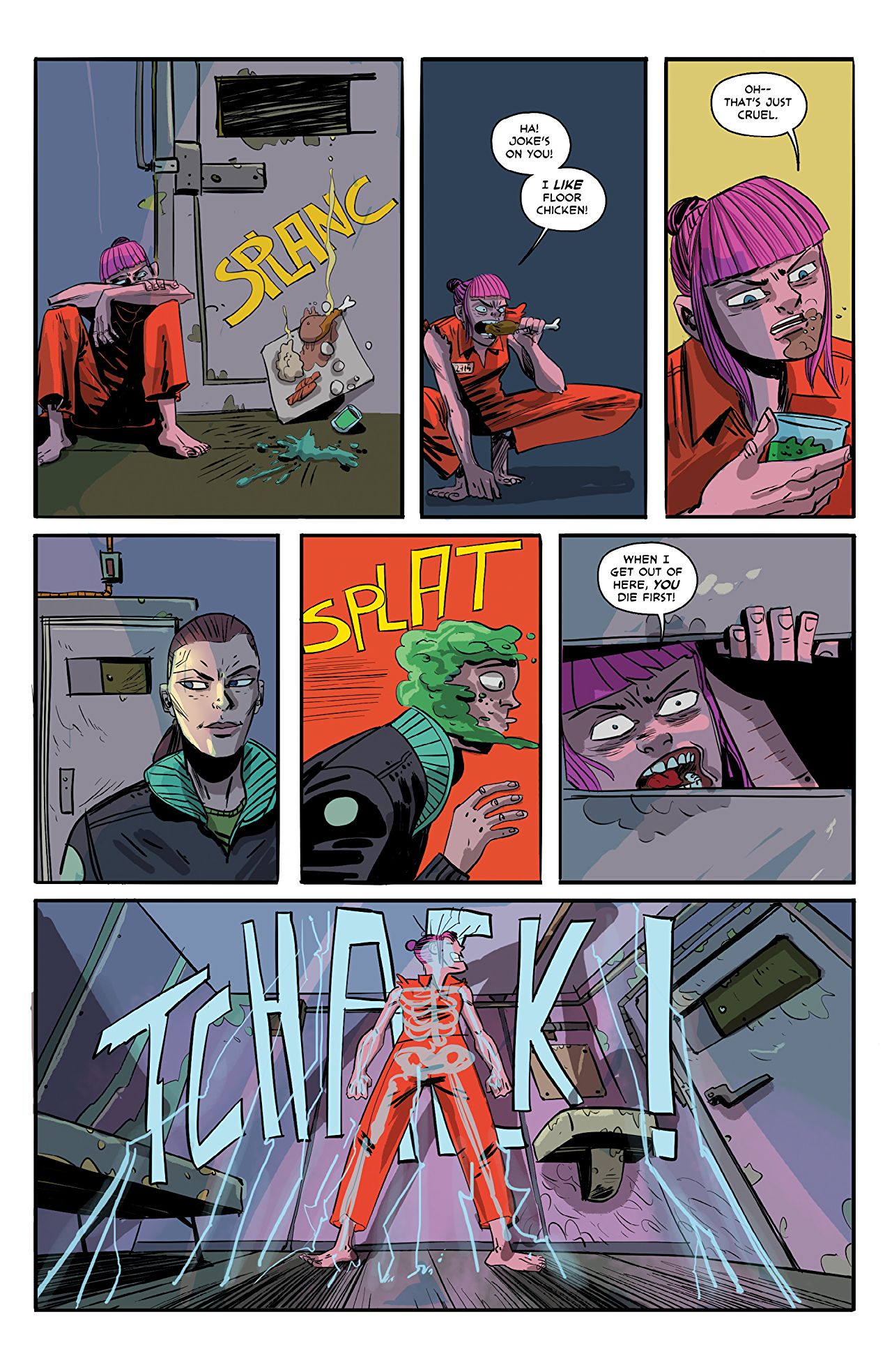 Colors Are Poppin' And Letters Be Sneaky Like A Spector
The color palette choices are vibrant, yet nothing clashes so it doesn't detract from the overall effect. I like how dramatic the tones become during the action scenes because of the impact. Even if the mental and physical battles aren't epic on paper, the art carries the ludicrous nature of the writing. The two aspects support each other in creating a well-made, stylized tale.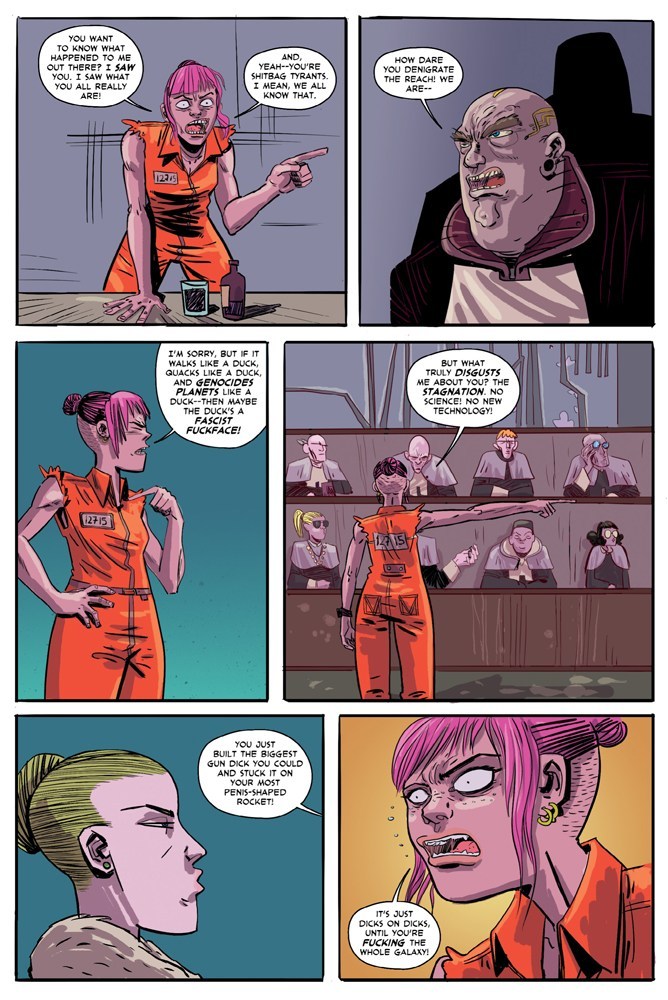 I didn't notice the lettering beyond using it to read the narrative. I enjoyed how much the lettering integrated seamlessly into the entire composition of the pages. You see sound effects like "Splanc!" in yellow lettering and you don't even question its existence. I nodded thoughtfully in agreement at how the turkey clattered to the floor.
Chapter 2 & Forward: What Is The Plan Exactly?
Okay, I'm interested in knowing what the next play might be even if the characters move in the way you expect so far. It's nice to feel that sense of surprise at a fairly early stage of the story's development. My future hopes are that the subsequent chapters will show me if the Sovereign Reach is worth its destruction. It's expected to code evil as Nazis, but we have to see that systematic oppression beyond a cursory scene in chapter one.
Should You Pick Up Gryffen: Galaxy's Most Wanted?
If you enjoy sci-fi with a twist, I expect you to jump on this ride on the strength of the set-up. While we are at a point where the creative team is still establishing the world building, the details show an acknowledgment to the story tropes that are in the public consciousness. The character's choices flip the reader's expectations on its head. On the flip side, there remains consistency through creative decisions.
As a reader, the issues will surprise you with each controlled, yet crazed detail. It will leave you wondering what exactly Captain Gryffen has in mind to bring the world to its knees.
Gryffen: Galaxy's Most Wanted by Ben Kahn, Bruno Hidalgo, James Penafiel, and Sal Cipriano
Intergalactic Drama!
Gryffen: Galaxy's Most Wanted has the beginnings of a space adventure that might knock your socks off or might throw those socks into a black hole. Either way, it'll be one hell of a ride.
PROS
Valuable Representation In A Well-Written, Sci-Fi Story
Stylized Artwork
Unexpected, Yet Decently Established Character Personalities
CONS
Takes A Moment To Get Going Despite The Short Page Length
Since Everyone Has A Strong Personality, Some Characters May Take The Spotlight Over Others