Sabrina the Teenage Witch #1 finds everybody's favorite adolescent enchantress in a new town. What can she expect from a new location? New friends, new frienemies, and new monsters. We've already touched on Sabrina the Teenage Witch #1 once here on The Daily Fandom, but it's so nice we just had to review it twice! (also I'm trying to review the whole series so I wanted to stick my fingers in the issue #1 pie.) This special Archie Forever miniseries of Sabrina is led by writer and recent Eisner nominee Kelly Thompson, artistic duo Veronica and Andy Fish, and letterer Jack Morelli.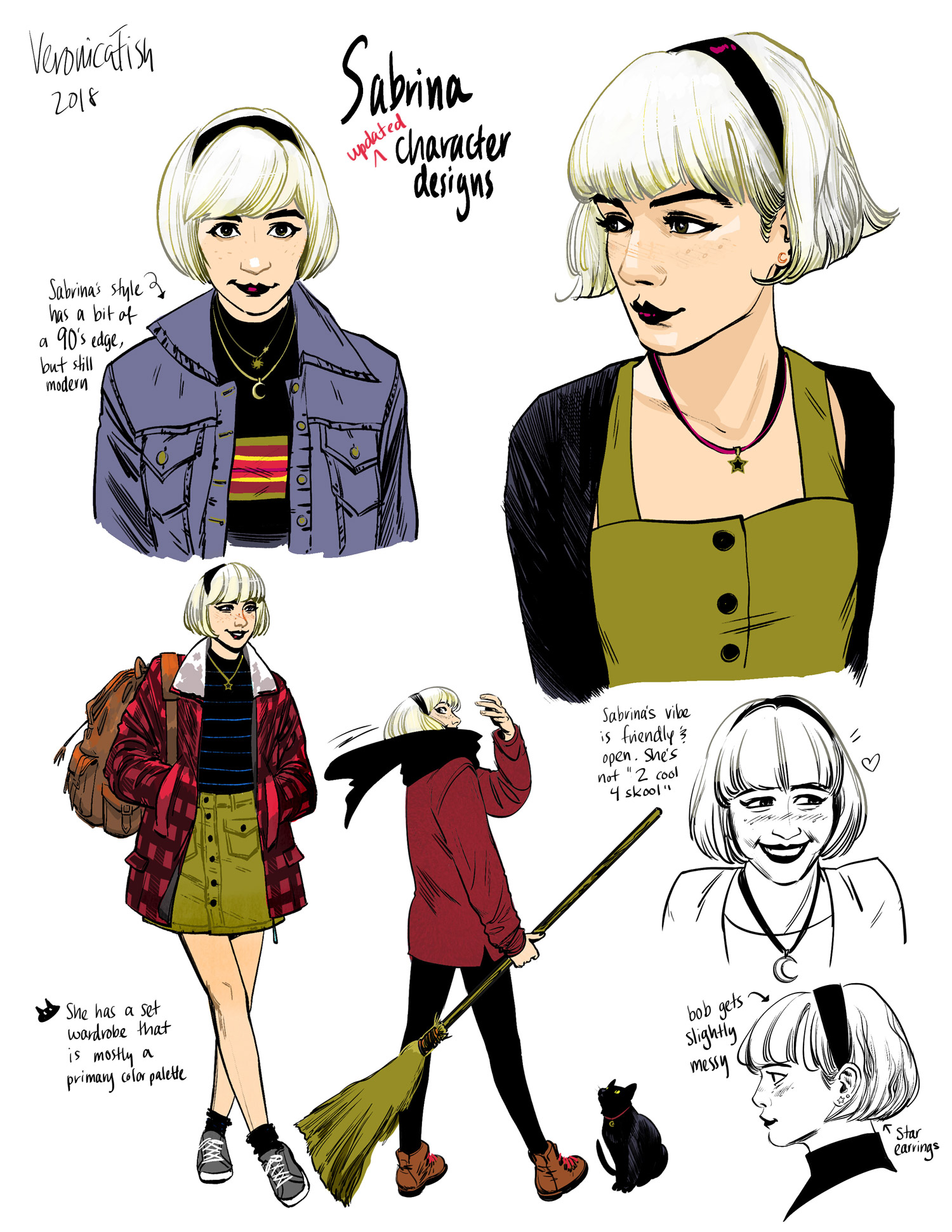 How Chilling Are The Adventures In Sabrina The Teenage Witch #1?
Kelly Thompson and Archie Comics know how Sabrina looks in the public eye right now. After the landslide success of The Chilling Adventures of Sabrina on Netflix, it's hard not to notice. But while Archie TV shows tend to veer off the rails into wild drama (cough cough Riverdale cough cough), the comics tend to stick to a more traditional, lighthearted tradition.
Thompson has said of working on Sabrina,
Sabrina is one of the most fascinating and story-rich properties at Archie so I feel incredibly lucky to get the opportunity to build in that world,

Kelly Thompson; Archie Comics interview.
Right from the start with Sabrina the Teenage Witch #1, you can tell where Thompson's storytelling loyalties lie. She approaches the teenage part of the Teenage Witch handle with an appropriate amount of sensitivity and understanding.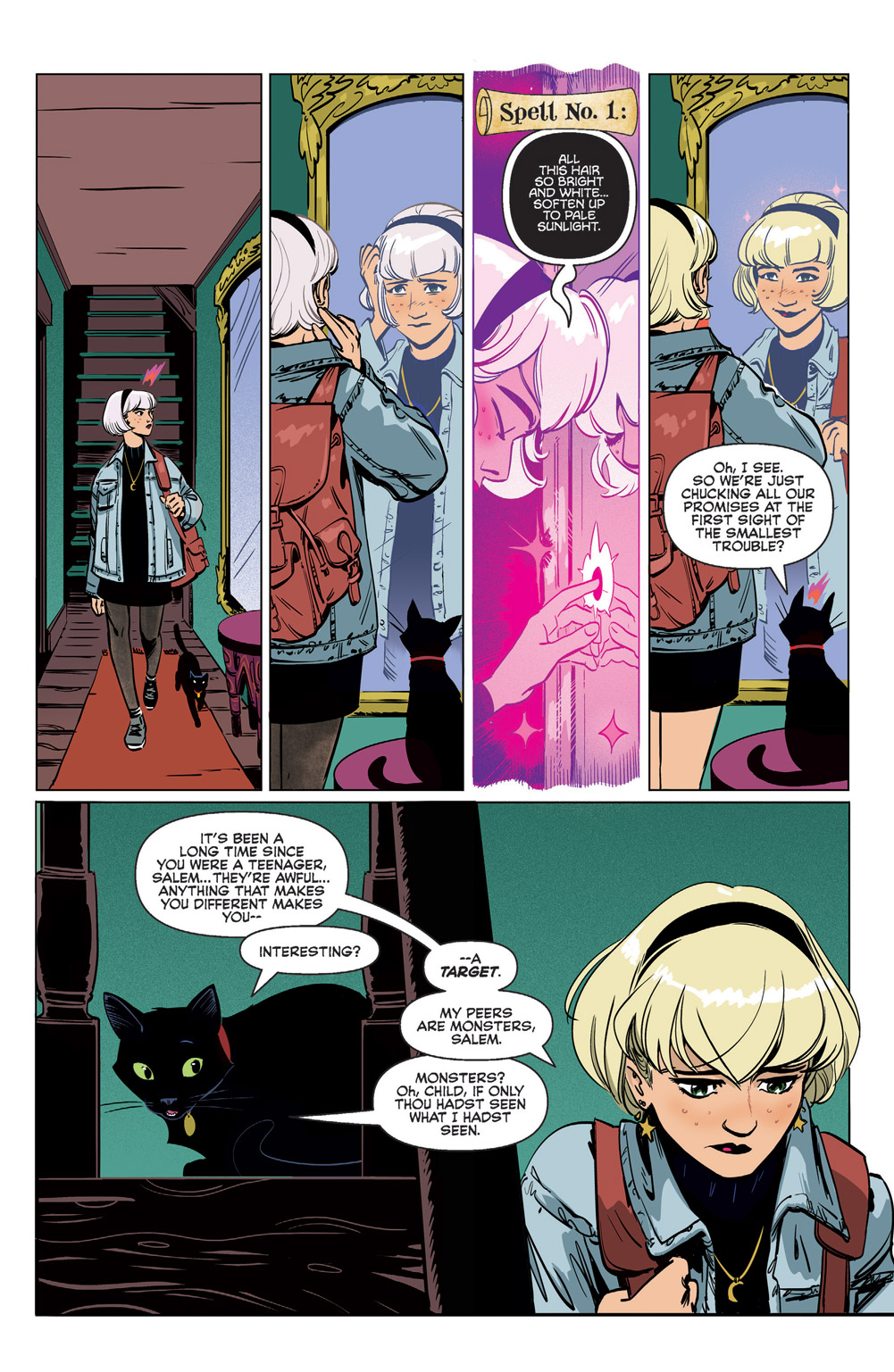 The storytelling revels in the corny Archie tradition. New girl Sabrina was almost immediately singled out by not one, but TWO cute boys along with the requisite athletic bully. If this is your bread and butter, you're in the right place. Thompson is immersed in her comfort zone: unapologetic cheese.
New School Blues
While her aunts Hilda and Zelda are seemingly supportive, there's only so much they can do with a brooding adolescent witch. Sabrina has to put up with a lot at her new school. Like boys, bullies, and historically inaccurate textbooks. Normal Gen Z stuff. But she's no basic witch. Like any teenager, Sabrina goes back on her promises. In this case, her promise not to abuse her magic powers.
This, of course, gets her in trouble because of comeuppance. After a long night of clacking erasers together in detention (seriously? in 2019?) She and a newfound friend take the scenic route home through the woods. Of course, this wouldn't be a Sabrina comic without a spooky monster in the forest. Sabrina and co. are chased by what appears to be a pissed off wendigo. But before Sabrina can cast a spell to save them, the creature starts coming apart before their very eyes.
It's being affected by an earlier spell, the one she cast on mean girl Radka. It would seem like Radka and her cute brother Ren are somehow two halves of a single monster! Talk about a bummer. That's where Sabrina the Teenage Witch #1 leaves off, with the two separating.
The Art Of Sabrina The Teenage Witch #1 Enchants
Veronica and Andy Fish are absolutely killing it on this series. Veronica's pencils and colors are incredibly expressive. She's not afraid to give Sabrina or her friend's cartoony expressions. Her use of pink and purple in especially magical scenes is a delight! She's able to switch between the casual comfort of Greendale High and the terror of a nighttime chase with ease. Andy's inks are bold and beautiful, with a natural edge to his brush that blends perfectly with Veronica's style.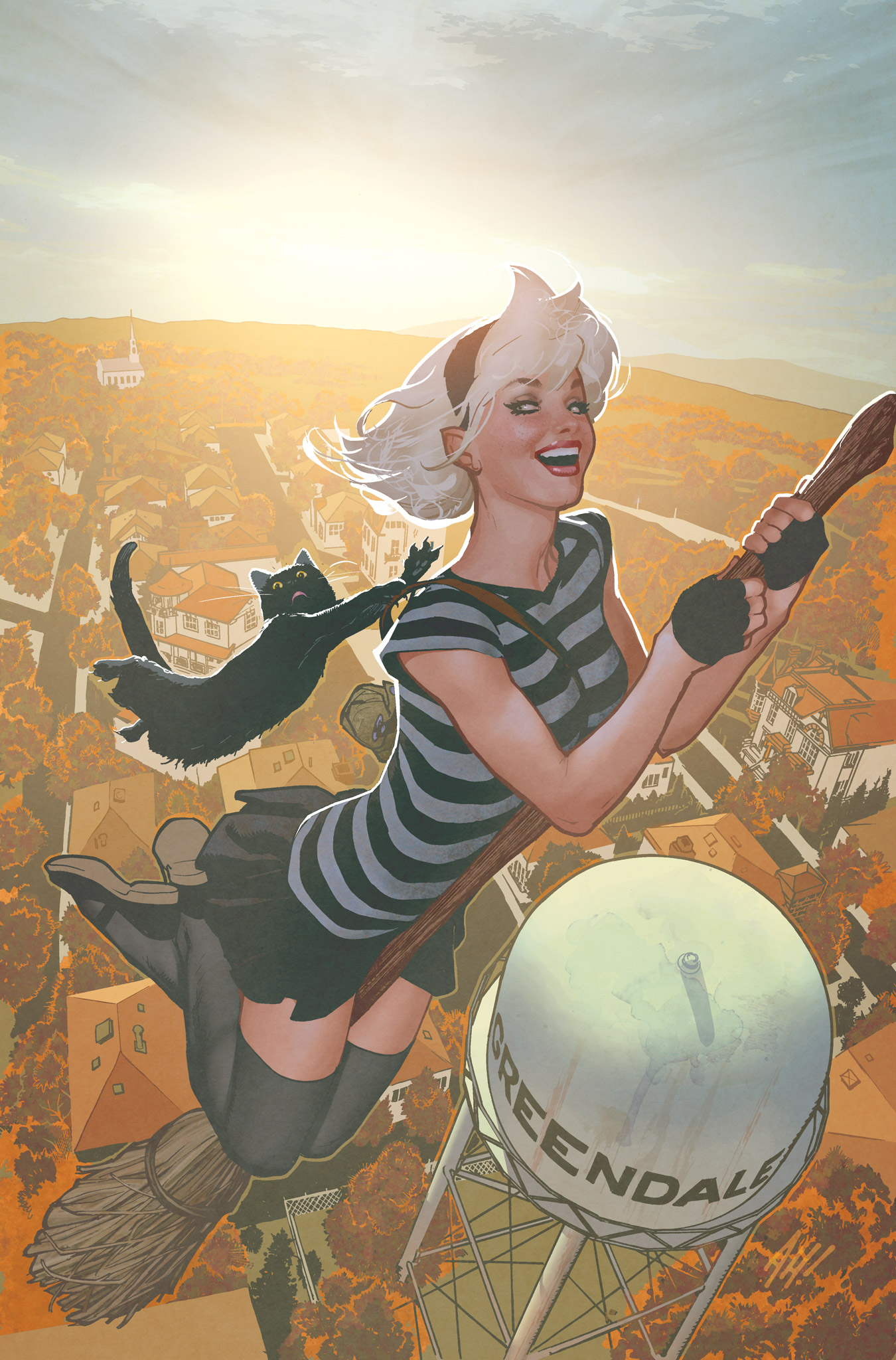 Jack Morelli's lettering is clean and clear. His standout moments are, like Veronica's, in the magical moments. His font choices shift, his word bubbles morph, and each spell is announced by a numbered scroll.
WendiGO Grab Sabrina the Teenage Witch #1 right now!
With Archie Comics delving into darker subject matter with miniseries like Blossoms 666, the lighthearted adventures of Sabrina and her friends are a good reminder of what makes us love Archie in the first place. The juxtaposition of occult danger and classic high school drama is the bread and butter of this type of story.
By directly tying the mean girl bully character to the supernatural threat, Thompson and co. are able to set the stage for a truly special Sabrina series.
Get Spellbound With Sabrina The Teenage Witch #1
Dorky and endearing, Sabrina the Teenage Witch #1 sets the stage for an exciting chapter in Sabrina's story!