The Avant-Guards won their first game! Liv managed to win Charlie's friendship and team membership, but will she win Charlie's heart? From Carly Usdin, Noah Hayes, and Rebecca Nalty comes the latest chapter in this romance, The Avant-Guards #4!
The Avant-Guards #4: Heart Eyes Everywhere
The Avant-Guards #4 opens on the team celebrating their first victory. Liv begins to make a move on Charlie when she notices that Nicole brought a date. Putting her jealousy aside, Liv starts talking with Charlie. Suddenly, Nicole hears a certain song. She explains to Charlie that Liv played the song for her when they were dating as a romantic grand gesture.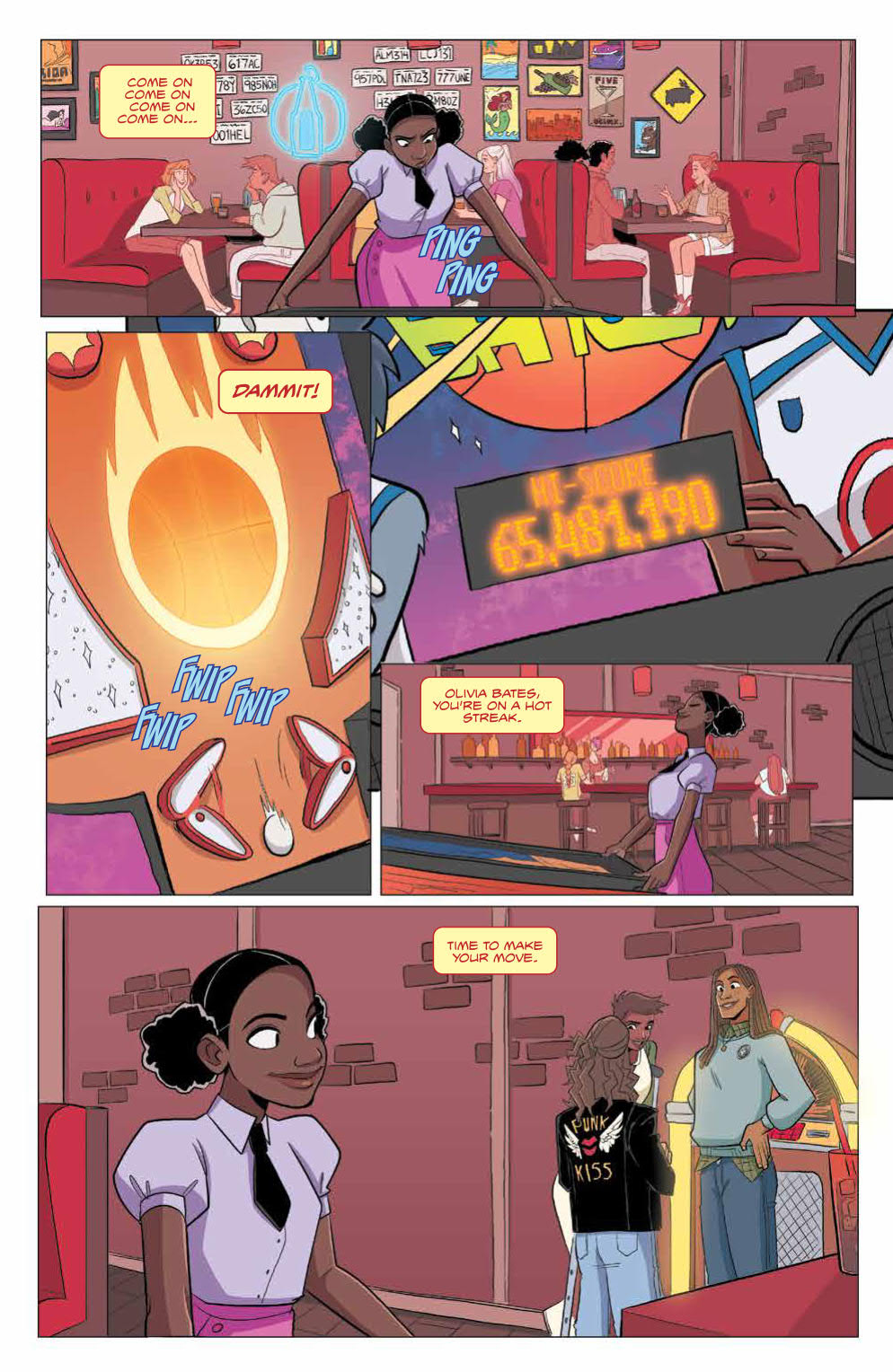 Liv runs off, embarrassed and upset, and Charlie goes after her. Liv confesses that she's not over Nicole yet. In turn, Charlie confides that she also went through a break-up recently. They walk back to the dorms and Charlie puts her arm around Liv. Since she isn't over Nicole yet, Liv decides to back off but she and Charlie still share a kiss. Liv happily returns to her room only to find an e-mail saying that all games are suspended until further notice.
Lovers To Friends, Friends To Lovers
The Avant-Guards #4 takes a break from the basketball court to really focus on building these relationships. First, we see a new, more vulnerable side of Liv. We've heard about her relationship with Nicole but we now know that Nicole broke up with Liv. Despite her constant positive attitude, Liv was clearly more invested in their relationship. Being around Nicole must be more difficult for her than she lets on. Although Nicole says she's protective of Liv, she's already moved on and thinks that Liv is doing the same. She protects Liv from future heartbreakers but she doesn't realize that she herself might be hurting Liv. Obviously, they both still care about each other but going from lovers to friends can be a painful transition.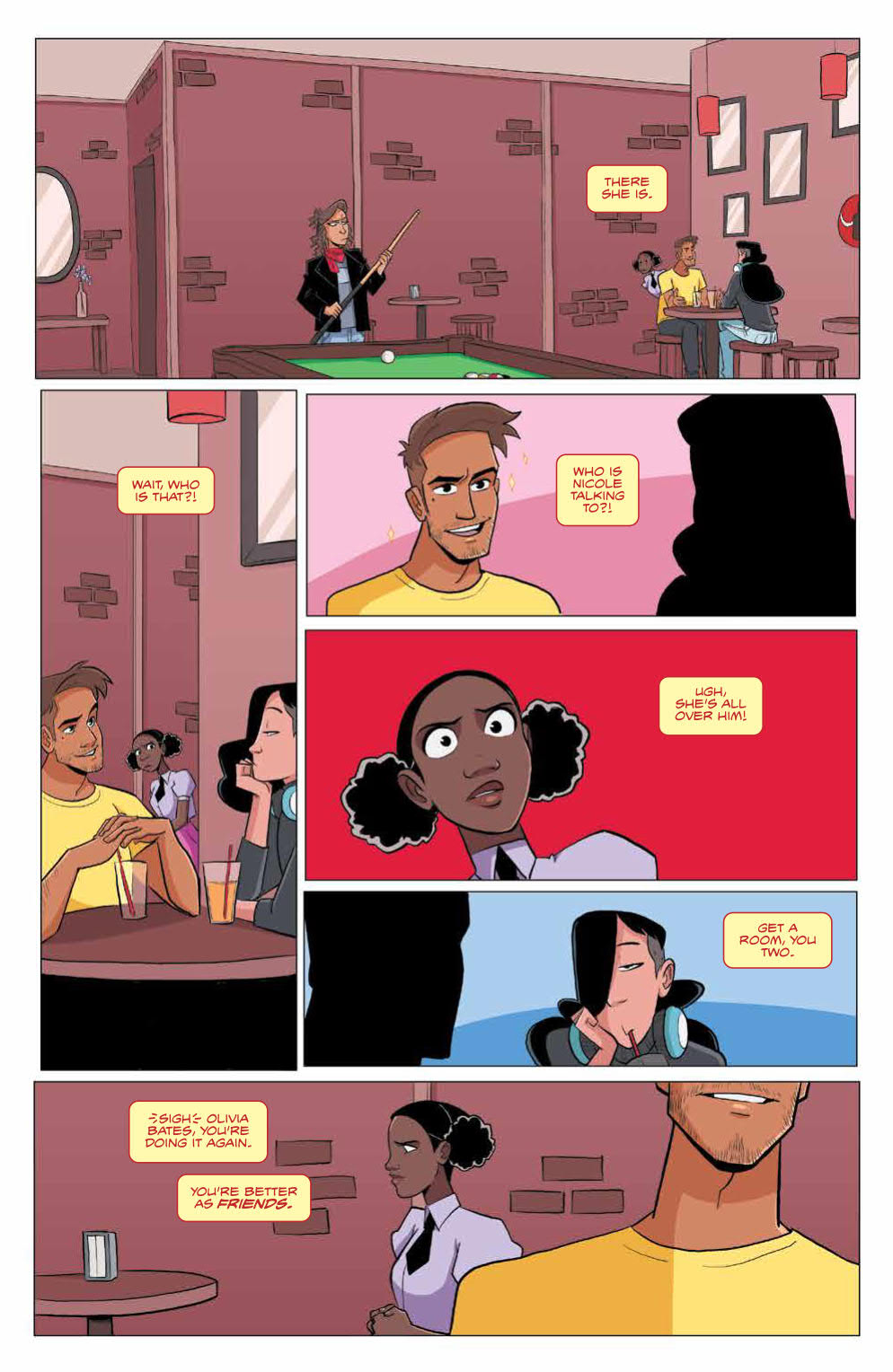 Surprisingly, Charlie turns out to be in a fairly similar place emotionally. Perhaps her recent break-up even played a part in her decision to transfer to a new school. Over time, she opens up to Liv and this revelation only brings them closer. I especially love their playfulness when talking about past break-ups. It really shows the evolution of their relationship, going from literally one-sided conversations to witty banter. Their romance has developed very naturally over the past four issues and hopefully it will continue to grow stronger.
The Colors Of Love
Even though The Avant-Guards #4 focuses on relationships over action, the artwork remains a crucial part of the storytelling. In fact, a large part of the romantic build-up between Liv and Charlie is visual. This can be seen most clearly in the use of space and backgrounds. When Liv and Charlie first start talking, they are as far apart as the panel will allow them to be. Gradually, they get closer until the moment when Charlie puts her hand on Liv's arm.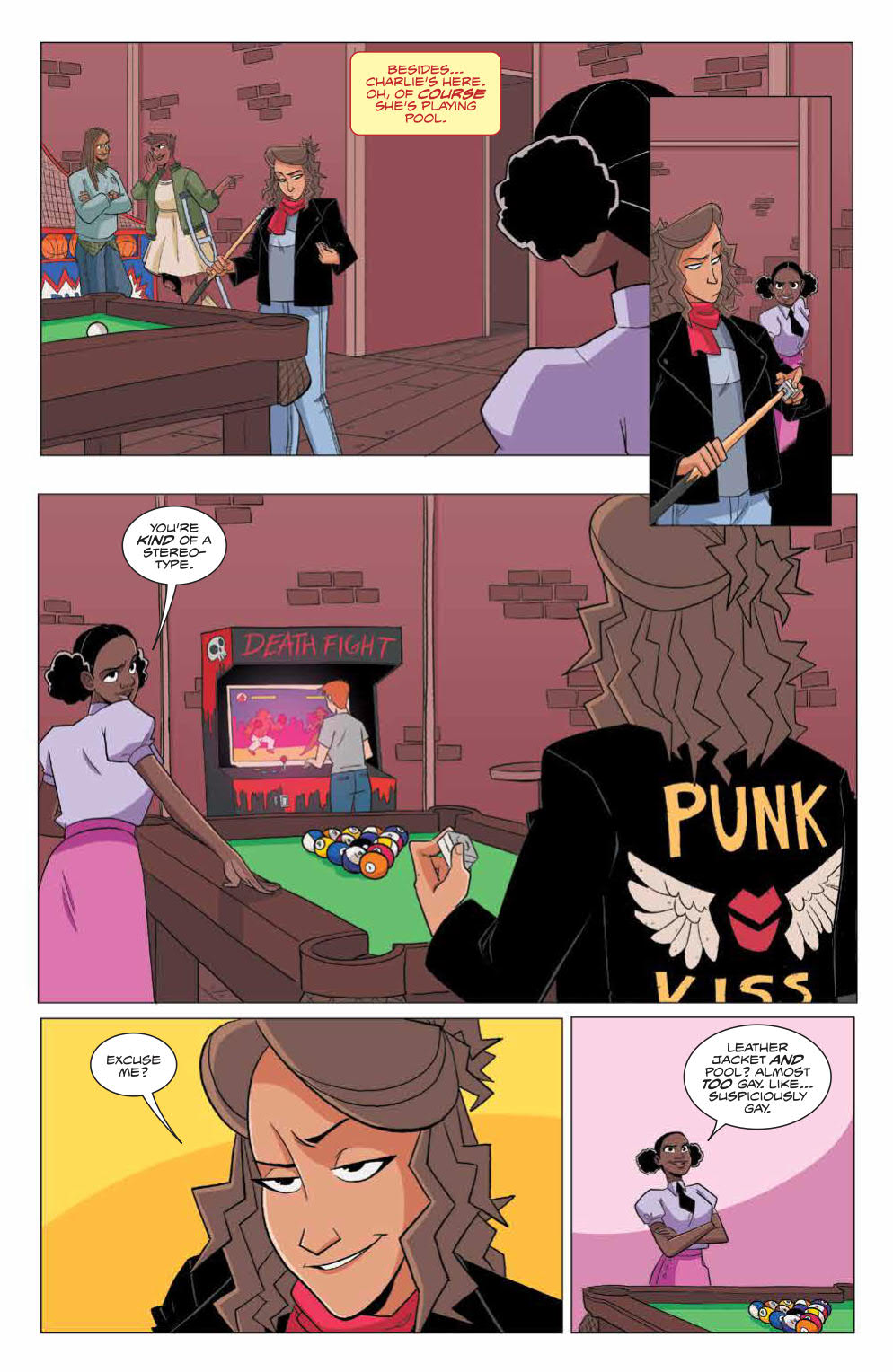 This stands out because it is the first time they make physical contact. Hayes and Nalty emphasize this moment even more by replacing the cozy pink background with a stark white. The panels that follow slowly transition back to pink as the awkwardness starts to diminish. It's visual cues like this that drive the story forward.
Catching Feelings In The Avant-Guards #4
I really appreciate that The Avant-Guards #4 takes the time to focus on building relationships. We've seen Liv and Charlie go from complete strangers to a very sweet pair. In the process, we also get to learn more about Liv and Nicole's relationship. While the team knew about Liv's crush on Charlie, how will they react to them actually getting together? Did Tiffany and her coven almost set the school on fire during their intention-setting ceremony? And getting back to the action, will they still get to be the Avant-Guards with all future games currently suspended? We'll have to wait until the next issue to find out!
The Avant-Guards #4 by Carly Usdin, Noah Hayes, and Rebecca Nalty
A Super Sweet Story!
Liv and Charlie's relationship is at the heart of this comic and I've loved watching them come together! While this may be a break from the action, it's a welcome, well-earned detour. I'm so excited to see more!