It's been over two weeks since Wynonna Earp (#FightforWynonna) fans, also known as Earpers, were sent into battle for their favourite female hero after production of the fourth season was delayed. The series was renewed for season 4 by SYFY in July 2018. However, due to financial issues at IDW Entertainment, who funds the production, the series has been put on indefinite delay. Over the coming weeks, Earpers and the cast and crew have come together to try and save the show.
What Is Wynonna Earp?
Wynonna Earp premiered in 2016 and is based on the IDW Comic series by Beau Smith of the same name. The series follows Wynonna, played by Melanie Scrofano, the great-great-granddaughter of lawman Wyatt Earp, whose family is cursed as protectors of the Ghost River Triangle. Each generation, when the heir turns 27, they are gifted with the ability and burden to send all 77 revenants. Those are the reincarnated outlaws that Wyatt put to rest, back to hell with the Peacemaker (Wyatt's gun). Until one of the heirs does so, the next generation of Earps is destined to have to do the same.
Wynonna tries to break the curse with the help of her younger sister Waverly and her boss Special Agent Xavier Dolls from the US Marshalls. She also has help from much of the current and former law enforcement in Purgatory, including Wyatt Earp's best friend John Henry "Doc" Holliday, Sheriff Randy Nedley, and Purgatory's Finest, Officer Nicole Haught. On their mission to break the curse, the Earps and company also get help from a lot of other amazing characters (that there are too many to list) across its three seasons.
What Is #FightforWynonna?
While it is unclear exactly what occurred, the fandom started using the hashtag #FightforWynonna on February 21st. This started after a series of tweets from Wynonna Earp herself, Melanie Scrofano, and the show's creator, Emily Andras, indicated to fans that the show was not filming its fourth season yet and they were not sure why. Fans had already grown suspicious in the previous weeks as typically the show begins filming in early February.
The response was immediate, with Wynonna Earp trending on Twitter on Thursday night and Friday. As of now, there is still no word from IDW Entertainment as to when season 4 will begin filming. The most recent comment was on February 22nd. However, they are still contractually obligated to provide SYFY a fourth and fifth season of the show. Even if they have financial woes. SYFY has said they are still committed to the series.
What Are #FightforWynonna Earpers Doing?
In the coming weeks, fans and the cast have remained active in their battle using #FightforWynonna to post fan art, videos, and a lot of tweets. The most epic of their accomplishments included putting up billboards all over Times Square last week. The billboards have become so popular that on March 6th alone there were 16 scheduled, including one from Melanie Scorfano and Emily Andras to fans.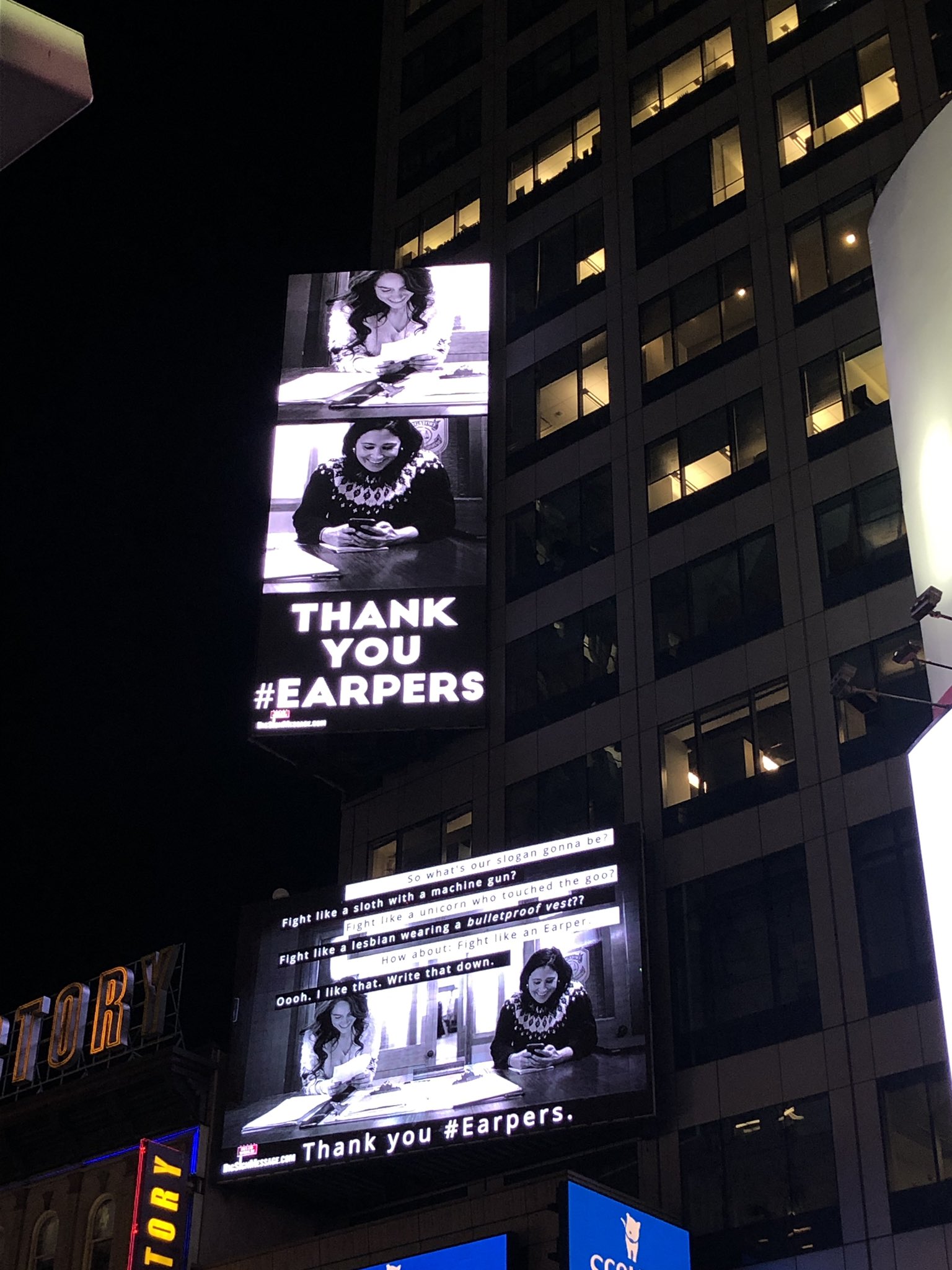 Since their comments, more news has come forward which makes it seem as though IDW financial situation is not something that is likely to improve very soon. Despite that, the fans, cast, and crew continue to work every day to show that they still care. While there is nothing worse than losing something you care about, the way Earpers have rallied around saving the show instead of just giving up. It definitely highlights not just what is great about Earpers but fans and fandom in general.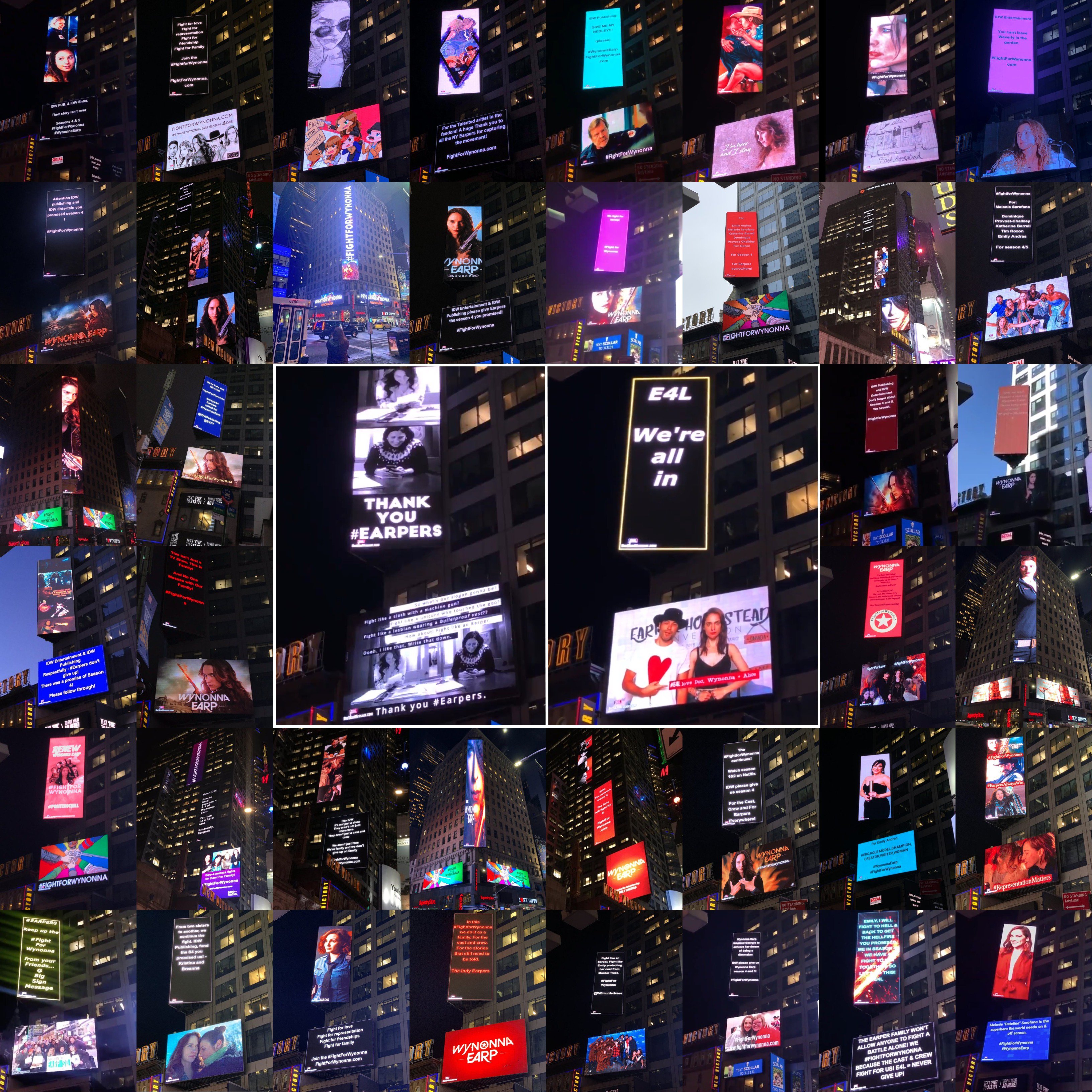 How Can You Help Save Wynonna Earp?
Want to help save Wynonna Earp? WynonnaEarpFans.com has a plan! Whether you use Twitter, Facebook, or none of the above, you can contact IDW Entertainment and SYFY and let them know you care. The main point is to contact IDW Entertainment or Publishing and let them know that you want more Wynonna Earp.
You can post on Facebook, email them, call them, or tweet them using the hashtag #FightforWynonna. Earpers are also trying to reach out to Netflix and get them to add season 3 of Wynonna Earp as that will also help fund the series. You can contact Netflix via Twitter or their website. For more specific details, check out their plan and look out for updates here. No matter what though, always remember to be polite.