Welcome back to Fanfic Friday everyone! Since it is the spooky season, The Daily Fandom has curated a list of ten horror-esque or just cute spooky Stony fanfics for you. For those who aren't aware, Stony (or SteveTony) is the most recognizable slash ship in the Marvel universe.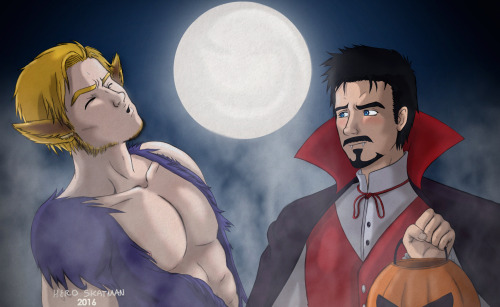 The ship features our dear beloved Captain America, Steve Rogers, and the notable Iron Man, Tony Stark. Alright, let's cut the chatter and get to the list!
By: nightwalker
Summary: It was supposed to be a relaxing vacation, a chance for them to spend some time as a couple and work out some of the kinks in their relationship. That was before everything got weird.
Rating: Explicit
Words: 26,779
By: samptra
Summary: Steve nodded looking pensive for a moment, like he was about to say something, opening his mouth before shutting it again.
"If you need anything," he said finally pulling a white card out of his pocket, "My home number is here and my cell…call me." He smiled once more and with a little wave headed out the door and to his truck.
Tony watched him until he was gone down the lane, wondering what Steve had really wanted to say to him, he looked at the small card and shrugged he had no idea what it was and he guessed it really didn't matter.
Later he would regret not pushing Steve to tell him.
Rating: Explicit
Words: 23,288 (WIP)
By: thegraytigress
Summary: Exhausted and overworked, Tony decides to take a day off and spend it with Steve and their young son. However, what was supposed to be a fun time with his family spirals into a crazy nightmare where fear comes to life. Suddenly there are monsters out to get him and friends betraying him and enemies closing in around him and everything imaginable going wrong. Just like that, he finds himself facing his worst fears of all: losing Steve.
And being a terrible father.
Part of the Captain America/Iron Man Reverse Big Bang 2019.
Rating: Teen+
Words: 57,358
By: cptxrogers
Summary: A mysterious signal is emanating from deep within Antarctica, and Steve and Tony set out to investigate. If they can make it through the freezing temperatures and the deadly ice fields, something even stranger awaits them deep in the antarctic mountains.
Rating: Explicit
Words: 14,314
By: S_Hylor
Summary: Driving while tired is never a good idea, especially when the weather is terrible, as Tony finds out the hard way. Now in pain, with a wrecked car and no phone service, Tony is stranded at a hotel perched on a cliff overlooking the flooded ruins of an abandoned town in the valley below. With no working phone, only three other people around, Tony isn't sure who to trust or what to believe. Something isn't right, something is stopping him from leaving.
Rating: Teen+
Words: 70,441
Summary: Tony inherits what appears to be the entire mildewed contents of his late great aunt's attic, and Jan and Steve volunteer to help him sort through the boxes. Some of the objects they find are… slightly more interesting than others.
Rating: Teen+
Words: 6,319
By: capn-shellhead
Summary: Is this the sappiest thing I've written in a while? I think so, lol.
Happy early Halloween! (And I had to mention Neil Patrick Harris and David Burtka because their family Halloween costumes are so cute!!)
Steve/Tony + baby!Peter | 48. "Boo."
Rating: Not Rated
Words: 461
Summary: Five times Steve reads Tony's mood by his tail without Tony realizing it, and the one time Tony knowingly lets Steve read his mood by his tail.
Rating: Teen+
Words: 3,853
By: ezazahaz
Summary: Enchanted (Steve/Tony)
Rating: Teen+
Words: 755
By: KagekaNecavi
Summary: Tony is out costume shopping when things get decidedly hairy.
Rating: Teen+
Words: 3,106
---
You wrote a fic and would like it to appear on Fanfic Friday? Or maybe you want to suggest a fic you loved? If so, let us know by leaving a comment down below, tweeting us, sending us an ask on Tumblr or emailing us!