Lumberjanes #68: Its a Myth-tery comes out on Wednesday, November 27th. It's written by Shannon Watters and Kat Leyh, illustrated by Kanesha C. Bryant, and colored by Maarta Laiho. It was lettered by Aubrey Aiese, and the cover was done by Kat Leyh. There is also a pre-order cover available by Sas Milledge.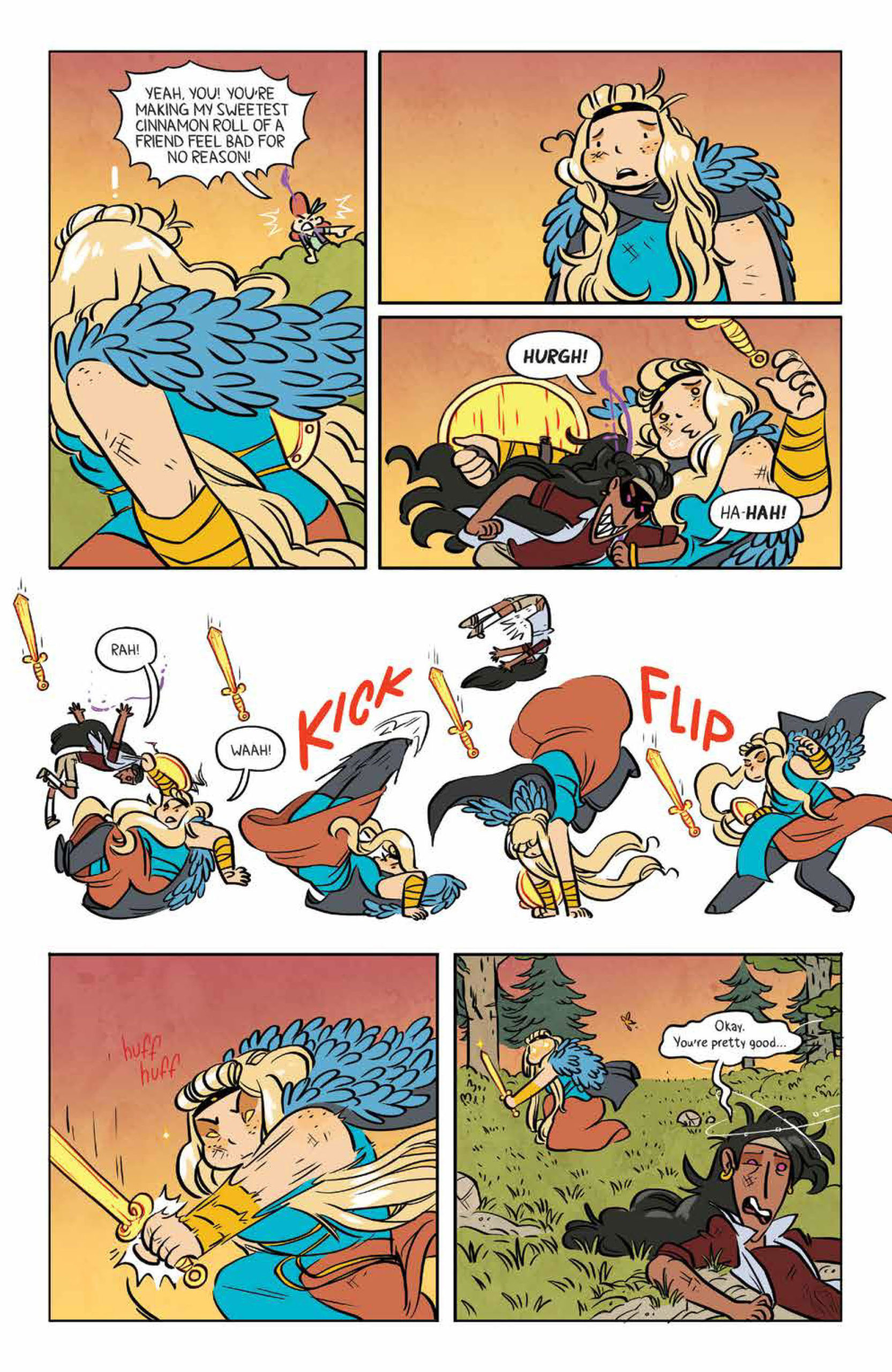 Closely following the last issue, Lumberjanes #68 picks up right where it left off. Molly, Barney, April, Diane, and MacKenzie have found Freya, who ran off into the woods after stealing Barney's cat, Marigold. At the same time, Wren, Jo, Ripley, Mal, Hes, and Emily, who were hiking in the woods in search of extraterrestrial life, find an alien cat.
Freya's Final Chapter
Lumberjanes #68 is the final issue in the mini-plot arc involving Freya. Or, not Freya, as we find out a few pages into this issue. As it turns out, Freya is actually a goddess by the name of Irpa, who lost one of Freya's cats and is terrified to return back empty-handed. When she believes that Marigold is the lost cat, she's ready to fight to bring it back to Freya. However, the Lumberjanes quickly put a stop to it, and she announces that she isn't Freya. Diane, who we're used to not liking, steps up to the plate with something least expected. An offer to help Irpa find the lost cat. Diane makes a half-hearted speech about friendship or whatever, but it's nice nonetheless.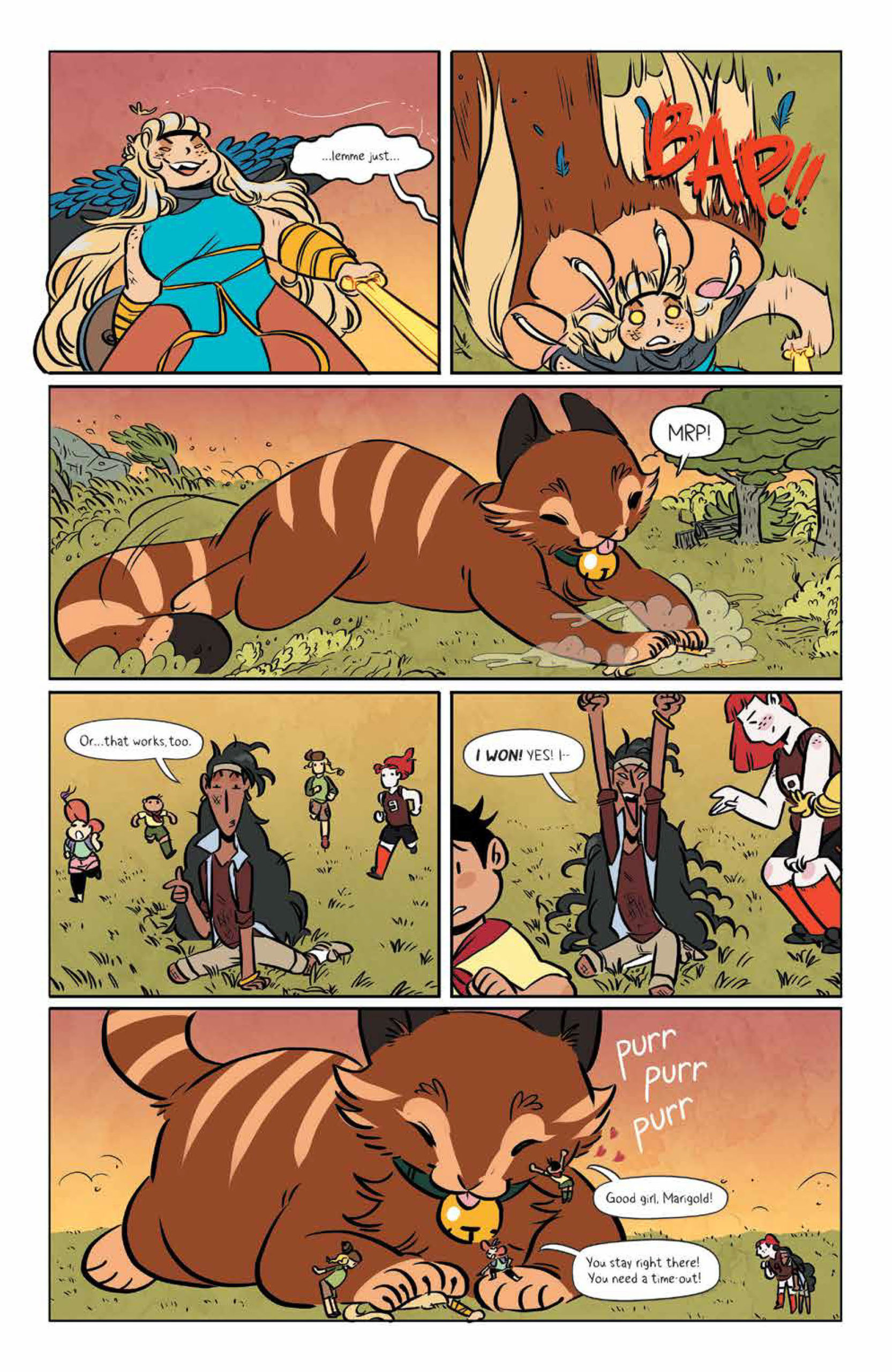 Meanwhile, Jo, Ripley, Mal, Hes, Wren, and Emily are hiking around the woods and they run into, you guessed it, an alien cat. Ripley quickly takes to the cat, calling it her own. She attaches herself onto it and the cat rockets into the cat, Ripley and all. When trying to get Ripley safely back to the ground, they meet up with the other half of their group and Irpa. Irpa quickly realizes that the flying alien cat is the one that she's missing. Everything solves itself pretty quickly after that. Lumberjanes #68 very much feels like a wrap-up issue. It does a great job of tying up the loose ends from the previous few issues.
Relationships New And Old
The best part of the issue is by far the last few pages, where we get to see a few of our favorite couples snuggling up to each other under a shooting star shower. Molly calls Mal her girlfriend, and things are as adorable as ever between the pair. Meanwhile, Hes confesses her feelings for Diane, and Diane feels the same way! Diane also expresses her disinterest in kissing and Hes doesn't seem to mind, which is a huge step for asexuality in modern stories.
They hold hands, and everything is alright. I can't wait to see what's in store for the future of the series. April and Diane are finally starting to enjoy each other's presence, and everyone is settling into the new dynamic of the camp. Barney is a regular character, and the side characters are beginning to have more of a presence in the story. It's all uphill from here.
Lumberjanes #68, Yes Or No?
If you're a fan of the Lumberjanes series, like I am, I definitely would recommend continuing on with it. The writers and artists have a way of making the series so whimsical and fun, including important narratives on gender and identity. It's an incredibly important series because of what it's doing with its characters.
The art is always adorable and fun to look at, and the writing is always quick and witty. If you're thinking about starting this series, I would wait and pick it up on #69, or pick up the volumes to get yourself caught up! Overall, you won't be disappointed in this series, and this issue was the perfect ending to the Freya storyline.