The fantastic duo of Brian Michael Bendis and Michael Gaydos have been busy putting together a modern comic masterpiece. They have taken the calling cards of several genres from crime to even romance, twisted them all together and formed this amazing series. But to quote Bendis himself, Pearl is all about "anti-cliché" storytelling. This has become more and more apparent with each passing issue. But Pearl #8 and #9 are some of the strongest of the series, and this rule is the most blatant here. Watch as Pearl turns left when you expect right and become one of the most hilariously fun crime stories you have ever read.
Pearl #8 Takes Us From One New Place To The Next
Pearl #7 was a road trip issue focusing on Kimmy and Pearl going to Portland. Now in Portland, Pearl is told that she must go to Japan. So once again, we are on a trip, but this time by plane. The way Pearl interacts with the Yakuza side of her family versus Kimmy and her friends is on full display. She is forceful, she has to be in order to be accepted. She hasn't lost her sassy charm, it's still in full force, she just tones it down in order to display a bit more of a badass attitude.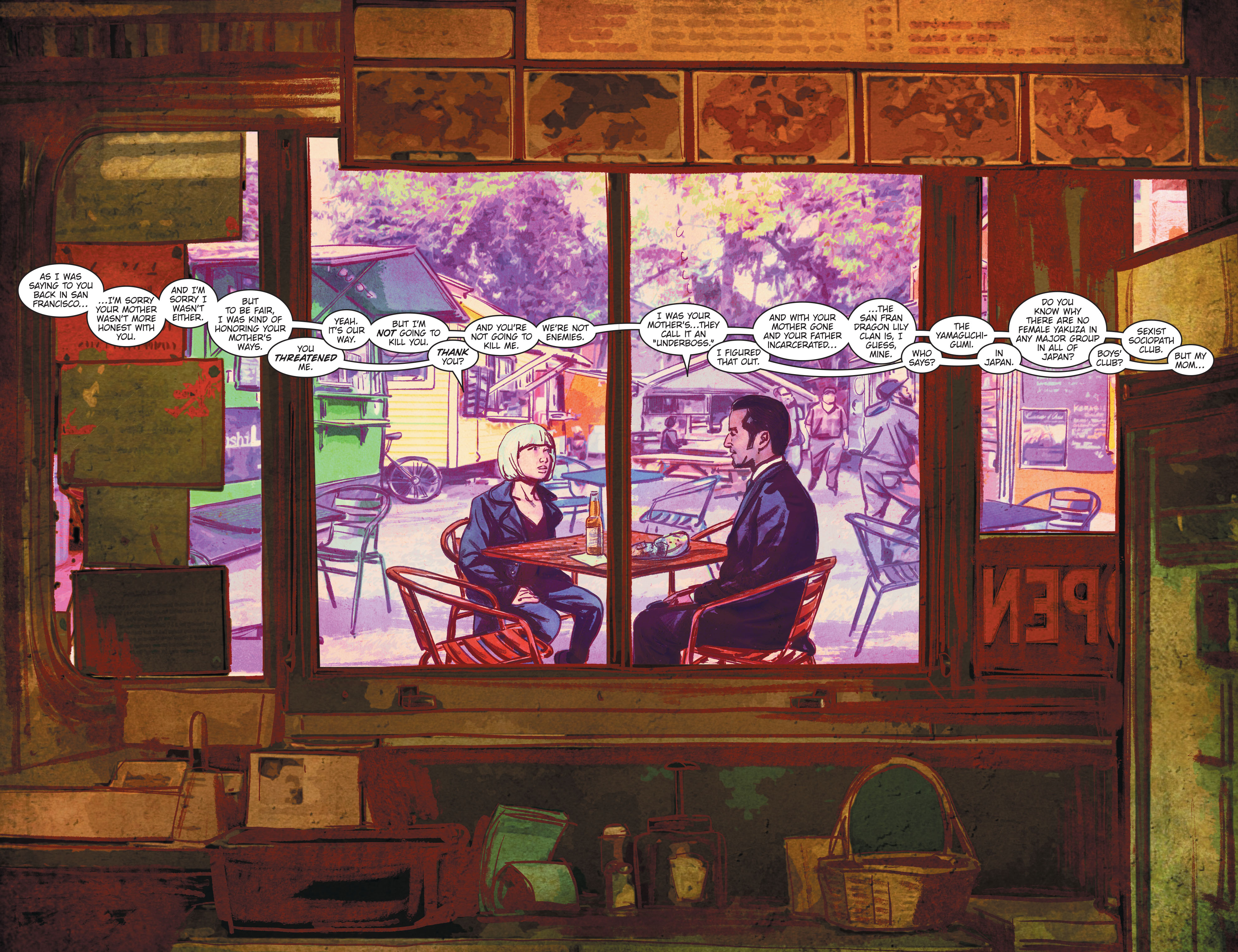 The way Gaydos uses colours and panel layouts to distinguish between locations throughout the issue is nothing short of spectacular. In Portland, it's bright colours and open spaces. An entire conversation between Mr. Miike and Pearl is down over the course of three double-page spreads. This is the direct opposite of the muted neon colours and many panels of the conversations happening in Japan. All of this helps cement the fact that Pearl, despite her confidence, is understandably nervous about meeting with one of Yakuza's leaders.
Pearl #9 Is Simultaneously The Most Fun And Satisfying Issues To Date
Pearl #9 is where the story of this particular arc really takes off and is a lot of fun. With the reveal in Pearl #8 that Rick was in Japan, this issue focuses on his journey getting here. He does a series of YouTube blogs about his journey which gives us insight into Rick's very young and bizarre life as well as adds levity for what is to come. The moment Rick and Pearl meet, sparks fly, and we even have them admitting that they are in a relationship. Their interactions are nothing short of adorable and funny. This is Bendis bringing his best dialogue to bear and making us love these characters.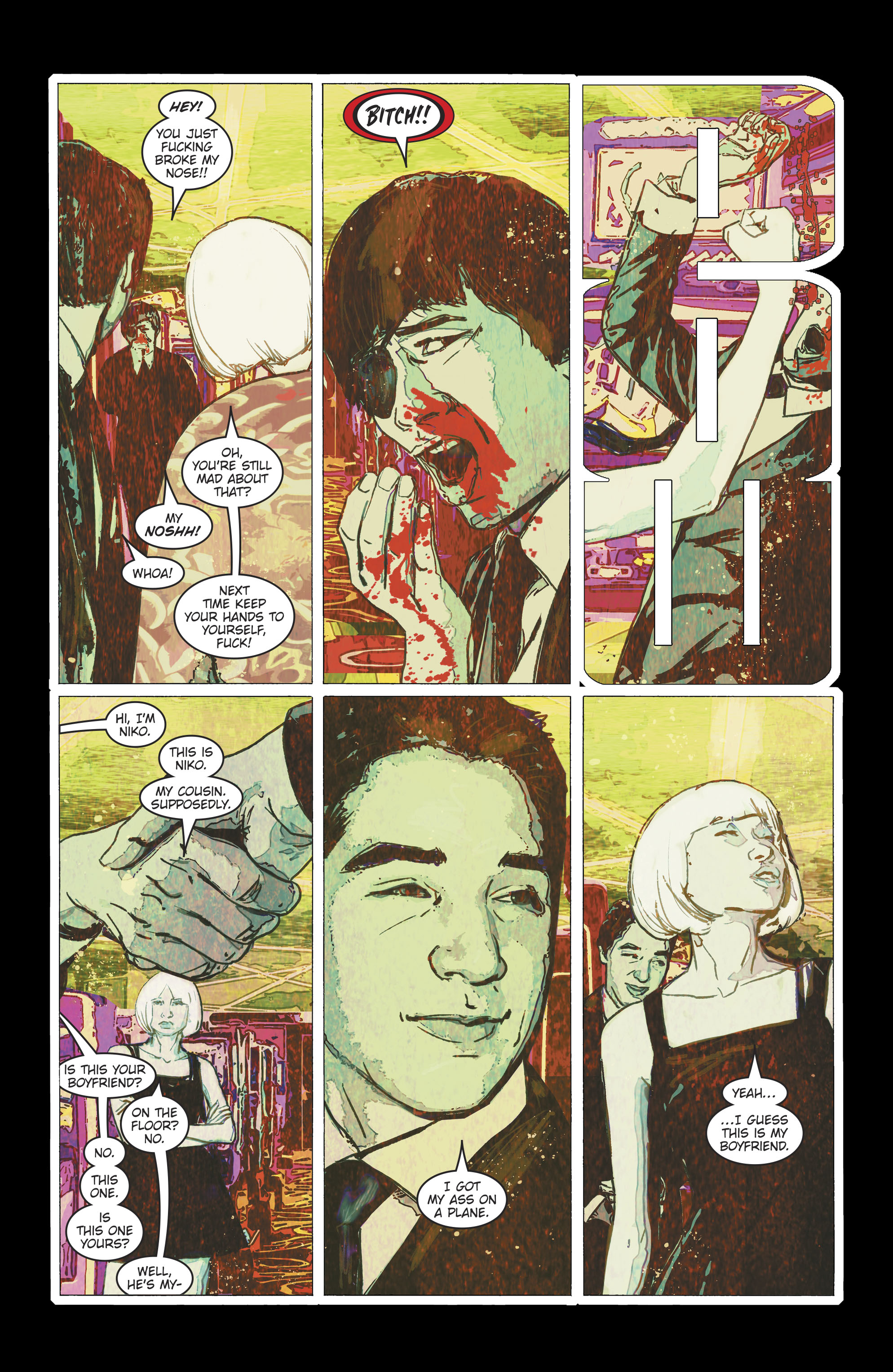 Pearl's meeting Saito is one of the best moments in the Pearl series to date. Power shifts constantly throughout the conversation, you are never sure who has the upper hand. And when things might get too dark and serious, Bendis lays on the levity of translation problems between the two. Finally, when Mr. Miike enters the conversation, we get the most satisfying scenes I have read in a very long time. Mr. Miike, throughout all his scheming and attempting to win Pearl over, never thought she had it in her to be just as cold-hearted as her mother. Pearl, just like the series goal, does not wish to match expectations. Mr. Miike gets exactly what he deserves and it's done with style.
Just Go Pick Up This Series, You Won't Regret It
Pearl #8 and #9 are very strong entries into this already amazing series. Pearl #8 puts you in the shoes of the titular Pearl as she goes from one new location to another. The stress is high and she has left her friends and has to contend with the Yakuza. Pearl #9 takes us on a romantic rollercoaster as Rick shows back up to give Pearl a much-needed break from the stress of the Yakuza. The series' main antagonists get to face the music for his decisions. The good news is this series isn't even done yet!