The wait is finally over, after two insane issues the epic origin of Harleen comes to an end. Throughout the series, readers have seen Harleen, an intelligent psychologist, slowly go mad. Readers last left her trying to understand the motives of the Joker. As she processes her recent session with the manic, she witnesses the horrific birth of Two-face on live TV. With this tragedy, Harleen finally realizes how she can get through to the Joker. Harleen begins her next session with confidence that this will be the last one.
After a back and forth she comes to a realization. She turns off the camera in the interview room and takes off the Joker's straight jacket. She then turns her back away from him to let him know that she has fallen for him. The session ends with an embrace between the two. As these two take their relationship to the next level, what will happen next? How did Harleen fully transform into the Harlquinn everyone loves today? Well, let's not wait any longer and take one last trip through the mind of Harleen Quinnzel in Harleen #3.
A Plot Into Madness
The issue begins five days after the hug between the Joker and Harleen. Harleen is now distraught after the incident and can't focus on anything else. As she goes over her recent life choices, she makes a decision and begins to have secret sessions with the Joker. With each session, she gets to know the Joker personally and is assuredly in a better mood to help the other inmates at Arkham Asylum. Then after much deliberation with herself, Harleen decides that she will make love with the Joker.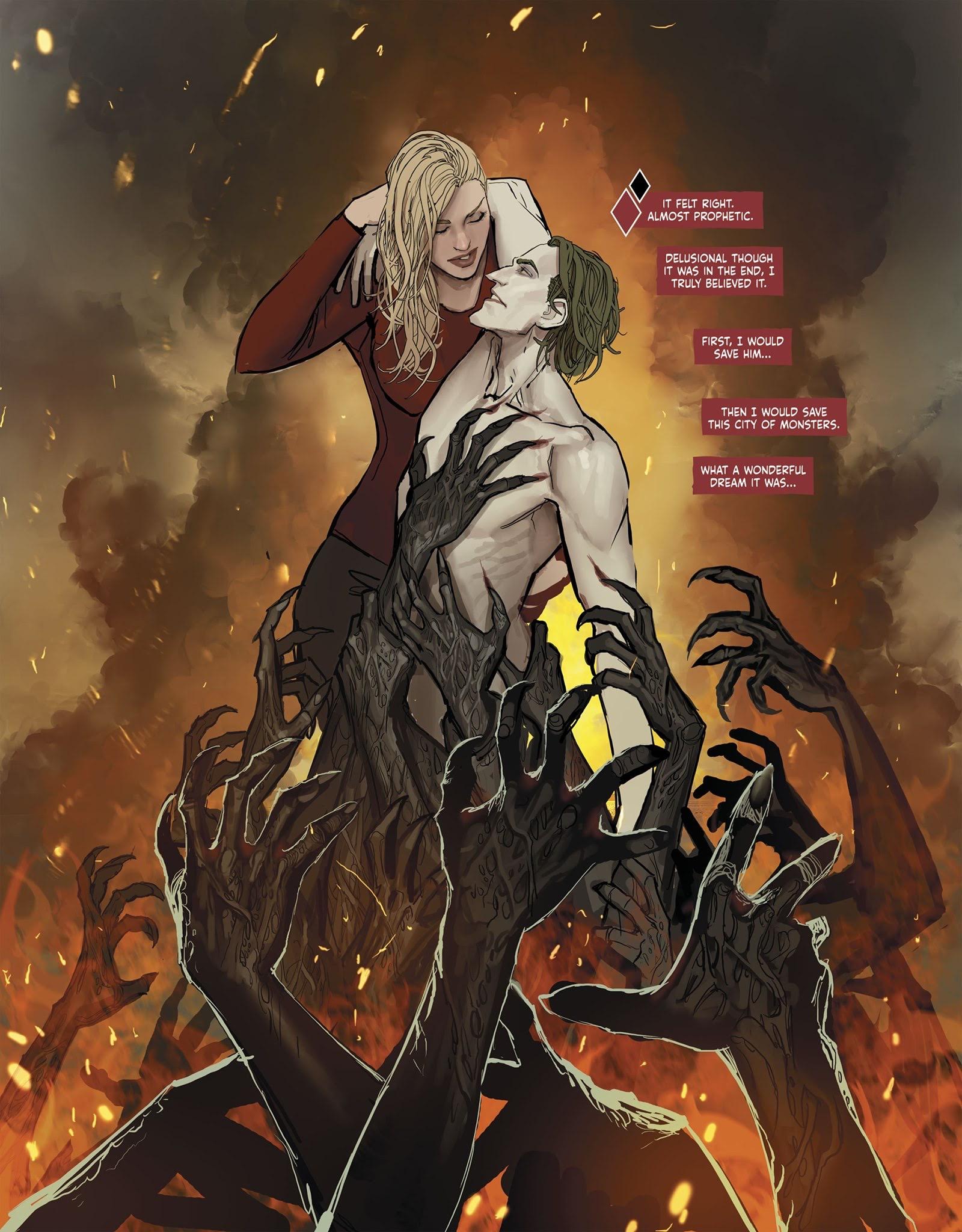 During this moment of passion between the two, across town readers get a glimpse of what Two-Face has been up to since his outbursts on TV. Two-Face is visited by The Executioners. They let him know that they loved what he said and wanted to help him on his crusade to wake up Gotham. They decide that to show Gotham the death penalty is unavoidable they must break out everyone from Arkham Asylum. Later that night, Harleen decided to head back to Arkham to visit the Joker when she was suddenly stopped by a blockade of police. After talking to commissioner Gordon, Harleen decides she needs to go inside and check on the Joker herself.
No Spoilers For Harleen #3
From this point, the book becomes a masterpiece. Everything fans love about the series comes full circle here and is done wonderfully. All that can be said is that there is love, loss, betrayal, a twist, a surprising death and lots of blood. It's an epic story that is a must-read for all comic fans.
Remaking A Classic
Harleen #3 is a comic gem from beginning to end. No, now with this issue tying up all the loose ends this whole series is a masterpiece. Stjepan Sejic is a creator that understands the material given and uses it to create a beautiful spectacle. Harley Quinn's story has been told so many times that almost every comic fan knows it by heart.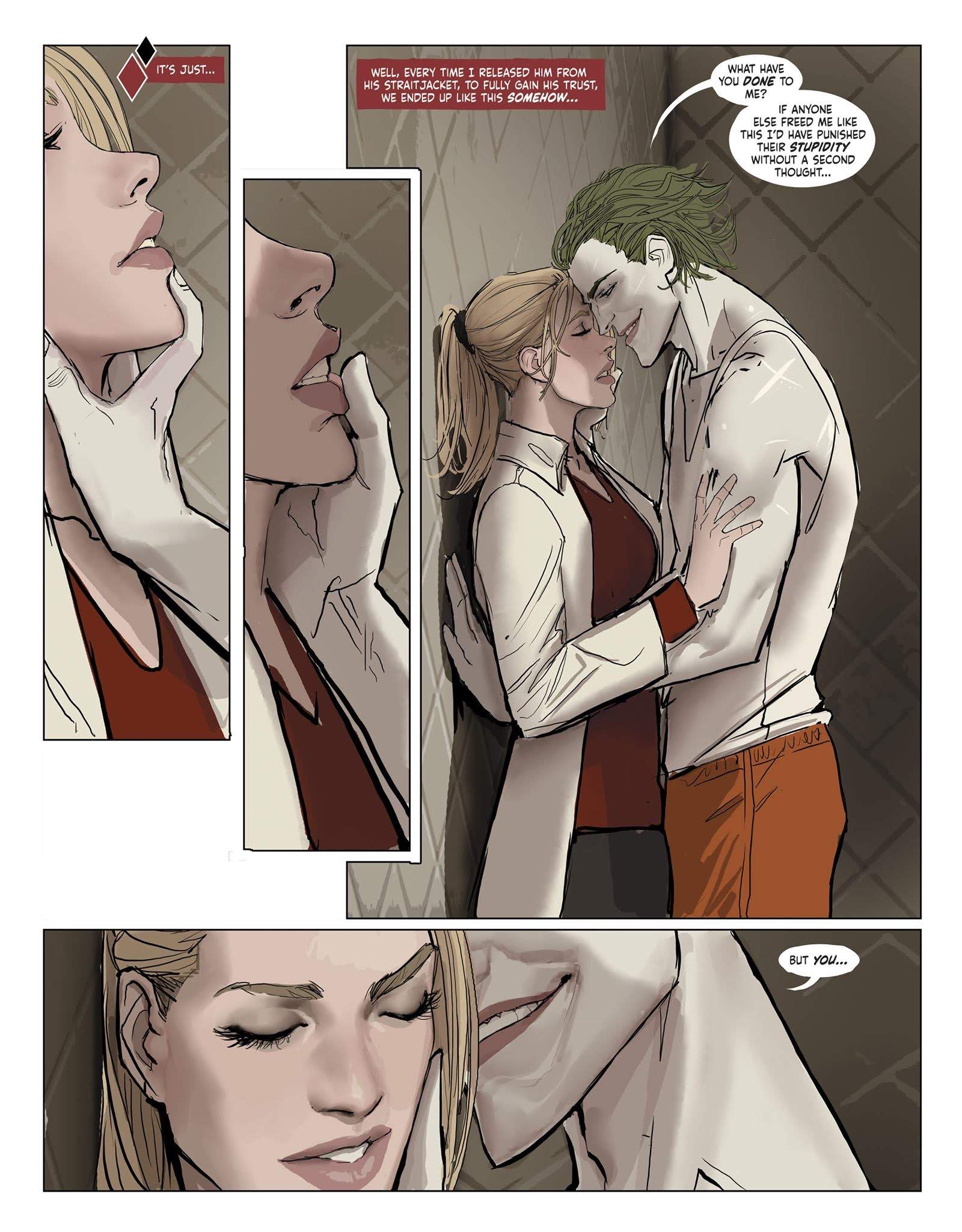 Sejic was given the task of doing this story again, but instead of just remaking the story he does something different. As Paul Dini and Bruce Timm's original Mad Love comic is amazing, Sejic decides to take that story and ground it in reality. Sejic then focuses on Harleen, but instead of making her ditzy and lovelorn, she is relatable and intelligent. It's a fantastic new spin on a beloved character.
A Glimpse Into Madness
Throughout the series, readers get a glimpse into the psyche of Harleen. Readers get to see her doubts and fears during this point in her life. She knows right from wrong but keeps doubting herself. It's a relatable trait that many people have and its expressed wonderfully in this series. This series has only three issues, but with moments focusing on her doubts, the character gets fleshed out so well.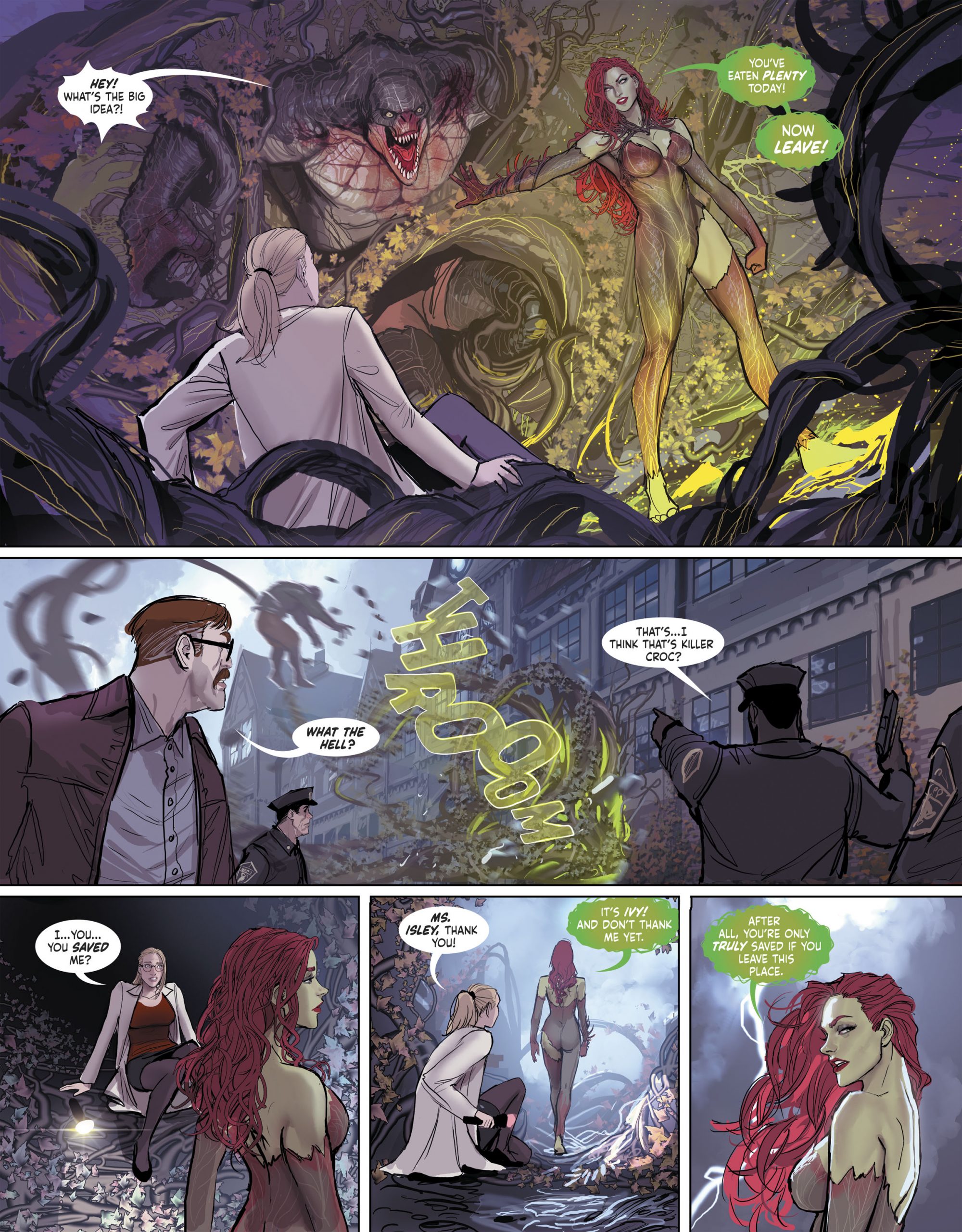 Too well, in fact, because readers start to root for her to not head down the rabbit hole into madness. As she inevitably does, it's a breath of fresh air that happens gradually. From its original origin, it feels like she falls for the Joker really quickly. As this can happen, making Harleen doubt herself and visit the Joker numerous times, it makes sense that she would go a bit mad. Seeing into the mind of this character was a magnificent idea and Sejic explored it beautifully.
Gorgeous Art In Harleen #3
As all the issues in this series contain gorgeous art, Sejic saved the best for Harleen #3. In this issue, readers not only get multiple splash pages, but three are all going to be iconic. The first is the love scene between Harleen and Joker. As it is a bit grown-up for young readers, the art, however, is done so passionately readers will forget that Harleen is sleeping with a manic. It's a page that many will never forget when they think of Joker and Harley.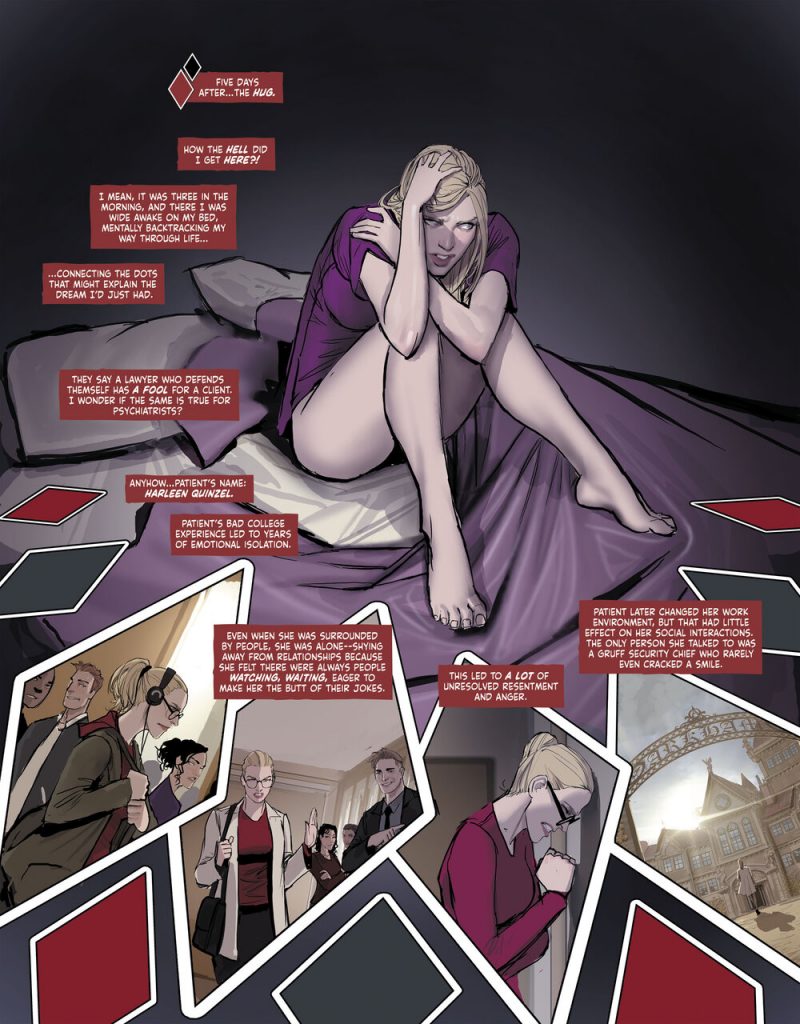 The next image features Poison Ivy, and let's just say she has never looked more ravishing. There is so much green that Ivy herself would blush at how wonderful shes drawn in Harleen #3. After seeing this image, though, many really want Sejic to write a Poison Ivy origin story now. Just seeing what he did with Harleen and with this splash page announcing an Ivy series will give everyone goosebumps.
A Final Image In Harleen #3
The last iconic image is found on the last page. The reason this page will be iconic is that it stays with the readers long after the issue ends. The series focuses on Harleen as she slowly becomes the Clown Princess of Crime. A page prior to the final image had Harley four years later mentioning that she barley remembers anything in her life now blaming it on laughing gas and fights. In a moment of flashbacks, it looks like the Harleen, who she used to be, turned out only to be suppressed.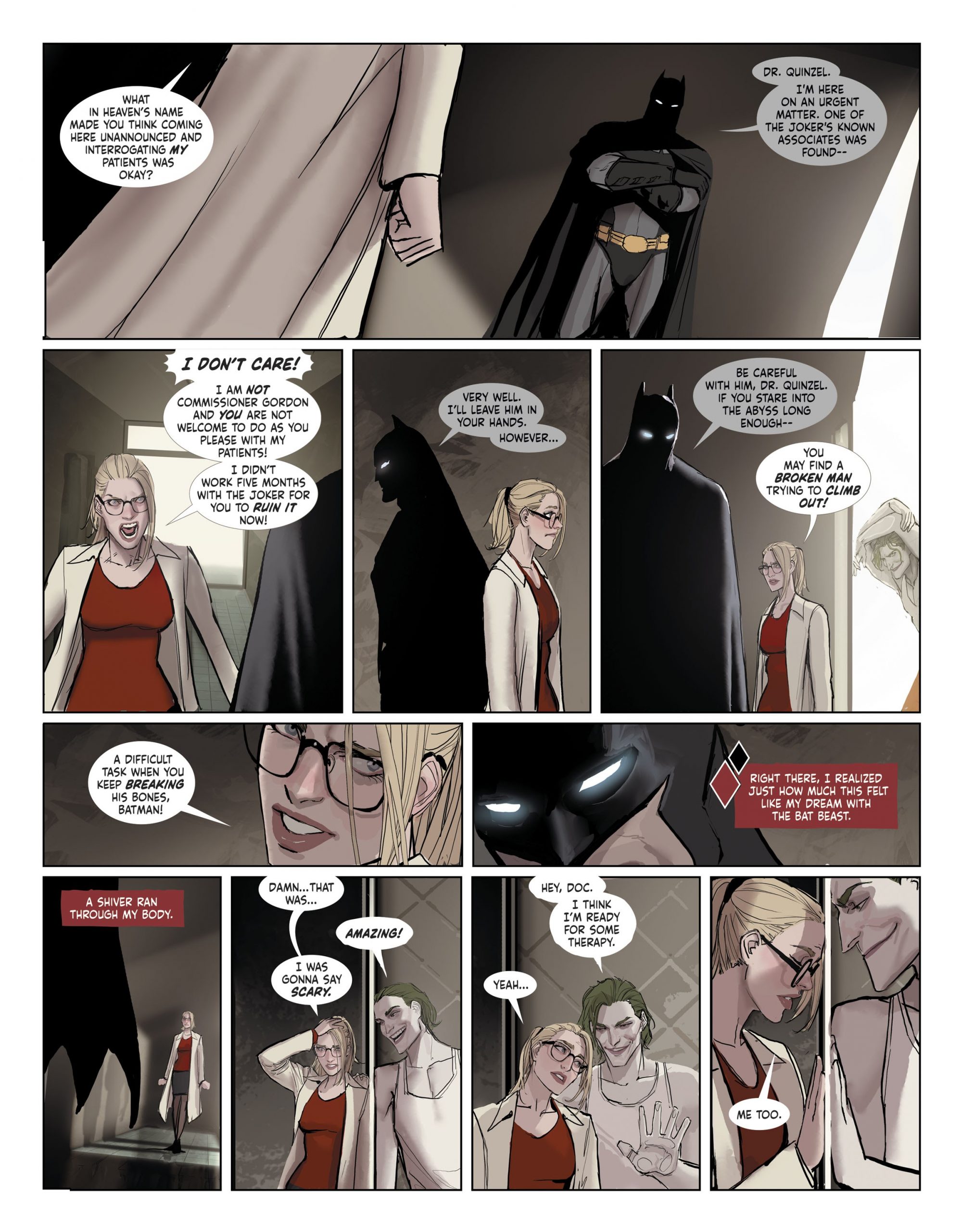 Then when the reader goes to the next page Harley is walking though a closed carnival with a funhouse mirror all around her. The gut-punch to everyone is that each of these mirrors contains versions of Dr. Harleen Quinnzel screaming to be free. It's a terrible sight because readers were rooting for Harleen not to take the path to Harley Quinn. Dealing with that it horrible to know that the bright woman that readers have come to relate to is still in there but is suppressed and will never be free again. All it takes is one bad day and this image shows the result of that day and its heartwrenching.
Should You Read This Series?
In the end, do yourself a favor and read this series. It's hard nowadays to find a self-contained story that sticks with you long after it's over. Harleen #3 was a gem and finished the story wonderfully. This contains twists, murder, love, death, and madness. What could anyone else ask for? Stjepan Sejic is a great writer/artist that should not be ignored, he is everything a good comic creator should be. This comic will be a timeless classic up there with many Batman stories and a must-read for all comic book fans.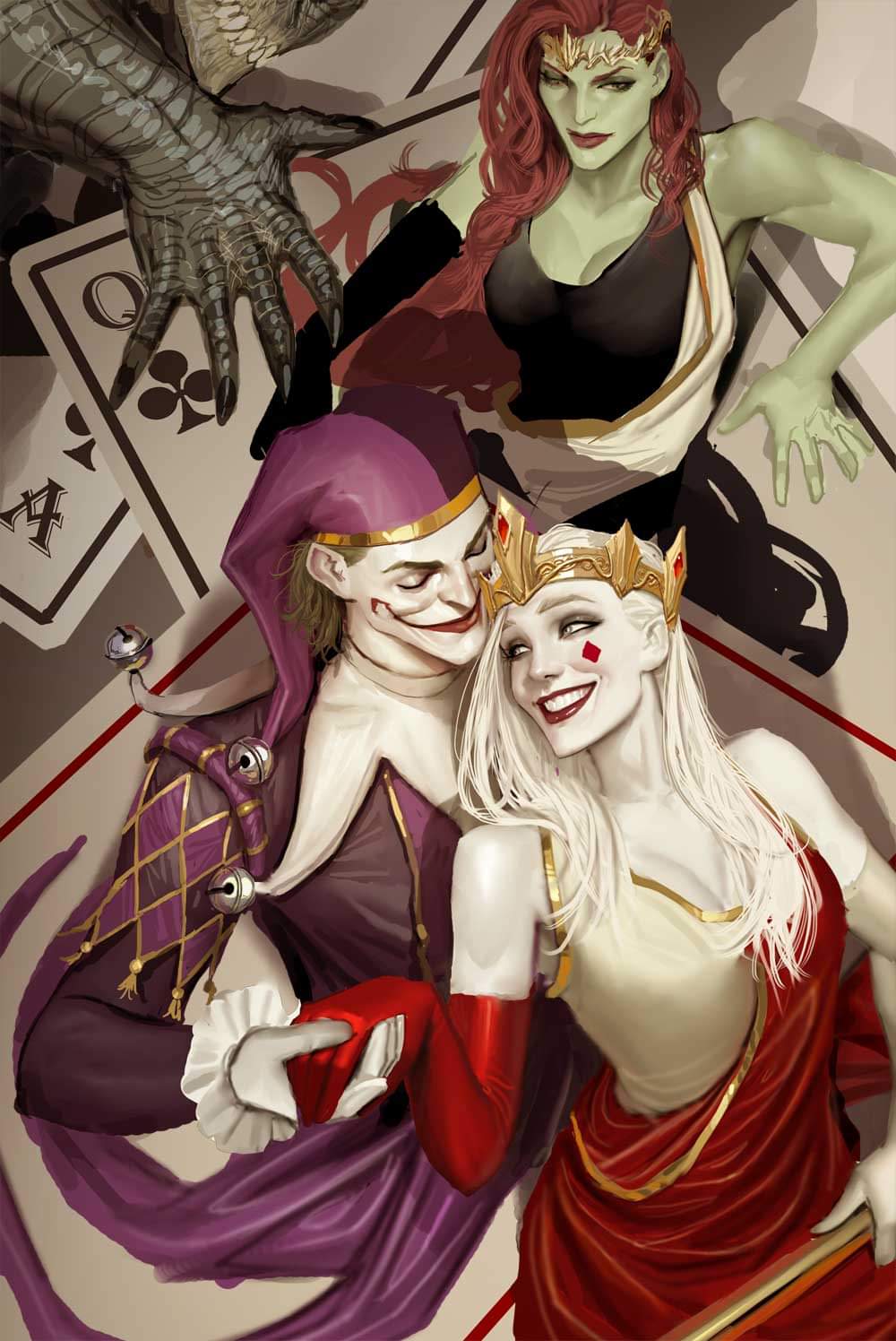 There are so many iconic moments and so many ways this comic could be interpreted and this review could go on for ten pages. The art alone should be an incentive to add this comic to your collection. This comic is a masterpiece that deserves to be recognized as one of the best comics to come out of the last decade. After you read this comic series you will be dreaming with a smile like Harley Quinn.