There have been countless stories about the price of fame, but Killer Groove pushed the boundaries of what a musician will do to find the right sound. Killer Groove (Aftershock Comics) was written by Ollie Masters, illustrated by Eoin Marron, colored by Jordie Bellaire, and lettered by Hassan Otsmane-Elhaou.  This five-issue story followed two characters navigating through the underbelly of 1970s, a time of intense social and political shifts. Following a hitman and a private investigator, Killer Groove depicted rough characters in rougher environments and did not shy away from language, drug use, and violence.  
The Price Of Fame: Killer Groove's Killer Concept
Jonny was a struggling musician looking to make it big, but his music wasn't connecting with an audience. Inspiration struck when Jonny accidentally killed a man in self-defense. After the bloodshed, Jonny was able to write amazing music. To keep the creative momentum going, Jonny realized he had to recreate that moment. Chasing inspiration, Jonny took jobs as a hitman, and the more he killed the more popular his music became.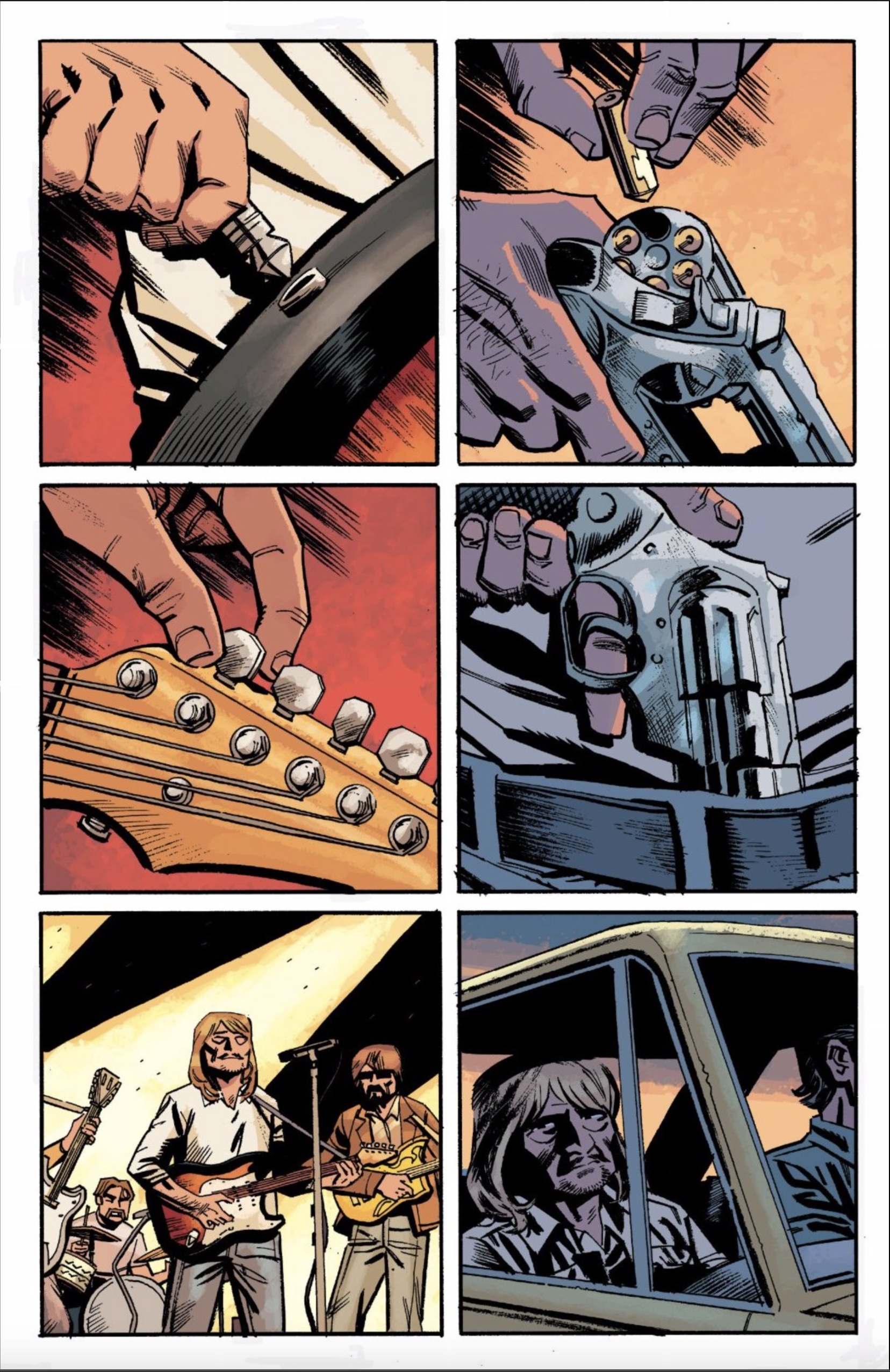 Meanwhile, privet investigator Jackie found herself taking jobs that kept intertwining with Jonny's new music writing routine.  The two characters overlapped in a morbid yet serendipitous way, but depicted two very different experiences. Jonny navigated the world of hired killings and the sleazy music industry. Jackie's story, by contrast, touched on the social issues of the era, including the PTSD of Vietnam war veterans, hippies and cults, and political unrest.  
Follow Two Very Different Stories In Killer Groove
The premise for Killer Groove was simple and effective.  A musician killing to make music felt incredibly relevant to the darker themes of 70s media, and the use of that decade added another layer to the explored world. Jonny, the eerily detached musician, was a stark contrast from the other main character, Jackie.  Jonny's story focussed on external corruption in the world, while Jackie's story was more internal. Jackie encountered racism, sexism, and addiction, and her storyline showed the inner workings of other struggling characters. This contrast of the main characters made the story feel complex.
Jackie's story was full of relationships and background, but Jonny's story was quiet and lonely, and he remained a stranger to the reader. Since Jonny carried a thriller-concept and was never portrayed as a sympathetic killer, Jackie was a much-needed protagonist to root for. Both stories were solid, and together, the two main characters balanced each other out. Additionally, Killer Groove made use of a lot of suspense and slow, atmospheric moments. The writing packed a lot in a short amount of time, and created a full, but not cramped, story. Overall, the concept, characters, and story were exciting right away and remained compelling throughout.
Too Much Of A Good Thing (And Not Enough Room)
Killer Groove touched on many characters with full backstories. This was as much a drawback as it was a strength. As the comic was only five issues long, many introduced concepts were resolved abruptly. While most of the comic had strategic pacing, the last issue was where Killer Groove felt like a big story in too small of a package. Killer Groove built up to a climax that was quickly, almost effortlessly, resolved. And with so many moments in previous issues that took their time, the quick resolution was jarring.
Feel The Vibe Of The 70s In Killer Groove's Art
Killer Groove captured the flavor of the early 70s without portraying the era as a cliche caricature. Subtle details in the fashion, color pallet, and furnishings gave a believable depiction of the era. Another upside to the art style was how expressive the characters were. From intense yelling to somber contemplation, the artwork showed a range of raw emotions. Heavy line work illustrated the wear on these characters, from both age and lifestyle. The characters were all unique looking, and the gritty story was captured in the character designs and detailed backgrounds.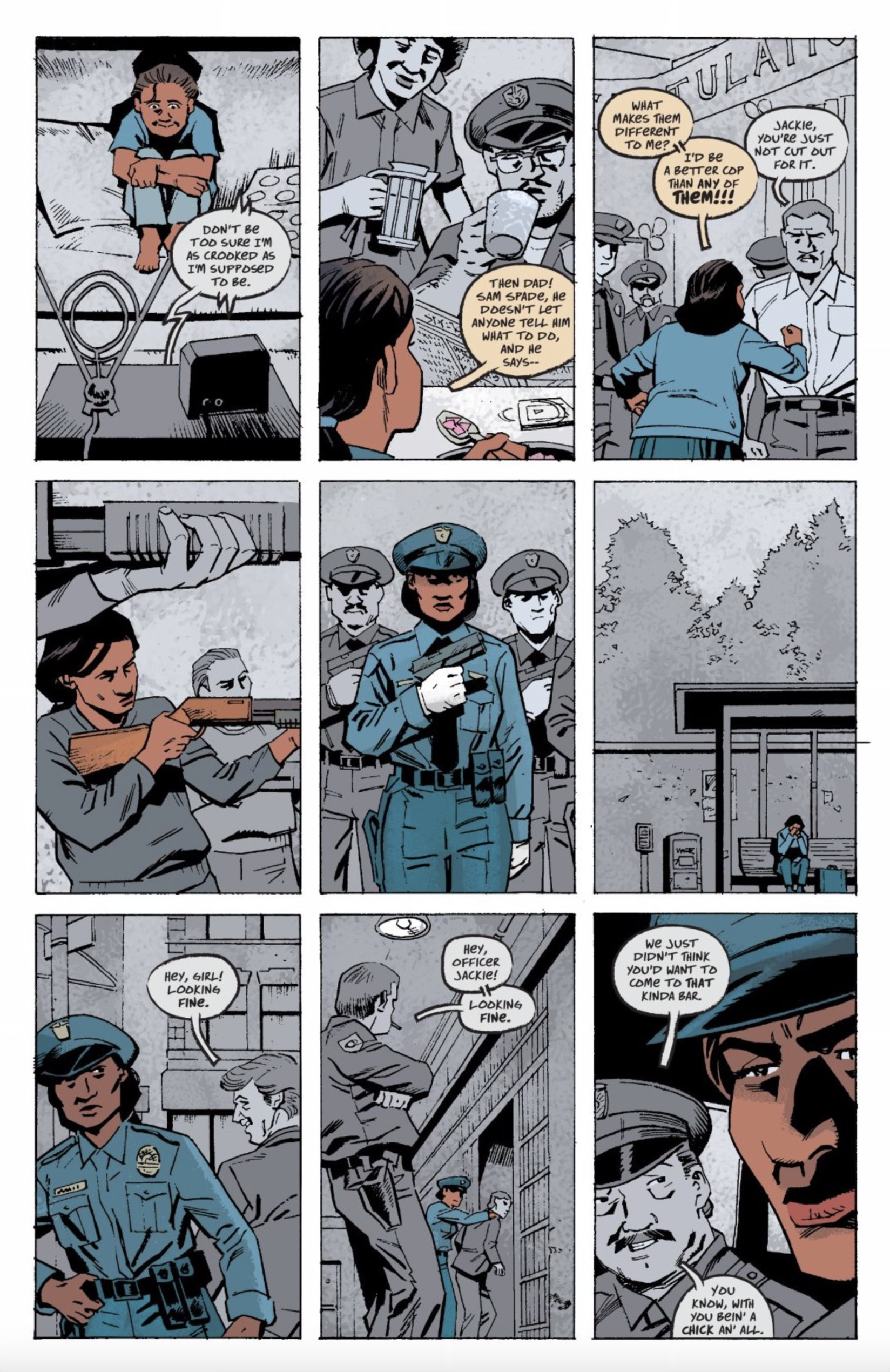 Killer Groove was a short comic, so often character's backstories were told within a single page.  The artwork really shone in these moments, as each panel had to be a defining moment. Jackie's rise and fall in the police force were told in two pages, which depicted her from childhood to present. Additionally, many scenes in the comic had little to no dialogue, and Killer Groove's expressive art conveyed these intense, silent moments.
Killer Groove Delivered A Climatic Snapshot Of A Bigger World
The concept of Killer Groove was stronger than its execution, but it was still excellent execution. The comic was a visually stunning read that dipped into a climactic moment of a much larger world. Both the art and the writing were confident and carefully constructed.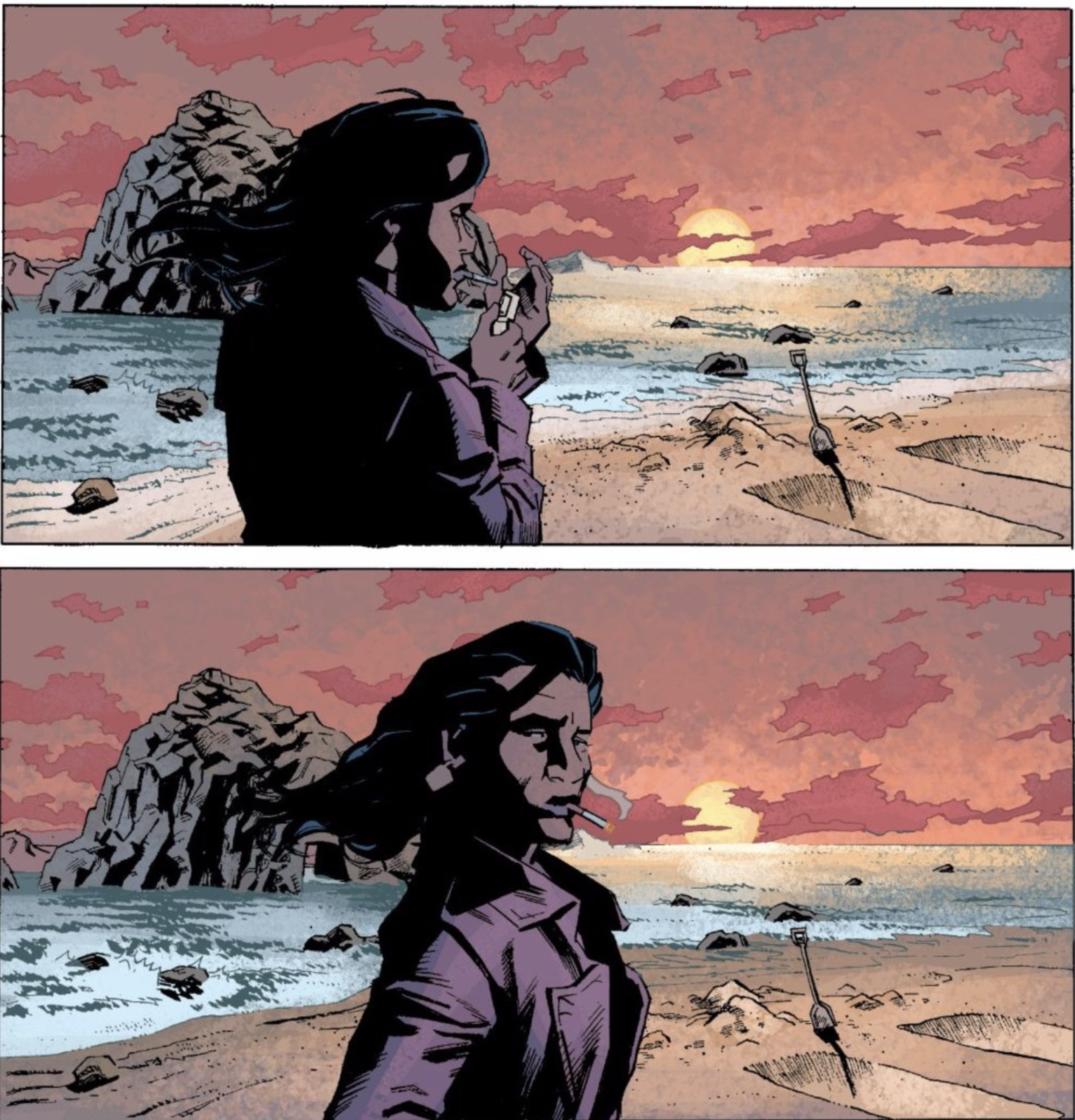 And despite Killer Groove being a condensed thriller, it paid attention to the quiet moments that made its characters relatable and complex.  Killer Groove could have easily been a longer series, but in the form, it exists in, it gave a complete and satisfying story.
Death, Drugs, And Rock N Roll In Killer Groove
PROS
Killer concept
Effective portrayal of many social issues and idosyncracies of the 70s
Jackie is an interesting, flawed, and likable protagonist (and total badass)
Expressive, detailed artwork and fantastic color pallet
CONS
Pacing issues towards the end
Some concepts and stories aren't fully fleshed out or given enough attention