In order to decipher between the film and the graphic novel we will respectively use; Clueless for the film and 'CLUELESS: SENIOR YEAR' (CLUELESS) for the graphic novel.
The Artists Behind CLUELESS: SENIOR YEAR
Ugh, as if! Back in 1995, we got a gloriously made film called Clueless. The film was directed by Amy Heckerling and still to this day has a huge cult following. However, when word came that there was going to be a CLUELESS: SENIOR YEAR graphic novel coming out under BOOM! we were stoked. For the longest time, this TPB is rarely anywhere online and if you truly want it, you need to buy it for a good price. Nonetheless, we finally got it — less than a year later.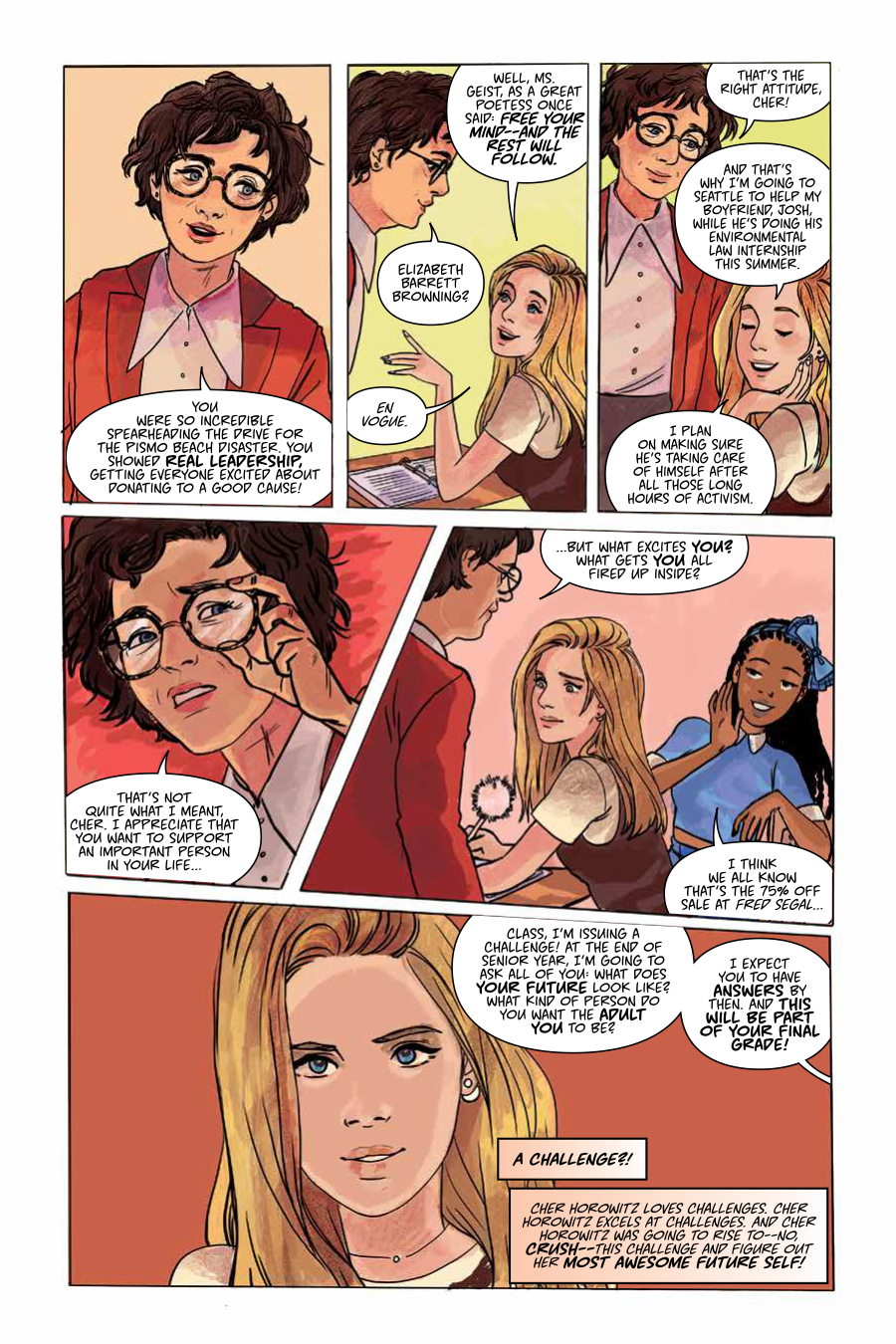 Released in 2017, we finally got our hands CLUELESS: SENIOR YEAR. A ton of great masterminds are behind this gem, Amber Benson and Sarah Kuhn are writers on CLUELESS. The characters were created by Amy Heckerling. The illustration is by Siobhan Keenan, coloring by Shan Murphy, and lettering is by Jim Campbell. Last, but never least, we have the cover by Natacha Bustos.
CLUELESS: SENIOR YEAR Is So Out-Of-This-World!
Beverly Hills is back and better than ever in this new CLUELESS adventure. It is the senior year at Bronson Alcott High School and Cher, Dionne, and Tai find themselves in a slight identity crisis.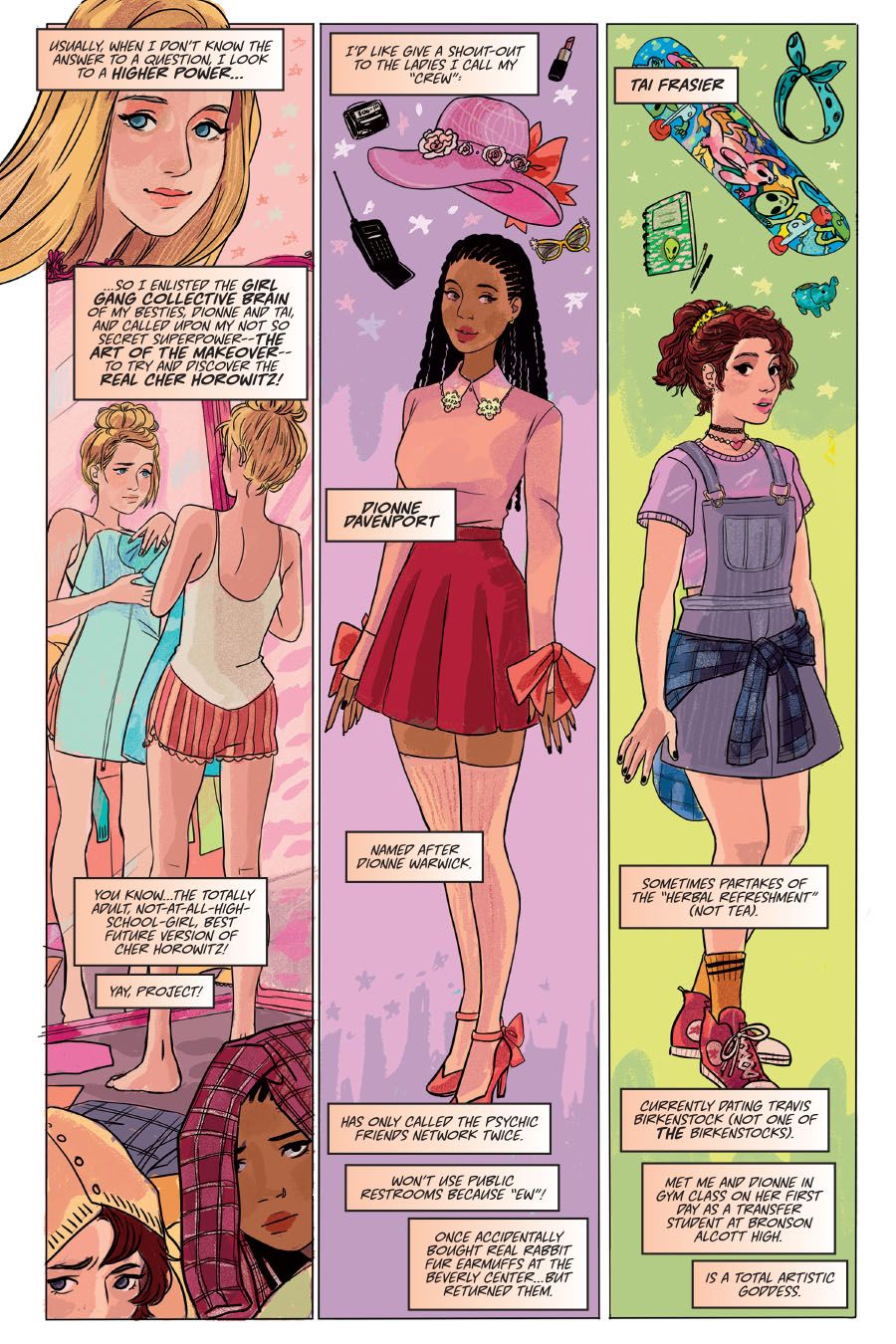 Where are they meant to go? What are they meant to do after high school? What will happen to their love lives? Thankfully, they all have each other to lean on in the hard moments of life.
Ugh, AS IF, Cher!
CLUELESS: SENIOR YEAR is so much fun, in the best way possible. From the art to the writing, you have a blast as if it's 1995 again. What is insanely adorable about this comic is the theme of 'senior year.' Being lost and not knowing who you are. It's a common time in your life where you want to figure out who you will be when you go to college. CLUELESS: SENIOR YEAR depicts it perfectly.
This comic shines a light on each character that we know and love from Clueless. We got Cher first, Dionne second, and then Tai last but never least. It comes off as a much-needed check-in with the three best friends from Bronson Alcott High School. It feels as though you are checking in with old friends to see how they are doing but in a pleasant and picturesque way.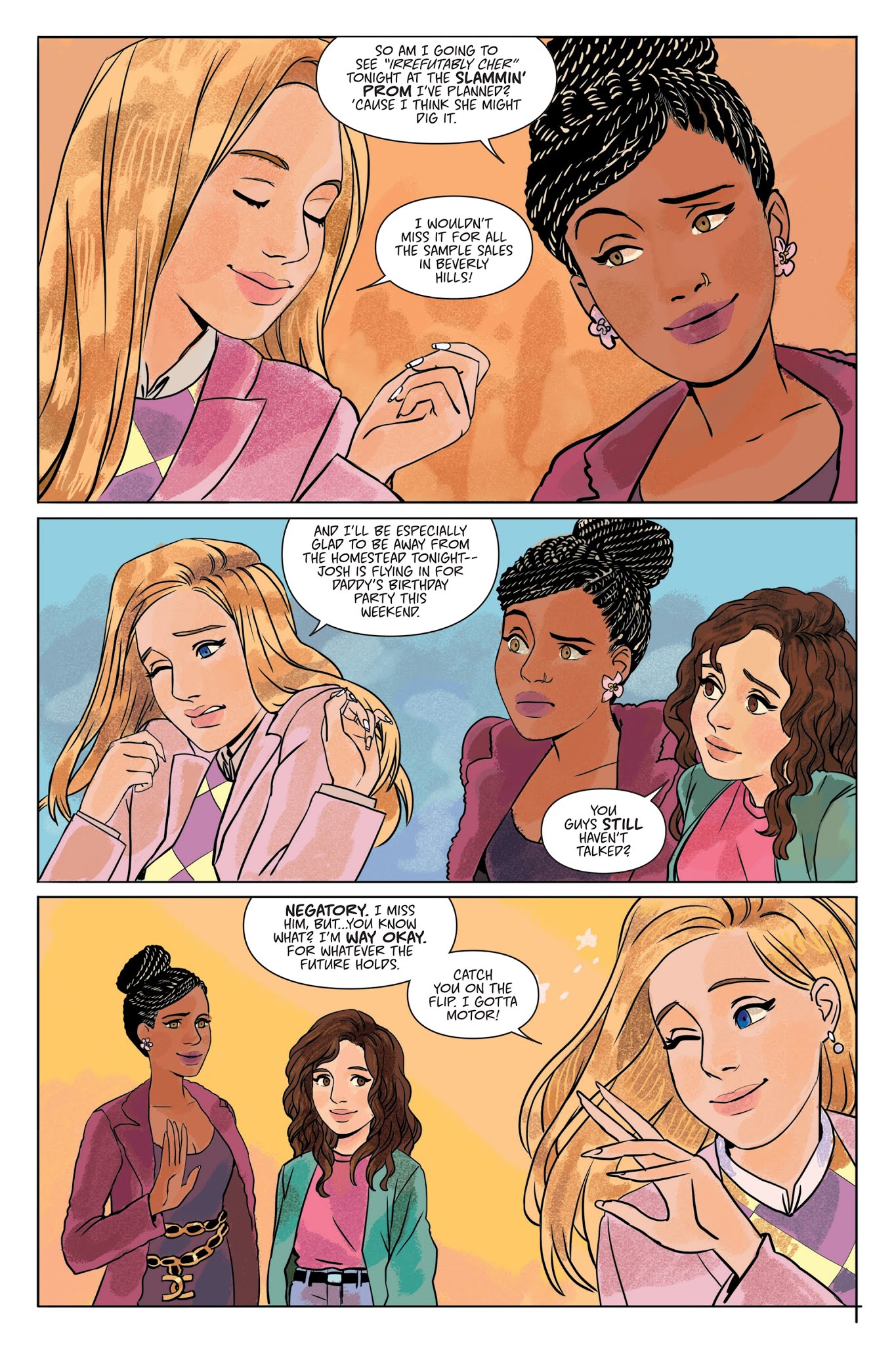 Each one of these friends is going through something. Whether it be between their love life and their school life, or asserting their dominance in Dionne's case. They are finding out how to make the hard decisions that will come after high school. The writing truly depicts this so well. The art adds to the writing in such a delightful way that you can't look away. It's whimsical and pleasant to look at the art in this comic. Siobhan Keenan and Shan Murphy did an outstanding job. Along with writers Ashley Benson and Sarah Kuhn.
High School Is Totes Buggin'
Throughout CLUELESS: SENIOR YEAR the art is radiant. It bleeds off the page in such an 'over-the-top' way like Cher would appreciate. What brings out the art is the writing. What fans and readers know and love from the original film, Clueless, is that the vocabulary is so totes out of this world cool. Like, totes! The writers on this graphic novel really channel that inner cult classic and use it to their advantage. And do a fantastic job at it. Reading it, you feel as though you are back in the 90s when the film came out and it's splendid.
There are countless themes throughout and it brings out the relatable factor for anyone. Whether you are twelve or thirty, you will relate to this comic wholeheartedly. The dialogue is great between characters, it's natural and affirmative when needed. The characters right their wrongs and it's so… great. Seeing three main female characters build each other up and admit when they are wrong is fantastic to see. While there are moments where Cher is being quite self-absorbed and ignoring her friends. She, later on, admits she was wrong. It is truly so empowering to see.
Josh Is Totes A Loveboat!
First, we got Paul Rudd in the actual film, and now we get loveboat Josh in the comic. We would say we are blessed, but Cher is — in this case. The 'boys' of Beverly Hills are Josh, Murray, and Travis. Travis seems to be the only one not in trouble throughout CLUELESS: SENIOR YEAR — however, Murray and Josh did right their wrongs by the end.
Josh is a loveboat and Murray is exactly the way he is from the film and that is wonderful. When you see the film, you understand the way he talks and it's marvelously depicted in this as well. There are healthy relationships with friends here, but also with relationships too. They do go through some trials and tribulations, but they spend time apart only to realize and apologize that they need the other more than ever.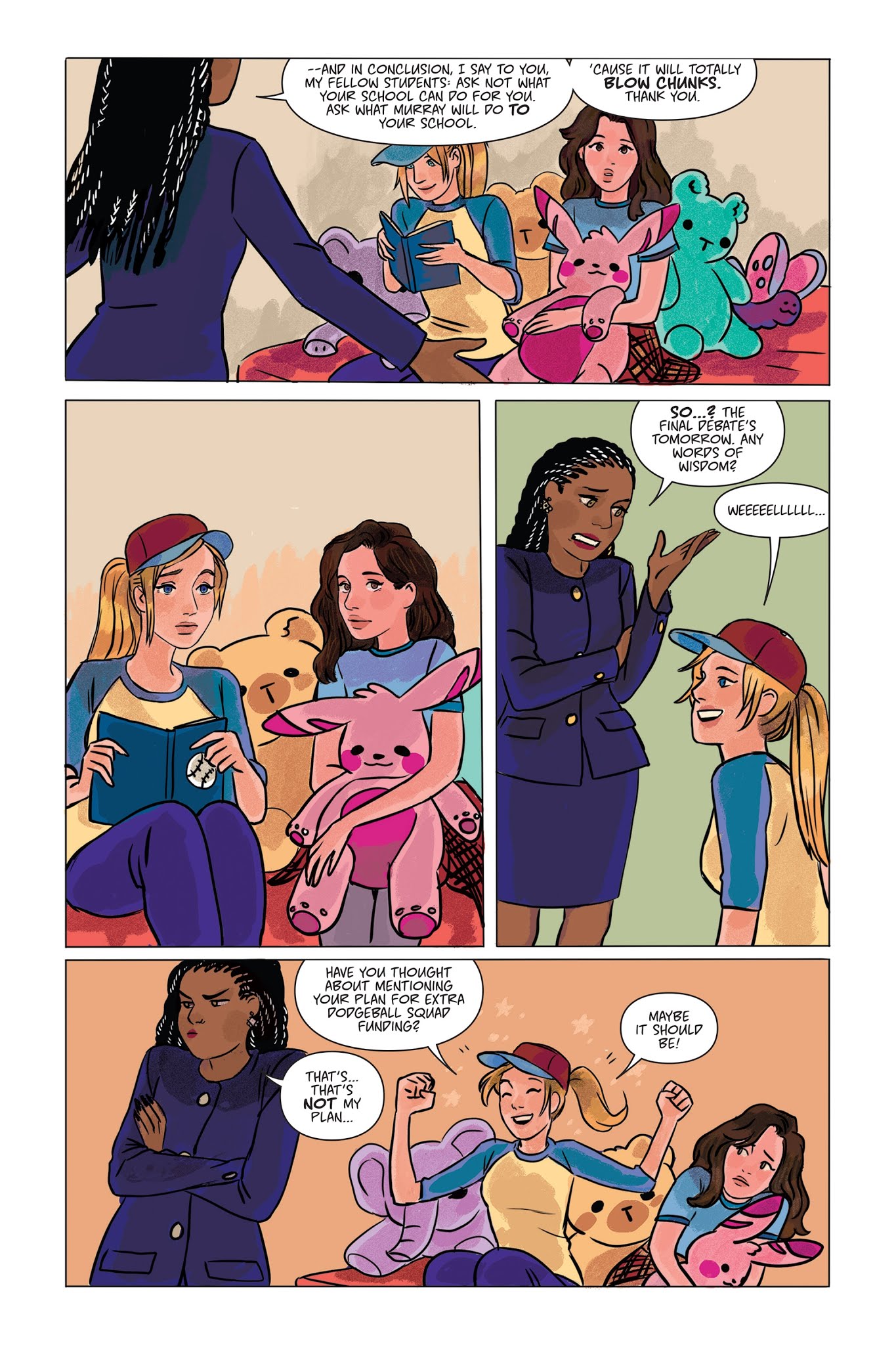 That's just the cutest. We need more healthy relationships in any media. We could boast about this comic all day and talk about how cute it is. But the writing and the art meddle perfectly together to bring us a great side of Cher and her friend's post-Clueless film. And, good news for us Clueless lovers, the masterminds are creating CLUELESS: ONE LAST SUMMER.
Look Forward To More Clueless…
So, look forward to that in December 2018 (as of right now). If you want more CLUELESS: SENIOR YEAR — an interactive app called Episode has released a counterpart to the comic. It's quite fun. If you like interactive stories, this is right up your alley! However, until then you can buy both counterparts and help out The Daily Fandom along the way!