Catwoman is one of DC's most beautifully complex characters. Selina Kyle has gone from scraping the bottom of the barrel to living sky high in a Gotham penthouse. Her relationship with Batman sums up her character pretty well. While she is one of his arch-villains, she's also at times his friend, partner, and lover. But just because the complexity of her character is on display in that relationship doesn't mean that's the only important aspect of her character, and Catwoman Annual knows that.
A Purr-fect Stand Alone Tale
In this one-off story, Catwoman is framed for the deaths of three young women previously known to be in her care. We switch between unreliable narrators, clueless cops, and Selina herself as the tale unfolds. We discovered that Selina took in a homeless teen and subsequently inherited all of her delinquent friends. After getting a taste for her lifestyle, the girls get in over their heads and take on a risky heist. As a result, three of them die and the rest scatter to the wind. But somehow, the three bodies wind up in Selina's apartment. It turns out that one of the girls, Amanda, is close to the murder: Immortal Man. The two of them moved the bodies and forged a suicide note. The rest of the book follows Catwoman as she gets revenge on a girl she thought she was helping and her metahuman pal.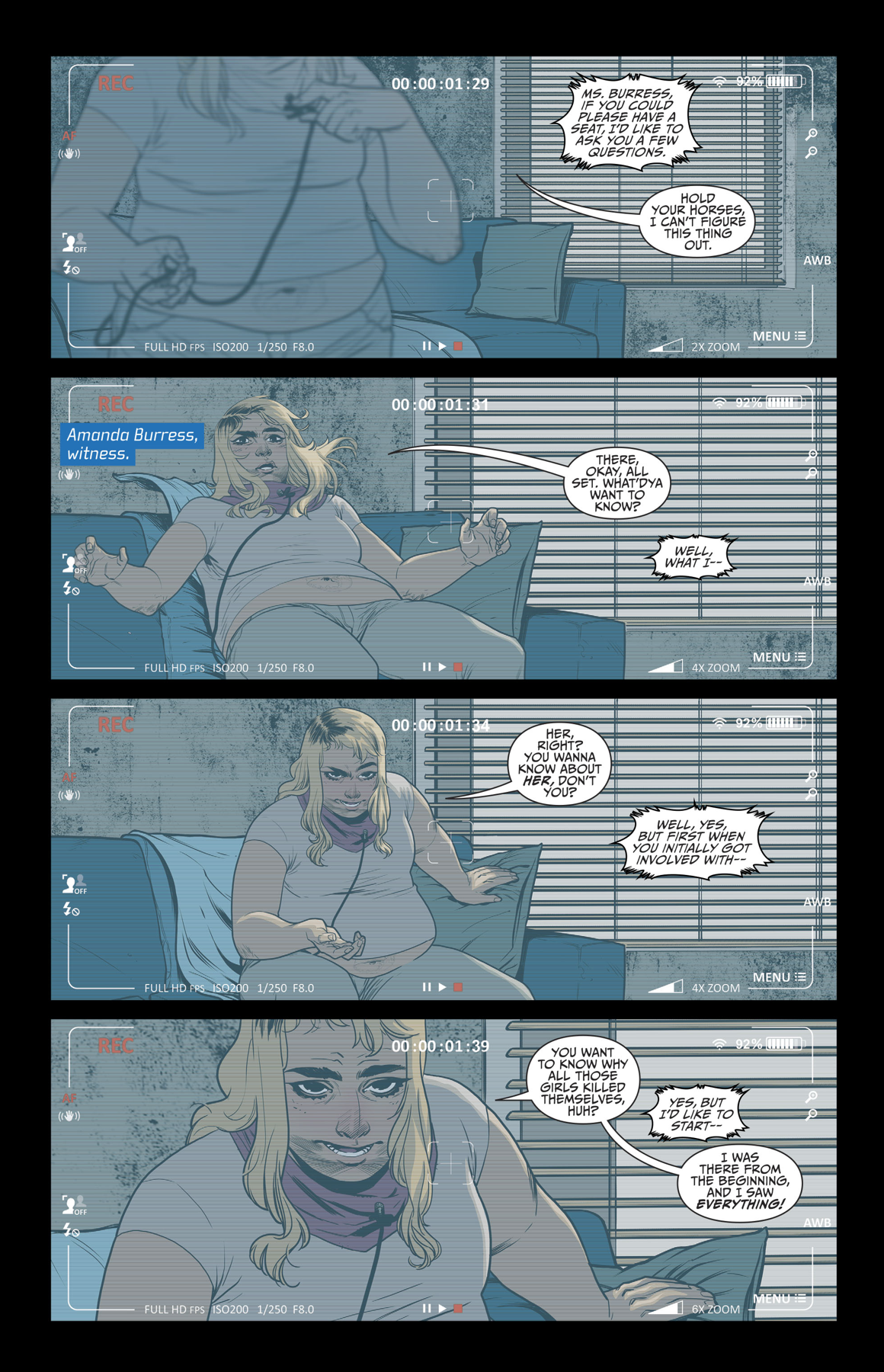 Joëlle Jones proves yet again that she should be the only person allowed to write a Selina Kyle story. Her characterization of Catwoman is beautiful, introspective, and mature. Especially now, after her break with Bruce Wayne, Selina needs a strong writer to drive her character.
Many Sides To Every Story In Catwoman Annual
A huge team at DC brought us Catwoman Annual. In less adept hands, this could be a tonal disaster, but the issue holds its own and embraces its massive art team with open arms. The comic is able to stay visually consistent due in large part to the heroic efforts of colorist Jordie Bellaire. Bellaire's coloring is strong, distinct, and stylish. I have a hard time believing that the art shifts in this issue would have been possible without her work.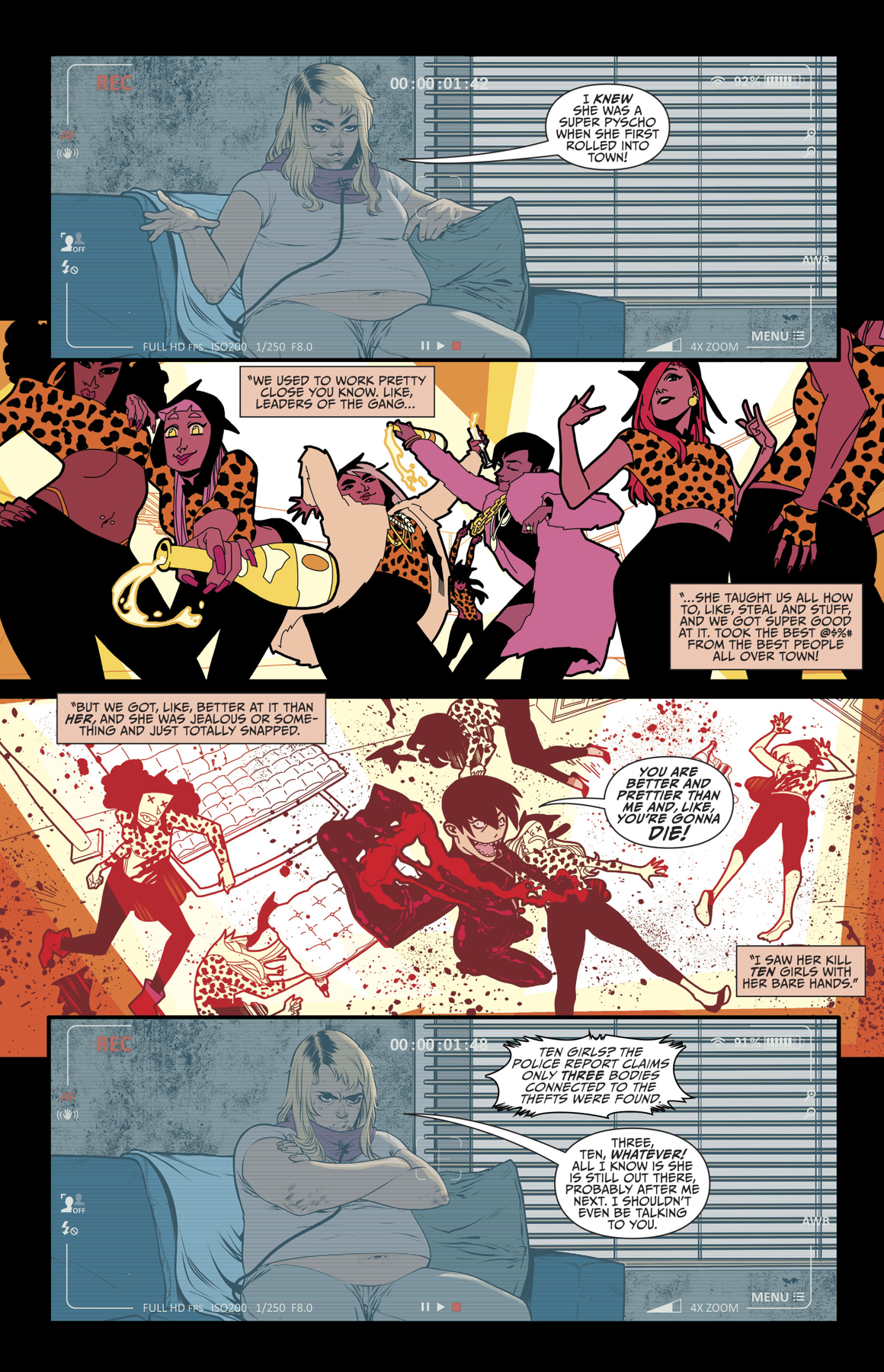 On the main art team, we have Elena Casagrande, Hugo Petrus, and Scott Godlewski, along with Le Beau Underwood, for a few pages of inking assistance. Saida Temofonte handles lettering. Each artist has their own obvious strengths that shine throughout the issue. Casagrande opens Catwoman Annual and immerses us in the world with clever cuts between recorded interviews and flashbacks.
Artistically, the style shift for Amanda's altered version of events (seen above) is the highlight of the issue. Petrus's work is highly detailed. He pays special attention to the environments the characters inhabit. Godlewski finishes the back half of the annual with gripping, classic action and beautiful moments of pure sequential beauty. (See: Selina is moving through panels as she crashes into a house party.)
Diamond In The Rough
Selina Kyle is one of the few female characters who truly embodies the Lovable Rogue archetype. Catwoman Annual recognizes her as the femme Robin Hood that she truly is. She's morally grey, working in her own interests towards what she perceives as the greater good. She's the very definition of chaotic good.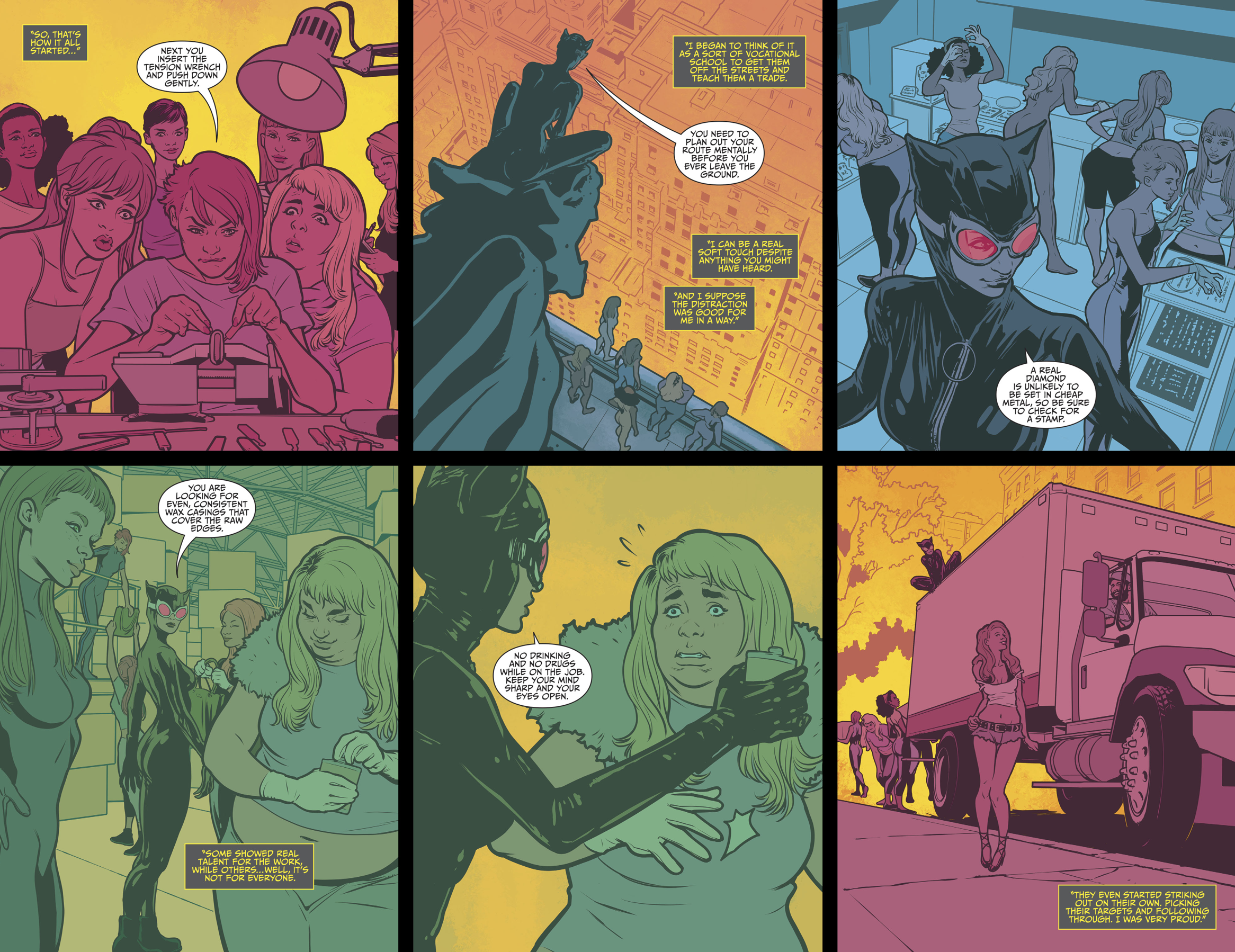 The most interesting thing that this story introduces is the idea of Selina taking in a group of strays like Chesa and her friends. Yes, Catwoman has shed her secret identity before becoming a mob boss. But the personal relationship between her and the girls in this story is something different. She suddenly has this human aspect as she connects personally and professionally with these girls. She sees herself in them. Catwoman suddenly becomes an older sister figure, at times both proud and exhausted by her little gang of alley cats. This is best exemplified when she crashes Amanda's house party with a slick one-liner,
I'm not so much mad… as I am disappointed.

Going full mom mode in Catwoman Annual, Joelle Jones
Catwoman Annual Is The Cat's Meow
Catwoman Annual shows Selina Kyle in an exceptional light. The story is intriguing and clever, with enough meat on its bones to keep you interested the whole time. So if you're looking to really sink your claws in, this book might be for you.

Catwoman Annual by @Joelle_Jones, @whoajordie, @LaraWest, @hugo_petrus, @scottygod, Le Beau Underwood, & Saida Temofonte
With stellar art and an intelligently written story, Catwoman Annual is Selina Kyle done right!
PROS
A great display of how wonderful Catwoman can be when in the hands of an intelligent writer
gorgeous art
coloring is off the charts
CONS
rushed conclusion
we won't be seeing Selina's squad again any time soon