Building A New Home In Lucifer #14
The beginning of a new storyline is upon us; Dan Watters continues his magnificent run thus far in Lucifer #14. There are many references to the previous storyline, so keep that in mind if you have not read it as this issue may be difficult to follow. Contrary to the past few issues, Lucifer #14 is more lighthearted with little to no action. Instead, Lucifer is told that a pack of hunters are on their way. The Hunters are looking for a God that Lucifer states to be long dead. Nevertheless, the hunters are coming and the prophecy states Lucifer must protect them.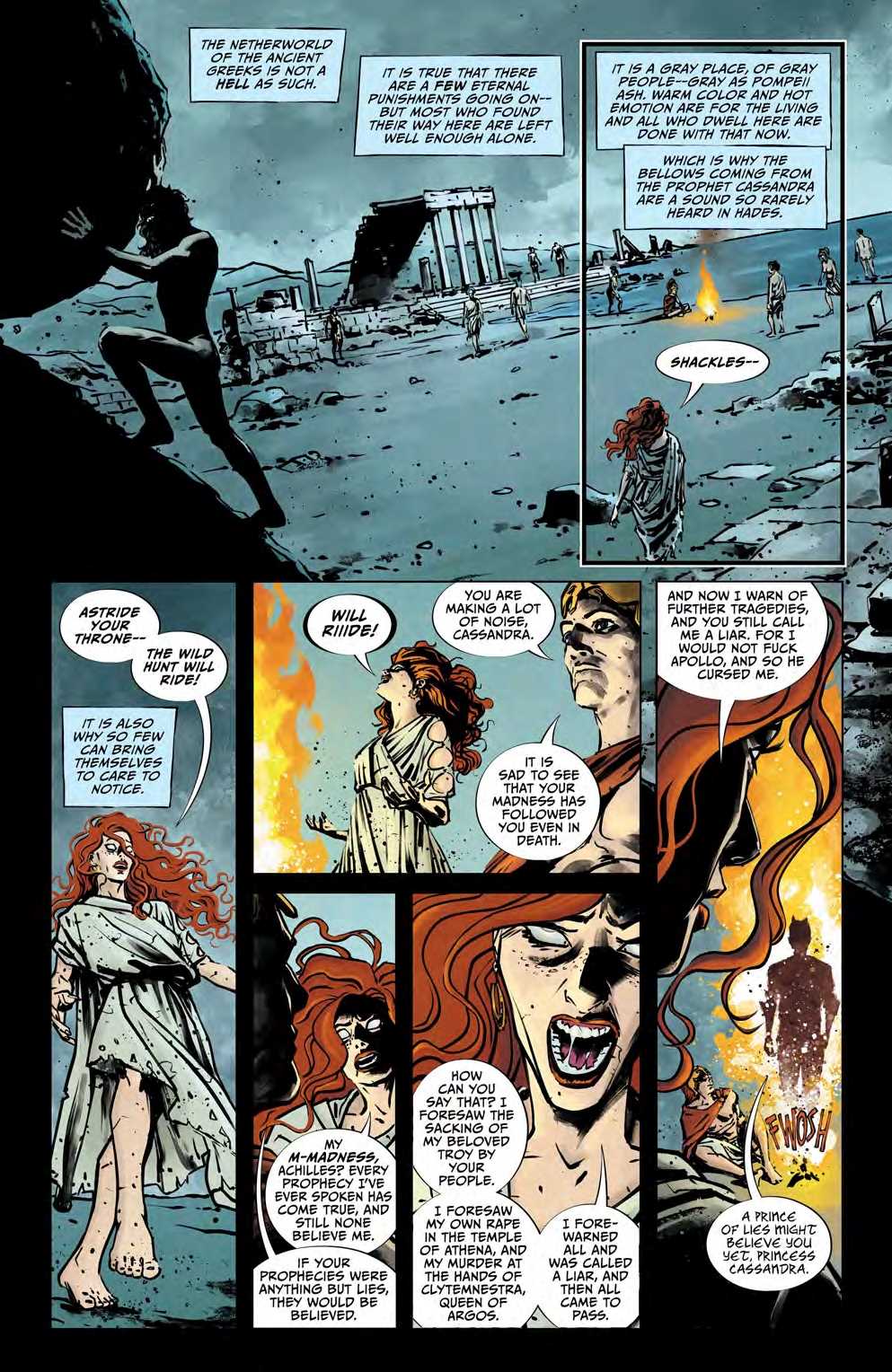 Fernando Blanco comes onto the book as a new artist and he does not skip a beat. Lucifer #14 is just as beautiful as before, and his art compliments Watter's writing skillfully. The issue has plenty of comedic points; Lucifer walking into a shop to buy a "welcome home" mat for his new house while a murder is taking place inside the store is pure gold. Only Lucifer can walk into a scene nonchalantly.
Let's Build A Home
Lucifer #14 opens in the Netherworld of the Ancient Greeks. The outcry that Cassandra makes is what draws Lucifer to her location. Cassandra reveals to Lucifer that the hunt is beginning and his role in the prophecy. Achilles is in the Netherworld as well, however, and his patience with Lucifer is running thin. Lucifer asked Achilles and his soldiers if they would help him in a battle in the previous storyline. Unfortunately for Achilles, his service was never actually needed in the end.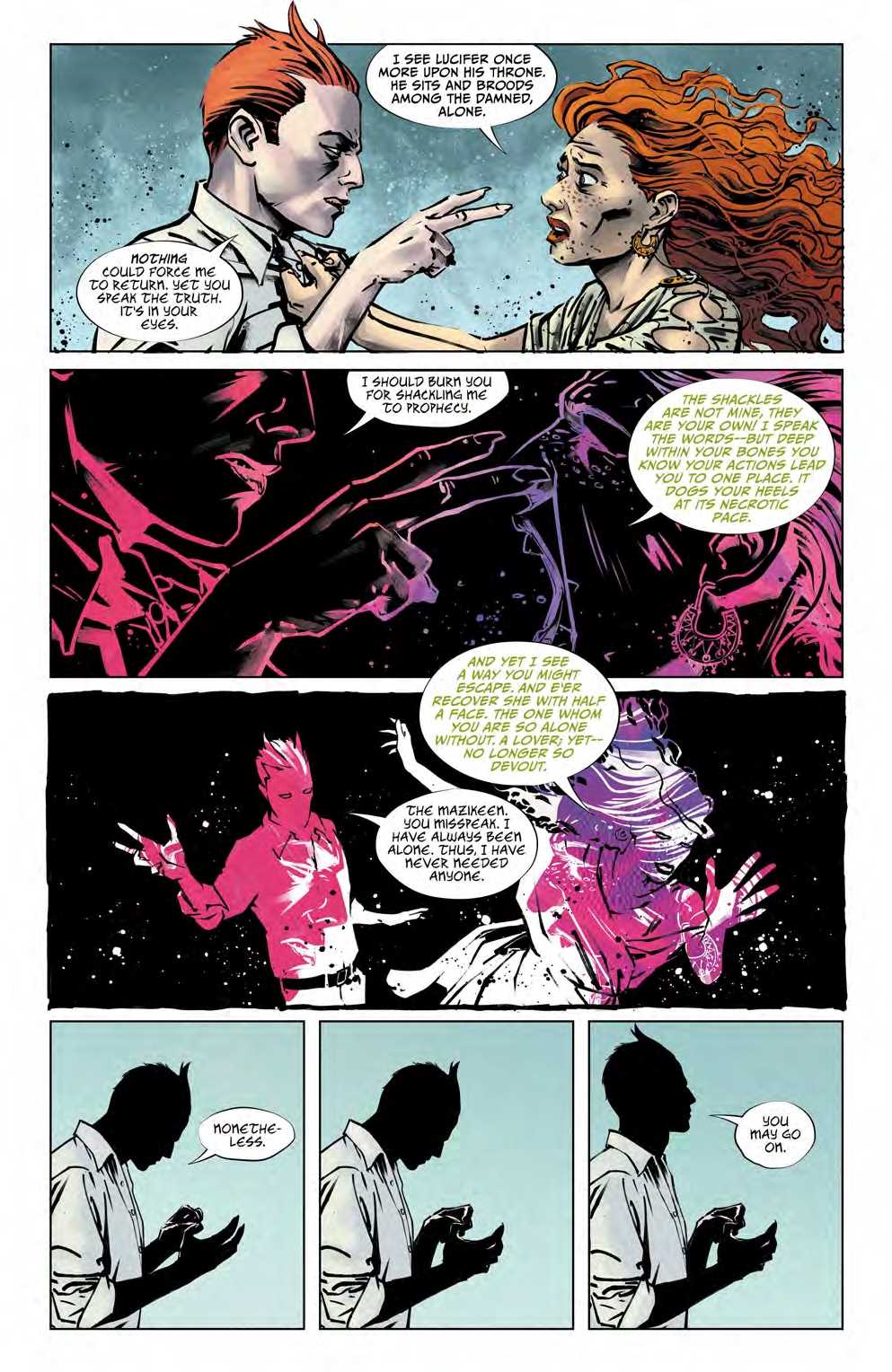 Lucifer brushes Achilles off when he states he would kill Lucifer if he were not trapped in the Netherworld. Achilles' anger with Lucifer sets up what seems like it will be a major part of the new storyline of the series. Dan Watters also gives us a pleasant surprise with a humorous John Constantine appearance. Constantine seems to be looking for Lucifer as he walks into the murder scene we saw earlier with Lucifer. Overall, Lucifer #14 is an issue that sets up a few different storylines moving forward, while also still providing plenty of enjoyable scenes within itself.
The Art Team Of Lucifer #14
The art team of Fernando Blanco and Dee Cunniffe with the colors is a treat to have. With Max Fiumara and Dave McCaig creating such an incredible job previously, it was hard to imagine anyone being able to match what they brought. And yet, Blanco and Cunniffe are an outstanding team. Blanco provides just as much horror, if not more, to the book.
With scenes varying from space, to the gray Greek Netherworld, to a sunny beach. Dee Cunniffe with the colors takes each scene and basically creates them into another character in the book. The art style that has been used for this title thus far has been flawless. Every pairing they have used has been able to work with Dan Watters' storytelling ability. It will be exciting to see this art team continue to work together and we will see just what they will bring to the book that we have not seen yet.
What Does Lucifer #14 Bring?
Lucifer #14 is a charming bridge point from the last storyline to the new one. Nothing drastic happens in this issue — as it is mainly used to build a foundation for future storylines. However, this comic is still an excellent read and Dan Watters' perfection continues to grow with each issue.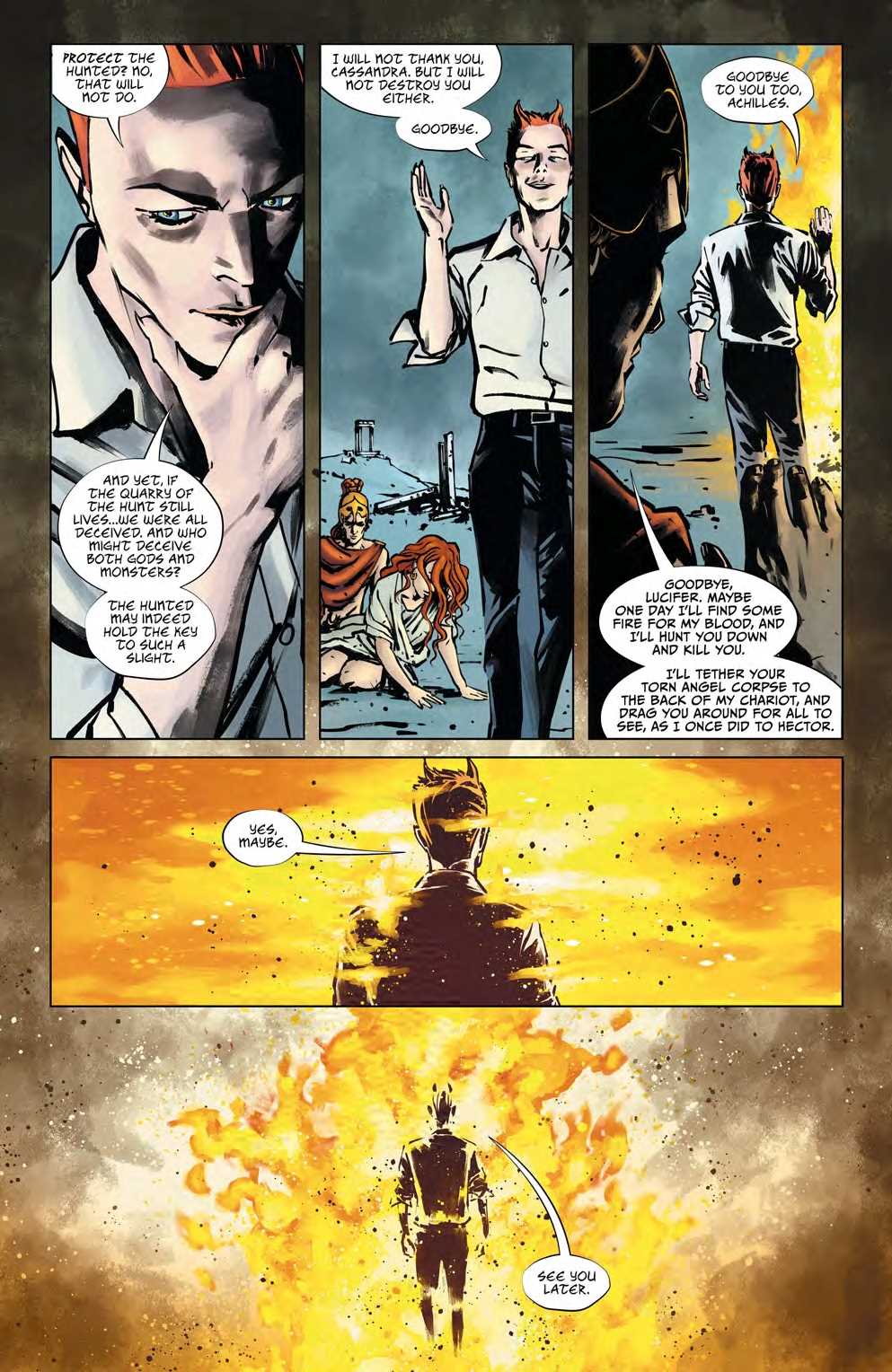 John Constantine looks like he may play a role in the coming issues, making this book a must add to your pull-list. Lucifer, as well as other Sandman Universe titles, are a big step-away from superhero comics. The books provide a more mystical and cryptic tone, rather than the lighthearted vibes you get with other DC and Marvel properties. I am claiming Lucifer to be one of, if not the best, books I am reading on the shelves right now, and I have not budged on that statement. Lucifer is a exceptional series and it seems to be getting even better with each issue.