The latest Netflix original show that is taking the world by storm is Bojack Horseman. The one and only Bojack Horseman from Horsin' Around. I know you know him, why wouldn't you? However, I am making a SHO-FILE anyway because everyone deserves a Bojack Horseman SHO-FILE.
---
In A Nutshell
Bojack Horseman is based around a fictional character who is a star on the show Horsin' Around from the 90s. It is an adult sitcom created by Raphael Bob-Waksberg. The show is based in Hollywood, CA and despite being in Hollywood — it is centered on Bojacks cynicism and uncertainties as a human being and about the future.
---
Meet The Characters
Bojack Horseman is a self-loathing 52-year-old alcoholic horse. His career peaked in the 90s with his famous TV show Horsin' Around. Bojack was a young, bright-eyed actor then, but has since grown bitter and depressed. When he wants to be, Bojack can be caring and sweet — but, rarely shows it. He is constantly loathing his insecurities, loneliness, and his need for approval. He's a broken horse.
Princess Carolyn is the love interest of Bojack, on-and-off. She is also Bojack's agent and is a pink Persian cat. Princess Carolyn prides herself on her ability to keep work from play — often with Bojack. She is the top agent at Vigor and often struggles to find a balance between work and play. She despises the idea of being alone and struggles with always having someone around, she never truly conquers it (as of yet).
Diane Nguyen is a human ghostwriter. She is also a Vietnamese-American third-wave feminist from Boston (you can hardly tell she's from Boston, though). She lives with her wealthy and famous boyfriend/husband Mr. Peanutbutter. She is smart, witty, and open to saying how she feels. While she may be those things, she often battles with anger and being angry. Diane doesn't like being told she is wrong, don't do that.
The always energetic and positive Mr. Peanutbutter. He does not have a bad bone in his body, and he always means well, for the most part. Mr. Peanutbutter is a yellow Labrador Retriever. He has a similar sitcom to Bojack called, "Mr. Peanutbutter's House." Despite Bojack not liking Mr. Peanutbutter, he, in turn, adores Bojack and values his opinion on a lot of things.
Todd Chavez is an unemployed 24-year-old friendly human. He ended up in Bojacks' house after a party five years prior and never left. Bojack appears to hate Todd, but he admits that Todd is actually one of his best friends. Todd writes "rock operas" and often has some good ideas. Todd creates a lot of business ideas and businesses with Mr. Peanutbutter. He always discounts himself, but he is smart underneath it all.
---
The Where, When, And How Of Bojack Horseman
Based in Hollywood, California, Bojack is rich — well, rich enough. He was the main star of his own television show that made him a ton of money. Bojack then decides to write a memoir about himself, granted Bojack can never get anything done so he never actually does it. That is where Diane comes in and becomes his ghostwriter. Bojack does not have friends, he has one ex by the name of Princess Carolyn, and he is madly in love with Diane, who is married to Mr. Peanutbutter. Bojack doubts himself and his future a lot throughout the show and sabotages every relationship he has — even despite needing them.
---
Why It's Awesome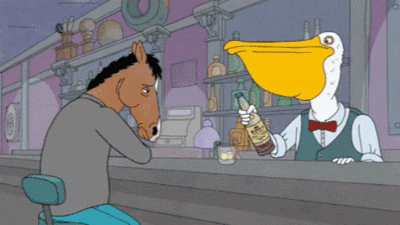 Satire is one thing, but the overall concept of the show is outstanding. Bojack Horseman is not only relatable in a lot of ways, but he understands what it means to be sad and not know where your future stands. Happiness is temporary, and things can only make you happy for so long before you become depressed again. Bojack struggles with that thought and that constant struggle of "Will I always be this sad?" I love Bojack because it does something different for sitcoms, something that we have never really seen before — especially, for a Netflix original. If you have not watched this show, I would give it a watch. Season 4 comes out on September 8th at midnight on Netflix.
---
Overall Score
| | |
| --- | --- |
| Category | Score |
| Show Quality | 10/10 |
| Characters | 10/10 |
| Fandom | 10/10 |
| Development | 10/10 |
| Drama/Comedy | 10/10 |
| Total | 50/50 |